12 Things you Need to Know Before Converting Your Loft
By Ian Rock
Converting your loft can often be incredibly cost-effective but there's lot to consider to do it well. Find out if your loft is the perfect place to add more space with our expert advice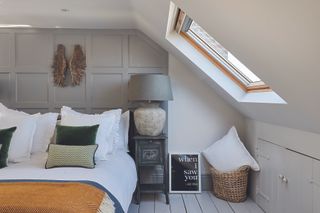 (Image credit: Chris Snook)
Today, with so many of us working from home, the demand for extra space is sparking a resurgence of interest in loft conversions.  Estate agents sometimes describe loft rooms as 'flexible accommodation' because rooms in the roof lend themselves to a variety of different uses. Although most conversions are designed for use as bedrooms, lofts also make excellent home offices, fully sound-proof and elevated above ground level noise. Even where convention is followed, the new accommodation can free up space elsewhere in the house. 
Either way, the decision to convert your loft rather than build an extension often boils down to hard-nosed budgetary considerations. Loft conversions don't require new foundations, main walls or roofs, which can make them incredibly cost-effective. Even so, they shouldn't be undertaken lightly. To do the job properly there's a lot of detail that needs to be considered from the outset...
1. Do I Need to Make a Planning Application? 
Most loft conversions are classed as Permitted Development (PD) so a formal planning application isn't always required, but in some properties, such as those that are listed or in conservation areas, PD rights will be restricted or may have been completely removed. It's therefore important to run your design past the planners first. 
As long as there are no significant changes to the front elevation you should be absolutely fine — flush roof windows (up to 150mm projection) facing the front are permitted. However, if you want to add dormer windows to the front of the house you will need to make a planning application, even if the windows are designed to be relatively small and discreet. Don't worry though, in most cases this should be perfectly acceptable. 
A lot of extensions involve adding a large box dormer to boost the amount of useable internal floor area, but to qualify as PD these normally need to be located on the rear. Side elevations can be something of a grey area but large dormers or hip-to-gable conversions will definitely need permission, as will any designs that involve raising the height of the roof. 
2. Consider Fire Safety
One of the key design considerations with loft conversions is compliance with Building Regulations. Until quite recently a simple escape window in loft rooms was deemed sufficient for escape and rescue. But today the primary means of getting out of a burning 3 storey property (ie. a 2 storey house with a loft conversion) must normally be via an 'escape corridor' that leads down to a final exit door to the street or garden. 
(MORE: Building Regulations Part B – Fire safety)
The good news is, if you already have an entrance hall and landing this should suffice (with the provision of fire doors to the rooms leading onto it). Otherwise you may be required to erect a new partition wall in your front room to create a separate hallway, or implement a more complex solution that's acceptable to Local Authority Building Control, such a fitting sprinklers.
3. How Close are Your Neighbours?
Unless your property is detached there will be a party wall separating you from your neighbour's house. Most loft conversions involve alterations to party walls, usually to support steel beams. Under the terms of the Party Wall Act, it's a legal requirement that adjoining neighbours are formally notified before alteration work commences. This may require the appointment of a Party Wall surveyor. See www.rightsurvey.co.uk/party-wall-surveyors.
4. Is Your Roof Pitch Steep or Shallow?
Most roofs are steeper than 35 degrees which means, in most cases, the loft space is tall enough to convert. Where space is in short supply it may be possible to steal some from bedrooms below, as long as you leave them with a minimum of about 2.2 metre floor to ceiling height. This involves building a new loft floor structure beneath the existing ceiling joists which will later be removed.
Bear in mind most loft conversions add an extra floor to a two-storey house, but for properties that already have three or more storeys the rules for providing an escape route from fire are more challenging, and often significantly more costly. At the other end of the scale, bungalow conversions are far more relaxed, only requiring windows that open sufficiently wide (at least 450 x 450mm with a minimum 0.33m2 opening) for occupants to escape.
(MORE: Loft Conversions for Difficult Roof Types)
5. Where to put the Stairs? 
The position of the stairs will determine the overall layout of the new loft room. The best solution is often to place the new loft conversion stairs above the main stairwell in a continuation of your home's existing design. 
It's best to avoid stairs coming into the middle of the room, as this can result in beds, furniture and occupants getting pushed to the edges where ceilings are low. 
You might need to add a dormer window to create additional headroom, and of course this will add to the project's cost. Fortunately the Building Regulations are fairly relaxed when it comes to loft stairs, so where space is tight building control may accept spiral stairs or special alternating tread stairs. 
6. Plan, plan, plan
The secret to any successful construction project lies in careful planning, so take time to familiarise yourself with the whole process in advance by reading a suitable loft conversion guide. This really can make all the difference. 
It's easy to overlook the importance of creating a loft conversion schedule of building work to minimise disruption to occupants but with a little foresight it's normally possible for most of the work to be carried out using external access from scaffolding, leaving the messy process of breaking-through and the installation of the loft stairs until the final stages. 
7. Is Your Roof Hipped?
Hipped roofs have slopes on all sides, which can make them harder to convert than gabled roofs, because there's less headroom inside the loft. In larger houses this isn't necessarily a problem because the central loft area alone will often be sufficiently spacious. In many cases, though, the hipped roof slope on the side of the house will clash with the desired position of the loft stairs. A common solution to this issue involves boosting headroom by extending the roof sideways either with a large, projecting side dormer window, or by converting the side hip to a new gable. 
(MORE: Hip to Gable Loft Conversions)
8. Dormers or Roof Windows?
Keeping the design simple, with just a couple of flush roof  windows or a new window inserted in an existing gable-end wall, will go a long way towards keeping costs down. However, in cases where your roof needs to be physically extended with full-width or box dormer windows this extra work will significantly inflate the project's bottom line. Among other things, this course of action usually involves installing a steel ridge beam to support the new dormer roof structure, which is a major undertaking. 
(MORE: Types of Loft Conversion)
9. What are the Structural Design Options?
The construction of a new structural skeleton must be professionally designed with input from a structural engineer, and will usually require at least two steel beams, one on each outer side near where the lower rafters meet the loft floor joists. The purpose of these steels is primarily to support new joists, but they will also need to bear roof loadings where old trusses and rafters are cut away to create space. This load will normally be transferred down to the steels by newly built purlin stud walls. 
In older houses with load bearing internal walls these can sometimes be used to provide added support to the new floor structure. An alternative to steels involves the insertion of telescoping aluminium floor joists alongside the existing joists.
(MORE: Roof Structures)
10. Comparing Quotes
It pays to go through quotes with a fine-tooth comb. Some quotes include VAT and fees for building control and party wall notices; others may not. A closer look at the paperwork might reveal that items like en suite fittings and decoration may be notable by their absence. 
The quality of materials used for flat roof coverings can vary enormously — and might be anything from cheap shed felt to pukka lead sheet. Some contractors automatically assume you want PVCu cladding to your dormer windows; others may price for sheet metal, render or weatherboarding. 
French doors and Juliet balconies may or may not be included. Some quotes are written by salespeople, designed to give the impression that they're doing you a favour by carrying out works that are required by law to comply with the Building Regulations, such as installing insulation.
11. Notify Insurers
Be sure to notify your insurers in advance, or you'll be handing them a legitimate reason to decline any claim you might need to submit in future, even if it isn't directly related to the building work you've undertaken.
12. Factor in the Costs of Extending Services
Adding new accommodation to your home will involve extending the existing heating and electrical systems. In spaces with loft conversion bathrooms the hot and cold plumbing supplies and waste services will also need to be extended. In some cases this will be fairly straightforward, but where the existing systems are more than about 30 years old they may need partial replacement or updating, again adding to the cost.
Some lofts may be wasted space, but others are home to cold water tanks, header tanks and lots of associated pipework. Modern pressurised heating and hot water systems are supplied direct from the mains without the need for tanks, as are combination boilers. So where you've got water tanks in the loft it's likely that they'll be nearing the end of their useful life. 
Assuming that's the case, the best option will probably be to replace them with a modern set up. This will, of course, incur a significant cost.
(MORE: Loft Conversion Ideas)
Chartered surveyor Ian is the author of eight popular Haynes House Manuals and is a director of Rightsurvey.co.uk. He is also in the process of adding a large extension to his home.
Homebuilding & Renovating Newsletter
Get the latest news, reviews and product advice straight to your inbox.
Thank you for signing up to Homebuilding. You will receive a verification email shortly.
There was a problem. Please refresh the page and try again.