Design Briefs: How to Create One for Your Architect
By Natasha Brinsmead published
Whilst the right architect can be key to project success — without a good design brief, problems can crop up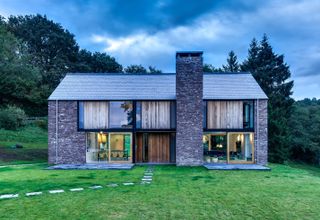 (Image credit: Simon Maxwell)
This guide will ensure the design brief you hand your architect results in you dream home.
The services of a good architect, or house design professional, can be invaluable in ensuring the success of the project. Very often, finding the right architect, will make the difference between a 'so-so' end result and a design that really shines.
A great designer will have an eye for detail, understand how to make the most of your budget, be able to tease the very most out of a plot and have an endless list of reliable tradespeople on speed dial.
However, finding the right architect is actually just the beginning — because without a good design brief from you, the client, an architect is playing a bit of a guessing game as to what you are hoping to achieve.
A vague, poorly-planned design brief can result in all sorts of issues, from overspending to projects that take far longer than they really should.
It is for this reason that you should start developing a design brief even before making your final decision on the architect you want to work with — having a firm idea of what you want to achieve will have an effect on the designer you choose, after all.
(MORE: Self Build: Ultimate Guide)
What to Include in a Design Brief for Your Architect
First things first, it is important to remember that the initial ideas you go to your architect with need not be concrete – after all, the whole point of using an architect is that they will hopefully be full of great ideas and inspiration when it comes to your design and therefore help shape your vision for the house.
However, what is crucial is that you are able to communicate your priorities and what you hope from the finished project.
For this reason it is helpful to include details on the following within your design brief:
Your reasons for building/extending or renovating. Perhaps it is to create a lifetime home that will take you comfortably into old age, maybe your extension is to provide a larger kitchen diner or you want to remodel in order to make the most of an amazing view
The size of house you want, including how many bedrooms, bathrooms, living spaces you require
How you want the house to benefit your lifestyle — do you, for example, need a work from home space, a playroom, a large boot room for muddy boots or pet beds, a downstairs bedroom and bathroom for elderly relatives?
Who will be living in the house? How many occupants, their ages and how often you expect to have guests are all important factors
Must-have features, such as a walk-in larder, space for a range cooker, a garage, a solid connection to the outdoors, roof lanterns etc
Any energy-efficient features you want to include — how far do you want to go with creating a sustainable home?
Your budget and how much of it you are willing to apportion to each area of the project — for example is the latest in home technology more important than a high-end budget busting kitchen?
Inform them of any planning conditions that you may already be aware of
(MORE: Find an architect in your area)
Use Pictures in Your Design Brief
The old saying, 'a picture paints a thousand words' really does ring true when it comes to creating a brief for your architect.
Whilst it is all well and good coming up with a list of likes and dislikes, your architect cannot crawl into your head, which is why having visuals as to what you are hoping to achieve is vital.
Take cuttings from magazines, use websites, photos of details from places and homes you visit, colour swatches — anything that helps build up a clear and concise idea of where you want the build to go.
Include pictures not only of house styles, but also the interiors and landscaping to ensure everyone is on the same page.
(MORE: Renovating a House)
Prioritise Your Wish List
Unless you have a bottomless build budget, it is likely that you will need to organise your brief in such a way that separate the 'must-haves' from the 'would quite likes'.
If the whole reason behind the project is to reduce energy bills, add an extra bedroom or you are in dire need of a utility room or study, for example, then these things need to be top of the list.
Look at those features and areas which you could, potentially, sacrifice or at least find alternatives for if needs be.
(MORE: Excellent House Design Ideas)
Be Upfront About Your Budget
Don't let your project come unstuck because you haven't planned or communicated your finances properly.
Once you know how much your build costs can extend to, let your architect know. There is absolutely no point to allowing your designer to create designs that are beyond your means — it is a waste of their time and yours.
Our build cost calculator will help you work out what your project will cost.
You also need to include the timescales you are working to in your brief.
Natasha is Homebuilding & Renovating's Associate Editor and has been a member of the team for over two decades. An experienced journalist and renovation expert, she has written for a number of homes titles. She has renovated a terrace and is at the end of the DIY renovation and extension of her Edwardian cottage. She is now looking for her next project.
Homebuilding & Renovating Newsletter
Get the latest news, reviews and product advice straight to your inbox.
Thank you for signing up to Homebuilding. You will receive a verification email shortly.
There was a problem. Please refresh the page and try again.