Should You Demolish and Replace?
By Michael Holmes , Mark Stevenson published
Today over half of all self-builders are choosing to knock down and start again. Here we look at what's involved — and explain why it might be the right route for your project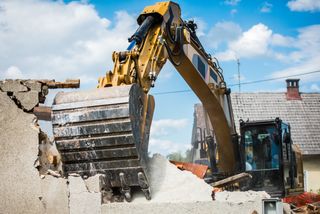 (Image credit: getty images)
All houses are just temporary occupants of building plots. When you think about land finding in that sense, all of a sudden a world of opportunity awaits you. These days, just over half of all self builds in the UK take place as a result of an existing home being demolished*.
So how do you approach the idea of replacing and rebuilding, and how do you know whether the house you have just seen (or perhaps have even owned for years) is suitable for the wrecking ball?
Perhaps the existing house is poorly designed or too small for the size and value of the land it stands on, or simply beyond economic repair or improvement. Its fate will be further sealed by the fact that a new dwelling benefits from zero per cent VAT while renovation and extension work is usually standard rated at 20 per cent.
Before you decide whether to go down the demolition route, it's worth considering a range of issues — from costs and VAT to environmental impact and planning rules.
Does my Plot have Redevelopment Potential?
Viability is the key to identifying whether a plot has potential for redevelopment — while building your dream home isn't always a profit-making exercise, making sure the numbers stack up is paramount. The idea is to work out if the project is 'profitable' and thereby 'viable', and therefore worthy of your time to redevelop it.
This is where many uninformed self-builders come unstuck. The advice when it comes to replacement plots is to think like a developer, do your research and always understand the financial consequences of taking on a project.
In the broad sense, calculating viability isn't complicated; it's a case of working backwards from what the plot could support, establishing the end value and then deducting the total cost of developing the project and buying the property in the first place.
What's left is 'profit', or in other words 'equity', generated by your efforts to build a replacement home. Ideally only consider projects that are in the black once completed, unless you're happy to lose money. The basic calculation is:
Profit (equity) = End value – build costs – purchase costs
You must do your homework and account for all costs involved.
Designing a Replacement Dwelling
The end value of the rebuilt house will depend on its architectural design, and failure to secure planning permission will stop any project dead in its tracks. You need to create a design that demands the best price while securing the green light from the local planning authority (LPA).
When developing design ideas, take cues from the surrounding buildings and think about how your proposal will impact or ideally 'fit into' the local street scene. Designs that are overbearing, taller than adjacent properties and result in loss of amenity to neighbours are likely to be frowned upon and probably refused permission.
It may be worth checking your proposals with the planning department by holding a 'pre-app' meeting, but be cautious with this as the advice given is not legally binding on the local authority.
How Much Does it Cost to Demolish a House?
Demolition of residential properties is generally straightforward and costs about £8,000-£12,000 for a single property.
The bulk of this cost is disposal of the materials and the cost will be mitigated if there are materials with salvage value. A contractor will list the value of any salvage items and usually offset this against the quote. Costs can be reduced further if there is scope to reuse or dispose of non-toxic waste on site, such as clean hardcore for drives, paths, terraces and soakaways.
The time taken for demolition works depends on the scale and complexity of the house. The work will typically take four to eight working days. If the building is a semi-detached or terraced house, the adjoining buildings will require support following demolition, and this will add to the cost.
Remember, there is no legal right to access someone's land to carry out the demolition. You're at the mercy of the landowner who may refuse access and therefore a license should be obtained to ensure demolition can be safely completed. Don't rely on your friendly neighbour (who may not stay friendly); do expect to pay a reasonable sum putting this in place.
Existing service connections to electricity, mains water and sewage, and connection to the highway can usually be reused, and this can represent a significant saving compared to developing a virgin plot.
If there is specialist work required, such as removing asbestos (often found in the form of cladding, roofing, and rainwater goods), this can add to both the costs and schedule. There are strict rules on the removal and handling of asbestos, and it can be best to get a report and quote from a specialist contractor.
Can I Retain Parts of the Existing Building?
Retaining parts of the existing structure and incorporating them into the new build may seem to be a good idea. But by doing this, your project will cost significantly more to build.
In order to qualify for 0% rated VAT, the entire existing building including the foundations must be replaced. So if you keep, say, the existing substructures, you won't be able to reclaim the VAT, which adds a whopping 20% onto the construction cost.
How to Qualify for Zero-Rated VAT
A new dwelling will qualify for zero-rated VAT providing it does not make use of any part of any existing dwelling, with the following exceptions:
a cellar/basement (you can also retain a ground floor slab)
retained party walls shared with neighbouring properties (for example, a terraced or semi-detached house)
one (two on a corner site) retained façade (only if it is required explicitly in your planning permission)
the creation of a new dwelling by adding another storey/ addition or conversion involving a change of use
Detached garages or outbuildings can be retained. Demolition work itself can be zero-rated for VAT if it is undertaken in order to facilitate the construction of a new dwelling.
Common Issues with Replacement Dwellings
The substantial demolition of an unlisted building within a Conservation Area will require planning permission from the local authority, with the exception of buildings of less than 115m3, or walls or fences 1m high next to a highway, or 2m high elsewhere.
This consent is required for the demolition of any part of a listed building. Substantial demolition of a building within a Conservation Area, or of a listed building, without the relevant permission from the local planning authority is a criminal offence and could lead to potentially unlimited fines.
Planning policy usually allows a replacement dwelling, even in the open countryside, providing the building has not been abandoned. The definition of abandonment is not fully defined in law, so it is always best to get permission for a replacement dwelling prior to demolition.
Replacement dwelling policy varies across the UK, and in many areas there are restrictions on the scale of any enlargement, and its location, relative to the existing house. Where consent for a new dwelling in the open countryside has been granted on an exception – for example, conversion of a redundant agricultural building – total demolition of the existing building will invalidate the consent so this must be avoided. The same applies to agricultural dwellings.
If you are demolishing a property other than a detached house, it is likely that adjoining neighbouring properties enjoy a right of support — a special type of easement recognised and protected by law. When you undertake demolition works, you have a duty to support the remaining portions of the building and to ensure the new building continues to do so. The same right of support applies if you are excavating ground adjacent to a neighbour, for instance, for foundations or a new basement.
If the demolition work affects a party wall or party wall structure, a party wall agreement will need to be negotiated under the terms of the Party Wall Act 1996 (England and Wales only).
Financing a Replacement Dwelling
Financing a rebuild project is likely to be more complicated than building, say, a new home on a virgin plot. The problem is that the financing process becomes illogical in the case of rebuild projects — you need a mortgage to buy the property which is secured against the value of the building you want to knock down!
This sets alarm bells ringing for standard high street banks, who may quickly lose interest in approving your mortgage application. Financing rebuild projects needs specialist advice and a pragmatic approach, which is often offered by a friendly building society.
Advantages of Replacing an Existing Home
Design freedom A new home can be designed to reflect your individual needs and aspirations
Increased value Individual, well-designed, energy-efficient homes positioned within an established community are more desirable and therefore more valuable
More space Replacement dwellings benefit from planning policies,allowing significant increase in size and scale
Lower energy bills New homes built with high performance building systems are much more energy efficient
Pay less tax Community Infrastructure Levy (CIL) liabilities onlyapply to the increased floor area and new builds benefit from zero rated VAT. Self-builders can claim exemption from CIL as well
Easier to find With an ageing housing stock, replacement plots are easier to find than greenfield new build plots
Live in the open countryside Often the only way to achieve a permission outside settlement boundaries
Less risk The principle of residential development is already established, so there is less planning risk
Essential services (water, gas, electric, telecoms, drainage) are readily available
Unexpected foundation problems are less likely, as existing buildings display evidence of structural stability or instability
Established access arrangements
Michael is HB&R's Head of Content and Product Development. Michael is also, Chair of the National Custom and Self Build Association (NaCSBA), presenter of multiple property TV shows and author of Renovating for Profit (Ebury). Michael is a regular in the seminar theatres and Advice Centre at the Homebuilding & Renovating Show.
Homebuilding & Renovating Newsletter
Get the latest news, reviews and product advice straight to your inbox.
Thank you for signing up to Homebuilding. You will receive a verification email shortly.
There was a problem. Please refresh the page and try again.