Extensions for Every Budget
By Amy Reeves published
Extensions come in all shapes and sizes – and budgets too. Here's a selection of extension projects in a range of price brackets to show you what you could build on your budget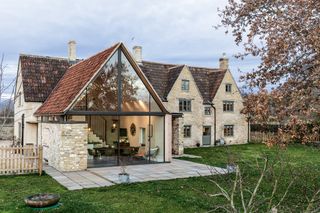 (Image credit: Simon Maxwell)
When it comes to building an extension, there is no one-size-fits-all solution. The end result will hugely depend on location, existing home style and, of course, budget.
Not only do size and quality of spec vary from project to project, but we all also have a list of must-haves and a wish list of features unique to our lifestyles and how we utilise our homes.
If you are looking to create extra space, and even add value to your home with an extension, take a look at the incredible projects below. We've selected some amazing extension in a variety of price brackets to get your project off the ground with ideas of the type of home you can achieve on your budget.
Adding Extra Living Space with an Orangery for Under 50k
Anglian Home Improvements was commissioned by the owners of this home in Bedford to add an orangery to create an indoor/outdoor space on a budget.
The new addition allows the interiors to be opened up through aluminium bifold doors to give a panoramic view of the landscape. A roof lantern also allows natural light to flow into the home.
Expand Existing Space with a Glass Box Extension
Extending a listed property can be a tricky thing to get right, but this glass box extension make it look easy.
With beautiful sliding and casement doors from IQ Glass (supplied for £34,000), the design creates a stunning contrast to the traditional stone of the original cottage.
Adding a Light-filled Addition
Minimalist, but no less impactful, this extension was designed and installed to a budget to just £36k.
Designed by HUT Architecture, the new space featured plenty of aluminium glazing (supplied by IQ Glass) to maximise natural light and views out to the garden
A Budget Extension to Semi-Detached Home
Homeowners Samantha Worrall and Philip Osborne wanted to create more space within their 1930s semi-detached family home on a limited budget. They chose a contemporary rendered extension to the rear of the property, along with a small side extension that runs down one side of the house.
The flat-roofed extension is now home to a bright open plan kitchen, dining and seating space, while the side extension has provided a bright entrance hall and WC, which the existing property had lacked.
The project was completed for just £40,000.
Oak Frame Kitchen Extension
These homeowners approached Welsh Oak Frame with a brief for an open plan kitchen/dining/living space the whole family could enjoy, with a home office on a mezzanine level overlooking the kitchen, as well as a bedroom with en suite and a separate living room.
They chose an oak frame route as they felt that exposed oak would be in keeping with the style of the original Welsh farmhouse and would add character and warmth to the new space.
Oak bifold doors with a large window above combine to create a fully glazed wall at the end of the room, revealing impressive countryside views and allowing natural light to flood the interiors.
The extension cost £40,000.
Oak and Glass Single Room Addition
The homeowners of this project approached Border Oak to design and build an oak and glass single room extension to their listed Arts and Crafts house, joined with a modern frameless glass connection so that the two parts can be easily distinguished.
The oak frame extension sits on a brick plinth and boasts a double-height vaulted ceiling complete with exposed beams and trusses. It also features glazed insert panels which bring in plenty of natural light.
Oak Orangery Built for Under 100k
The designers at Arboreta came up with an orangery constructed of oak frame on a brick plinth. The new extension is a light-touch addition to the front elevation, thanks to the glass panels and large roof lantern — which also helps the space to feel light and airy internally.
French doors opening onto the terrace with oak-framed windows on all sides have transformed how the house works and created an indoor/outdoor feel to the open plan kitchen/dining/living space, making it perfect for entertaining.
Arboreta carries out projects of this type for around £60,000.
Modern Extension Built for under 65k
This Edwardian townhouse was transformed to the cost of just £63,800. Although the the building work itself come in at £46k, considerations were made to keep costs low by retaining their old furniture and mixing high quality finishes with cost-effective yet practical materials.
Inside the broken plan living and dining area plywood and cork are used to bring visual warmth in the modern space while a hardwearing composite cork flooring was matched with Formica-faced units in the kitchen.
Adding a Light-filled Side-return Extension
First-time buyers Amy and Gareth Andrew built a side-return extension on their terrace in Worcester for £70,000.
They took on much of the work themselves while opening up the rear of the house and knocking-through to create a new open-plan living, kitchen and dining space. Gareth also managed the project himself to keep costs down.
A Sensitive Yet Modern Cottage Extension
As part of a whole-house remodel, designed by architectural designer Charlie Luxton, the kitchen extension fulfils the client's brief for a light-filled space which connects to the outside through full-height sliding glass doors.
High-level windows to one elevation provide privacy, but bring in even more light — as does the glazed gable. While the overall project came in at around £259,000, the kitchen extension itself cost £82,500.
Extra Space Added for the Perfect Kitchen
For this extension, a small link structure was formed to connect the two parts of the property; the new section is completely self-supporting and independent. The new addition has been weatherboarded to fit in with the vernacular and gives the impression of a barn that may have been an outbuilding to the host house.
A wall of glass connects the interiors to the garden, while the vaulted ceiling creates a great feeling of volume in the space. The build cost for a similar extension would be £75k-£85k depending on specification.
Building a Contemporary Extension for Under £200k
A love of everything glass prompted the owners of this Winchester property to ask Andy Ramus of AR Design Studio to design a contemporary extension, complete with a striking glass staircase with rooflight above.
Located at the rear of the house, the extension is constructed with frameless glazing, giving a clean, delicate appearance to this open, light-filled kitchen/dining/living area, while still showing the property's traditional brick-clad exterior.
This extension cost £120,000 for materials and construction.
Dramatic Extension to Terrace House
Open-plan living was the key to unlocking this terrace house's real potential.
A small side extension for £130k allowed the homeowners to create a social kitchen-dining space for their family while a loft conversion and dormer addition provides a new master bedroom with ensuite.
Terraced Home Extension to Bring the Outside In
The owners of this terraced home in East Dulwich enlisted architectural firm Selencky///Parsons to improve the kitchen and dining space, the connection between the front and back of the house, and maximise potential to capture panoramic views across London from the ground floor.
By extending into the side return of the property and reimagining the circulation space, a sequence of zoned spaces within an open plan layout have been created, while clerestory windows and a rooflight help to bring natural light deep into the home.
The project cost £140,000.
Wow-Factor Extension to a Victorian Semi
As part of this rear extension project, the owner was keen to introduce more light into their new space; choosing a pyramidal glazed roof and large full height sliding glass doors which link to the garden over a level threshold — the angular design of the new addition also leads the eye outside.
The extension, which was part of a whole ground floor remodel, cost around £180,000.
Extending a Home for Under £400,000
Adding a two-storey extension and dormer loft conversion to their home in North London for £200k has allowed the homeowners to remain in the location they loved, while also enabling the house to cater for their growing family.
Bespoke joinery and extensive glazing has been introduced throughout the home, while an internal remodelling scheme configures the property to suit modern living.
A Self-Designed Home Extension
Faced with a dark and awkward layout, Georgia and Matt Blundell took matters into their own hands and designed their side and rear extension themselves.
Large sliding doors lead from the open kitchen-diner out to the garden – complete with a new pizza oven and bespoke tiered seating area – for the ultimate connection with the outside. The project cost £343,000.
Make an Impact with a Modern Single-storey Extension
Clad in a combination of render and charred timber, the ground floor extension is wrapped in glass. Deep cantilevered eaves offer protection from the elements when the large sliding aluminium framed doors are open. Two frameless rooflights within this space also create stunning views of the sky as well as allowing light to pour into the extension.
Upstairs in the new gabled first floor extension, a balcony is accessed through sliding doors from the bedrooms. The balconies overlook the sedum roof and roof windows of the ground floor extension.
This project cost £360,000 for construction and materials.
Adding a Modern Extension to a Period House
Once a neglected and derelict farmhouse in Gloucestershire, this beautiful home has been transformed with a sensitive yet contemporary addition, completed for £360,000.
The homeowners wanted to add plenty of light to the house so they chose a striking glazed gable, while care was taken to match the form and materials of the extension – brick, roof tiles and pitch – to the original structure.
Transforming a House with an Extension for under £500,000
With a view to radically overhauling a dated 1930s red-brick dormer bungalow in Sutton Coldfield, the homeowners called on S&S Architecture to carry out an impressive transformation of their home, extending the property on all four sides.
The series of extensions to the front, sides and rear means the home has nearly tripled in size, from 186m² to over 510m². The former three-bed home now has five generous bedrooms, all with en suite facilities.
The work cost just under £500,000.
Adding an Extension for Over £500k
After falling in love with a forgotten woodcutter's cottage on the edge of the Cotswolds, Zoe and Norman Carter have built a large, subterranean extension which wonderfully complements and contrasts with the original property.
With high-spec home automation throughout, the devil was in the detail with the design of this extension, which was achieved for £1.5million.
The restored cottage can be converted into an isolated dwelling if the time comes when the homeowners require a carer, while Zoe and Norman's living quarters have wide doorways and level thresholds throughout so the house can adapt with the future.
Assistant Editor Amy began working for Homebuilding & Renovating in 2018. She has an interest in sustainable building methods and always has her eye on the latest design ideas. Amy has interviewed countless self builders, renovators and extenders about their experiences for Homebuilding & Renovating magazine. She is currently renovating a mid-century home, together with her partner, on a DIY basis, and has recently fitted her own kitchen.
Homebuilding & Renovating Newsletter
Get the latest news, reviews and product advice straight to your inbox.
Thank you for signing up to Homebuilding. You will receive a verification email shortly.
There was a problem. Please refresh the page and try again.