About Homebuilding & Renovating
Find out more about the people and history behind the brand — and how to contact us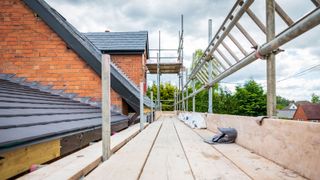 (Image credit: Future)
Homebuilding & Renovating is the UK's number-one brand for self builders and extenders — and the essential go-to resource for anyone who wants to build or improve their own home.
Whether in print, online or live, with Homebuilding & Renovating you can find all the expert advice, product knowledge and design inspiration you need to create the home you want.
Homebuilding & Renovating's History
In the summer of 1990, a new magazine entitled Individual Homes landed on the newsstand. Brought into fruition by founding editor Peter Harris, the magazine's aim was simple: to educate and inspire those hoping to create a one-off home — whether that involved building a new home, renovating a house, extending an existing property, or converting a redundant building into a dwelling.
By autumn 1997, the quarterly title had become a monthly magazine, had a new editor, Michael Holmes, and a new name: Homebuilding & Renovating. By this time the brand also had a fledgling website, homebuilding.co.uk,
What has remained constant over the last three decades is the pioneering spirit of the self builder and renovator — a willingness to push the boundaries and to tread the often challenging but rewarding path to creating an individual home.
The brand has grown into so much more than a website and magazine over the last three decades, too. Our eight UK Shows, our plotfinding service (Plotfinder.net) and our social media channels on Facebook, Instagram and Twitter mean we're now on hand 24 hours a day, 365 days a year, should you need us.
So, whether you're undertaking a quick DIY task around the home or are taking on a life-changing project such as building or extending a home, we're here to help with independent expert advice, design ideas and much more.
Meet the Homebuilding Editorial Team
For the team behind the brand, the topic has become much more than a job — it's a way of our life. Many of our writers and editors are in the midst of projects — and some have taken on multiple projects (former editor Micheal Holmes has no few than 30 projects under his belt).
We're also supported by a team of guest experts who spend their days on building sites or advising homeowners on their dream homes. From planning experts and architects, builders to plumbers, we've got every area of self build and home improvement covered.
Meet our Guest Experts and Editors
In-depth, independent expert advice is at the core of what we do at Homebuilding & Renovating. As such, we call on a team of guest experts and editors – many of whom have been writing for the brand for a number of decades – to write and edit key content in their area of expertise.
This team of dedicated experts includes builders, architects, surveyors, planning consultants, tradespeople, energy efficiency consultants and many more professionals besides…
Contact Us
Contact the editorial team with feedback, suggestions and with PR enquiries, by emailing homebuilding@futurenet.com.
Advertising and licensing enquiries
For advertising and commercial enquiries, please contact Jackie Sanders (jackie.sanders@futurenet.com).
For information on using our logos, quotes and review content, click here or email licensing@futurenet.com.
Write to Us
Please send postal enquiries to: FAO Homebuilding & Renovating, Future Publishing, Quay House, The, Ambury, Bath BA1 1UA.
Follow Us on Social Media
Subscribe to the Magazine
To subscribe to Homebuilding & Renovating magazine, or for subscription enquiries, visit our online shop or call +44 344 848 2852.
For enquiries, visit www.magazinesdirect.com/terms or please call: +44 (0) 330 333 1113 - lines are open Monday- Friday 9am-5pm UK Time, or email: help@magazinesdirect.com.
Reviews
We take pride that our reviews are independent and free from commercial considerations. We never take money for reviews. Nothing that has a star rating has been paid for.
Almost all our review products are sent to us by the companies involved and almost always as a result of our request. We only review the products we think are worth reviewing. We always return products on request or at the end of our agreed loan period.
In our reviews, we score products on a scale from 1 to 5 stars. Three stars is a good product, four stars is a very good product. Five stars is never awarded lightly and is a mark of exceptional quality.
Affiliate & Advertising disclosure
We always aim to provide unbiased editorial created by our journalists and writers. We also need to pay our teams and website costs so we make money in a number of ways. We sometimes use affiliate links to products and services on retailer sites for which we can receive compensation if you click on those links or make purchases through them. From time to time we also publish advertorials (paid-for editorial content) and sponsored content on the site. When this is the case the content is clearly marked as sponsored or promoted, so you'll always know which content is editorial and which is not. Future PLC is our parent company and has an in-depth terms and conditions page with a lot more information that you can read right here.
Privacy Policy
Homebuilding & Renovating is committed to protecting your privacy. Please have a look at our in-depth privacy policy to find out more.
IPSO
Homebuilding & Renovating is a member of the Independent Press Standards Organisation (which regulates the UK's magazine and newspaper industry). We abide by the Editors' Code of Practice and are committed to upholding the highest standards of journalism.
If you think that we have not met those standards and want to make a complaint please contact homebuilding@futurenet.com. If we are unable to resolve your complaint, or if you would like more information about IPSO or the Editors' Code, contact IPSO on 0300 123 2220 or visit www.ipso.co.uk.
Get the Homebuilding & Renovating Newsletter
Bring your dream home to life with expert advice, how-to guides and design inspiration, direct to your inbox.