About Us
Find out more about the people behind Homebuilding & Renovating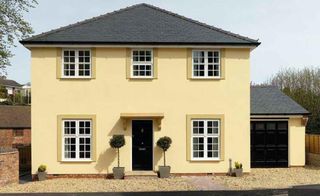 (Image credit: Jeremy Phillips)
Homebuilding & Renovating is the essential go-to resource for anyone who wants to build or improve their own home. Whether in print, online or live, with Homebuilding & Renovating you can find all the expert advice, product knowledge and design inspiration you need to create the home you want.
Meet the Team
Claire Lloyd
Claire is Editor of Homebuilding & Renovating magazine and has been a member of the team for over a decade. She has just completed her latest renovation project.
Natasha Brinsmead
Natasha is Homebuilding & Renovating's Associate Editor. She is at the end of the DIY renovation and extension of an Edwardian cottage.
Michelle Guy
Michelle is Homebuilding & Renovating's Assistant Editor. With an editorial career spanning more than 18 years, Michelle spent time working on educational magazines and websites until her career took an exciting turn into the world of home interest and interiors. Working on sister titles Real Homes and Period Living, she then joined the Homebuilding team in November 2018. She's just about to take on her second kitchen renovation project, armed with an ever-growing knowledge of homebuilding advice and design inspo (and a Pinterest board or two, of course).
Jason Orme
The former Editor of Homebuilding & Renovating magazine, Jason is an experienced self builder and has just finished renovating a 1960s home. He is also the author of The Self Build Dream. You can catch Jason in the seminar theatres and Advice Centre at many of the Homebuilding & Renovating Shows across the UK.
Michael Holmes
Michael is HB&R's Head of Content and Product Development. Michael is also, Chair of the National Custom and Self Build Association (NaCSBA), presenter of multiple property TV shows and author of Renovating for Profit (Ebury). Michael is a regular in the seminar theatres and Advice Centre at the Homebuilding & Renovating Show.
Amy Reeves
Editorial Assistant Amy began working for Homebuilding & Renovating in 2018. She has an interest in sustainable building methods and modern rustic interior design. She is on the lookout for a potential step onto the property ladder in the form of a budget renovation project, but for now settles on filling her Pinterest board with ideas for the future.
Sarah Handley
Sarah is Web Editor of homebuilding.co.uk. She began her career more than a decade ago, working on the editorial team of Public Sector Building magazine, before joining the wider Homebuilding & Renovating team as Social Media Editor in 2012. Since purchasing her first house in 2015, Sarah has been adding to the ever-increasing list of home improvements she needs to make; including extending over the garage, resurfacing the driveway, replacing existing flooring and revamping the kitchen. Fortunately, in her eight years on Team Homebuilding, including three as web editor, she is not short on design inspiration or top tips to tackle or project manage these tasks herself.
Katie Corcoran
Katie is Digital Editor of homebuilding.co.uk and has worked for some of the UK's biggest magazine brands over the last 15 years. Katie is as passionate about digital as she is about DIY and has renovated two houses including a 200-year-old cottage and a 1950s semi.
Jack Woodfield
Jack is News Editor of Homebuilding & Renovating, and is striving to break the most relevant and beneficial stories for self builders and renovators. Having bought his first home in 2013, he and his wife have renovated almost every room and recently finished a garden renovation.
Matt Gibbs
Matt is Homebuilding & Renovating's Video Producer. Having worked in video & TV since 2004, Matt joined the Homebuilding & Renovating team in 2016, and is the man behind the videos on Homebuilding & Renovating's and Real Homes' YouTube channels. With a strong interest in architecture and interior design, Matt's a keen DIY-er, and has been growing his knowledge and skillset by filming self-builders, architects and homebuilding experts and following their lead.
Guest Experts
Lindsey Davis
Lindsey made her first foray into writing about homes five years ago when she joined the Homebuilding & Renovating team as Web Editor. She bought her first house five years ago, while it is an ongoing project she has managed to put the lessons she learned on Team Homebuilding to good use, tiling a bathroom wall and converting her loft. Lindsey is now Associated Editor on homebuilding.co.uk's sister site, Realhomes.com.
David Snell
The author of Building Your Own Home, David is a serial self builder and has been building homes for 50 years. He has just finished his fourteenth self build project.
Ian Rock, MRICS
Chartered surveyor Ian is the author of eight popular Haynes House Manuals and is a director is Rightsurvey.co.uk. He is also in the process of adding a large extension to his home.
Allan Corfield
Allan runs Allan Corfield Architects and is an expert in designing high-performing, energy-efficient homes. Allan is also one of the leading experts in SIPs construction method in the UK and is part of the Structural Timber Association and a member of NaCSBA.
Andy Stevens
Andy is an award-winning builder and managing director of Eclipse Property Solutions. He also presents a radio show on Fix Radio.
Paul Testa
Architect Paul is the director of Paul Testa Architecture and is currently undertaking an eco retrofit to his family home. Follow his project with his on-site diary entries in the magazine.
Mike Cruickshank
Property developer Mike is an expert in timber frame construction and offers advice on the build process as well as the cost elements of building with timber.
Paul Hymers
Paul is a building control officer and has written eight books on home improvements and building homes.
Ken Dijksman
Ken, a former planning officer, is a planning consultant and owner of Dijksman Planning LLP. He is also the author of The Planning Game.
Tim Pullen
Tim is an expert in sustainable building methods and energy efficiency in residential homes.
Mark Brinkley
Mark is the author of the ever-popular Housebuilder's Bible and an experienced builder. He's just finished his latest self build.
Neil Turner
Architect Neil Turner is director at Howarth Litchfield Partnership and specialises in residential design.
Charlie Luxton
Charlie is an experienced architectural designer and TV broadcaster. He has just completed his latest self build project.
Pete Tonks
Pete is a design expert and director of PJT Design Ltd. He has been designing self build homes for over 20 years and is a specialist in designing oak frame homes.
David Hilton
David is an expert in sustainable building and energy efficiency and is also director of Heat and Energy Ltd.
Bob Branscombe
Bob is one of the UK's leading Chartered Surveyors and with over 30-years' experience in both self build and construction. A career spent with several main contractors and major surveying consultancies has helped reinforce his approach that cost-estimating and control are a fundamental tenet of self-building.
Sally Tagg, MRTPI
Sally is an expert in all things planning permission and is Managing Director of Foxley Tagg Planning Ltd, Executive Committee Member – National Custom & Self Build Association (NaCSBA) and Board Member of the Right to Build Taskforce. Sally and her team are a regular presence in The Planning Clinic at the Homebuilding & Renovating Show.
Bruce Bendall
Bruce is a third generation builder with over 30 years' experience. He has recently completed his latest self build.
Subscriptions
To subscribe to Homebuilding & Renovating magazine, or for subscription enquiries, visit our online shop or call +44 344 848 2852.

To manage an existing subscription or to renew, please log in to your account or call +44 344 848 2852
Opening hours are: Monday-Friday 8.00am til 7.00pm. Saturday 10.00am – 2.00pm.
homeinterest.customerservice@futurenet.com
IPSO
Homebuilding & Renovating is a member of the Independent Press Standards Organisation (which regulates the UK's magazine and newspaper industry). We abide by the Editors' Code of Practice and are committed to upholding the highest standards of journalism.
If you think that we have not met those standards and want to make a complaint please contact homebuilding@futurenet.com. If we are unable to resolve your complaint, or if you would like more information about IPSO or the Editors' Code, contact IPSO on 0300 123 2220 or visit www.ipso.co.uk.
Homebuilding & Renovating Newsletter
Get the latest news, expert advice and product inspiration straight to your inbox.
Thank you for signing up to Homebuilding. You will receive a verification email shortly.
There was a problem. Please refresh the page and try again.