Floor Screed: Types, Cost and How it's Applied
Get to grips with the types of floor screed available, both old school and modern, to see which is right for your build project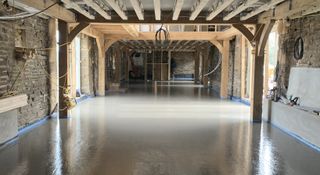 (Image credit: Self Build and Contract Floors)
Applying a floor screed can be an exciting part of your project — a step towards your build starting to look like a finished room. They're largely used to level out floor structures and as an effective base for floors utilising underfloor heating, but while your floor screed might not be visible once your floor covering is down, choosing the right type for your project is still important.
In our guide to floor screeds, we examine the pros and cons of the different options and the cost implications, alongside how they're applied and how your schedule will be affected while waiting for a screed to dry.
(MORE: Find out Which Types of Flooring Work Best With Underfloor Heating)
What is the Purpose of a Floor Screed?
There's no law that says you have to use a floor screed to cover your ground floor structure before laying your chosen covering.
Floor screeds are not structural. For example, in a garage conversion, it's common for floorboards to be placed over thick sheets of insulation instead.
One of the main reasons screeds are used in the vast majority of homes, despite the extra expense, is that they're very useful for levelling uneven floor structures. This is particularly important with modern precast concrete beam and block floors, which have a distinct camber that can cause problems when it comes to laying floor finishes.
Screeds are also the preferred medium for underfloor heating pipes as the material excels at absorbing and radiating warmth, becoming an integral part of the heating process.
(MORE: Discover How to Level a Floor With This Guide)
What are the Different Types of Floor Screeds
There are two main types of floor screed currently used:
Sand/cement floor screed
Pumped anhydrite floor screeds
Conventional sand/cement screed uses a relatively strong mix (1:3 cement to sharp sand) with a fairly dry, almost powdery consistency.
Traditionally, it would be prepared on site but shovelling sand and cement into a mixer is very labour intensive and prone to inconsistency, which is why most larger sites now use ready-mixed screeds delivered by lorry, in a similar way to foundations.
Ready-mixed screeds also come with added retardants to delay the set, so a single load can last all day. But despite such improvements in quality, poured liquid screeds installed by specialist firms are starting to make major inroads into a market dominated until now by traditional sand and cement.
Ashley Sexton, director of Express Liquid Screeds, says: "There's been a huge increase in the popularity of pumped anhydrite screeds over the last five years; it's estimated they now account for nearly 20% of the market," he says.
The terminology can be a little confusing because the terms 'anhydrite', 'calcium sulphate' and 'gypsum' are used interchangeably.
The key ingredient is anhydrous (dry) calcium sulphate, typically comprising around 35% recycled content. When mixed with water this forms gypsum, the same material found in modern plasters and plasterboard. The gypsum replaces conventional cement as a binder.
Cement also seems to be making something of a comeback. Cement-based products like McGraths' Cemfloor and Belitex claim to offer similar benefits to gypsum but without the downsides.
Another option available to you is a liquid cement screed, which are applied in the same way as anhydrite and laid to the same thickness. They have similar properties to anhydrite: they are self-compacting, quick to lay and UFH-compatible. Manufacturers claim they are quicker to dry, even in adverse conditions, and can be tiled with little or no surface preparation.
However, they're relatively new to the UK and so far there's little hard evidence to substantiate performance, although they've achieved a successful track record abroad. They're also about 20% dearer in terms of materials, although costs may fall as demand rises.
Pros and Cons of Different Types of Floor Screed
Pros of Sand/Cement Floor Screeds
Old-fashioned sand/cement screed is relatively cheap to produce.
It can be prepared by unskilled labour and trowelled on site.
It also requires minimal preparation other than taping joints between insulation boards
Unlike poured liquid screeds, sand/cement readily lends itself to the formation of sloping floors in wet rooms.
Cons of Sand/Cement Floor Screeds
Sand/cement mixes can result in a patchy quality, uneven finish and a propensity to develop cracks.
Where floors are uneven, a self-levelling compound may need to be applied before floor tiling.
Although it's compatible with underfloor heating, hand-mixed sand/cement isn't ideally suited as it's relatively thick (typically laid 65mm to 75mm deep) and prone to harbouring pockets of air that can act as a barrier to heat transfer
Pros of Pumped Anhydrite Screeds
Anhydrite (liquid calcium sulphate) screeds offer a number of advantages:
Although the material itself costs about 50% more per m3 than sand/cement, being poured from a large hose makes it much quicker to lay (it's claimed 20 times as quick) with consequent savings on labour.
Costs are also reduced because it can be applied at depths as thin as 35mm. With underfloor heating you typically need 30mm cover above UFH pipes, making about 45mm in total, still incredibly slim by conventional standards.
Pumped liquid screeds are effectively self-levelling and self-curing, which translates into a nice level finish. While traditional sand/cement screeds aim to achieve the standard known as 'SR3', which permits a 10mm difference over 2m, liquid screeds aim for perfection (SR1 standard) but guarantee SR2 with a variation of plus or minus 5mm. Quality is further assured as liquid screeds are applied by specialist approved contractors.
Anhydrite is far less prone to shrinkage than cement and needs far fewer expansion joints (just across some doorway thresholds). This makes it compatible with large stone tiles that can be vulnerable to cracking should the screed beneath them shrink.
Best of all, liquid screeds are ideally suited to UFH because the liquid envelopes the pipes eliminating voids, so enhancing heat transfer between the pipes and the screed. Also the slimmer covering over pipes allows a quicker reaction time with better response/controllability.
Cons of Pumped Anhydrite Screeds
One downside of anhydrites is that you need to prepare the surface by sanding prior to tiling.
How Much Does Floor Screed Cost?
As a rough guide, laying a conventional sand/cement screed costs around £15/m2, increasing by around £5/m2 when delivered ready-mixed.
Pumped anhydrite floor screeds are not much dearer than ready-mix sand/cement, costing around £25/m3 (laid to a 50mm depth).
How do you Prep a Floor for Screed?
With liquid screeds of all types it's essential to get the preparation right:
The floor needs to be 'tanked' like a mini swimming pool using a polythene sheet membrane (typically 500 gauge)
In most cases the surface to be screeded will consist of 50 to 100mm-thick layers of insulation boards over a DPM (damp-proof membrane) on top of the floor structure. It's important these sheets are stable when walked on and laid so they don't rock about on uneven sub-floors.
This base layer of insulation needs to be lined with polythene sheeting to stop the liquid escaping and, in a worst-case scenario, causing the insulation boards to lift up and float around the room.
Lining also helps prevent any potential chemical reaction with the insulation underneath.
Any rogue plumbing or obstacles may need temporary formwork placed around them to ensure 100% watertightness.
To contain the liquid, the polythene sheet membrane is then lapped up the walls in a sharp right angle and glued in place with spray adhesive. This is in addition to existing layers such as the damp-proof course/damp-proof membrane, insulation strips around wall edges, and thin strips of compressible foam designed to accommodate any expansion once the screed is dry.
The final job is to tape all the joints and scrape off any lumps of plaster or debris so they don't float up to the surface once the screed is poured.
If you're installing underfloor heating, it's essential the pipes are pressurised to weigh them down and they're securely fixed over the polythene membrane to prevent them lifting up and floating as the screed is poured.
How do I stop my floor screed cracking?
To avoid cracking, manually applied screeds are commonly laid in 5m-long bays, sometimes with anti-crack mesh or fibres added.
With liquid screeds, it's easy to underestimate the volume of material required if the floor structure is uneven. For example, the camber in beam and block floors means that the point you measure from might be a bit higher or lower than the median. So you might order 50mm depth and find it actually ranges from 40mm to 70mm.
How is Liquid Floor Screed Applied?
The installers usually arrive on site a couple of hours in advance to set up their pump and check floor measurements to ensure the amount of screed ordered will be sufficient. Working from a level datum point, such as the base of the stairs or a doorway, a number of tripod levelling gauges are placed around the floor at various points and with the help of a laser adjusted to a consistent depth, thereby ensuring the finished screed surface is level throughout.
Once the mixer truck arrives the pre-mixed pumped screed is poured from a hefty-looking hose until the surface level reaches the marker tripods, which are then removed. It generally takes less than an hour to lay an entire ground floor in an average new house.
To make sure the screed is smooth and level with no air bubbles, the freshly applied screed is briefly manually agitated by someone wading through using a 'dappling bar'.
How Long Does Floor Screed Take to Dry Out?
Conventional sand/cement and anhydrite screeds
You can walk on the floor after about 48 hours once it becomes solid. Normal site traffic can resume after about a week and partition walls erected. Another week and a kitchen can be fitted. The liquid floor is perfectly level and should be walkable in 48 hours.
Unfortunately you can't lay floor coverings until the screed is 100% dried out all the way through. Allow a day for every mm depth up to the first 40mm, then two days per mm. The optimum drying conditions would be an ambient temperature of around 20°C and well-ventilated rooms (windows must be closed for the first 72 hours to prevent draughts causing over-rapid drying).
To be sure the floor has fully dried (less than 75% relative humidity or 0.5% moisture content) a special hydrometer can be used. In some cases it may be acceptable to lay impermeable floor tiles a little sooner.
Several factors affect drying times:
With sand/cement, specifying a modified admixture can speed things up so floor coverings can be down in about three weeks.
Anhydrites are very sensitive to drying conditions — it helps if the walls are plastered and dried out first so that room moisture levels aren't too high.
If time is short the process can be speeded up using 'force drying' techniques, shrinking drying times to less than 40 days.
Dehumidifiers can be used to accelerate drying 72 hours after placing.
After the first week UFH can be set to its lowest temperature and gradually turned up by 3°C per day until the working temperature is reached.
Cement liquid screeds
Their drying times are claimed to be as short as two to three weeks for a 40mm thick floor with good drying conditions, compared to around 40 days with calcium sulphate. They can also be force-dried and won't re-absorb moisture, so are more reliable in poor drying conditions.
Preparing the Floor Screed for the Floor Covering
Sand/cement screeds are usually a bit dusty or sandy on the surface due to precipitation or poor mixing so they tend to need a firm brushing before priming and tiling.
Calcium sulphate screeds are more demanding in this respect, because as the anhydrite cures a fragile coating of fine particles known as 'laitance' is deposited on the surface along with any bits of debris that may have floated up. This weak surface film is too friable and flaky to tile onto and needs to be abraded by sanding after about five to 10 days and the dust vacuumed off. Not doing this so is a major cause of failure with floor tiles, as it can peel off. Having this sanding done professionally can add around £8/m2 to the cost.
However, there are some new 'low laitance' varieties that only require a stiff brush or light sanding with 60 grit sandpaper. Problems can develop if the laitance is left for too long, as it becomes harder to remove and can also hinder the drying process. This isn't such an issue if you plan to lay unbonded flooring without adhesive, such engineered timber boards. But before tiling it's essential that floors are free of loose particles and primed to seal porous surfaces and prevent suction of moisture.
You also need to use special anhydrite-compatible tile adhesives that don't chemically react with gypsum, such as AnhyFix or Keracoll H40.
Frequently Asked Questions
What Speciality Floor Screeds are Available?
Manufacturers like Tarmac provide specially formulated products such as Topflow Soundbar — an acoustic screed originally designed to improve sound insulation between flats. These can be placed on top of timber floors, first having been strengthened with a layer of resilient foam under 24mm-thick chipboard.
For use with underfloor heating, specially formulated Thermio Plus only needs a super-thin 20mm covering over the pipes, making it more efficient at conducting heat into the room with quicker response times to temperature changes and reduced drying times. Other specialist screeds have been developed for use with Lewis Deck dovetail sheeting, for underfloor heating and acoustics on timber joisted upper floors.
Will Liquid Screeds Replace Traditional Cement Floor Screeds?
Small developers have long wanted to use liquid screeds, especially with underfloor heating. But sand/cement will still be around because pumped screeds are only cost-effective on floors areas of at least 40m2. For many smaller home extensions, floors will continue to be laid in the traditional way for the foreseeable future.
Get the Homebuilding & Renovating Newsletter
Bring your dream home to life with expert advice, how-to guides and design inspiration, direct to your inbox.
Chartered surveyor Ian Rock MRICS is a director is Rightsurvey.co.uk and the author of eight popular Haynes House Manuals, including the Home Extension Manual, the Self Build Manual and Period Property Manual.
Ian is also the founder of Zennor Consultants. In addition to providing house surveys, Zennor Consultants provide professional guidance on property refurbishment and maintenance as well as advising on the design and construction of home extensions and loft conversions, including planning and Building Regulations compliance.
Ian has recently added a 100m2 extension to his home; he designed and project managed the build and completed much of the interior fit-out on a DIY basis.