20 House Extension Ideas for Essential Extra Space
By Michael Holmes published
Transform how you use your home with these striking house extension ideas for designing and building a practical addition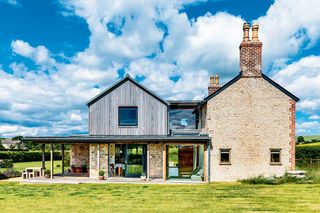 (Image credit: Simon Maxwell)
Looking for house extension ideas? If you are planning on extending your home, then you will need to research what kind of extension you want to build. These 20 ideas will provide loads of design inspiration to help you create the best addition for your home and to get your project off the ground.
For a comprehensive guide to costs, planning and what you need to know before starting an extension project, take a look at our beginner's guide to building an extension.
1. Reconfigure Your Existing Space During a House Extension
When it comes to good house extension ideas, the existing space is often reconfigured to make the most of the new space. The reconfiguration will allow you to establish the optimum layout to make the most of access, views, natural light and privacy.
Knocking down internal walls and or moving doorways to achieve the space you require and to integrate any new extension, to ensure you get real value and use from it.
Consider the position of the entrance and central hallway design – which should lead efficiently to all main rooms – and the relationship between key spaces, such as the proximity of the dining area to the kitchen.
Use our Extension Cost Calculator.
Key Tips
If you can't match a traditional home exactly, don't try. A contemporary contrast is a more honest solution in this case
It's all about light. An extension will take away some of the light source to your original rooms, so make sure it is packed with glazing
Create a feature. Whether it's a striking staircase design, fireplace, kitchen island or something else
2. Consider a Two-Storey Extension
Building two storeys rather than one is a great idea for those who are looking to achieve maximum value for money with their house extension idea, as the average cost per square metre (m²) is reduced by stretching the more expensive elements of roof and foundations over a larger area.
(MORE: How to Add a Two Storey Extension)
You could also build an extra storey over the top of an existing single-storey structure, such as a garage (providing the existing foundations and structure are adequate enough).
(MORE: How much will my extension cost?)
3. Choose the Right Materials for Your House Extension
Latest Subscription Offer
Another great house extension idea is to choose either a contrasting but complementary style, or make the extension look like it has always been there. The former is much easier to pull off well.
If you decide on the latter, make sure you are matching materials and copy the key design elements, roof pitch and details like the brick bond and even the mortar colour, or your new addition will look wrong.
4. A Contemporary Kitchen is a Great House Extension Idea
If you are looking to create a contemporary kitchen extension but don't have the budget for a bespoke design, create your own using modular units, combined with end panels, worktops and other features sourced elsewhere to recreate the same look.
Most trade suppliers do not offer panels large enough to create big islands or floor-to-ceiling banks of units to form an 'appliance wall', without obvious joints.
You can overcome this by buying large sheets of MFC (melamine-faced chipboard) in a matching or complementary finish from a specialist such as Timbmet together with matching iron-on edging strips. Sliding metal timber unit doors to suit standard-size cupboard units are also available from CK Kitchens.
5. Add a Conservatory or Sunroom Extension
If you are looking for a relatively inexpensive house extension idea, then this is where the conservatory or sunroom comes into its own. Smaller conservatories often don't require planning permission, are excluded from the Building Regulations and are fairly cost-effective, making them one of the most popular home improvements.
A conservatory can have its drawbacks, however: it must be separated from the house by external doors to reduce energy loss, and it can be difficult to heat in winter and keep cool in summer.
Adding a sunroom is a popular alternative. They are an extension with large areas of glazing, but with a conventional insulated roof and typically one insulated wall (particularly the one facing the boundary). The space can be open to the rest of the house, and the temperature can be controlled more easily.
(MORE: On a budget? Here's how to keep costs down when building an extension)
6. Don't Forget Ceiling Space When Considering Your House Extension Ideas
Tall ceilings can transform the way a room feels — larger rooms especially are made to feel even more spacious and impressive. An extension gives scope to add this feature for relatively little cost, either by digging down to lower the floor level, or by building up. In a two-storey extension this may result in a split-level on the first floor, which can add interest.
Where an extension is beneath a pitched roof, there may be the option to create a vaulted ceiling, open to the ridge. Instead of building a conventional flat ceiling with a void above, fit insulation within the pitched roof structure to create this feature.
7. A Glazed Link is a Great House Extension Idea for Period Homes
When it comes to period homes, it can be especially difficult to find the right extension design to complement the existing property. One possible solution is to add the new space as an entirely separate building in a sympathetic style – either traditional or contemporary – and to join the two with a fully glazed walkway.
Choosing structural glazing for the walkway will reduce its visual impact and leave the original building's character unaltered. This is a device favoured by many conservation officers and can work well in linking existing period buildings, too.
8. Fireplaces: Bear Energy Efficiency in Mind
With increasing emphasis on energy efficiency, many people are blocking up open chimney flues and air vents or excluding them from their extension plans. Yet there are two energy-efficient options that still give the feature and comfort of real flames and are fitting for any house extension idea.
Flueless gas fires are 100% energy efficient and require no chimney or flue: a catalytic converter cleans all harmful combustion gases, producing just water and carbon dioxide. Designs include traditional fireplaces and stoves, and contemporary hole-in-the-wall models.
The second choice is a room-sealed log burning stove, connected to an internal air source to prevent any draughts. They are highly energy efficient and there are some exciting modern design options.
(MORE: Fireplace Ideas)
9. Outdoor House Extension Ideas
Verandas and covered outdoor spaces provide somewhere to sit or eat outside during the warmer months, but are protected from either too much sunlight or light summer rainfall.
You could choose a traditional option, such as a loggia, or go more contemporary space, set beneath a projecting flat roof supported by slender steel posts, perhaps with an area of slatted sun louvres.
(MORE: How to bring the outside in)
10. Choose Pocket Doors for the Best of Both Worlds
When it comes to your house extension design idea, if you can't decide between enclosing a new extension with a wall or going open plan, consider fitting sliding pocket doors, giving you the best of both worlds. When closed, sliding flush doors can give the appearance of a wall, but when open they can disappear within the wall, presenting a clear opening.
Pocket door systems are available off the shelf (try Em-B) or you can buy the running gear separately (try Häfele) and have doors made up to suit your own design.
11. Make Sure Your House Extension Idea Features Obscured Glazing for Privacy
Introducing lots of natural light is one of the key ingredients in successful extension design. Where a potential new window opening will look out onto a neighbour, the street, a side alley or directly onto a boundary, consider using obscured glazing, so you get the benefit of daylight but without anyone being able to look in or out.
Traditional options include textured or stained glass and glass blocks, and more contemporary options include acid-etched or sand-blasted glass and coloured glass.
12. Make a Feature Out of Your Lighting
Top tip
Independent control of each circuit using dimmer switches or smart switches with preset options is essential.
A well thought out lighting scheme will create a great atmosphere in your new space, allowing you to use different combinations of circuits for different activities.
As well as ambient lighting to provide basic background light for everyday activities, include accent lighting in the form of directional spotlights, uplights, downlights, wall washes, baffled (concealed source) lights, table lamps and standard lamps to create light and shade, which is key for atmosphere. Add decorative lamps, for instance, above a kitchen island or dining table as feature lighting.
13. The Best House Extension Ideas Manage Acoustics
Contemporary extensions with glass walls, polished stone or concrete floors and crisp, clean lines can look fantastic, but they can also create acoustic problems as sound reverberates from one solid flat surface to another. Such problems need to be overcome by introducing soft sound-absorbent materials into the room.
However, rugs, curtains and soft furniture are not always appropriate — in a dining or kitchen area, for instance. An alternative is to fit some form of acoustic panels. These can be fitted to the walls as textured profiled panels like wall art, or flat panels printed with any chosen image.
14. Frame the Views from Your House Extension
Position window openings to frame the best views and to improve privacy — by screening off any unsightly external features or neighbouring properties. Options include projecting bay windows and oriel windows set at an angle, with one or both reveals designed to act as a blinker.
Think about window styles including shape and the height of the cill — narrow elongated windows can create wonderful panoramic aspects, or be designed to frame a particular landscape view. Low-level windows can be effective at creating views when sitting or lying in bed.
Window seats can be another useful device here.
15. Consider a Cantilevered House Extension Idea
Cantilevering is a useful device for creating design features such as balconies, mezzanines or whole storeys that project out from the floor below and appear to float with no visible means of support.
16. Make the Most of a New Staircase in an House Extension
If you decide to go for a new staircase design when extending, consider making it a key design feature. Options include floating cantilevered treads, open treads, glass or metal balustrading, galleried landings, sweeping curves and spirals. It is probably the best opportunity to create an exciting architectural feature in the home.
17. Give Your Home an Exterior Makeover
Instead of building an extension to match your property's existing architectural style, the project can become part of an overall redesign scheme that completely transforms your home's appearance. This is a good technique for adding character and value to buildings that are bland, utilitarian, unfashionable, or which have been extended unsympathetically in the past.
You might be able to undertake the remodelling work under Permitted Development rights (whereby planning permission is not required), but do check with your local planning authority first.
(MORE: Exterior Makeover Design Guide)
18. Expose Oak Beams for Extra Charm in a New Extension
A vaulted ceiling with exposed oak beams makes a great design feature that gives a room instant character — ideal for a kitchen, sitting room or master bedroom. An entirely oak frame extension is ideally suited to a rustic-style property such as a cottage, farmhouse or a barn conversion, or an Arts & Crafts home.
A cost-effective option is to combine an oak frame principal roof structure (principal rafters, collar, tie beams, braces, ridge and purlins) with softwood rafters — the latter hidden behind plasterboard and insulation.
An oak frame extension can be encased within structural insulated panels (SIPs) or any other construction system to ensure it meets Building Regs' standards of thermal efficiency.
19. Introduce Natural Light into Your House Extension Idea
Bringing daylight into your extension from more than one direction to add multiple layers of light and shade, will greatly enhance the quality of space.
As well as maximising window and glazed door openings, consider introducing a bank of rooflights, a roof lantern or a clerestory (a row of windows set just below ceiling level and above the eye level) to bring in light from above.
In addition to bringing light deep into the floorplan of an extended home, these ideas will also help address issues regarding overlooking and privacy.
20. Consider an Annexe
Where the garden is large enough, an annexe might well prove a more sensible and manageable solution than extending the existing house. A garden building might provide additional games space, but would be much more exciting as self-sufficient accommodation, providing kitchen, bedroom and bathroom spaces.
(MORE: Do I need planning permission for an annexe?)
Michael is HB&R's Head of Content and Product Development. Michael is also, Chair of the National Custom and Self Build Association (NaCSBA), presenter of multiple property TV shows and author of Renovating for Profit (Ebury). Michael is a regular in the seminar theatres and Advice Centre at the Homebuilding & Renovating Show.
Homebuilding & Renovating Newsletter
Get the latest news, reviews and product advice straight to your inbox.
Thank you for signing up to Homebuilding. You will receive a verification email shortly.
There was a problem. Please refresh the page and try again.