Lawful Development Certificates: What are They?
By Simon Rix published
Lawful Development Certificates are a useful tool to define whether you're eligible for Permitted Development or on the road to Planning Permission. Find out more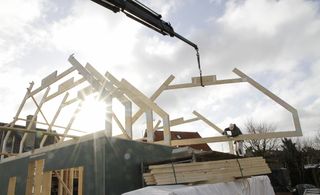 (Image credit: getty images)
Lawful Development Certificates (LDCs) can be a handy part of your arsenal on your planning permission journey, helping to outline whether a full application is required or whether your project fits under the local authority's Permitted Development umbrella.
However, even if you're clear that your project will need full planning consent, a Lawful Development Certificate can help head off certain planning issues before they arise.
Get to know more about LDCs with this handy guide.
What is a Lawful Development Certificate?
Lawful Development Certificates used to be called CLEUDs, which stands for Certificate of Lawful Existing Use or Development. That was a little bit more descriptive in that they can cover use of land as well as development on it, but LDCs are not just about the existing position — they also cover something that you may want to do in the future, such as a proposed new use or development.
In short, LDCs are a way to get a formal confirmation that what you already have on or do with your land, or what you want to do on or with it, is allowed in terms of planning laws. There may be other laws that apply too, but LDCs over you for the rules to do with planning consent.
When do I Need a Lawful Development Certificate?
Lawful Development Certificates can be used to determine if you really do need planning permission for what you want to do or if it is covered by Permitted Development.
Perhaps more interestingly, they can also be used as a stepping stone to help you get the planning permission you will need in the future. For example, you may want to build a new house in the garden of an existing house using the planning rules that allow such development in village house curtilages.
But what constitutes the existing house's garden or curtilage may not be clear cut. Going straight for a full planning application could be risky as the local planning authority may try to refuse your application by asserting that the exact plot you want to build on is not lawfully a garden.
(MORE: How to Achieve Planning to Build a House in a Garden)
You can pre-empt that by first getting a Lawful Development Certificate to get confirmation of what is lawfully a garden. You can then use that confirmation in a subsequent planning application for the new house you want to build. It's a good solution to the problem of councils trying to stop you doing something that is actually allowed under the rules.
Remember LDCs can also be used to clear up rule breaches you may made in the past. For example, you may have not stuck to a planning condition on a project you have previously got consent for, or you may simply have used your land for something or built something on it without getting the required planning permission at all. LDCs can come in handy here, but only after the time limits for the local planning authority to take enforcement action against you for doing these things has passed. If they have then an LDC can give you the confirmation and peace of mind that you really are now immune from action. This can also be helpful when selling your land or house.
Beware
If you have deliberately concealed your breach of planning control then even after these time limits for enforcement have passed, you may still be liable to action.
Generally, if you have broken the rules you become immune from enforcement action from the local planning authority for a breach of planning control, or for an unauthorised change of use to a single dwelling house, if they have not taken enforcement action against you within 4 years of substantial completion of the project; or within 10 years for any other unauthorised changes of use.
If you are issued with a Lawful Development Certificate regarding your current situation, then it only relates to the situation on the land at the date of the certificate application. If something substantial changed in the meantime, you would need to get a new LDC to cover the new situation.
If you get your LDC relating to a proposed future use or development, then that will be presumed as lawful unless and until there are any subsequent big changes in the planning rules covering the whole country or even just your area.
How do you Apply for a Lawful Development Certificate?
You can apply for a Lawful Development Certificate in a similar way to planning permission. The forms are different but, as with planning applications, you can either get a planning consultant to do it for you, or you could go through the Planning Portal system yourself.
An application for a Lawful Development Certificate needs to describe exactly what is being applied for and identify precisely the land to which it relates. Without enough clarity or precision a local planning authority can refuse a certificate. This does not stop you from making another application later on, but it will be a waste of your time and money.
Anyone can apply for a Lawful Development Certificate and it is the local planning authority who will decide on it, though you can appeal their decision with the independent national Planning Inspectorate if you disagree with the outcome.
(MORE: Planning Permission Refused? Here's What you Should do)
Local planning authorities are supposed to take no more than 8 weeks to decide on applications for Lawful Development Certificates, but many are having to cope with huge increases in workloads, so these timescales are likely to be longer at the moment.
How Much Does a Lawful Development Certificate Cost?
The application fee charged by a local planning authority for a Lawful Development Certificate for a proposed future use or development is 50% of the cost of the corresponding planning application.
For a householder project in England that's £103. In Scotland it's £101 and in Wales it's £85. If you apply for a lawful development certificate for an existing use or development, you'll need to pay the same cost of a full planning permission for that use or development.
What do you Need to Include to get a Lawful Development Certificate?
Depending on what you are applying for you may need to submit evidence. The burden of proof is generally on you as the applicant, and with LDCs it's often the date when something happened that's important, so any dated photographs or paperwork that support what you are saying will be helpful. Hoarders can now take pride in their long term storage of paperwork!
Supporting witness statements by yourself and/or other witnesses will also be helpful — even more so if they are worded correctly as Statutory Declarations, and duly witnessed by a solicitor, as these hold much more weight as evidence because signing a Statutory Declaration that you know is not true is a very serious offence and could even lead to prison.
Continue reading this article
One-off payment: £4.99 for six months full access to The Planning Hub
The Planning Hub offers in-depth guides to planning permission in England, brought to you by Homebuilding's planning experts
Instant access to planning permission information, vital to the success of your project

Independant advice from leading Homebuilding & Renovating planning experts

Discover what you need to know to get your plans approved with minimum hassle

Get to grips with complex planning rules with our easy-to-read guidance
Continue reading this article
One-off payment: £4.99 for six months full access to The Planning Hub
Simon Rix is a professional planning consultant. He was a council officer and later an elected councillor before setting up Planix.UK Planning Consultants Ltd.
Homebuilding & Renovating Newsletter
Get the latest news, reviews and product advice straight to your inbox.
Thank you for signing up to Homebuilding. You will receive a verification email shortly.
There was a problem. Please refresh the page and try again.