Can I Build an Extension Myself? When and When not to DIY, Explained
By Hugh Metcalf Contributions from Ian Rock published
Tempted to tackle the challenge of building an extension yourself? Here's our advice on when and where it's worth undertaking DIY in your project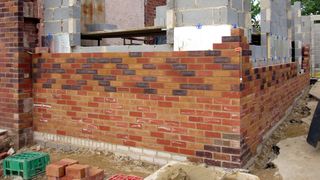 (Image credit: getty images)
No matter what your DIY skill level, it can be an attractive idea to undertake some of the manual labour for an extension to your home yourself. Not only does it offer the opportunity to reduce costs, but given the shortage in skilled labour in the construction industry at present, it might even help your build cross the finish line sooner.
Realistically, if you're thinking about building an extension entirely from scratch yourself, you'll have a good idea as to whether you have the appropriate skills to do so already. However, it's never been easier to learn new construction skills from the internet, and it's certainly possible to learn the basics of a new technique in order to undertake it during your build.
But where is it worth focussing your energy when it comes to DIYing a home extension, if you're not a builder by trade?
We asked one of Homebuilding & Renovating's experts, chartered surveyor Ian Rock - who undertook a great deal of DIY on his own home extension, for his advice on the elements of an extension build you can tackle yourself if you're a competent DIYer, scored on a scale of difficulty from 1 (the easiest) to 5 (the hardest), and which parts should be left to the professionals.
Will Your DIY be a Help or a Hinderance?
With all the best intentions, attempting to build any elements of an extension yourself may cause more problems than you solve. This not only comes to undertaking projects that go wrong, costing you extra to get a professional in to rectify, but also in messing up your extension's timeline, hindering progress from professionals that may cause havoc later down the line.
"DIY often takes two or three times as long to complete as the same job done by specialist trades," explains Ian Rock, "especially if you're learning a new skill." When fitting out the interior of his own extension, he found that the internal fit out took some two times longer than the professionals erecting and making the shell weathertight. Some of this comes down to inexperience, some to fitting in building around your other commitments.
"The danger is that slotting DIY activities between pre-booked trades with a tight build programme risks holding them up if the job turns out to take a bit longer (which it invariably does). So you might end up paying them to sit around doing nothing, only to find they're fully booked with other jobs for the next couple of months."
Leave anything that's seriously time-critical to the professionals, and give yourself jobs at the end of the project which will cause less impact on your tradespeople if they take longer to complete.
How to Build an Extension Yourself
If you're armed with the skills to build your own extension, our video series with master builder Andy Stevens will walk you through the process of building an extension, from applying to building control through to the final coat of paint.
Groundworks and Main Shell
Difficulty level: 5
"The best advice is to leave construction of the main shell of your extension to your appointed contractor or trades. Groundwork for extensions needs to be done with accuracy and requires co-ordination with other trades as well as with building control," explains Ian.
"There may also be hidden pipes and underground services to contend with. Concreting the foundations is closely followed by construction of the ground floor, the main walls and the roof in rapid succession, with each individual stage tightly programmed. So with the best will in the world, input at these stages from enthusiastic amateurs can be counter-productive, and you should use professional groundworkers for this part of the build."
Windows and Doors
Difficulty level: 4
Installing standard windows and doors should be a reasonably straightforward exercise, although there's often time pressure to get the extension weathertight and secure. Unlike fitting replacement windows where registered contractors (e.g. FENSA) are normally employed to self-certify that their installations adhere to current Building Regulations, with new extension installations the technical details should have already been submitted with your Building Regulations application, and there will also be ongoing site checks by building control officers.
Internal Joinery
Difficulty level: 2
In general, it's worth leaving the heavy-duty structural work to a professional builder, but it's possible to take on the internal fit-out, including the likes of non-structural timber stud partition walls. "However there's usually time pressure to get them built so the electricians can start running first fix cabling," explains Ian, so consider your timings carefully.
Door linings are another DIY win, but will largely need to be installed before plasterboarding, while learning how to fit skirting boards and architraves are a few of the easiest DIY jobs to tackle
Electricity, Gas and Water
Difficulty level: 4
Most of the work involved in installing services to new extensions is not suitable for DIY.
"Anything involving gas must by law only be carried out by qualified registered Gas Safe installers, and installation or servicing of boilers and heating appliances of all types needs to be undertaken by qualified installers who as 'competent persons' can 'self-certify' their work for Building Regulations," says Ian.
Likewise, new electrical work must comply with Part P of the Building Regulations which restricts the extent of DIY input. Electricians usually self-certify their installations for Building Regulations purposes.
If you have the skills to do so, elements you may be able to tackle yourself include the hot and cold water pipework, and even extending existing electrical circuits and installing new light fittings, but these shouldn't be undertaken without expertise.
Insulation
Difficult level: 3
"There's no specific trade whose job it is to fit insulation, so it's not unknown for the work to get 'delegated' on site and done to a less than brilliant standard," says Ian. "For this reason you can sometimes be better off fitting it yourself, although much depends on which part of the building's 'thermal envelope' you're dealing with."
The likes of insulating cavity walls and ground floors should be tackled during the construction process, but there may be some areas that are better suited to DIY input that are worthwhile you learning how to insulate a wall. However, the insulation considerations for an extension aren't quite as simple as say insulating a loft, where the main consideration is unfurling rolls of mineral wool.
"Sloping ceilings are more challenging to insulate as they generally need rigid boards cut and placed between them, as well as lining underneath. This must be done with great accuracy, rigorously sealing any gaps and fitting vapour barriers, otherwise even the tiniest openings can allow humid air to penetrate the structure risking damp and rot."
Drylining
Difficulty level: 3
For a competent DIYer, installing plasterboard once the first fix electrics are in place is perfectly possible, but bear in mind that your plasterers will be eagerly awaiting you to finish this step.
"Although fixing bulky sheets of plasterboard to ceiling joists with drywall screws is more demanding physically," says Ian, "it's still a feasible job for the average DIYer to undertake, aided by a suitably motivated assistant and/or 'dead man' props to take the strain."
Plastering
Difficulty level: 5
Getting a good finish when plastering walls is a notoriously difficult task, and many builders are lucky to have a good plasterer on their books. While it's possible to learn how to do it, your new extension might not be the best canvas for your first try.
"Alternatively, it's now fairly standard in mainstream housing developments to cut out the plastering stage altogether, with the plasterboarded surfaces 'taped and jointed' to facilitate direct drywall decoration," explains Ian.
Flooring
Difficulty level: 2
The construction of ground floors is not generally DIY-friendly because the insulation and screeding work tends to be very time-critical and needs to be co-ordinated with other trades, explains Ian.
However, installing floor coverings is something that many homeowners DIY themselves, even with little experience. It all comes down to the type of flooring you choose. Laminate, vinyl and tiles are all easy enough to install, but something like polished concrete will need expert input.
Some components of underfloor heating installation can also be taken on on a DIY basis.
Fitting a Kitchen
Difficulty level: 2
Fitting a kitchen is something that can be DIYed, especially when purchasing a flatpack kitchen from a supplier. Wood worktops are relatively easy to cut and install without professional tools and skills, however, natural stone and granite worktops will need to be templated and cut by the supplier.
"Fitting kitchens also requires basic plumbing and electrical skills for connecting sinks, lighting and extractor hoods, and so on. It also helps if your walls and floors are perfectly true and level," says Ian.
Decorating
Difficulty level: 1
Painting a wall is within many people's capabilities, even those with little experience in DIY. If you're looking to take on any work yourself, start here, but if you haven't painted before, be sure to look for best practice advice to ensure you get a suitably good finish.
Hugh is Digital Editor of homebuilding.co.uk and has worked on a range of home, design and property magazines, including Grand Designs, Essential Kitchens, Bathrooms, Bedrooms and Good Homes. Hugh has developed a passion for modern architecture and green homes, and moonlights as an interior designer, having designed and managed projects ranging from single rooms to whole house renovations and large extensions. He's currently renovating a Victorian terrace in Essex, DIYing as much of the work as possible. His current project is a kitchen renovation which involves knocking through walls and landscaping a courtyard garden.
With contributions from
Homebuilding & Renovating Newsletter
Get the latest news, reviews and product advice straight to your inbox.
Thank you for signing up to Homebuilding. You will receive a verification email shortly.
There was a problem. Please refresh the page and try again.