How Much Does an Extension Cost? Ballpark Figures for 2021
By Alison Wall, Michael Holmes
How much does an extension cost? Well, that depends... Get help budgeting your project with this handy guide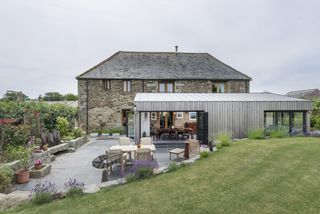 (Image credit: Richard Downer / Kast Architects)
Trying to get an idea of 'how much does an extension cost?' at the start of your project is a real challenge. This is because the final cost of your home extension depends on a multitude of factors — some, like the design, within your control; and others, such as building reg, planning and surveying costs, less so. 
However, we understand that doesn't give you much scope to start to plan or get to grips with if you can budget for an extension, so we've pulled together a list of helpful average figures, alongside guidance on how to avoid the cost of your extension spiralling out of control. 
Once you've garnered an understanding of the base costs of an extension project, why not use our extension cost calculator to get a more in-depth appraisal of how much your extension will cost? 
(MORE: Get a tailored quote for your new extension)
Does an Extension Add Value to Your Home?
Check out our latest subscription offer
Before getting too wrapped up in the specifics of 'how much does an extension cost?', take time to consider whether an extension is financially viable and right for your property. 
Is this your forever home? If so, an extension is a no-brainer compared to the hassle of moving house. In a financial sense, opting for an extension means you'll save on moving costs, solicitors fees and stamp duty — costs which aren't recouped by adding value in the same way as your extension. However, consider that increasing the size of your home may move you into a higher council tax bracket.
If you are planning on selling up, whether soon or in the future, you'll need to ensure  that you add more value to your home than the extension costs. Speak to local estate agents and research ceiling prices in the area before you decide to go ahead.
If you do decide that building an extension is the route for you, there are multiple factors that can affect your project's costs.
How much your extension costs can be affected by things like:
How many storeys you're going to build 
The size and shape of the extension
The quality of the build: standard, good, excellent
The build route you'll take —  how involved in the project you'll be
The amount of glazing you'd like
Whether the extension contains a kitchen or bathroom 
In short, most extension projects cost around £1,350-£2,250/m² of new internal space. So a 30m² kitchen extension could be estimated at somewhere between £40,500-£67,500. plus, VAT at 20%. 
If that sounds suitably general — that's because it is. And that's all you can expect when you have no detail or idea of what the extension looks like, or what materials you're going to use, or how it is going to be built (and who's going to do it). The £1,350-£2,250 price, however, is a very good range of pricing based on averages.
Single Storey Extensions
How Much Does a Single Storey Extension Cost?
If you're planning on building a fairly straightforward, box-shaped, single storey extension then allow for around £1,350-£1,750/m² . Do bear in mind that this price will fluctuate depending on where you are in the UK and the standard of build you opt for.
In certain parts of the South and high value areas of the UK – affected by higher cost of living – this you could easily be paying £1,700-£2,500/m², particularly on smaller schemes. That makes an 8x4m kitchen extension a £43,000-£80,000 project.
Basic quality: £1,350 to £1,650/m²
Good quality: £1,700 to £2,000/m²
Excellent quality: £1,800 to £2,500/m² or more.
For an excellent finish you can typically expect to pay 40% more than a standard finish.
(MORE: Single Storey Extension Ideas)
Double Storey Extensions
How Much Does a Double Storey Extension Cost?
A double storey extension won't cost much more per m² than a single storey extension, at around £1,250-£1,650.
That's because, aside from the extra interior fixtures and finishes, you are only adding walls and floor joists. A roof and foundations are required whether you build a single or double storey extension.
The cost of a side extension, for example, will depend largely on the size of the structure, the location of the build and the quality of the materials and finishes.
(MORE: Double Storey Extension Ideas)
Basic quality: £1,250 to £1,650/m²
Good quality: £1,650 to £2,250/m²
Excellent quality: £2,250 to £3,000/m² or more.
Editor's Note: Homebuilding.co.uk partners with the UK's best extension specialists to match your requirements with their services. Simply answer a few questions on what you need from your extension and we'll put you in touch with a suitable partner.
Additional Costs
Additional Costs You May Need to Factor in to Your Extension Budget
As well as the spec of your build, the construction costs (which can be dependent on things like soil type and glazing, for example), the build route and the trades, there are other costs to consider outside of the build itself. 
Here are some example costs you might need to factor in:
architect fees (around 7% of construction cost)
structural engineer (£500-£1,250) 
surveys (between £700-£1,800)
planning permission (if needed - currently £206 in England for a two-storey extension, but check with your local authority).
Building Regulations applications
Lawful Development Certificate (currently £103)
fitting out the extension (costs will vary depending on how you plan on using the new space)
Party Wall Agreement (if needed - £1,000-£2,000 per affected neighbour for a straightforward agreement outside London).
insurance
(MORE: Building Regulations for Extensions)
Build Route
Your Choice of Build Route Will Affect How Much Your Extension Costs
The build route determines who will build and manage your extension project. How the extension is managed will have an impact on the budget so it's an area most people agonise over for a while.
(MORE: Project Management: Which Option is Right for you?)
Taking on the project DIY-style could see a 40% variation between what is possibly the cheapest build route compared to taking on and paying for a main contractor.
There are four main build route options:
DIY: building on a largely DIY basis, substituting around 30% of the labour costs with DIY and employing help with the rest of the building work. Materials purchased directly
Self managed/subcontractor: building using tradespeople hired directly. Minimal DIY involvement. Most materials are purchased directly
Hiring a main contractor and subcontractors: building using a main contractor or package supplier to complete the extension to a weathertight stage, with the remaining work being undertaken by subcontractors with most materials purchased by self builder direct from suppliers
Hiring a main contractor: building using a main contractor. Building in this way requires the least involvement from the self-builder.
Quotes vs Estimates
Be Clear on the Difference Between a Quote and an Estimate
It sounds obvious, but not being clear about quotes and estimates can make a real difference to the accuracy of your pricing and how much your extension will cost.
An estimate is normally a contractor's guess as to what your extension will cost. Whether given verbally, or in writing, is not legally binding and the final bill may exceed it.
A quotation is a definite price. The written quotes should itemise the work to be done, provide a breakdown of costs and a total, and state whether VAT is included.
Tips for Comparing Quotes
When you receive the bids, check whether there are any caveats that might involve extra expense
Compare provisional sums for work such as foundations to make sure you are comparing like with like
VAT
Do I Have to Add VAT to the Cost of my Extension?
Most extensions will be subject to VAT on labour and materials at the standard rate of 20%, especially if you use a contractor to undertake the work.
If you use local tradespeople who are not VAT registered you can save the 20% VAT on their labour, but you will still have to pay VAT on materials at the standard rate.
Some extension projects are eligible for VAT relief, such as:
the conversion of an existing dwelling that changes the number of units
work to a building that has been unoccupied for at least two years
To benefit from VAT relief from the above, you must use a VAT registered builder — you can't reclaim the VAT yourself.
Homebuilding & Renovating Newsletter
Get the latest news, reviews and product advice straight to your inbox.
Thank you for signing up to Homebuilding. You will receive a verification email shortly.
There was a problem. Please refresh the page and try again.