Exactly how much does an extension cost in 2023?
How much does an extension cost in 2023? Here are the latest estimates you need to keep your project bang on budget, plus the factors you need to consider when working out costs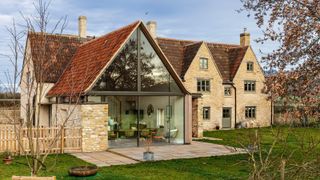 (Image credit: Simon Maxwell)
'How much does an extension cost?' is a big question that should be asked before you consider adding space to your home. The answer is rather tricky...
Before you can get a clear idea of the costs involved in building an extension, you'll need to consider a number of variables. How big your extension is, for example, the materials you're using, the area of glazing — every choice will affect the final price when extending, and that's before you get into 'soft' costs such as surveys, architects' and structural engineers' fees, planning application fees and more.
However, it's important to be able to have a grasp on how much an extension costs to decide whether this is a viable project for you. With that in mind, we've created an easy reference which offers some ballpark figures you can use to begin forming your budget.
While these figures may not match up perfectly with your builders' quotes or estimates, and may differ depending on where you live in the UK, they should give you a good 'high level' indication of the costs involved.
How much do extensions cost?
In short, building an extension is likely to cost around £1,500-£2,250/m² of new internal space (excluding VAT). So a 30m² kitchen extension could be estimated at somewhere between £45,500-£67,500, plus, VAT at 20%.
If that sounds rather general — that's because it is. And that's all you can expect when you have no detail or idea of what the extension looks like, or what materials you're going to use, or how it is going to be built (and who's going to do it). The £1,500-£2,250 price, however, is a good range of pricing based on averages.
However, if you are looking a how to build a budget extension, there are several things you need to know that can affect your project's costs, including:
The ground conditions and foundation type required
How many storeys you're going to build
The size and shape of the extension
The quality of the build: standard, good, excellent
The build route you'll take — how involved in the project you'll be
The amount of glazing you'd like
Whether the extension contains a kitchen or bathroom
Specialist features you may want, like renewables, air conditioning, smart home technology etc.
There are also other costs to consider outside of the build itself, including:
architect fees (around 8-10% of construction cost, more on which below)
structural engineer (2-3% of construction cost)
measured survey (between £700-£1,800)
ground investigation surveys (between £700-£1,800)
tree survey if trees are affected (between £700-£1,800)
ecology surveys (depending on site allow for £700-£1,800)
planning permission fees (if needed — currently £206 in England for a Householder Application, plus £60 planning portal fee.
Heritage Assessment for Listed Buildings – allow £1,000-1,500.
Building Regulations Fees – for a 40-80SQM extension allow £800-1,000.
fitting out the extension (costs will vary depending on how you plan on using the new space)
Party Wall Agreement (if needed — £1,000-£2,000 per affected neighbour for a straightforward agreement outside London)
insurance to cover renovation and building work.
The overall quality of the extension will impact the estimated cost of the project.
A standard quality extension represents most speculative developers concrete interlocking roof tiles, studwork partitions, contract kitchen and radiator central heating.
Good quality extensions also use better quality facing bricks clay roof tiles, high-end softwood joinery, blockwork partition walls, a top-of-the-range kitchen and underfloor heating.
An excellent quality extension sees top-of-the-line facing bricks, play clay tile roofs, hardwood joinery, a bespoke kitchen, high quality sanitaryware and underfloor heating.
How do you calculate extension costs?
Visit the Homebuilding & Renovating Show
Need more advice or inspiration for your project? Get two free tickets to the Homebuilding & Renovating Show.
Use the estimated costs per square metre, plus the extra fees to calculate how much an extension will cost. You can also use our extension cost calculator to get a more detailed estimate of how much your extension will cost.
Once you have this figure, more specific budgeting will assist to achieve a more accurate price, such as price per square metre of the interior fit out materials — like underfloor heating or flooring type, or windows (the price of timber windows is higher than uPVC, say).
For all extensions, you also need to allow for the cost of knocking through into the existing house and making good the connection, plus any other alterations or updates to improve the existing property, from rewiring and redecorating, to adding insulation or new doors and windows.
Also, consider if you will be living inside the house during the building work, or if you need to rent a house elsewhere. These costs should all be carefully considered from the start.
Use an extension planner to work out if living on site is for you, and to follow a plan to work out what materials you will need to budget for.
How much do a single storey extensions cost?
If you're planning on building a fairly straightforward, box-shaped, single storey extension then allow for around £1,500-£2,500/m²(excluding VAT).. Do bear in mind that this price will fluctuate depending on where you are in the UK, your build route (a main contractor or self-managed subcontractors, or DIY), the standard of build you opt for and the complexity of the design.
In certain parts of the South and high value areas of the UK – affected by higher cost of living – this you could easily be paying £1,700-£2,500/m², particularly on smaller single storey extension ideas. That makes an 8x4m kitchen extension a £43,000-£80,000 project.
Standard quality: £1,500 to £1,750/m²
Good quality: £1,700 to £2,100/m²
Excellent quality: £1,800 to £2,500/m² or more.
For an excellent finish you can typically expect to pay 40% more than a standard finish.
How much do two storey extensions cost?
A two storey extension will often cost slightly less per m² than a single storey extension at around £1,500-£2,450 (excluding VAT). That's because, aside from the extra interior fixtures and finishes, you are only adding walls and floor joists. A roof and foundations are required whether you build a single or double storey extension, but these elements will cost largely the same no matter which you choose. In short, the bigger the project, the lower the price per metre squared, in theory.
Standard quality: £1,500 to £1,700/m²
Good quality: £1,650 to £2,050/m²
Excellent quality: £1,750 to £2,450/m² or more.
How much does a side extension cost?
The cost of your side extension depends largely on the size of the structure, the location of the build and the quality of the materials and finishes. An approximate figure should be around £2,250-2,500/m2 (excluding VAT).
However, Adam Knibb, director of Adam Knibb Architects suggests: "On average homeowners, should budget in the region of £3,000/m2 for a side extension." With this in mind, alongside fluctuating figures in trades and materials, you may want to over estimate when budgeting for an extension to cushion further price rises.
The likely cost of the works will also vary depending on the type of side return extension ideas you have in mind, the scope of the internal work and any reconfiguration that's required. For example, the cost of simply extending your living space will be very different to the cost of re-locating and plumbing in a new kitchen.
Are conservatories cheaper than extensions?
A lean-to uPVC structure sits at the lower end of the price spectrum when it comes to conservatory ideas and could be achieved for around £5,000. More complex structures, such as Victorian, Edwardian, L-, P- and T-shape conservatories are more likely to cost between £10,000 and £15,000 (in PVCu).
For an oak frame conservatory, expect to cost to be somewhere between £30,000 and £40,000. "A realistic cost for a 20m2 oak frame conservatory would be £2,500 per m2 (+VAT)," says James Underwood, a regional design consultant at Oakwrights. "This will deliver an above average build. It's worth bearing in mind, too, that this average cost will fall with larger builds as the computer design and CNC machining costs are spread over a larger footprint."
What is the cheapest type of extension?
The construction system you choose to build your extension will of course have an impact on budget.
If you want to build an extension fairly cheaply then opt for concrete blockwork. It's a system most builders know well, too. If you have the skills and time, a blockwork extension on a DIY basis will be the cheapest way of adding an extension.
Timber frame extensions are a popular choice, too. This might be stick built (typically cheaper as the frame is made on site, but the build time on site is longer) or prefabricated (which may or may not be an option for your home). With the latter, cost of the frame, associated design work, delivery and assembly on site is charged as a package. On the plus side, this provides cost certainty for the superstructure element of the build (excluding foundations).
Alternative modern methods of construction, like structural insulated panels, might cost more to begin with, but cost-savings might come from less labour time needed on site, especially when it comes to insulating your extension.
Oak frame extensions are amongst the most costly design options, but their inherent beauty more than makes up the price for those that undertake them.
How the extension is managed will have an impact on the budget so it's an area most people agonise over for a while. The build route determines who will build and manage your extension project.
Taking on the project DIY-style could see a 40% variation between what has the potential to be the cheapest build route compared to taking on and paying for a main contractor.
There are four main build route options:
DIY: building on a largely DIY basis, substituting around 30% of the labour costs with DIY and employing help with the rest of the building work. Materials purchased directly
Self managed/subcontractor: building using tradespeople hired directly. Minimal DIY involvement. Most materials are purchased directly
Hiring a main contractor and subcontractors: building using a main contractor or package supplier to complete the extension to a weathertight stage, with the remaining work being undertaken by subcontractors with most materials purchased by self builder direct from suppliers
Hiring a main contractor: building using a main contractor. Building in this way requires the least involvement from the homeowner.
Do you pay VAT on extensions?
Building work to extend an existing house is usually subject to VAT at the standard rate, currently 20%.
If you use local tradespeople who are not VAT registered you can save the 20% VAT on their labour, but you will still have to pay VAT on materials at the standard rate.
The construction work for some extension projects are eligible for the reduced rate of VAT, currently 5%. These include extensions as part of:
the conversion of an existing dwelling that changes the number of units
work to a building that has been unoccupied for at least two years
To benefit from VAT relief from the above, you must use a VAT registered builder — you can't reclaim the VAT yourself.
How do builders price extensions?
How much should your builder be quoting for an extension project? Firstly, be very wary about anyone giving too detailed an estimate at this early stage. An estimate is no more than a guess based on limited information and effectively worthless until you go to quote stage, which is a fully-fledged cost offer based on the facts of the construction project in detail.
All of the decisions you will end up making, from the kitchen to the provision (or not) of underfloor heating, from the sliding doors to the lighting, will affect costs. And if your builder doesn't know this, the estimate is no more than a finger in the air.
Put simply:
An estimate is normally a contractor's guess as to what your extension will cost. Whether given verbally, or in writing, is not legally binding and the final bill may exceed it.
A quotation is a definite price. Written builders' quotes should itemise the work to be done, provide a breakdown of costs and a total, list provisional sums, prime costs sums and exclusions, and state whether VAT is included.
Engaging with a quantity surveyor on a larger extension project could really help with costs. Quantity surveyors provide an expert view on the costs of a construction project, which could help reduce the stress of budgeting for a build.
"They can produce a BQ (Bill of Quantities) for the builders to quote," explains senior quantity surveyor Tim Phillips. "This means that all of the builders are pricing the same control document in the form of a BQ. The BQ can then be used as the contract sum when you've selected your builder and added as an appendix into the 'Build Contract'."
One really important thing to do when considering an extension project is to talk to a builder early on. Builders will be able to give you a sense of the typical solutions for houses of your type and almost certainly have carried out similar projects in the local neighbourhood. They will be able to guide you on some of the practical issues you might be worried about (e.g. drains) and help you get an initial sense of what the project might cost.
When you receive the bids, check whether there are any caveats that might involve extra expense. Compare provisional sums for work such as foundations to make sure you are comparing like with like
How much do architects charge?
"An architects fees will usually be in the region of 9 to 15% of the construction cost for a full start-to-finish service," explains Simon Graham, director of YARD Architects. "The exact fee will depend on the size of the project and the complexity.
"Smaller projects will attract proportionally higher fees. Extensions and refurbishments will be more than a new build per square metre. If the building is listed then fees will be at the top end, possibly higher."
How much will interior fit-out cost?
"We would suggest you allocate around 30–40% of the budget for the interior for an average specification. It could be much higher than this if the finish is very high end and there is lots of built in technology," advises Simon Graham.
Will an extension add value to my home?
Before getting too wrapped up in the specifics of extension costs, take time to consider whether an extension is financially viable and right for your property.
Is this your forever home? If so, an extension is a no-brainer compared to the hassle of moving house. In a financial sense, opting to add even small house extension ideas means you'll save on moving costs, solicitors' fees and stamp duty — costs which aren't recouped by adding value in the same way as your extension. However, consider that increasing the size of your home may move you into a higher council tax bracket.
If you are planning on selling up, whether soon or in the future, you'll need to ensure that you add more value to your home than the extension costs. Speak to local estate agents and research ceiling prices in the area before you decide to go ahead. You can also take a look at our guide on how to work out 'how much is my house worth?'
Get the Homebuilding & Renovating Newsletter
Bring your dream home to life with expert advice, how-to guides and design inspiration, direct to your inbox.
Michael is Homebuilding & Renovating's Director of Content, Vice Chair of the self build industry body, the National Custom and Self Build Association (NaCSBA), presenter of multiple property TV shows and author of Renovating for Profit (Ebury). He also runs an architectural and interior design practice, offering design and project management services. He is one of the country's leading property experts and has undertaken over 30 building projects including two self-builds and the renovation of a Grade-II listed farmhouse.
Michael has presented over 150 property shows for BBC, ITV1, Channel 5, UK TV Style, and Discovery RealTime, including I Own Britain's Best Home; Don't Move Improve; Trading Up; Good Bid, Good Buy; Build, Buy or Restore?; How to Build A House; and Hard Sell.
Michael is also a regular expert at the Homebuilding & Renovating Shows. He has written for leading British newspapers, including The Daily Telegraph, Sunday Times, Daily Express and The Independent and has appeared on news programmes such as BBC Breakfast.