How Much Does an Extension Cost?
By Alison Wall
How much an extension is going to cost is a key consideration, whether you're building a single or two-storey extension, so use our five tips to help you budget your build before it begins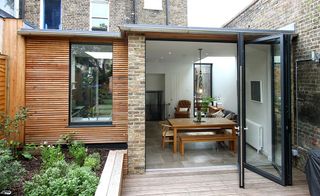 (Image credit: IQ Glass)
Are you planning to extend you home and wondering how much an extension is going to cost?
It's a key question and one that needs exploring before your build begins. There's lots to consider — how far you're going to build up and out, the quality of the build that your budget can stretch to and how much involvement you'll have in managing the project — they're all factors in determining your bottom line.
To help you get an idea of how much your extension will cost, we've pulled together five top tips that will help you set a budget before you begin.
Here's what to consider.
1. How Much a Single or Two-Storey Extension Will Cost
Depending where you are in the UK, the cost of a straightforward extension should allow for around £1,000–£2,000/m². The standard of specification you choose will have an enormous influence on the build cost. On average, an excellent finish is 40% more than a standard finish.
Expect to pay roughly…
Basic quality: £1,000 to £1,680/m²
Good quality: £1,680 to £1,920/m²
Excellent quality: £1,920 to £2,160/m²
Expect to pay roughly…
Basic quality: £1,320 to £1620/m²
Good quality: £1,700 to £2,000/m²
Excellent quality: £1,800 to £2,500/m² or more.
A two-storey extension will not cost much more per m2 because, aside from the extra interior fixtures and finishes, you are only adding walls and floor joists — a roof and foundations are required whether your extension is single or two storey.
Remember, balance the amount you are willing to spend on your extension with the estimated value it will add to your home.
(MORE: Building an extension: a beginner's guide)
2. Factor in Other Costs
Top tool
Use our free extension cost calculator tool to estimate how much your extension project is likely to cost.
There are many variables that will affect how much your extension will cost, such as:
soil type (which affects the foundations)
what the extension will be used for (and how much it will cost to fit it out)
how much glazing you plan to specify
size (it gets slightly cheaper per unit area as the size increases)
location (the most expensive locations are around 30%t more than the cheapest locations when it comes to labour).
3. How Will Your Extension Project be Managed (and Who Will Do It)?
Your build route is based on how you want to manage your extension project and will affect how much your extension will cost.
How you manage your project could mean a 40% variation from the cheapest route, based mainly on DIY, to the most expensive route, in which a main contractor takes on the role of project manager.
Homeowners usually choose one of four main routes:
DIY: building on a largely DIY basis, substituting around 30% of the labour costs with DIY and employing help with the rest of the building work. Materials purchased directly
Self managed/subcontractor: building using tradespeople hired directly. Minimal DIY involvement. Most materials are purchased directly
Hiring a main contractor and subcontractors: building using a main contractor or package supplier to complete the extension to a weathertight stage, with the remaining work being undertaken by subcontractors with most materials purchased by self builder direct from suppliers
Hiring a main contractor: building using a main contractor. Building in this way requires the least involvement from the self-builder.
4. Get Accurate Quotes for Your Extension Costs
It sounds obvious, but not being clear about quotes and estimates can make a real difference to the accuracy of your pricing and how much your extension will cost.
An estimate is normally a contractor's guess as to what your extension will cost. Whether given verbally, or in writing, is not legally binding and the final bill may exceed it.
A quotation is a definite price. The written quotes should itemise the work to be done, provide a breakdown of costs and a total, and state whether VAT is included.
(MORE: Rear extension design ideas)
Tips for Comparing Quotes
When you receive the bids, check whether there are any caveats that might involve extra expense
Compare provisional sums for work such as foundations to make sure you are comparing like with like
5. Don't Forget to Add VAT to the Cost of Your Extension
Most extensions will be subject to VAT on labour and materials at the standard rate of 20%, especially if you use a contractor to undertake the work.
If you use local tradesmen who are not VAT registered you can save the 20% VAT on their labour, but you will still have to pay VAT on materials at the standard rate.
Some extension projects are eligible for VAT relief, such as:
the conversion of an existing dwelling that changes the number of units
work to a building that has been unoccupied for at least two years
To benefit from VAT relief from the above, you must use a VAT registered builder — you can't reclaim the VAT yourself.
Homebuilding & Renovating Newsletter
Get the latest news, expert advice and product inspiration straight to your inbox.
Thank you for signing up to Homebuilding. You will receive a verification email shortly.
There was a problem. Please refresh the page and try again.