Timber Frame: All You Need to Know
Timber frame is an increasingly popular choice for self builders and homeowners extending their homes. Here we explain everything you need to know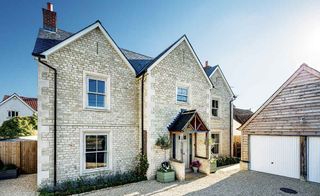 (Image credit: Simon Maxwell)
There are many benefits to building with timber frame, from the factory standards achievable to the fast build time, and so it is no wonder that timber frame is no longer a niche choice of construction system for those who wish to build their own home.
In fact, according to a 2017 market report, the number of timber frame (including SIPs) self builds was almost equal to those built with masonry.
This shift could be, in part, down to homeowners prioritisation of energy efficiency in their specification. Highly-insulated SIPs are proving increasingly popular with self builders looking to create airtight and efficient homes, with some even achieving Passivhaus accreditation.
This beginner's guide to building with timber frame explains what it is, how you choose the right system and supplier, what's usually included in the price and how those costs stack up against masonry.
If you are looking to extend with timber frame, check out our timber frame extension guide.
(MORE: Get a quote for your timber frame project)
Timber Frame Structure Explained
At its most basic, a timber frame structure features walls consisting of timber studwork fixed in place (typically) with OSB or plywood. The strength and rigidity is supplied by the board, which, when nailed to the studwork, makes a very rigid box known as an open panel — the panel is 'closed' once insulation has been introduced.
The frame is wrapped on the outside with a waterproof barrier, which is then wrapped by the external wall elements, which can be either built up out of the ground (brick or stone), or hung off the timber frame walls — as would happen with timber cladding or tiles.
In terms of buildability, timber frame tends to work best with simpler-shaped structures and it really comes into its own when combined with lightweight wall claddings such as timber, tiles or render on boarding. This can reduce wall widths by up to 150mm, which adds a surprising amount to internal floor areas.
In the UK, timber frame homes are usually built in a factory and then rapidly assembled on site. Factory prefabrication is by far the most popular route chosen by self builders, as manufacturers have to work to strict quality control methods, ensuring the correct specification of materials are used and a high degree of dimensional accuracy is achieved.
(MORE: Step-by-step guide to building a timber frame post and beam home)
Should I Choose and Open or Closed Panel Timber Frame System?
Open panels are manufactured ready for external joinery (doors and windows) to be placed, and are delivered to site together with flooring elements and roof trusses. Once the frame erectors have finished, work can commence both inside and outside the house.
Closed panels are delivered to site with insulation already factory fitted. The external cladding, windows and doors may be fixed, as may electrics and plumbing. Alternatively, a service void may be added for self builders undecided on their electrical and plumbing scheme.
Closed panels are often offered by German package build suppliers and can result in a very fast build. Due to the weight of the panels, a crane is essential to the assembly.
The timber frame panels may be delivered to site 'open' or 'closed'.
SIPs construction is sometimes referred to as timber frame without the timber. The strength of the panels derives from bonding insulation within an inner and outer skin of board to make a very rigid, highly insulated shell.
The factory produces these panels, leaving holes where the doors and windows will be placed later, and then ships them off to site where, together with flooring elements and roof trusses, the superstructure of the house is erected in a few days.
The roof is left with a waterproof covering and, once the frame erectors have finished, work can commence both inside and outside of the house.
It's very speedy and you can work in the wet.
Remember
Any construction below finished ground level would need to be built using masonry or concrete. However, the storeys above that level can be built using timber frame
Ensuring the underbuilding is constructed to the correct dimensions and tolerances is key to ensuring that when the timber frame arrives on site to be erected, it fits
How Much Does a Timber Frame Cost?
The frame, associated design work, delivery and assembly on site is charged as a package by timber frame companies, providing a level of cost certainty.
In terms of cost, open-panel systems remain the cheapest to produce, but as the requirements for lower U values and better airtightness levels increase, the cost differentials are being narrowed.
The SIPs and closed-panel options tend to cost around 10–15% more for the frame, but offer better performance and less site-time in compensation.
Bear in mind that the timber frame element of a house is rarely more than 30% of the overall budget, so the added costs may fall to as little as 3–5% on the overall build total — which is little different to what you might spend on a more luxurious kitchen or a whole-house lighting scheme.
Perhaps of more interest to self builders is how timber frame stacks up against traditional masonry builds. In terms of cost, there isn't a clear winner. The cost of masonry builds tends to go up and down with market conditions — in contrast, timber frame prices tend to vary much less.
Editor's Note: Homebuilding.co.uk partners with the UK's best timber frame suppliers to match your requirements with their products. Simply answer a few questions about your project and we'll put you in touch with a suitable partner.
How Do I Find a Timber Frame Supplier?
There are a good number of companies producing timber frames for the UK self build market.
The most common way to work is for the company to design, build and erect the superstructure but there are variations on how much of the superstructure is supplied. The service provided by timber frame companies can vary from the supply only of the superstructure to the complete package. This makes for difficulties when making comparisons between companies.
Tips for Finding the Right Supplier
Choose a member of the Structural Timber Association
Ask three or four companies to provide a quote for your project. They will need your drawings (ideally plans/sections/elevations to a scale of no less than 1:100), along with as detailed a specification as you can
When you are comparing manufacturers' quotes, make sure that the two quotes have a comparable specification. Some manufacturers offer a free quote comparison service; if they do, it's worth using it. Don't automatically reject the most expensive quotation — the company may have quoted for a higher specification or for more elements of the build
Once you have narrowed your choice to two manufacturers, arrange to meet them at their factory, where you can go through their quote in detail
Ask if they have any suggestions for saving costs, as fairly small changes to the plans can often mean large cost savings
While you are at the factory, request a tour and see, touch and feel the various materials they plan to use. Ask about lead times, too. Expect a 10-12 week lead in time for the structural shell from when you place an order
What's Included in a Timber Frame Package?
A basic package may typically consist of the following items:
Soleplates, damp-proof courses and clips
Structural external/internal wall panels and waterproof membrane
Floor joists and floor covers (not finishes)
All roof elements, usually supplied as prefabricated trusses
Items that are unlikely to be included unless the whole housebuilding contract is let to the timber frame company:
External claddings
Roofing materials: felt, batten, roof tiles, etc
Insulation
Floor screeds
Chimney flues
Glazing (though joinery is increasingly being supplied pre-glazed)
Heating, plumbing and electrics
Plaster finishes
Kitchen units, fitted bedroom furniture and sanitaryware
Decorating, wall and floor tiling and finishes
Garage doors
Many package companies will not manage the groundworks, drainage and landscaping.
You should look carefully at the specification offered by each company and check that you are comparing like with like.
Why Choose Timber Frame?
Timber frame lends itself to those who hope to take on the role of project manager, as the superstructure is built by a single company
The frame is engineered in factory conditions meaning walls and floors are perfectly square
This means there's also less scope for 'human error' during the build
Allows for rapid build speeds
Finished homes can achieve high U values with a comparatively slimmer wall profile
A good number of timber frame suppliers are accustomed to working with self builders
5 Ways to Build a Better Timber Frame Home
With timber frame construction being a lightweight structure, there are elements to consider when agreeing the specification with your architect to make sure you are as satisfied as you can be when living in the finished property.
Avoid squeaky floors. Floor joists should be designed with a serviceability index (a measure of the joist's performance) of at least 1.2. This results in a more rigid floor that bends or sags less that a floor designed to an SI of 1.0. For a squeak-free floor, glue onto the joist/noggings with a 6mm bead of D4 glue, glue the tongue and grooves, use screws (typically 2.5 times the floor boarding thickness in length), brush D4 glue onto the exposed edges of the flooring to seal it and leave a 10mm expansion gap at the floor perimeter.
Soundproof walls and floors. Consider both airbourne and impact noise and how you can design it out. You may wish to surpass the minimum soundproofing requirements set out in the building regulations.
Secure fixings. Timber frame stud walls are normally at 600mm centres, which can sometimes make fixing heavier items to the wall a challenge as there are limitations as to the weight the plasterboard can support. If you can, think ahead. Ask the joiner/builder to fit noggins in appropriate positions before the plasterboard is fitted to ensure a good solid fix.
Avoid overheating. Homeowners tend to want to include increased amounts of glazing in their homes, which can increase solar gain but lead to overheating. Timber frame will offer less in the way of thermal mass so your designer will need to consider how to prevent overheating. Installing a brise soliel, shutters or retractable awning can be useful design choices to keep your timber frame home comfortable all year round.
Ensure adequate ventilation. Timber frame construction, by its very nature, provides very good levels of airtightness. The expression 'build tight and ventilate right' is exactly what you should be looking to achieve here. Incorporating an MVHR system is a good idea.
Homebuilding & Renovating Newsletter
Get the latest news, reviews and product advice straight to your inbox.
Thank you for signing up to Homebuilding. You will receive a verification email shortly.
There was a problem. Please refresh the page and try again.