Timber Frame Construction: A Guide for Self Builders
By Mike Cruickshank , Mark Stevenson published
Timber frame construction is a great option for self builders looking for a fast build and energy efficient home. We take a look at the process behind timber frame buildings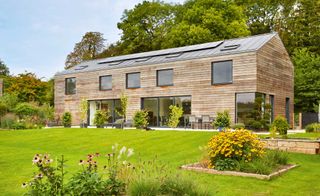 (Image credit: Darren Chung)
Timber frame construction is a modern method of building a house, and comes with many benefits for your build. Timber frame buildings, unlike brick and block homes, allow you to start construction off-site, helping to speed up the process and spend less time on site.
Timber frame construction encompasses a range of systems, from oak frame to structural insulated panels, and it's a construction type that's growing in popularity. It's estimated around a quarter of all new builds in the UK, including self build homes, are built using timber frame construction.
Get to know the systems used to build timber frame buildings better with our in-depth guide, and find out what you need to know before embarking on your self build journey.
How does Timber Frame Construction Work?
Visit the Homebuilding & Renovating Show
In simple terms, a timber frame construction uses timber studs within the external structural wall to carry the loads imposed before transmitting them to the foundations. Timber frame buildings include the walls, floors and roofs, which are designed as a whole, coherent engineered structure. Timber frames incorporate a number of different elements as part of its overall wall system.
From outside in, these include;
External cladding and cavity (brick, render, composite or timber boarding etc) to provide weather resistance.
Breather membrane to provide weather protection during the build and ensure the frame breathes and resists moisture penetration during its life.
OSB (oriented strand board) or Plywood lining fitted to the frame to provide strength and rigidity.
Wall insulation fitted between the structural studs to enhance thermal performance and lower energy bills.
Vapour control layer (VCL) to prevent interstitial condensation and limit air leakage.
Service zone to distribute electrical and mechanical systems.
Is a Timber Frame Construction Cheap?
This is a really difficult question to answer due to the number of variables involved. The cost will be influenced by the complexity of the project involved and complicated roofscapes, vaulted ceilings, open plan layouts, feature windows all add expense, before you start to think about access, ratio of floor to wall area and the specification of the system being used.
There are timber frame houses that have been built for a price tag upwards of £850,000 - think striking two-storey home set on a sprawling plot - as well as one-bed self builds built for a modest budget of less than £80,000.
The superstructure of your self build will be the largest area of cost and will typically consume 25% to 30% of the total build budget. In comparison with systems such as brick and block, the upfront cost of an open panel frame will be around the same but closed panel systems will be more expensive depending upon the performance and extra features they include.
(MORE: Get an estimate for your self build with our Build Cost Calculator)
What are the Advantages of Timber Frame Construction?
Responsibly sourced timber is an eco-friendly building material and there's less material wastage with this kind of build
It's, on average, 30% quicker to build with timber frame than block and brick
Timber frames are light, often meaning simpler (and less expensive) foundations are required
A timber frame build can be easily erected during adverse weather, where block builds may be delayed
Timber frames are manufactured precisely, leaving less margins of error for on-site trades, while also ensuring that rooms are true (perfectly level and square)
Less requirement of wet trades, who are often in short supply, and create a lot of mess on a building site
What are the Disadvantages of Timber Frame Construction?
As the timber frame is precision-made, there is a low-level of tolerance for any deviations in the groundwork, potentially causing issues that are difficult to rectify
Some timber frame panels are heavier than others, and may require craning into place, which adds requirements for site access
Timber frame, by its nature, is more prone to heat fluctuations as it has less mass than a block built home. This means timber frame homes need to be well-insulated, and these elements need to be considered in the budget. Thankfully, timber frame construction lends itself well to this
Timber frame will cost more per sq m of build than block and brick, but take into account savings made from the quicker construction process which may bring this cost down or even make it cheaper overall
Timber frame companies often take large deposits (potentially even the whole amount) before construction begins, which may mean cashflow is an issue for some self builders
Stick Built vs Pre-Manufactured Timber Frame Construction
Stick built timber frame
A stick built timber frame is literally built a stick at a time directly on the building site. In theory, a stick built frame should include all the elements described above and therefore should perform as any other timber frame.
The problem with stick built timber frame building is that because they're built on site, mostly just following custom and practice principles rather than engineered design, the structures are inefficient and slow to build.
As the construction process doesn't allow for testing, the performance of stick built frames from an energy efficiency, structural stability and fire resistance point of view also tends to be unproven. This is why most self build warranty providers and lenders frown upon this method of timber framing.
Pre-manufactured timber frame
Modern timber frame structures are built using precision engineered off-site manufactured panels which mostly include all the insulation and membranes necessary to achieve the desired level of performance.
The wall panels are manufactured to form part of the overall building structure and come in all sorts of shapes and sizes to suit the project. Most manufacturers look to make large elevational panels which are more efficient and speed up the construction process.
The factory based offsite manufacturing process provides optimal manufacturing conditions where quality is closely controlled. Because the panels are pre-manufactured to predetermined repeatable designs, they can be tested to make sure they provide the performance that's promised.
For example, reputable manufacturers carry out loadbearing fire resistance tests to provide assurance that the timber frame will remain stable and provide a safe means of escape in the event of a fire. The test results therefore prove that the wall system will meet or exceed the Building Regulation requirements.
Which Timber Frame Manufacturing Method Should I Choose?
Whilst it's possible to build a great home with either approach, in reality pre-manufactured panels, which have been subjected to testing, only will offer the certification necessary to assure Building Regulation compliance and keep your warranty provider happy.
Should I Choose an Open or Closed Panel Timber Frame System?
Open panels are manufactured ready for external joinery (doors and windows) to be placed, and are delivered to site together with flooring elements and roof trusses. Once the frame erectors have finished, work can commence both inside and outside the house.
Closed panels are delivered to site with insulation already factory fitted. The external cladding, windows and doors may be fixed, as may electrics and plumbing. Alternatively, a service void may be added for self builders undecided on their electrical and plumbing scheme.
Closed panels are often offered by German turnkey home suppliers and can result in a very fast build. Due to the weight of the panels, a crane is essential to the assembly.
The timber frame panels may be delivered to site 'open' or 'closed'.
Structural insulated panel construction is sometimes referred to as timber frame without the timber. The strength of the panels derives from bonding insulation within an inner and outer skin of board to make a very rigid, highly insulated shell.
The factory produces these panels, leaving holes where the doors and windows will be placed later, and then ships them off to site where, together with flooring elements and roof trusses, the superstructure of the house is erected in a few days.
The roof is left with a waterproof covering and, once the frame erectors have finished, work can commence both inside and outside of the house.
It's very speedy and you can work in the wet.
What are the Design Restrictions in Timber Frame Construction?
From a self build point of view, provided you're not trying to build with timber below ground, timber frame is almost always an appropriate build method. The unsuitability of timber frame is mostly to do with the scale of buildings. For example, a timber frame building over five storeys high or 18m is a big no-no.
"If it can be drawn it can be built whether it is open plan or a very traditional layout , or fully vaulted ceilings with floor to ceiling glazing. But it is key to get us involved at the early stages so we can design in the structural elements needed to support these elements," says Simon Orrells, director of Frame Technologies.
Sometimes people say a timber frame building isn't flexible or strong enough to deal with challenging architectural designs but modern timber frames are highly engineered and integrate structural steelwork where needed to deal with the most challenging engineering situations.
Can I get a Mortgage on a Timber Frame Home?
Yes, it's certainly possible to get a self build mortgage on a timber frame building, but you may need to look for mainstream providers who work with the mainstream off-site build systems.
How to Choose a Timber Frame Supplier
There are a good number of companies working in timber frame construction for the UK self build market.
The most common way to work is for the company to design, build and erect the superstructure but there are variations on how much of the superstructure is supplied. The service provided by timber frame companies can vary from the supply only of the superstructure to the complete package. This makes for difficulties when making comparisons between companies.
Manufacturers who work in the self build industry have evolved their services greatly over the years and many present themselves as 'package suppliers'. As well as satisfying yourself that they will be a capable manufacturer, you'll also need to make sure they'll offer the services you need and want to pay for. Read quotations carefully and pay particular attention to the small print to work out what is and isn't included.
Here are some top tips:
Choose a member of the Structural Timber Association
Ask three or four companies to provide a quote for your project. They will need your drawings (ideally plans/sections/elevations to a scale of no less than 1:100), along with as detailed a specification as you can
When you are comparing manufacturers' quotes, make sure that the two quotes have a comparable specification. Some manufacturers offer a free quote comparison service; if they do, it's worth using it. Don't automatically reject the most expensive quotation — the company may have quoted for a higher specification or for more elements of the build
Once you have narrowed your choice to two manufacturers, arrange to meet them at their factory, where you can go through their quote in detail
Ask if they have any suggestions for saving costs, as fairly small changes to the plans can often mean large cost savings
While you are at the factory, request a tour and see, touch and feel the various materials they plan to use. Ask about lead times, too. Expect a 10-12 week lead in time for the structural shell from when you place an order
What's Included in a Timber Frame Building Package?
A basic package may typically consist of the following items:
Soleplates, damp-proof courses and clips
Structural external/internal wall panels and waterproof membrane
Floor joists and floor covers (not finishes)
All roof elements, usually supplied as prefabricated trusses
Items that are unlikely to be included unless the whole housebuilding contract is let to the timber frame company:
External claddings
Roofing materials: felt, batten, roof tiles, etc
Insulation
Floor screeds
Chimney flues
Glazing (though joinery is increasingly being supplied pre-glazed)
Heating, plumbing and electrics
Plaster finishes
Kitchen units, fitted bedroom furniture and sanitaryware
Decorating, wall and floor tiling and finishes
Garage doors
Many package companies will not manage the groundworks, drainage and landscaping.
You should look carefully at the specification offered by each company and check that you are comparing like with like.
Tips for Timber Frame Construction
With timber frame construction being a lightweight structure, there are elements to consider when agreeing the specification with your architect to make sure you are as satisfied as you can be when living in the finished property.
Avoid squeaky floors. Floor joists should be designed with a serviceability index (a measure of the joist's performance) of at least 1.2. This results in a more rigid floor that bends or sags less that a floor designed to an SI of 1.0. For a squeak-free floor, glue onto the joist/noggings with a 6mm bead of D4 glue, glue the tongue and grooves, use screws (typically 2.5 times the floor boarding thickness in length), brush D4 glue onto the exposed edges of the flooring to seal it and leave a 10mm expansion gap at the floor perimeter.
Soundproof walls and floors. Consider both airbourne and impact noise and how you can design it out. You may wish to surpass the minimum soundproofing requirements set out in the Building Regulations.
Secure fixings. Timber frame stud walls are normally at 600mm centres, which can sometimes make fixing heavier items to the wall a challenge as there are limitations as to the weight the plasterboard can support. If you can, think ahead. Ask the joiner/builder to fit noggins in appropriate positions before the plasterboard is fitted to ensure a good solid fix.
Avoid overheating. Homeowners tend to want to include increased amounts of glazing in their homes, which can increase solar gain but lead to overheating. Timber frame will offer less in the way of thermal mass so your designer will need to consider how to prevent overheating. Installing a brise soleil, shutters or retractable awning can be useful design choices to keep your timber frame home comfortable all year round.
Ensure adequate home ventilation. Timber frame construction, by its very nature, provides very good levels of airtightness. The expression 'build tight and ventilate right' is exactly what you should be looking to achieve here. Incorporating a MVHR system is a good idea.
Property developer Mike is an expert in timber frame construction and offers advice on the build process as well as the cost elements of building with timber.
Homebuilding & Renovating Newsletter
Get the latest news, reviews and product advice straight to your inbox.
Thank you for signing up to Homebuilding. You will receive a verification email shortly.
There was a problem. Please refresh the page and try again.