What is an Architectural Technologist?
There are several options when it comes to selecting a designer for your new home — here we take a look at what a Chartered Architectural Technologist could do for you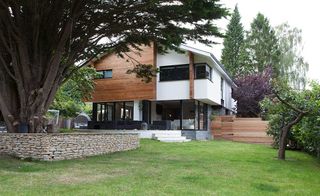 (Image credit: Tony Holt Design)
When you start to look for someone to come up with a design for your build project, be it a self build, an extension or a renovation, you will find that there are various professions offering architectural services: Architects, house designers, architectural technologists etc.
Some projects, such as small extensions or remodelling schemes, may be within the capabilities of the homeowner or a draughtsperson, while larger self builds and renovations will require the services of an experienced design professional.
While there are other qualified design professionals that could provide the design services you require, here we focus on the skills and abilities of the chartered architectural technologist.
What is a Chartered Architectural Technologist?
The Chartered Institute of Architectural Technologists (CIAT), the industry body for the profession, describes the discipline as: "focusing on the design of buildings and their production and performance through the process, management and integral use of technology."
According to CIAT, chartered architectural technologists:
are qualified to offer design services and manage projects from inception to completion
lead the technological design of a project; forming the link between concept, innovation and realisation
In order to become a member of CIAT, and use the letters MCIAT after their name, individuals need to have to either completed an accredited degree, Higher National Diploma or the S/NVQ4 in Architectural Technology. This then needs to be followed by practical and evidenced experience, with competence demonstrated at a formal interview.
As architectural technicians and non-chartered architectural technologists do not have to be registered with CIAT, they may not hold the necessary academic qualifications or skills and experience to carry out satisfactory design services. It's always worth checking to see that they are qualified.
Architect or Architectural Technologist?
While most self builders and renovators would use the term 'Architect' in a generic way, this term is actually protected by statute and can only be used by one profession.
The term Architect can only be used by professionals who have successfully completed seven years' training and are registered with the Architects Registration Board (ARB). Most will also be Chartered Members of the Royal Institute of British Architects (RIBA).
If you have very firm ideas of how you want your project to look, or are undertaking a renovation or conversion that will involve a large amount of structural calculations, then a chartered architectural technologist is a wise choice.
If you are after a one-of-a-kind, innovative design, then it could be that an Architect is your best bet.
However, many chartered architectural technologists will be very creative and fully capable of producing eye-catching and innovative designs on top of being more scientifically led. Likewise, many Architects will also be highly technical in their approach.
Do your research, look at their previous work and ideally speak to past clients about their experiences of working with them.
What Does an Architectural Technologist Do?
A chartered architectural technologist will be able to:
create a design for you based on your brief
submit your plans for approval
work with the other professionals involved in the build
act as a project manager
deal with the day-to-day running of the project
The extent of their involvement depends on what you want from them and also, partly, on your budget.
The skills of chartered architectural technologists tend to sit somewhere between the creative side of building design (the bit that architects usually specialise in) and in building science, engineering and technology.
Although it can be difficult to draw a definite line between what a chartered architectural technologist can offer and the skills of an Architect, as a guide, Architects are usually more design led.
Chartered architectural technologists, on the other hand, have often had more experience and training in the science and technology of a building — how a building is put together and the complexities of the construction and materials being used.
How Much Will a Chartered Architectural Technologist Cost?
The idea that using a chartered architectural technologist will be cheaper than using an Architect is a myth.
The cost will depend on multiple factors, including:
project complexity
scale
location
level of involvement required
There are three main ways to approach the cost:
agree a fixed price for some (or all) key stages, such as design concepts, planning, construction drawings and full tender drawings
agree an hourly or daily rate
agree a percentage of the build contract
Homebuilding & Renovating Newsletter
Get the latest news, reviews and product advice straight to your inbox.
Thank you for signing up to Homebuilding. You will receive a verification email shortly.
There was a problem. Please refresh the page and try again.