Community Infrastructure Levy: All You Need to Know
The Community Infrastructure Levy (CIL) was a huge burden to self builders, so it is important to know why it was introduced and how to ensure you are exempt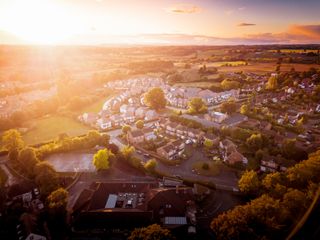 (Image credit: getty images)
Building your own home brings many monetary benefits — namely the chance to control the costs of your dream home in a way you can't when you buy 'off the shelf'. However, what the self builder quickly discovers is that for every cost saving idea they come up with, there are a number of hidden fees sitting just around the corner in the form of planning obligations.
Here we look at one specific planning obligation you may be faced with – the Community Infrastructure Levy – and how to claim exemption.
What is the Community Infrastructure Levy (CIL)?
The charge was officially introduced on 6th April 2010 by the Community Infrastructure Levy Regulations 2010, although it was initially established under the Planning Act 2008. It was devised as the Labour Government's preferred method of obtaining finance from developers for new 'local infrastructure'.
This meant it could be spent on anything to benefit the local area, including safer road schemes, flood defences, schools, hospitals and other health and social care facilities, local parks, green spaces and leisure centres. Experts estimated it could raise an additional £1 billion a year.
While the regulations empowered local authorities to impose a levy, they did not actually force them to do so. However, where they were imposed, self builders found them to be a huge financial burden, especially since they were to be paid before work commenced.
How Much is a Community Infrastructure Levy?
Community Infrastructure Levy is calculated on the total floor space of a development. As such, we have seen charges ranging from £5,000 to £150,000. Councils set their own rates so the charges do vary depending on where you are building.
The highest known charge was in Nine Elms in Battersea, Wandsworth at a staggering £575/m², while in urban areas of Shropshire it's 'just' £40/m², which still meant an £8,000 outlay on the average self build project.
What is the Difference Between Community Infrastructure Levy and Section 106?
Community Infrastructure Levy is often confused with Section 106, or mistakenly taken to be the same thing. Community Infrastructure Levy is a tariff based system designed to cover the costs of all local infrastructure needs. In order to calculate a Community Infrastructure Levy tariff, a council will consider the total costs of delivering services (such as schools, transport and flood defences) against the total scope of development expected in an area.
Section 106 payments are based on the impacts of a specific development. This may mean a charge is imposed to cover site-specific issues such as drainage and/or access.
Read more: What is Section 106?
How the Community Infrastructure Levy works
Charging authorities must produce a charging schedule, which sets out their levy rate. This can be one standard rate or it can set specific rates for different areas and types of development.
The charge must be levied in pounds per square metre, collectable as a cash contribution typically within 60 days of the commencement of development. An instalment policy allowing phased payment may be in place in some areas.
Once the planning application has been granted, a liability notice setting out the amount of the levy that will be due for payment will be sent to you.
There are few exceptions to the rule, although the gross floor space of any existing buildings on the site that are going to be demolished will be deducted from the final liability, as will buildings which are to be converted (these buildings must, however, have been in continuous 'lawful use' for at least six months in the 12 months prior to the development being permitted).
What About the Community Infrastructure Levy Exemption?
It was widely contested that single self build homes did not have enough of an impact on local infrastructure to warrant a levy in the way that a larger development would. After campaigning from the self build community (largely led by the National Custom and Self Build Association) an exemption was agreed in 2014.
It declared that schemes of under 10 units and 1,000m² gross floorspace, commissioned by individuals for their own use, would be exempt from the payments. To make sure you are not charged, you must:
Submit an 'Assumption of Liability' form and a 'Self Build Exemption Claim – Part 1' to your local authority to certify that your new property will be occupied as your principal residence for a period of three years from completion.
Ahead of work, you must then submit a 'Commencement Notice'.
Within six months of completion, you need to submit Part 2 of your 'Exemption Claim Form'. This needs to be submitted with supporting evidence in the form of Council Tax details or a title deed.
Homebuilding & Renovating Newsletter
Get the latest news, expert advice and product inspiration straight to your inbox.
Thank you for signing up to Homebuilding. You will receive a verification email shortly.
There was a problem. Please refresh the page and try again.