Extending Over a Garage: How Easy Is It?
By Ian Rock published
Extending over a garage may not be as simple as it sounds, says chartered surveyor Ian Rock. The existing foundations and walls need careful consideration before work begins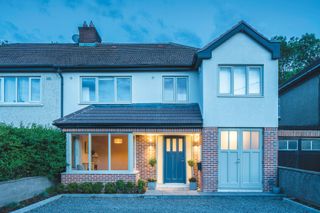 (Image credit: Shomera Architecture)
Extending over a garage can make a lot of sense if you're planning a new full height extension to your home. By making the most of the space you've already got, it should be possible to reap significant savings in construction costs since the foundations and lower walls are already in place.
From a planning perspective, reducing the extent of the new construction means your proposed extension should appear less bulky and voluminous, and therefore more likely to gain permission.
However, to successfully incorporate an existing structure within a larger new extension requires careful design and preparation. It's not simply a matter of peeling back the old roof and merrily building upwards.
Explore all the elements you'll need to consider when extending over a garage with our expert guide.
(MORE: Building an Extension)
Is Extending Over a Garage Possible?
Well, that depends on the foundations and walls of the existing structure. There's a pretty good chance that recently constructed garages (from the 1990s onwards), if built by the original developers along with the house, will have foundations of sufficient depth to support additional loadings — assuming of course that they complied with the Building Regulations.
Your local authority building control should be able to provide copies of the original approved drawings showing the depth and type of foundations, along with the completion certificate issued when the build was finished.
Where site inspections were instead carried out by private approved inspectors or new build warranty providers, like the National House Building Council (NHBC), it may be harder to track down the paperwork. The ideal scenario is where the garage you want to build over was constructed as an integral part of the original house with the same depth of foundations.
(MORE: Adding a Second Storey to a Bungalow)
Where existing footings are capable of supporting an extra storey, the next question to ask is what shape the walls are in, since you'll be relying on them to safely transmit the hefty additional loadings down to the ground.
Converting the Garage
If you're also planning a garage conversion to change the existing ground floor space for living accommodation rather than retain it as an integral garage, the walls will need upgrading to new build thermal efficiency standards to prevent excessive heat loss.
This usually necessitates construction of a new inner leaf wall of thermal blockwork or lined studwork which can also be designed to boost the wall's load bearing capacity.
If you're lucky enough to have walls of full width cavity masonry construction, similar to those in the main house, you should be home and dry. But this is comparatively rare, more likely to be found in solid detached double garages.
The majority of modern garage walls are built from slender single-skin brick or blockwork (115mm thick) buttressed internally with brick columns (piers) every couple of metres. This doesn't necessarily mean the walls can't provide the required support to the proposed new floor above, but a structural engineer will need to produce design calculations to prove it.
Problems are more likely to arise with older garages where building over is rarely a practical proposition because of their very limited load bearing capacity. Many are little more than tumble-down shacks erected on rudimentary slabs with wonky concrete panels or garden-shed walls under roofs of leaky felt or corrugated asbestos cement.
(MORE: Asbestos Roof Tiles: How to Identify and Dispose of Them)
How to Check Foundation Depth When Extending Over a Garage
Even where you're blessed with a good-quality modern attached garage, if there are no records to verify the foundation depths you can't automatically assume that they're adequate. If you're building over an existing structure building control will normally want a couple of trial holes excavated to expose the existing foundations.
This will allow the building control officer to inspect and assess if they're suitable to support the additional loadings. They will note the type, thickness and depth of the existing foundations in relation to the type of subsoil and the proximity of any trees.
(MORE: Foundation Systems and Soil Types)
In good load bearing ground you'd want to see trench foundations at least 450mm wide and a metre or more deep, but much will depend on local conditions.
Trial holes can normally be dug by hand (roughly a metre square) alongside the existing walls. Do this at an early stage so you know what you're dealing with from the outset. Your application to building control will need to be accompanied by a structural engineer's calculations so they will need this data to formulate them and finalise the design.
In less stable ground conditions a soil sample may need to be taken for laboratory soil testing to confirm its load bearing capacity.
What to do if Extending Over an Existing Garage is not Possible
Where an old structure isn't up to the job of supporting additional loadings there are a number of possible options. The decision will largely depend on whether the cost of retaining and upgrading an existing structure is less than the cost of demolition and rebuilding,
In marginal cases, Building Control might accept a new lightweight first floor structure (e.g. timber frame extension or structural insulated panels) subject to an engineer's calculations. Because the loadings will be significantly less than a masonry superstructure this may allow you to forgo the expense and hassle of strengthening existing foundations.
It is often possible to strengthen the old structure or bypass it entirely. New double storey extensions can be designed with an open car port on the ground floor and the first floor living space supported on a series of brick piers. A similar approach can be used to build over existing buildings, erecting a new framework with steel posts or brick piers bedded on new concrete pad footings. Bear in mind, however, that access for excavation of small foundation points needs to be carefully considered where space is restricted.
Bear in mind
Properties with a history of underpinning can potentially cause future problems with insurers and mortgage lenders.
Shallow foundations can be strengthened by underpinning but complex sectional excavation work and the need for large quantities of concrete mean this is rarely feasible because of the cost — typically costing upwards of £1,000/m2 run. Given that the walls may also need upgrading it's likely that demolition and rebuilding will be a more cost-effective option.
Where the existing structure is very basic, the best option is normally to demolish it and start from scratch. You may be able to recycle roof tiles or even retain and insulate the old floor slab. This way you'll benefit from ground floor accommodation built to current performance standards.
How Much Does Extending Over a Garage Cost?
If your foundations and wall are of an appropriate standard for extending over a garage, you're looking at a starting price of around £20,000 for the project. However, this depends on the internal fit out and whether you're installing a new bathroom in the extra space created, which will increase your overall costs.
Layout Considerations When Extending Over a Garage
Extending over a garage means your design could be constrained in terms of its floor area. A standard single garage size typically measures around 2.8 x 5m externally, although if there's sufficient garden space it might be possible to enlarge the footprint. Or you could design a larger jettied first floor which overhangs the floor below.
Getting the layout right isn't always straightforward. Integrating new bedrooms and bathrooms into the existing upstairs floorplan needs to be skilfully configured. Also consider whether the new accommodation will block any existing windows, making the old rooms dark and dingy.
Finally, the interface between the old and new accommodation needs to be carefully designed. For example, it's best to avoid accessing the new extension bedrooms directly from an existing staircase, since compliance with Building Regulations can often be problematic
Chartered surveyor Ian is the author of eight popular Haynes House Manuals and is a director of Rightsurvey.co.uk (opens in new tab). He is also in the process of adding a large extension to his home.
Homebuilding & Renovating Newsletter
Get the latest news, reviews and product advice straight to your inbox.
Thank you for signing up to Homebuilding. You will receive a verification email shortly.
There was a problem. Please refresh the page and try again.