Kitchen Extension: How to Add Space Where It Counts
By Michael Holmes, Michelle Guy
A kitchen extension is one of the most popular home improvements today, and for good reason. Explore our ultimate guide from planning through to finding the right builder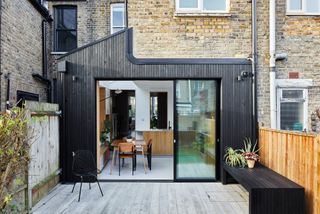 (Image credit: Chris Snook for Eckford Chong)
Adding a kitchen extension is transformative way to improve a property. Where once the kitchen's purely functional nature dictated its small size, kitchens have now become the hub of the home, with people looking for a bright, welcoming and sociable kitchen design where the family can congregate. 
Whether you're looking to create a small extension such as a side return to improve the layout of your current space, or extend with a large single or double storey extension to create your dream kitchen space from scratch, there's a lot to consider within a kitchen extension project. 
(MORE: Get a quote for your new kitchen)
Not sure where to start? Well, this kitchen extension guide covers everything you need to know, from the cost of extending for a new kitchen to planning permission, party wall agreements, timelines and more. 
How Much Does a Kitchen Extension Cost?
Estimate your Extension Cost
Kitchen extension costs will vary depending on the size and finish.
Location also plays a part, the cost of a single-storey extension will vary depending on where you are in the UK as well as the complexity of the project. 
Cost estimates:
Straightforward build - £1,320 to £1,620/m²
Good quality build - £1,700 to £2,000/m²
Excellent quality build - £1,800 to £2,500/m²
On top of this you'll then have the cost of your kitchen units, plus the installation costs to factor in too, which can range, on average, from around £5,000 to £25,000 for a high street kitchen (plus appliances and fitting), with bespoke kitchens starting at around £25,000 (excluding install). 
(MORE: How Much Does a New Kitchen Cost?)
Finally, remember to factor in any additional costs such as architects' fees, Building Regulations and planning fees, insurance, Party Wall Agreements and so on.
Editor's Note: If you're looking for a quote for your kitchen extension, simply tell us a bit about your project in the questionnaire below and we'll match your requirements with the services and prices that our partners offer. And don't worry, only partners that match your needs will reach out to you. 
Do I Need Planning Permission for a Kitchen Extension?
If you are going to be adding a kitchen extension to create your new multi functional space, then you may be covered under Permitted Development (PD) rights and therefore not require planning consent.
However, bear in mind that if your house is in a Conservation Area or national park, the amount of work you can do under PD is usually reduced.
To be covered under PD rights, a single-storey extension should:
Be a maximum height of four metres
Not extend beyond the original rear wall of the house by more than six metres if it is an attached house (i.e. semi-detached), or eight metres for a detached home
If you are adding a side extension, this must be single-storey with a width of no more than half that of the original house
Then you will require planning permission regardless of whether you are adding an extension or knocking through a wall. If you have any doubts, you should check with your local planning department.
(MORE: Knocking Down Internal Walls)
Kitchen Extensions and the Party Wall Act
If you live in a semi-detached house, flat or terraced property chances are you will need a Party Wall Agreement if you are building along a joint wall.
If you are building an extension, the part of the Party Wall Act that's often most relevant is where it applies to digging foundations close to neighbouring buildings or garden boundary walls, which is common with ground floor kitchen extensions.
You will need to notify your neighbours and get a surveyor to make sure that all work carried out won't have any negative impact on your neighbours property or foundations.
In order to trigger this legal minefield, excavation normally needs to be within a critical distance of 3m from the adjoining property where your new trench is deeper than their existing foundations.
Where there is any doubt, it might be worth consulting any records of foundation depths or seeking an expert opinion, for example from a building inspector.
(MORE: Building Foundations)
Building Regulations for a Kitchen Extension
How it Works
Send a Full Plans application to the local authority, where you pay a fee and the building inspector visits the site at the various stages of the build and inspects the work as it proceeds.
Your work will require Building Regulations approval to ensure that the minimum design and construction standards are achieved. 
Most kitchen extensions will need to meet a minimum set of technical standards.
These are likely to be:
Energy performance
Structural integrity as most extensions require foundations 
Protection against falls and unsafe walls  
Electric and gas safety as most extensions require new systems
Fire protection which means ensuring there is safe passage from your home to a safe external area  
The role of a Building Control officer is to ensure that the minimum standards set out by the Building Regulations have been met. If you are carrying out a kitchen extension, Building Control will need to be notified.
Don't get caught out by the Building Regs rule that states that the area of windows, roof windows and glazed doors must not account for more than 25% of the extension's floor area. 
"The reason for this restriction is simply down to thermal efficiency," says chartered surveyor, Ian Rock. "Since even quite advanced glazing leaks significantly more heat than the equivalent area of wall, which need to achieve the stipulated minimum U value target of 0.28W/m2K (as covered in Approved Document L1B — Conservation of Fuel and Power of the Building Regs)."
What Kind of Kitchen Extension Should I Add?
How you extend will largely depend on your budget and the space that's available. If you have a terraced or semi-detached home with a kitchen to the rear, adding a small rear extension for an open-plan kitchen diner leading out to the garden could be the best solution.
If you have restricted garden space, then a small side return kitchen extension could provide you with useful extra space.
Where budget and outside space allows, consider a large rear extension spanning the width of the house, incorporating an open-plan kitchen, dining and living space.
How Long Will a Kitchen Extension Take?
Project time depends largely on whether you will be extending the property, the type of interior fit-out, and specifications you choose. A single storey kitchen extension, for example, will on average take 12 weeks, however if you are specifying underfloor heating this will add to the time.
Planning the Layout of Your Kitchen Extension
When planning the layout of your kitchen extension, you will need to keep in mind the basics of what each kitchen requires (fridge freezer, cooker, sink) and then add features around these items.
If you are looking to create a multifunctional space with your kitchen extension, such as an open plan kitchen-diner-living room, zoning the cooking and eating areas will be important. This can be done using furniture and storage.
(MORE: Find an Architect)
Some essential kitchen items to include are:
Kitchen island
Fridge and freezer
Sink and optional waste disposal unit
Oven and hob cooker
Dishwasher
Wine cooler
Extractor fan
Washing machine or possible inclusion of a separate utility room
Lighting
Bifold doors
Roof lights and other glazing options
Seating area/tables and sofas
It's also worth thinking about flooring and heating options when choosing your layout in your new extension. What tiles do you want, carpet options and wet or electric underfloor heating options.
A kitchen island between the work station units and the dining table, for instance, is a perfect break between the separate spaces, and is also a place where you can store pots and pans, and even install a hob and second sink. A breakfast bar can also serve as a way of zoning the kitchen from the dining area.
All of these questions will need answering from the outset so you can ensure your kitchen design meets your requirements.
Glazing for a Kitchen Extension
Remember
To include an artificial lighting scheme which is practical but also brings the wow-factor in the evenings.
When adding an extension, a lot of your focus and energy will go into making sure the new space is bathed in swathes of natural light. 
At the design stage think about where the sunlight falls throughout the day and how you can maximise natural light with the glazing you choose. 
Will full width sliding doors be the best option? Could rooflights help bring light deep into the floorplan, and ensure existing rooms still receive daylight?
If your kitchen extension is to the rear of the property, consider bifold doors that open to the garden.The full-height glazing will allow in plenty of sunlight as well as offering views of the outside.
(MORE: Great Glazing Ideas for Your Home)
If you are choosing to add a side-return extension or are after more privacy, then opting for clerestory windows is a good design solution. A bank of rooflights is another popular option as light then penetrates deeper into the space.
Finding a Builder for Your Kitchen Extension
Chances are that your kitchen extension will demand some form of structural work and you will need to enlist the services of a designer as well as builders. Once you have chosen a designer, they will draw up plans for the project (to be submitted to the local planning department if your project is going to require approval), and to provide the builders with during the tender process.
When selecting builders to carry out the work:
Make sure they come recommended and ask to see previous projects and speak to previous clients for peace of mind.
Try to avoid paying day rates.
Agree on a fixed price where possible.
You may, however, wish to go down the route of employing a design and build extension company who will be able to handle everything from the design through to the building works and fit-out.
Factoring in Heating and Electrics in Your Kitchen Extension
"One area that's notoriously prone to cost overruns is supplying the heating, lighting and power," says surveyor Ian Rock. "It's fairly common to underestimate how many lights, sockets and taps will ultimately be needed in new extensions, and this can often trigger unbudgeted charges for 'extras'. 
Often very little thought is given to assessing whether the existing power and heating systems will be up to the job of coping with the additional load, too. Before extending your existing services it's worth giving them a quick health check."
Electrics: Your electrician will need to check the existing system to see whether rewiring is necessary. They will then return to carry out second fix electrics – such as connections to plug sockets – before the worktops are fitted.
You will need to call in a plumber to check the existing pipework is in good condition. You will need to ensure you have both a hot and cold water supply, as well as a waste pump from the sink to the outside. Appliances, such as your washing machine and dishwasher, will also need to be connected to the water supply.
(MORE: Modern Kitchen Designs)
Homebuilding & Renovating Newsletter
Get the latest news, reviews and product advice straight to your inbox.
Thank you for signing up to Homebuilding. You will receive a verification email shortly.
There was a problem. Please refresh the page and try again.