Kitchen Extensions: Plan and Build the Best Addition for Your Budget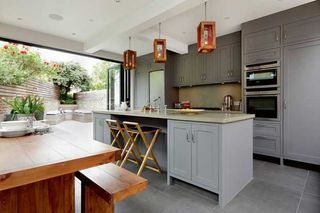 (Image credit: Cue & co)
For many, a kitchen extension is a way to create a dream home without having to move. Just a simple side extension can sometimes be all that's needed to give the kitchen scope to be more than a place to cook, but a place to entertain and dine too. 
There are many ways to extend a kitchen so it's all about thinking and planning the right project to take on for your home. An old conservatory could be knocked down to make way for a kitchen extension, for example or a combination of rear and side extension could be what you need. 
Whatever kitchen extension you end up taking on, there are some common factors that will be key to running a successful project. From pinpointing what you want from the additional space to the budget you have; to planning permission or potential party wall agreements - our kitchen extension guide will take you through the key points to consider.  
(MORE: Kitchen Design)
Kitchen Extension Costs
Estimate your Extension Cost
Most extension projects cost around £1,500- £2,000/m2 of new space. So a 30m2 kitchen extension could be estimated at somewhere between £45,000-£60,000. Plus, of course, the dreaded VAT (20%) on top.
If that sounds suitably general – that's because it is. And that's all you can expect when you have no detail or idea of what the extension looks like, or what materials you're going to use, or how it is going to be built (and who's going to do it). The £1,500-£2,000 price, however, is a very good range of pricing based on averages. 
Here's an example (based on a 30m2 single storey kitchen extension):
Superstructure (walls and roof): £20,000
Kitchen units and worktops: £15,000
Flooring: £1,500
Electrics including lighting: £3,000
Heating and plumbing: £3,000
Sliding patio doors: £2,500
Decorating and finishing (paint, skirtings, etc): £2,000
Associated landscaping works/making good: £2,000 
(MORE: How Much Does a New Kitchen Cost?)
Remember to factor in any additional costs such as architects' fees, Building Regulations and planning fees, insurance, Party Wall Agreements and so on.
Your extension will almost always cost more than you expected it to, so it's important to have a contingency fund you can fall back on. "Allow a contingency of about 20%," says Jo Dyson, a partner at Mae House Design. "There will always be unforeseen costs no matter how much you plan ahead in advance, especially with old buildings where there are a lot of unknowns."  
Editor's Note: If you're looking for a quote for your kitchen extension, simply tell us a bit about your project in the questionnaire below and we'll match your requirements with the services and prices that our partners offer. And don't worry, only partners that match your needs will reach out to you. 
Will I Need Planning Permission for a Kitchen Extension?
If you are going to be adding a kitchen extension to create your new multi functional space, then you may be covered under Permitted Development (PD) rights and therefore not require planning consent.
However, bear in mind that if your house is in a Conservation Area or national park, the amount of work you can do under PD is usually reduced.
To be covered under PD rights, a single-storey extension should:
Be a maximum height of four metres
Not extend beyond the original rear wall of the house by more than six metres if it is an attached house (i.e. semi-detached), or eight metres for a detached home
If you are adding a side extension, this must be single-storey with a width of no more than half that of the original house
Then you will require planning permission regardless of whether you are adding an extension or knocking through a wall. If you have any doubts, you should check with your local planning department.
(MORE: Knocking Down Internal Walls)
Kitchen Extensions and the Party Wall Act
If you are building an extension, building work involving work to boundary walls between your house and your neighbours needs to comply with the Party Wall Act and, as part of the process, you'll need to serve a Party Wall Notice to adjoining neighbours. This is notice of the work you intend to do and should be served at least two months before work begins. 
If they consent within 14 days to the work, then you can begin. If they don't, you and your neighbour will need to appoint a party wall surveyor (this may or may not be the same company) to draft up a party wall 'award', which describes how work will proceed. 
(MORE: Building Foundations)
What Building Regulations Approval Will I Need for a Kitchen Extension?
How it Works
Send a Full Plans application to the local authority, where you pay a fee and the building inspector visits the site at the various stages of the build and inspects the work as it proceeds.
Your work will require Building Regulations approval to ensure that the minimum design and construction standards are achieved. 
Most kitchen extensions will need to meet a minimum set of technical standards.
These are likely to be:
Energy performance
Structural integrity as most extensions require foundations 
Protection against falls and unsafe walls  
Electric and gas safety as most extensions require new systems
Fire protection which means ensuring there is safe passage from your home to a safe external area  
The role of a Building Control officer is to ensure that the minimum standards set out by the Building Regulations have been met. If you are carrying out a kitchen extension, Building Control will need to be notified.
Don't get caught out by the Building Regs rule that states that the area of windows, roof windows and glazed doors must not account for more than 25% of the extension's floor area. 
"The reason for this restriction is simply down to thermal efficiency," says chartered surveyor, Ian Rock. "Since even quite advanced glazing leaks significantly more heat than the equivalent area of wall, which need to achieve the stipulated minimum U value target of 0.28W/m2K (as covered in Approved Document L1B — Conservation of Fuel and Power of the Building Regs)."
What Kitchen Extension Design Should I Choose?
Budget will of course have a bearing on what kind of kitchen extension you opt for. One of the most popular ways to extend a kitchen is to add a single storey addition to the side or rear. And big doesn't always mean better here. Even extending by as little as 1m or so can really help open up a space, giving you options to remodel the layout so that you can get more out of it. For example, if you choose to add a side extension, this could give you ample room to include a dining area in your kitchen extension without having to eat up lots of outside space.
Consider how the new kitchen extension will link to the existing space and the garden. And note down where the sunlight catches the kitchen throughout the day, too. All these factors will determine where to add your kitchen extension, how big to go and how to glaze it and shade it (if it's south facing).
If your budget and outside space allow then building a large rear extension spanning the width of the house could open up lots of possible layouts.
Planning the Layout of Your Kitchen Extension
And that point brings us on to the interior of the kitchen extension and, more specifically, the layout.
Really drill down into what it is you need from the extension - is it space for a utility and downstairs WC? Is it the need for an all inclusive kitchen, diner and living area that you'll spend most of your time in? Or is it purely to create a stunning kitchen that connects seamlessly to the garden?
Whatever you're after with your kitchen extension, layout will be key in delivering exactly what you need.
Once you've established why you want to extend, it's worth talking to an architect or designer to put all the cards on the table. Your wish list will be combined with their design and layout expertise. They'll offer up solutions to squeeze the most out of the new extension in ways you may not have thought of.
And when it comes to open-plan vs. Broken plan?  "One of the most popular reasons why homeowners choose to have a kitchen extension is to create a space that is easy to use as a full room, in order to have an open-space kitchen and living area. L-shape rooms or long rectangular spaces work well for this purpose," says Melissa Klink, Creative Director at Harvey Jones. 
"If you're thinking of a broken-plan space, you can certainly opt for an L-shape, side return or full width extension. Depending on the one you choose, you'll be able to carve out corners where to place the kitchen, dining table or snug. You can also do this by having different floor heights (for example a sunken living area or raised kitchen) or introducing partitions, such as a freestanding piece of furniture or a bookcase, that will separate the different areas." 
It's also worth thinking about flooring and heating options when choosing your layout in your new extension. What tiles do you want, carpet options and wet or electric underfloor heating options.
A kitchen island between the work station units and the dining table, for instance, is a perfect break between the separate spaces, and is also a place where you can store pots and pans, and even install a hob and second sink. A breakfast bar can also serve as a way of zoning the kitchen from the dining area.
"Making design decisions up front can help you keep in control of your budget so you know how much you'll be spending on flooring, tiling, kitchen units etc," says Jo Dyson Dyson, a partner at Mae House Design. 
Do I Need a Designer or Architect?
The title 'architect' is protected under the Architects Act of 1997 and means that only those registered with the Architects Registration Board can use the term to describe themselves. This means that they have been through the appropriate education, and have the qualifications and training. They will also have signed up to the Architect's Code of Conduct and have professional indemnity insurance of at least £250,000.
Searching the lists of the Royal Institute of British Architects (RIBA) is a good starting place to find a good house designer and while it guarantees that they meet the above criteria, that's only a proportion of the whole skillset required to bring your project to life. A good designer will be experienced, energetic, engaged with the project (and you) and skilled at resolving difficult design issues.
The place to start, therefore, is not so much with the title as the person. You're after a designer with all the above hard and soft skills. That may well be an architect, but it might just as easily be a local house designer without any formal qualifications. Insurance is key, of course, but many non-architects have that, too. 
[MORE: Find an Architect]
How Long Will a Kitchen Extension Take?
Project time depends largely on large your kitchen extension will, whether you need planning permission or not, the type of interior fit-out, and specifications you choose. A single storey kitchen extension, for example, will on average take 12 weeks to construct, however if you are specifying underfloor heating this will add to the time.
Glazing for a Kitchen Extension
Remember
To include an artificial lighting scheme which is practical but also brings the wow-factor in the evenings.
When adding an extension, a lot of your focus and energy will go into making sure the new space is bathed in swathes of natural light. 
At the design stage think about where the sunlight falls throughout the day and how you can maximise natural light with the glazing you choose. 
Will full width sliding doors be the best option? Could rooflights help bring light deep into the floorplan, and ensure existing rooms still receive daylight?
If your kitchen extension is to the rear of the property, consider bifold doors that open to the garden.The full-height glazing will allow in plenty of sunlight as well as offering views of the outside.
(MORE: Great Glazing Ideas for Your Home)
If you are choosing to add a side-return extension or are after more privacy, then opting for clerestory windows is a good design solution. A bank of rooflights is another popular option as light then penetrates deeper into the space.
Finding a Builder for Your Kitchen Extension
Whether you're looking for a reputable builder to bring in his own subbies or sourcing individual trades yourself, personal recommendation is the best way to find a high-quality professional. 
Family, friends and neighbours are a good first port of call when it comes to putting together your long list of potential companies. Failing that, your architect or designer should be able to recommend professionals they have worked with on successful past projects. Websites such as checkatrade.com and ratedpeople.com can also prove a useful mine of information if you're required to reach out in search of completely new connections.
Once you've compiled a list of potential people, contact them for an informal chat about the project. Ask about their range of skills, experience and workload, using the conversation to try and gauge their level of interest in your project. For main contractors in particular, ask if you can speak to previous clients or see past examples of their work to ascertain the quality of the workmanship. 
[MORE: DIY What to leave to the professionals]
Remember, good word of mouth is one of the best forms of advertising in the industry, so happy clients from past projects will often be more than happy to give their builder a plug. Find out if the person is registered as part of a competent persons' scheme, too, such as the Federation of Master Builders (FMB) for your contractor or the National Federation of Roofing Contractors (NFRC) for roofers, and so on. 
Once you've spent plenty of time digging into the details and speaking to various professionals, you'll be able to begin whittling down the list of people you want to bring onto your project.
When selecting builders to carry out the work:
Make sure they come recommended and ask to see previous projects and speak to previous clients for peace of mind.
Try to avoid paying day rates.
Agree on a fixed price where possible.
Factoring in Heating and Electrics in Your Kitchen Extension
"One area that's notoriously prone to cost overruns is supplying the heating, lighting and power," says surveyor Ian Rock. "It's fairly common to underestimate how many lights, sockets and taps will ultimately be needed in new extensions, and this can often trigger unbudgeted charges for 'extras'. 
Often very little thought is given to assessing whether the existing power and heating systems will be up to the job of coping with the additional load, too. Before extending your existing services it's worth giving them a quick health check."
Electrics: Your electrician will need to check the existing system to see whether rewiring is necessary. They will then return to carry out second fix electrics – such as connections to plug sockets – before the worktops are fitted.
You will need to call in a plumber to check the existing pipework is in good condition. You will need to ensure you have both a hot and cold water supply, as well as a waste pump from the sink to the outside. Appliances, such as your washing machine and dishwasher, will also need to be connected to the water supply.
(MORE: Modern Kitchen Designs)
Homebuilding & Renovating Newsletter
Get the latest news, reviews and product advice straight to your inbox.
Thank you for signing up to Homebuilding. You will receive a verification email shortly.
There was a problem. Please refresh the page and try again.