Cross Laminated Timber: How to Build With CLT
Cross laminated timber (CLT) is a fast method of construction and can be used as the superstructure. Here's why it might be right for your project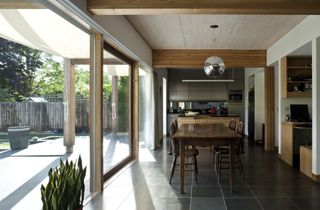 (Image credit: c/o Mole Architects, photographer David Butler)
Cross laminated timber (CLT) is a relatively new development in the field of timber building. It grew out of our ability to glue thin strips of timber together to make strong beams, known as glue-laminated or glulam beams, and uses the same method to engineer whole-wall panels that are both strong and beautiful.
It is still some way from being mainstream in the UK self build market however, there is a small number of architects who specialise in CLT including Adam Knibb Architects and Mole Architects - Meredith Bowles is a big fan. "As an over-simplification, people love exposed timber. Too much and people think it's like a sauna, but leaving parts of the overall structure exposed as a solid wall, floor or roof adds warmth and interest. CLT is brilliant at this. How dull a plasterboard ceiling looks in comparison! It's a modern version of exposed beams," he says.
How is Cross Laminated Timber Manufactured?
The idea of stacking timber planks (known as lamellas) together to create a construction system can be traced back to German engineer Julius Natterer. He developed a system known as Brettstapel, which originally used nails to secure the wood in place (and now uses wooden dowels). This is still widely used in Austria and Germany and can be seen as a precursor to CLT, which developed out of academic and industrial efforts in the 1990s.
CLT differs from Brettstapel in that it uses high grade timber stacked in a cross pattern to provide structural strength across two axis, rather than stacking in a single direction.
CLT is formed of kiln-dried spruce or pine boards which are laid on top of each other at 90° (three, five, seven or nine layers depending on structural requirements), coated with a layer of polyurethane adhesive and subjected to immense hydraulic pressure to create large, stiff, dimensionally stable panels.
These timber panels, which can measure up to 3.5m in width and 20m in length, depending on specification, can be used to create the complete superstructure of a building. CLT panels are precision cut by CNC machines (from 3D CAD drawings) and delivered to site to be installed by specialist CLT installers.
Window and door openings are created during manufacture to such high degrees of accuracy that glazing can be ordered from the initial drawings. The high tolerances involved greatly improve airtightness and thermal performance and mean that CLT can be used in Passivhaus designs.
Where Does Cross Laminated Timber Come From?
Currently, the majority of CLT is manufactured in Austria. Major players include Binderholz, KLH, Stora Enso and Mayr-Melnhof, with European production volume estimated to be around 610,000m3 in 2015, a figure that is growing year-on-year.
There are currently no CLT manufacturers in the UK, which means all CLT builds here will import directly from Europe, though many of the key CLT producers work, own or partner with UK-based CLT installers who provide services such as consultation, design, supply and installation.
There are three visual qualities of CLT that are similar across all suppliers:
non-visual
industrial visual
high-grade visual
Non-visual CLT is designed to be plasterboarded over, and industrial and high-grade visual are intended to be left exposed — typically the former for exposed soffits and the latter for walls.
Visual grade CLT is made from a higher grade of timber which is planed, sanded and dried to a lower moisture content to ensure less movement and cracking in the future and with wider lamellas to reduce the number of boards on a visual surface.
Leaving the timber exposed on the internal face is one of the key design advantages of CLT, giving a striking contemporary timber interior.
How Quickly can CLT Buildings be Built?
Once the CLT panels are delivered to site they can be installed quickly — for example, Stora Enso estimates that a detached three bedroom house can be constructed in five to eight days. As getting wind and watertight is usually one of the key milestones for mortgage payments, you could also see your mortgage stage payment releases arrive sooner.
(MORE: Self Build Morgages)
Designing a CLT Home
Like any building project you want to get the design right and frozen before you break ground. Making changes to drawings is far easier and cheaper than making changes on site. However, if the alterations are carefully considered and your design team is consulted, then changes are possible with CLT. As each wall has an associated drawing, it can often be easier to complete a change to a prefabricated building than a traditional site-built home.
You won't need any proprietary cladding either — a CLT build can be clad with the same external materials as any other build method. As most CLT residential buildings will be wrapped in insulation (up to 200mm depending on the desired U value), this needs to be considered when choosing the fixing method for the cladding.
(MORE: Cladding a House)
The most efficient systems to install are rainscreen cladding or lightweight cladding systems (smooth render, cementitious boards or stone slips, for example), which can be fixed directly into the CLT via fixing clips or battens. But there's no reason why traditional brickwork cannot be used.
Remember too that after the CLT superstructure has been installed you will need to employ another trade or company to fit external insulation.
As with any off-site manufacturing method, you will need to ensure that there is access for an artic lorry and mobile crane to allow the panels to be delivered and craned into place.
It is also worth considering the transport costs when designing with CLT — an average small house would use 40-50m3 of CLT, which equates to one full truck-load.
(MORE: How to Choose a Construction System)
How Much Does CLT Cost?
It's difficult to provide an accurate estimate for a CLT build here – a lot depends on the design – but expect to pay between £350-£500/m2 of gross internal floor area for a CLT-built house.
Don't forget, the upfront costs may appear high, but you will make savings through the speed of the build compared to some other build methods. CLT companies will be able to provide an estimate, which will usually take between two to six weeks (and can be done from your drawings). This figure will be for the supply, design and installation of the CLT structural frame and not the whole house.
Building with CLT in the Future
Without a UK-based CLT manufacturing facility it is unlikely that prices will change dramatically in the near future. Napier University's Centre for Offsite Construction + Innovative Structures examined the viability of manufacturing CLT from UK resources and found that it could be a viable proposition using sitka spruce (which accounts for around 50% of the UK's softwood resource).
But there were challenges, including that the UK's spruce performed differently to the softwoods on the continent under structural testing and would need to be kiln-dried to a lower moisture content than current UK standards to match European CLT's material properties.
How Easy is it to get a Mortgage for a CLT Build?
There are specialists out there who can help. Your first port of call should be to look for a self-build warranty. A 10-year warranty acts both as a form of quality control and as a comfort for lenders. As an alternative, a new home can be signed off by an architect or a chartered building surveyor to say that it has been built in accordance with their plans.
If the conventional lenders don't want to support your plans, there are specialists in the financial field as well. Notable here is the Ecology Building Society who support a couple of hundred innovative projects every year. If they can see an environmental benefit, and they are satisfied that you are building properly, they are more than likely to give you a mortgage.
And as far as insurance is concerned, there are green-tinted businesses that are happy to deal with unusual construction methods. Check out Insure Green and NatureSave Insurance.
Get the Homebuilding & Renovating Newsletter
Bring your dream home to life with expert advice, how-to guides and design inspiration, direct to your inbox.
Mark is the author of the ever-popular Housebuilder's Bible and an experienced builder. The Housebuilder's Bible is the go-to hardback for self builders; originally published in 1994, it is updated every two years with up-to-date build costs and information on planning and building regulations, and is currently in its 14th reiteration.
He has written for publications such as Homebuilding & Renovating for over three decades. An experienced self builder, his latest self build, a contemporary eco home built to Passivhaus principles, was created on a tight urban brownfield plot.