House Rendering: Pros and Cons of Different Types of Render
House rendering is a versatile exterior finish, whether you're self building, extending or just looking to improve your home's kerb appeal. Here's what you need to know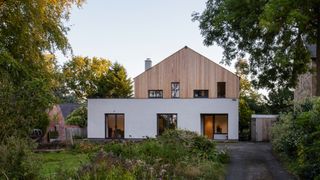 (Image credit: Eliott Architects )
Anyone living with house rendering will know that this can be something of a love-hate relationship. Render is a highly versatile material that can be made to look traditional, quaint and homely, or alternatively ultra modern, sleek and stylish. Render can also provide an elegant aesthetic contrast with natural materials like stone, timber and clay tiles.
Yet, some forms of house rendering also have drawbacks in maintenance, requiring further investment in repair and repainting. However, if you choose the right type of render for your self build, extension or exterior makeover project, it can be an effective way to improve your home's kerb appeal that's easy to keep looking it's best.
(MORE: Cladding a House)
In this guide to choosing a render, we look at the types available, examining the pros and cons for each kind, along with the cost and practical considerations such as maintenance and insulation.
What Is House Rendering?
What Does House Rendering Mean?
Visit the Homebuilding & Renovating Show
Think of house rendering as a type of cladding for the exterior of the house — applied to the exterior of a home, much like plaster is applied to the interior walls.
There are two main reasons for house rendering:
To protect the underlying house walls from weathering and rainwater penetration
To provide an attractive appearance to the house
These days there is an ever-growing range of house rendering products, from the more traditional lime renders, popular with renovators and those extending period houses, to those that also provide insulation and through-coloured renders.
(MORE: Render Repair)
Cost
How Much Does House Rendering Cost?
House rendering costs vary depending on the area your house renovation is in, the size and experience of your tradesperson and the house itself, in some cases.
External house rendering, using a sand and cement method, with a finer topcoat costs around £35-60/m², including two coats of external masonry paint.
Monocouche rendering tends to cost upwards of £40/m².
Lime render is tends to be more time-consuming to apply as therefore costs start at a little more. From £45-50+/m² can be expected.
If you plan on fitting external insulation, with a render finish, you can expect costs of approx. £70-90+/m².
Can I Render my House Myself?
It's not recommended. Rendering a house is a job best left to the professionals as you will want to get a wonderful, smooth finish for the render to look its best.
Doing it at speed and with enough precision to make it look good is very skilled work, and much like plastering walls, it takes time and expertise.
(MORE: DIY to Leave to the Professionals)
Planning Permission
Do I Need Planning Permission for House Rendering?
If you live in a terraced or semi-detached house chances are you won't need planning permission to render your house but you will need to think about how the new look render will affect your neighbours.
Most exterior updates such as render, cladding, stone, pebble dash, timber fall under Permitted Development.
However it is not permitted under Permitted Development on any dwelling house located on Article 1(5) land which includes designated areas like an AONB, National Park, World Heritage site or Conservation Area.
It's always best to check with your local planning department before starting work.
Types of Render
Below are the types of house render to choose from:
Cement Render
Cement render is usually mixed on site before being applied in two or three coats. Cement render tends to be cheap in terms of materials, but a little more expensive on labour due to the numerous coats.
Modern cement renders are notoriously rigid and prone to developing small cracks over time that allow rain to penetrate, opening the door to frost blowing hollow voids under the surface, loosening the bond.
They will also require regular repainting if they are to continue to look good.
Polymer Render
These are usually sold pre-mixed in bags with either white cement or lime as a base. Polymers and other plastic-based products added to them to make the render less prone to cracking. They are available in a variety of colours and are often through-coloured, which does away with the need for painting.
Acrylic Render
Acrylic renders are most often applied as a thin finish coat to seal and enhance the appearance or the underlying coat. They also bring colour and texture. Fibres are added to prevent cracking and give a durable, lasting finish.
Silicone Render
This is also used as it promises even longer life and the capacity to be self-cleaning — some claim that when it rains, the silicone will allow rainwater to wash away any dirt!
Monocouche Render
Monocouche (French for 'single layer' or 'bed' renders) are relative newcomers to the world of house rendering. These products originated in Europe, so many of the big names — Sto, Knauf, Marmorit and Weber — are European.
Monocouche renders have the texture and flexibility of traditional lime renders, helping to eliminate cracking, combined with a hard-wearing, low-maintenance finish that's weather resistant and visually appealing.
These properties are probably why mainstream housing developers now use through-coloured renders, usually with a traditional white or sandy lime-coloured finish.
Monocouche render is supplied in bags, ready for mixing with water. It can be applied by hand trowel or sprayed on.
They use white cement and are pre-coloured (in any colour you want). They can be applied in one coat (typically around 15mm thick), so are quicker and therefore less labour intensive than traditional house rendering products.
The main disincentive for using monocouche render is probably cost.
Conventional sand and cement renders are made with cheap materials mixed on site before being applied in two or three coats, an established process that's very familiar to small builders. Premixed monocouche renders are dearer and, although they are quicker to apply (needing only a single coat applied by hand or machine), it can be hard to find trades who are familiar with them.
A 25kg bag of Monocouche render costs between £8-£10/m², while the same size bag of traditional cement render costs around £1/m²
The cost is mitigated by the savings from not having to re-paint, and over time there will be additional savings from not having to redecorate. This is particularly significant with extensions with two or more storeys, where access is difficult and expensive.
(MORE: External Makeover Ideas)
Lime Render
Lime plastering was the traditional method for house rendering in this country and there has fairly recently been a re-emergence of interest.
Lime render is really the best option for old houses, like this one built in the 17th century, where a breathable finish is essential for the house to work as it was originally intended
Although lime-based plaster tends to be a little harder to apply than regular Portland cement – meaning it is more commonly used in renovation projects and for conservation work — both Baumit and K Rend now supply polymer-enhanced lime renders which aim to overcome any related difficulties.
(MORE: Renovating Traps to Avoid)
Lime plaster is a great option for those looking for a breathable house rendering system.
The advantages of lime render in include:
It is more flexible than cement
It is breathable so prevents problems with moisture getting trapped within the wall — a common problem where cement renders are applied to old walls.
It looks very attractive and enhances the exterior of period homes in particular — though it does require regular coating with lime wash.
Lime house rendering products come in many different formats, including:
Traditional lime putties (bought wet, by the tub)
Bagged hydraulic limes, which behave rather like a weak cement. They need to be mixed on site with sand, and are hand trowelled in the traditional way.
Monocouche lime renders — try K-Rend and Baumit
Lime render is a little more expensive than standard cement renders, but doesn't usually take any longer to apply and are a must for many period properties if problems with damp are to be avoided.
(MORE: How to Treat Damp)
Colours
What Colours Does House Render Come in?
Render can either be painted or supplied as a through-coloured mix. Although through-coloured render tends to be a little more expensive, it is lower maintenance, requiring no subsequent re-painting.
House rendering can be painted or supplied in any colour you wish, but aim for a tone that either fits in with the materials used on the rest of your home or of that used in the local area.
Bear in mind that certain colours, such as a crisp white, will need cleaning or repainting more often in order to stay looking crisp. That said, there are now self-cleaning renders out there, such as PermaRock's Nano-Quartz technology renders.
These have a surface designed to make it hard for dirt to stick, meaning rain and wind will natural wash them off.
Mixing Render with Other Finishes
Can I Mix Render with Cladding?
If you plan on using a combination of cladding materials on your house — great for visual appeal and to avoid a look that is too clinical on contemporary homes — there are a few factors to consider:
The junction between two different cladding types give rise to potential waterproofing and airtightness problems
It increases costs due to the requirement for separate suppliers and trades — it is also important to schedule each trade so they don't overlap
You need to consider the difference between those cladding which are self-supporting (brick and stone, for example) and those which need to be attached to something, such as render
Can I Use Render with External Wall Insulation?
In the UK, much of the insulation upgrading has been done via the cavity wall, but cavity construction is uncommon in other countries. There the preference has been to add insulation to the outside of the existing walls and then render over the insulation.
In cases where there is no cavity wall insulation (and no way of adding it in this way, in houses with solid walls, for example) it is useful to consider external wall insulation (EWI) systems.
These are made up of insulation layers, meshes and top coat renders.
External wall insulation promises a modern, clean-looking finish and is a great idea for those worried about adding insulation internally to solid walls due reducing internal spaces.
While these new systems are more expensive than traditional cement renders, they can often be applied in one coat — greatly reducing labour costs. They can also be applied directly to blockwork or some other substrate and this has proved popular with those seeking a clean, contemporary finish.
How Often Should You Render Your House?
House rendering should last between 20-30 years on average. Many professional renderers offer a guarantee on your render job of up to 25 years, so look to this for peace of mind.
Applying Render to a House
How is House Rendering Applied?
Render is applied in several coats using a metal trowel. Screed battens are used to level out the render when applied.
When applying render, the base coats (or scratch coats) are scored when they are still wet to give a key for the next layer. The top coat is applied more thinly.
When the render has dried to a putty-like state (or touch dry), it can then be floated to remove any high points and tips, also removing any residual air bubbles.
Can I Render a House When it's Raining?
If attempting to render an elevation that's exposed to the elements while it's raining, you may end up with problems, including lime bloom, colour inconsistencies and textural issues. Keep an eye on the weather, as your render will need to be protected during the drying period using constructions of tarpaulin. Your renderer should handle this for you.
Rendering and frost also don't mix, so your renderer shouldn't work with frosted materials, and rendering shouldn't be undertaken when low temperatures are expected during the drying/curing stages.
Mark is the author of the ever-popular Housebuilder's Bible and an experienced builder. He's just finished his latest self build.
Homebuilding & Renovating Newsletter
Get the latest news, reviews and product advice straight to your inbox.
Thank you for signing up to Homebuilding. You will receive a verification email shortly.
There was a problem. Please refresh the page and try again.