Wrap Around Extensions: Planning an L-Shaped Addition to Your Home
By Hugh Metcalf published
Wrap around extensions are a great way to add useful space to the rear of a house for an open plan design. Here's what you need to know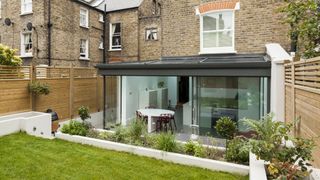 (Image credit: Resi)
A wrap around extension, or L-shaped extension, usually refers to building an extension to the rear and side, wrapped in an L-shape around the existing home, adding both width and depth to the house.
They are commonly seen on period properties with side returns, combining a side return extension with a rear extension to maximise the amount of space added. This can offer the room required to transform a small, narrow kitchen, for example, into a larger open plan space.
Wrap around extensions also allow for versatility in design and the opportunity to bring lots more natural light into your home, as well as creating a better connection with the garden.
However, a wrap around extension may be subject to different rules and design considerations than individual side and rear extensions. Find out more with our guide to L-shaped extensions.
Do you Need Planning Permission for a Wrap Around Extension?
Yes, you're likely to need planning permission for a wrap around extension, as each part of the extension is more than the sum of its parts. While small side return extensions and rear extensions may both be possible under Permitted Development (PD), with the act of joining them together in a wrap around, L-shaped extension, PD restrictions will be judged against the criteria for both extensions individually.
"While you may be able to create a small side and rear extension within your permitted development rights, the space a full wraparound demands, plus the structural work involved, make it an unlikely candidate for the permitted development route," says Resi's Sabatino Torchitti.
(MORE: 23 things you can do without needing planning permission)
The Permitted Development rules that would apply to both the side and rear element of a wrap around extensions include:
You can extend a detached property by 8m to the rear if it's a single-storey extension (6m for a semi or terraced house)
Side extensions can only be single storey with a maximum height of 4m and a width no more than half of the original building
An extension must not result in more than half the garden being covered
How Long Does a Wrap Around Extension Take to Build?
Planning permission applications can take up to eight weeks to be approved, so you'll need to factor that into your timeline. When building work begins, a single storey wrap around extension will take around four months to complete, depending on the size and complexity of the project.
What Other Regulations Apply to a Wrap Around Extension?
Building regulations: A wrap around extension will be subject to all the standard building regulations for extensions, and will require building control sign off.
(MORE: Building Regulations for Extensions)
Party Wall Act: The Party Wall Act is legislation that applies in England and Wales, preventing building work by one neighbour that can undermine the structural integrity of shared walls or neighbouring properties. This often applies to terraced or semi-detached, which are prime candidates for wrap around extensions. If you are building an extension, the part of the Act that's often most relevant is where it applies to the excavation of foundations close to neighbouring buildings or garden boundary walls.
How Much Does a Wrap Around Extension Cost?
Extension Cost Calculator
"Homeowners will need to bear in mind that wrap around extensions are more structurally complex than rear and side counterparts," says Sabatino Torchitti from Resi. "Because of this, they'll need to factor in these additional costs, such as the extra time required by a quality structural engineer."
Outside of London, expect wrap around extensions to cost from £65,000 to £120,000 depending on complexity and size, while builds in the Capital will demand a further premium of £15,000 to £25,000.
Potentially doubling or even tripling the size of your kitchen may convince you the extra investment is worth it, compared to a more modest rear or side return extension.
(MORE: How Much Does an Extension Cost?)
Glazing Ideas for Wrap Around Extensions
A wrap around extension offers a great opportunity to improve levels of daylight, including large glazed doors or windows on the rear extension and rooflights in the side return extension.
However, effective glazing needs to mitigate the risk of overheating. The best way to do this is for the design of the extension to work with the site orientation, rather than rely on expensive treated glazing.
Like any side return extension, you'll also need to consider that the interior room on the side return will lose an external window, so roof lights in the side elevation are the most important to ensure this area doesn't become too dark.
Hugh is Digital Editor of homebuilding.co.uk and has worked on a range of home, design and property magazines, including Grand Designs, Essential Kitchens, Bathrooms, Bedrooms and Good Homes. Hugh has developed a passion for modern architecture and green homes, and moonlights as an interior designer, having designed and managed projects ranging from single rooms to whole house renovations and large extensions. He's currently renovating a Victorian terrace in Essex, DIYing as much of the work as possible. His current project is a kitchen renovation which involves knocking through walls and landscaping a courtyard garden.
Homebuilding & Renovating Newsletter
Get the latest news, reviews and product advice straight to your inbox.
Thank you for signing up to Homebuilding. You will receive a verification email shortly.
There was a problem. Please refresh the page and try again.