Buying a Listed Building
By Natasha Brinsmead published
What are the pros and cons of owning a home that is listed, and how do you go about making any changes or repairs? We highlight everything you need to know regarding listed buildings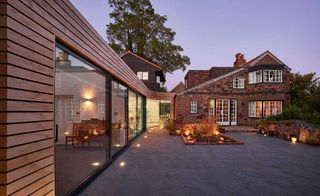 (Image credit: POW Architects)
Listed buildings make up some of the country's oldest and arguably most beautiful housing stock, ranging from all manner of architectural periods — and even barns having listed status.
All of these properties are deemed to be of significant interest, which is why obtaining consent to make any changes to these buildings can be tricky to navigate. It's important, therefore, to understand what you can and can't change, how best to approach the correct bodies to make alterations, and the likelihood of gaining approval.
Why Are Buildings Listed?
Buildings are given a listed status to mark their historical and architectural interest, and to protect them from damage and inappropriate alterations that may detract from their special interest. English Heritage states that all buildings – in anything like their original condition – built before 1700 are listed, as are most of those constructed between 1700 and 1840. To be eligible, a building usually has to be over 30 years old.
The Grades
Grade I: Buildings of exceptional interest. Applies to only 2.5% of listings, few of which are homes
Grade II*: Particularly important buildings of more than special interest. Makes up around 5.5% of listed buildings
Grade II: Buildings of special interest and the vast majority of listings
How Do I Find Out if My Home is Listed?
You can look at the listings in your local area at your local authority planning department, county council offices or local reference library. Alternatively, Brown & Brand's Listed Buildings Information Service can supply full details of any property, including the features that are responsible for the listing.
(MORE: Need a survey for your listed building?)
What is it Like to Own One?
On the positive side, it means you will own an important part of history which is seen to add to the area and hold particular interest, and this can increase the value of a building. In some circumstances grants are also available for repairs and alterations from English Heritage, individual local authorities or the Historic Buildings & Monuments Commission (HBMC). However, grants are more likely to be offered on Grade I and Grade II* listed buildings than on Grade II.
On the downside, carrying out alterations to the building – both inside and out – is a little more complicated than on non-listed buildings, although by no means impossible.
Another downside is that should your local authority consider that the building is not being properly preserved, it can serve a 'repairs notice' under Section 115 of the Town and Country Planning Act 1971. If you don't comply, it can make a compulsory purchase order.
What Can and Can't I Do?
The safest approach is to first work on the basis that no part of the building is exempt from the listing. Don't forget the listing can also extend to outbuildings (that were on the site prior to 1 July 1948) and attached structures and objects, which could include the boundary walls or an integrated cast iron range. Each property is different and needs to be assessed on a case-by-case basis.
Your local conservation officer is likely to favour changes which are like-for-like or sensitive replacements. Adding contemporary new windows is not going to be granted consent, however replacement sashes for instance where the existing ones are damaged will be more favourable.
Where you're adding an extension, some case officers if granting consent will want to see a contrast against the existing building to reflect the old and new elements, but it's worth speaking with experts to gauge what you can and can't achieve for your individual project.
Renovating a listed home requires plenty of thought, particularly as listed status gives the property legal protection. As such, prior listed building consent (LBC) and sometimes planning permission is required for certain changes that wouldn't be needed in a non-listed building.
Trying to establish what work needs consent and what doesn't is far from straightforward, but it's vital that you understand the basics, because unauthorised alterations can be subject to enforcement action and criminal prosecution. As guardians of the country's built heritage, your local council conservation officer carries great clout.
How Do I Apply for Listed Buildings Consent?
Although you can apply for listed building consent retrospectively, it may well be rejected and the work undone. In addition, a property to which unauthorised work has been carried out will be very hard to sell on.
Application forms can be submitted online or in hard copy, and can be obtained from your local planning authority's website or at planningportal.gov.uk. It is strongly advised that when applying for consent for a Grade I or Grade II* listed building, a pre-application consultation is held with:
Buildingconservation.com has detailed information on how to apply, and most local authorities aim to let you know the outcome within eight weeks. If consent is refused, you will be given six months in which to appeal.
VAT on Listed Buildings
Despite listed buildings previously benefitting from zero-rated VAT which applied to certain types of work, this relief ended in 2012. As a result of this change, future works carried out to listed properties are subject to VAT at the standard rate of 20%.
There are, however, instances where there is still a relief on VAT, such as:
A conversion of a listed non-domestic dwelling into a home
Small energy saving works on a supply-and-fit basis (heat pumps, insulation, draught proofing) can qualify for a 5% VAT rate, however larger jobs will still be liable for 20% VAT rate
Mobility aids for over 60s qualifies for zero-rated VAT
If a listed property can be proven to be empty for two years and the homeowner completes any work within one year of purchasing the property, then the VAT is reduced to 5% — not an easy task
The Listed Property Owners' Club has also created the Political Campaign for Owners following on from the removal of the zero-rating in 2012, and continues to act as a voice for homeowners wanting action on tax and planning reform. Their ongoing petition to reduce VAT to 5% on repairs and approved alterations can be viewed and signed here.
Natasha is Homebuilding & Renovating's Associate Editor and has been a member of the team for over two decades. An experienced journalist and renovation expert, she has written for a number of homes titles. She has renovated a terrace and is at the end of the DIY renovation and extension of her Edwardian cottage. She is now looking for her next project.
Homebuilding & Renovating Newsletter
Get the latest news, reviews and product advice straight to your inbox.
Thank you for signing up to Homebuilding. You will receive a verification email shortly.
There was a problem. Please refresh the page and try again.