Double storey extensions: A guide to costs, design and types
By Lucy Searle published
A double storey extension is one of the most efficient ways to add more space and increase your home's value. Here's everything you need to know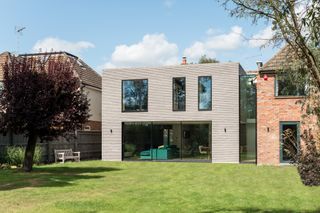 (Image credit: French + Tye for Bradley Van Der Straeten Architects)
While a double storey extension may seem like a much larger project to undertake than a single storey one, they're often a more budget-efficient way to add extra space to your home and cheaper than moving house when it comes to additional rooms for a growing family.
Of course, a building an extension will also transform the look of your home in a much more meaningful way from the outside, so it's important to design the right extension for your property.
From the planning and building regulation implications to how much it will cost to build a two storey extension, here's everything you need to know.
Why is a double storey extension more cost-effective to a single?
A double storey house extension gives you double the living space of a single storey one, but the cost of the foundations and the roof are pretty much comparable for both build types, meaning the money spent per metre square is less with a double storey addition.
How much does a double storey extension cost?
The cost of a two-storey extension will be determined by a number of factors, including size and build quality.
Before you start planning your addition, set your extension cost budget, with the help of this list (costs supplied from Checkatrade):
If you're extending on tight a budget, expect to pay £1,650 - £2,100/m² for basic quality
For a good quality double storey extension, you'll pay between £1,830 - £2,350/m²
For a high spec extension, calculate spending between £2,150 - £3000/m²
On top of the build costs, you'll need to factor in the following:
Architects' fees (around 3-7% of construction costs)
Project Management (around 3-7% of build cost)
Planning application fees (currently £206 in England for a double storey extension)
Survey costs (between £500-1,500)
Structural engineer (£500-1,000)
Building control charges (up to £900 for a 80-100m² extension)
Party Wall Agreements (£700-1,000 per neighbour if needed)
Interior fit out costs
It is also worth noting that material and labour shortages are significantly impacting build cost up and down the country, so are continuously changing (and usually increasing). An architect or Quantity Surveyor should be able to assist in the most up-to-date figures and estimates.
Do you need planning permission for a two storey extension?
Join the Planning Hub
The Planning Hub is a new online resource that will help you understand how to get to grips with complex planning rules. Join today for access to easy-to-read guides which will provide you with key information to help you secure planning permission.
While it can be possible to build a double storey extension under Permitted Development rights, it is very likely that you will need planning permission.
In any case, it's always worth checking with your local planning authority, but the basic rules are that planning permission will be required if the extension:
covers more than half the area of land surrounding your home
extends towards a road
increases the overall height of the building
extends more than 6m from the rear of an attached house
extends more than 8m from the rear of a detached house
is taller than 4m
is more than half the width of your house
uses different materials to those of the original house
includes a balcony or raised veranda
Where should I build a double storey extension?
Deciding where to extend is a key consideration and will depend on the size and style of the existing house.
"Don't forget how a two-floor extension will impact on your outside space as well," advises Carl Huntly, Director of Base Architecture & Design. "The orientation of the extension is important to ensure that daylight is maximised externally and that no dark damp corners are created outside"
If your proposed extension affects a party wall, then make sure you give 'Notice' to your neighbours before starting work under the Party Wall Act.
Double storey rear extensions
For a terraced house with limited space, rear extension ideas are best suited. In this case, be careful not to reduce your garden's size too much. A large, family home needs a garden to match.
This will also be true of semi-detached house extensions, although side extensions and wrap around extension could be possible.
Double storey side extensions
If you have room at the side of your house, side extension ideas can be better options as they will allow you to retain the majority of your garden space.
If this is the case, careful consideration needs to be given to the design of the extension, since the frontage at least will be visible from the street. Not only do you want it to be sympathetic to the original house, the planning department may make it a condition. An experienced architect will be able to advise what you can and can't do.
Double storey wrap around extensions
A combination of rear and side extensions, wrap around extensions can give you the opportunity to reconfigure the entire layout and transform the way you live in your home. It's a great way to really change how your house looks from the outside too.
Does a double storey extension need to comply with Building Regulations?
Any extension project will need to comply with the Building Regulations. You will need to submit an application for the work to your local authority's building control department.
Some contractors are building control certified, meaning they can carry out work without the need for involving the building control department.
Do I need an architect for an extension?
While you don't need an architect for an extension project, for one which will impact so many areas in a home and require so much consideration around structure, layout and particular it is generally advised to hire an architect or architectural designer for a double storey project.
As with a single storey extension, you need consider your needs carefully before you start. Even small house extension ideas can make a huge impact to a home's layout when considering two storeys.
If the ground floor is going to be home to your new kitchen, do you need a separate utility room or cloakroom? Do you need more storage space that is best factored in at the design stage?
When it comes to the second storey, if you're taking a two-bedroom house to a three-bedroom house, you can realistically do without another bathroom; but if you're taking a three bedroom house up to a four or five-bedroom house with your new extension, it will be more than worthwhile making space for an additional bathroom, shower room or at least a wet room, too.
Consider how to blend the extension with the existing home to ensure a cohesive interior space. You can do this by matching floor and ceiling levels between the new and existing space, as well as choosing the same decorative elements, such as mouldings, door furniture and colour schemes throughout.
You may also have to reconfigure the layout of the upstairs hallway to make access to the new rooms feel natural. The key is not to compromise existing rooms too much to create the new spaces.
How big can my double storey extension be?
If you want your double storey extension to fall under Permitted Development rights, there are certain criteria the design must meet in terms of height and footprint (explained above), although there are discussions to change the planning regulations in this area.
If you're applying for full planning permission, there are other considerations one must make in terms of the design, shape and space.
The footprint of a double storey extension
"Extending to the full potential of the site will generally need the upper level to be stepped back if you do not want your development to be refused on the grounds of being 'unneighbourly, overbearing and out of keeping'," says Adrian Garcia, from Adrian Garcia Architects.
Planning rules limit how far a double storey extension can project, and how close it can be to your property's boundary, so as to prevent a loss of light to neighbouring properties.
It must project no further back than a line set at 45 degrees horizontally from the centre of neighbouring windows — the so-called 'sight lines'.
How tall can a double storey extension be?
"Planning authorities typically look for an extension to be subservient to the existing dwelling, so two-storey extensions may need lower roofs," warns Base Architecture's Carl Huntly.
Planners usually require extensions to be sympathetic to the existing house, particularly in designated areas such as conservation areas. As such it's fairly typical that the ridge height of the extension can be no higher than the existing roof.
If your existing house is on the small side, this can present a challenge when building an extension tall enough to include two full (2.4m) storeys.
There are ways around this, such as designing upstairs rooms with lower ceiling heights or integrating them into a pitched roof space. You could also have the extension dug down into the ground, resulting in a basement level or split-level design which can work well on a sloping site.
Double storey extension roof design
"With regards to roofs and sight lines, when we have proposed extensions, we may well keep the height of the new volume low," adda Darren Bray, founder of Studio B.a.D. "So proposing a flat roof against the existing is a good device to mark the difference between old and new."
Designing the extension with a series of small, intersecting traditional pitched roofs can give you much-needed ceiling height, too.
Calculate your build costs
Materials in a double storey extension
The position, size and shape of doors and windows to capture the best of the daylight and the views of the garden can mean that even when building an extension on a tight budget, you can achieve a stunning space.
Choosing bifold doors is also a great way to bring the outside in. Blending indoor and outdoor spaces can make both spaces feel bigger and more cohesive.
As well as bringing in light with bi-old doors, continuous flooring creates the illusion of one space — think stone floors that run from the kitchen out onto a patio. Finally, consider interior and exterior materials – from wall treatments to planting – because the more harmonious they are, the more successful your extension will be overall.
If you are building a complementary extension, choosing materials that match those used on the original house can make your extension look like it's always been there. But if it's not possible to match the materials, it may be better to choose a striking, contrasting design which can work just as well, and is sometimes more acceptable to planning departments.
An experienced homes journalist and editor, Lucy is Editor-in-Chief of Homebuilding.co.uk's sister website, RealHomes.com.
Homebuilding & Renovating Newsletter
Get the latest news, reviews and product advice straight to your inbox.
Thank you for signing up to Homebuilding. You will receive a verification email shortly.
There was a problem. Please refresh the page and try again.