Structural Engineers: When Do I Need One?
By Hugh Metcalf published
Structural engineers are an important part of your build team, ensuring your project is, or remains, structurally sound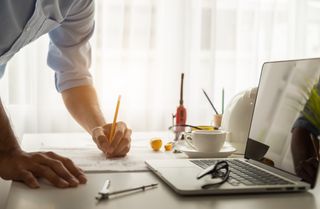 (Image credit: getty images)
A structural engineer has a key part to play in your build — whether it's a self build, extension, conversion of renovation, they're what make sure your home stands up in the first place, and remains that way.
However, while you may be familiar with the roles an architect or builder play in your project, knowing when you need a structural engineer can be more obscure for the uninitiated.
A good rule of thumb? Any times you're undertaking structural work under Building Regulations, you're likely to need one. Read on for more information about what structural engineers do and where to find one.
What Does a Structural Engineer Do?
A structural engineer is a design professional with the appropriate training to advise on alterations to the structure of existing buildings, as well as designing structures for new buildings or extensions. Structural engineers can also undertake structural inspections to identify and provide solutions for structural defects.
They will also ensure that structural calculations meet all regulations required, such as Building Regulations, as you'll need to submit them as part of your application to Building Control. Building Control will still need to sign off the work when completed.
What's the Difference Between a Structural Engineer and an Architect?
Structural engineers work alongside architects to design buildings. While a structural engineer's focus is on how a building is built to ensure that it is strong and durable, and uses the right materials for structural stability, an architect's primary focus is on the aesthetic design and the functionality for the end user.
It's unusual for both structural engineers and architects to come from within one business.
(MORE: How to Find an Architect)
When Do You Need a Structural Engineer?
A structural engineer will be a core part of your team for a self build, and will likely work in tandem with your architect and construction team throughout the project.
When it comes to renovating a house, there are many situations were a structural engineer would be required to provide structural calculations and drawings. These include, but is not limited to:
A structural engineer can be used to diagnose structural defects in an existing property, which may include:
Signs of subsidence and structural movement
Cracking
A sagging ceiling or roof line
(MORE: A Guide to Underpinning)
A structural engineer may also be recommended by a chartered surveyor during a building survey when purchasing a property, to conduct a more detailed investigation into potential structural issues.
How Much Does a Structural Engineer Cost?
A structural engineer's fees will cost from £300-£500 + VAT for a simple project, such as knocking down an internal wall, to around £5,000 for a more complex residential project.
A structural inspection will cost around £250 on average.
Where to Find a Structural Engineer
Word of mouth is a powerful tool for finding a structural engineer, and your architect or build team are likely to have a working relationship with at least one structural engineering firm.
To find your own, a service such as Local Surveyors Direct (opens in new tab) is a great option for finding local structural engineers for your job.
Hugh is Digital Editor of homebuilding.co.uk and has worked on a range of home, design and property magazines, including Grand Designs, Essential Kitchens, Bathrooms, Bedrooms and Good Homes. Hugh has developed a passion for modern architecture and green homes, and moonlights as an interior designer, having designed and managed projects ranging from single rooms to whole house renovations and large extensions. He's currently renovating a Victorian terrace in Essex, DIYing as much of the work as possible. His current project is a kitchen renovation which involves knocking through walls and landscaping a courtyard garden.
Homebuilding & Renovating Newsletter
Get the latest news, reviews and product advice straight to your inbox.
Thank you for signing up to Homebuilding. You will receive a verification email shortly.
There was a problem. Please refresh the page and try again.