Loft conversions beginner's guide: Everything you ever wanted to know
Loft conversions are fast becoming one of the most popular ways to add more space to your a home — but is it the right route for you? Our guide reveals what you need to know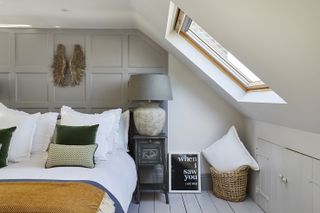 (Image credit: Chris Snook)
Loft conversions are one of the best ways to add extra space to your home, without extending its overall footprint.
Whether you are looking to add an extra guest bedroom, a stunning master suite, a quiet new home office or even a teenage den, there are so many ways a loft conversion can be utilised that it usually isn't hard to find a solution that fits.
A well-designed and executed loft conversion can also add value to your property — plus they are the most cost-effective means of adding space, particularly when compared with extending out or adding a new basement.
Despite their many benefits, there is plenty to consider before embarking on a loft conversion project. Some projects not only require the existing space to be converted, but it might also be necessary to extend the roof in order to increase the available headroom and space.
For this reason, it is crucial to know what kind of project you are stepping into and what it might entail. Our in-depth guide answers all your key questions – from Building Regulations, planning and how to design – all of which should help ensure your loft conversion is a soaring success.
Is a loft conversion an option for me?
Is my loft suitable for conversion? is usually one of the first questions asked by those considering this extension route.
Not all roofs are suitable for a loft conversion, while some roof types will require extra structural work or a certain type of loft conversion to meet requirements.
The main considerations as to your home's suitability are:
available head height
roof pitch
obstacles such as water tanks or chimney stacks
Traditional framed type roof structures are often the most suitable type for loft conversions, allowing the space to be opened up relatively easily and inexpensively. Typically found in pre-1960s houses, rafters on traditional roofs run along its edges, leaving a good amount of free space. The rafters may need to be strengthened or additional supports added (your structural engineer will advise on what is required).
Trussed roofs have 'W' shaped rafters that support the roof and the floor structure. Trussed roofs are harder to convert, but not impossible; the 'W' shaped rafters can be replaced with an 'A' shape structure which creates a hollow space. This normally involves the insertion of steel beams between loadbearing walls for the new floor joists to hang on and the rafters to be supported on — together with a steel beam at the ridge.
Without the roof space for water tanks and plumbing, bear in mind that to execute your loft conversion ideas, the heating and hot water system may have to be replaced with a sealed system.
Unvented hot water cylinders make a better choice than replacing the boiler with a combi boiler, but they do take up a cupboard-sized room, which you will have to find space and budget for.
What is the minimum height for a loft conversion?
This not laid out in the Building Regulations (with the exception of head height above the stairs) but you will ideally need at least 2.2m of usable space for a loft conversion. This measurement should be taken from the bottom of the ridge timber in the centre of the loft to the top of the ceiling joist.
The higher the angle of the roof pitch, the higher the central head height is likely to be, and if dormers are used or the roof is redesigned, the floor area, and potential for comfortable headroom, can be increased.
"Most roofs are steeper than 35 degrees which means, in most cases, the loft space is tall enough to convert," explains chartered surveyor, author of the Haynes' Loft Conversion Manual and founder of Rightsurvey.co.uk, Ian Rock.
If the initial roof space inspection reveals a head height of less than 2.2m, this does not necessarily mean you can not convert your loft. Loft conversions for difficult roof constructions may include adding a mansard roof or replacing the entire roof structure, for instance.
"Where space is in short supply it may be possible to steal some from bedrooms below, as long as you leave them with a minimum of about 2.2 metre floor to ceiling height. This involves building a new loft floor structure beneath the existing ceiling joists which will later be removed," adds Ian Rock.
Do loft conversions need planning permission?
You won't always need planning permission for a loft conversion — in many cases the work tends to fall under Permitted Development (PD) rights.
However, your design will need to adhere to a number of specified parameters, the most relevant of which include:
The property must not have already used its Permitted Development rights to add an additional storey.
It must not add volume of more than 40 cubic metres for terraced houses or 50 cubic metres for all others to the existing roof space.
A loft conversion must not exceed the height of the existing roof under PD rights.
It also can't extend beyond the existing roof slope on the house's principal elevation (where it fronts onto a highway).
Verandas and balconies with raised platforms are not allowed under Permitted Development, but Juliet balconies are.
If the work does not fall under Permitted Development, which is often the case with types of loft conversion such as mansard loft conversions, you will need to apply for planning permission.
Loft conversions are also not considered Permitted Development in designated areas, such as conservation areas and Areas of Outstanding Natural Beauty. In these instances, you would be required to apply for planning permission.
In some areas, Permitted Development for loft conversions may have been removed, so you always need to check before undertaking a conversion project.
Even if work does fall under Permitted Development, applying for a Lawful Development Certificate is a sensible idea, and vital if you hope to sell on the house in the near future.
Do you need an architect for a loft conversion?
While you can design a loft conversion yourself, employing the services of an architect or designer is advisable.
Taking this route means that you can steer the design to your exact, bespoke specifications, but remember that, as this is likely to be a relatively small project, the design fees are likely to be a high percentage of the overall costs.
Finding the right architect for this type of project is key. Typically your chosen architect or designer will have undertaken similar schemes in your area.
Your architect or designer may also be able to produce Building Regulations drawings that you can then put out to tender to find a builder. You may also find that you need to hire a structural engineer.
Another alternative is a specialist loft conversion design and build company. For an all-inclusive service (and price) then a design and build contractor is a great option.
Design solutions and details are more likely to be standardised so you may find that you have less creative flexibility.
Will my house foundations support a loft conversion?
Adding the extra weight of a loft conversion to an existing home can put extra stress on the foundations. Your home's foundations should be checked before carrying out a loft conversion — to do this, your builder will need to dig a trial hole to expose the foundations. Your building inspector may want to check these also.
If your foundations are deemed not deep enough to support the extra weight, you'll likely require a structural engineer's input. They may suggest structural interventions to spread the load of the weight through structural beams, or else look at underpinning the foundations. Both of these can add a lot to the cost of your project.
How much will it cost?
Loft conversion costs can vary from around £18,000 to as high as £65,000. Costs will be significantly lower where you've got a suitably spacious loft to start with, and for simpler designs such as rooflight loft conversions.
"For the London market our average prices are now at £50K incl. VAT for a rear dormer loft conversion," says Helen Wood, Marketing Director at Simply Loft. "Unfortunately the rising material and labour prices over the last two years have meant that costs are at an all time high. A simple loft pod (l-section only conversion) is around the £40K mark."
How long does a loft conversion take?
The length of a loft conversion project depends on the complexity of the design, and whether any structural reinforcements are required. However, on average, a loft conversion project can be completed in between six to 10 weeks, with around eight weeks the average time.
Check out this example of a schedule of works for a loft conversion to see how the time is allotted.
Do I need building regulations for a loft conversion?
Building Regulations approval will always be required when converting a loft. A building control surveyor will come to site to inspect your conversion at various stages and will be responsible for issuing a completion certificate upon final inspection.
When it comes to a loft conversion, you are most likely to be concerned with Parts L, K, B and P of the Building Regulations.
Part L requires U-value targets for thermal efficiency to be met when you convert your loft into habitable space.
Part K concerns preventative measures from falling, collisions and impact, and requires a minimum headroom of 2m for all escape routes, including the stairs (although the rules are relaxed a little for staircases providing access to a loft conversion).
Parts B and P are concerned with fire and electrical safety respectively. Complying with Building Regs' requirements on fire safety can be complex (more on that later in the article).
What are the fire safety rules concerning loft conversions?
You may well be required to include fire doors when carrying out a loft conversion, but there are also other fire safety measures required by the building regulations to be aware of.
Ensure that the new windows are large enough and low enough to escape from:
Egress window openings are needed to serve all first floor habitable rooms, but not bathrooms
Openings should be at least 450mm x 450mm and at least 0.33m2 in area
Rooflights are usually top opening — you must ensure the bottom of the opening is between 800mm and 1,100mm from the floor
These rules apply more readily to bungalow loft conversions. However, if your loft conversion transforms a two-storey house into a three-storey home, you should also be aware of the following:
Escape windows that are over 4.5m from ground level are not viable. Instead, the building regs require a protected stair enclosure that leads right down to the final exterior door.
If your staircase rises from a room, rather than a hall, you have two choices: It can be entirely enclosed within a hallway to an external door or the staircase can be enclosed in a lobby at the base of the stairs. The lobby will have two separate doors, to offer a choice of either a front or back route of escape. These doors and the lobby walls will need to be fire-resistant and most likely open outwards into the rooms. If the doors do not open outwards into the rooms, they will be acceptable as long as they create viable options for escape in the event of a ground floor fire. "The protected staircase applies to any building more than three storeys (ground, first and second), regardless of number of windows and their sizes," confirms Genevieve Truscott, Principle Architect at Simply Architects.
For open plan homes, where the staircase lands in an open plan space, a sprinkler system may be the only option.
The new floor joists of your loft conversion will need to offer at least 30 minutes' worth of fire protection, which could mean replastering the ceilings in those first floor rooms below.
The loft room will also have to be separated by a fire door, either at the top or bottom of the new stairs.
The existing doors on the stairway to both ground and first floor should be able to provide 20 minutes of fire resistance or be replaced. They can't be glazed either (unless with fire-rated glass), so you may want to consider windows or rooflights to bring daylight to the stairwell.
Mains-powered smoke alarms should be installed on each floor of your home and interlinked so that they all sound off when one is activated. Most have a rechargeable battery as a back up that allows the supply to be extended from a lighting circuit if necessary.
Wireless, radio-linked alarms can be fitted if you can't hardwire to the ground floor ceiling.
Do I need a Party Wall Agreement for a loft conversion?
If your home is semi-detached or terraced, then you will need to notify your neighbours of your planned work if it falls under the requirements of the Party Wall Act.
"Unless your property is detached there will be a party wall separating you from your neighbour's house. Most loft conversions involve alterations to party walls, usually to support steel beams," explains surveyor Ian Rock.
"Under the terms of the Party Wall Act, it's a legal requirement that adjoining neighbours are formally notified before alteration work commences. This may require the appointment of a Party Wall surveyor."
Where is the best place for a loft conversion staircase?
The ideal location for a staircase to land is in line with the roof ridge: this will make best use of the available height above the staircase.
In practice, the actual position of your loft conversion stairs will depend upon the layout of the floor below, and where necessary the available height can be achieved using dormer windows or adding a rooflight above the staircase or, if appropriate, converting a hip roof end to a gable.
How do I strengthen my joists for a loft conversion?
In most cases, additional new joists will be required to comply with the building regulations as existing ceiling joists are unlikely to be able to take a conversion floor.
Your structural engineer will specify the size and grade required.
The new joists span between load-bearing walls, and are normally raised slightly above the existing ceiling plasterwork by using spacers below the joist ends. This spacing must be sufficient to prevent any new floor joist deflection from touching the ceiling plaster below.
The new joists run alongside the existing joists. Above window and door openings, thicker timbers are used to bridge the opening, so that pressure is not put on the existing opening lintel.
Steels are also specified to distribute the load, and in some installations are used to carry the ends of the new joists. If head height is limited, then thicker joists, more closely spaced, can be specified.
How do I choose loft conversion windows?
There are two main options when it comes to bringing in natural light to a loft conversion — rooflights or dormers.
Rooflights — the most straightforward method is to use rooflights that follow the pitch line of the roof. This type of window is the most economic, and more likely to be allowed without planning permission.
Dormer windows not only give natural light but can add space to a loft conversion. They are particularly effective where the pitch angle is high, as the useful floor area can be increased.
The mansard type will give maximum conversion roof space because it projects the maximum available head height, thus giving a greater usable floor area. A hip to gable conversion has a similar effect. Both provide opportunities for introducing windows.
What is the best way to heat a loft conversion?
Extensions normally increases the heat load requirement of the house and so the boiler may need to be upgraded, but a loft conversion may require little extra capacity, particularly where the space is well insulated and can improve the overall energy efficiency of the house.
However, if a bathroom is added, a boiler upgrade may be necessary. It is a good idea to switch to an unvented system that does not require header tanks but relies on mains pressure (as long as it's at least 1.5bar).
Options for heat emitters in attic rooms include radiators, underfloor heating, or a combination of both, perhaps with electric underfloor heating mats in bathrooms.
Wet underfloor heating will add to the floor build up, so you'll need to ensure you have adequate head height in the first instance. Radiators are often the go-to emitter in loft conversions.
How do you insulate a loft conversion?
There are two main way by which you can insulate your roof:
The cold roof method
This involves filling the space between the rafters with 70mm-thick slab foam insulation, ensuring that there is 50mm spacing between the roofing felt and the insulation (for ventilation via the roof and soffit vents).
In addition, 30mm slab insulation is attached to the inside of the rafters, giving a total of 100mm of insulation. The rafter thickness is often less than 120mm, so a batten may be required along each rafter to allow the 50mm spacing and the 70mm insulation.
The roof section requires 300mm of mineral wool insulation (e.g. Rockwool), or 150mm of slab foam insulation, such as Celotex.
The warm roof method
This method uses 100mm Celotex insulation or similar over the rafters, and a covering capping, followed by the tile battens and tiles. This is not really a practical option unless the roof coverings have been stripped off. It could be used with a dormer, especially if it has a flat roof.
Continuity of insulation between walls and roof is required to avoid any cold bridging. The dormer walls can be insulated with 100mm Celotex between the studwork.
Insulating the floor and walls
Insulating the floor can be achieved by a mineral fibre quilt laid between the joists.
It is often necessary to insulate party walls — both against heat loss and noise. Introducing timber studwork with mineral fibre insulation will allow you to achieve both and it can be covered with sound-rated plasterboard. Your Building Control inspector will specify exactly what you require.
The internal partition walls use a 100mm quilt that will provide sound insulation. Plasterboard is attached to one side of the wall then the quilt inserted, followed by plasterboard on the other side.
Do loft conversions require soundproofing?
Yes, you should consider soundproofing elements during a loft conversion. This can be easily incorporated when insulating floors and party walls by choosing the heavier, denser sound insulation quilt.
What are the ventilation requirements for loft conversions?
In order to maximise energy efficiency, the roof space should be made as airtight as possible, and to counter this it is essential to introduce controlled ventilation to prevent the risk of condensation and maintain good air quality. Take a look at our guide on how to solve condensation if this is a problem that emerges.
This means including background ventilation (airbricks and trickle vents) and rapid ventilation (via windows), plus extract ventilation in wet areas, such as bathrooms or a kitchen.
Attic bathrooms are not required to have a window providing the extract fan can provide rapid ventilation.
Can I fit a bathroom in my loft?
Many people choose to include a bathroom within their loft conversion — and it is really something of a must if you plan on locating a bedroom up there.
You'll need to think about the location of existing services. Adding hot and cold water supplies is straightforward, branched off the existing plumbing system either at the boiler or from the floor below. Flexible plastic plumbing is easy to thread through the joists.
Existing soil pipes are likely to be vented above roof level and it may be possible to make a connection into this, or into another soil pipe on the floor below. Where there is no existing soil stack you may be able to add one; otherwise, a smallbore flexible waste pipe can be used to connect to the drains.
Loft conversion bathrooms also require careful planning due to the presence of sloping eaves and the restricted head height beneath them. The following tips should aid when planning your new bathroom:
Place a shower where there is full headroom
A bath can be tucked under the eaves
A WC ideally needs full headroom, as does a washbasin
A wetroom can be a space-efficient option, but needs full tanking
Use the voids in stud walls for concealed shower and tap mixers
Concealed cisterns in metal frames for building into studwork are ideal
Good lighting and large wall-to-wall mirrors create the illusion of space
Wall-mounted sanitaryware helps make a small bathroom appear more spacious.
Will a loft conversion affect my home insurance?
While your building company should have their own insurance, it is also vital to let your house insurance provider know if you are undertaking major building work or structural alternations, such as converting the loft. You risk invalidating your policy if you begin work without doing so.
Your existing insurance provider may be able to provide cover whilst the work is underway. However, some don't and it's important to seek specialist renovation insurance if this is the case.
Once the work is finished, you will be able to return to a standard policy, but do make sure your provider is aware of the additional space created and value added to your home.
"The amended insurance should cover your existing property and all the new work you are having done, but check the policy and the small print," says Rebecca Tibbert from loft conversion design and build experts Econoloft.
"Most buildings insurance policies are based on the structure of the house as it stands when the policy is taken out. So, adding a loft conversion could significantly affect the terms of the cover."
Get the Homebuilding & Renovating Newsletter
Bring your dream home to life with expert advice, how-to guides and design inspiration, direct to your inbox.
Michael is Homebuilding & Renovating's Director of Content, Vice Chair of the self build industry body, the National Custom and Self Build Association (NaCSBA), presenter of multiple property TV shows and author of Renovating for Profit (Ebury). He also runs an architectural and interior design practice, offering design and project management services. He is one of the country's leading property experts and has undertaken over 30 building projects including two self-builds and the renovation of a Grade-II listed farmhouse.
Michael has presented over 150 property shows for BBC, ITV1, Channel 5, UK TV Style, and Discovery RealTime, including I Own Britain's Best Home; Don't Move Improve; Trading Up; Good Bid, Good Buy; Build, Buy or Restore?; How to Build A House; and Hard Sell.
Michael is also a regular expert at the Homebuilding & Renovating Shows. He has written for leading British newspapers, including The Daily Telegraph, Sunday Times, Daily Express and The Independent and has appeared on news programmes such as BBC Breakfast.