What is a Build Over Agreement?
By Ian Rock published
Requiring a Build Over Agreement may throw a spanner in the works of your extension project — but what exactly is one?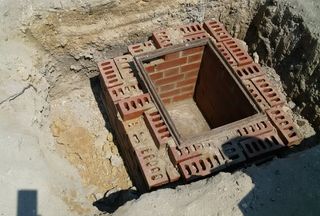 (Image credit: Paul Fears)
A Build Over Agreement (BOA) may be required when building an extension to your home. This is a legal agreement between you and your water company that guarantees that your work will not only not negatively affect a public sewer located underneath or near the boundary of your build, and that they will still have a way to access the sewer if and when repair and maintenance work is required.
In this handy guide, discover how you know when you need one, how long they take and the costs involved, as well as design advice for building over a public sewer.
How do I Know if I Need a Build Over Agreement?
A Build Over Agreement is required by water companies for any construction work over public sewers or within 3m of one. This obligation is even enshrined as a covenant in the Deeds of some more modern properties.
Approval from the water company needs to be obtained prior to building work commencing on site. There is however a potential catch; even where a waste pipe only serves your property and is therefore classed as a private drain, if you want to build within 1m of the boundary where it exits on your land some water companies still require a Build Over Agreement, so it's worth checking with them.
This is presumably because any resulting damage to the pipe on your side of the fence could cause them problems further downstream.
Why do I Need a Build Over Agreement?
The main purpose of a Build Over Agreement is firstly to ensure that the sewer doesn't get damaged and secondly to retain access for the water company to carry out its legal duty to repair and maintain sewers.
Getting the drainage design checked in advance via a drainage survey should also rule out any risk that the extra weight of your new extension could cause the sewer to collapse resulting in structural damage to your home, blocking foul drainage from other properties and turning your garden into a cesspool! In other words, it's a sensible precaution.
In some situations there may be a temptation to press ahead with building the extension without first obtaining agreement, particularly where your proposed foundations only encroach a few centimetres into the stipulated 3m exclusion zone around the sewer. The trouble is, if the water company become aware of this violation, perhaps getting the nod from building control, they could force you to stop work on site, or even take down any building erected over the public sewer.
And without the necessary approval documents from the water company, building control will not sign off the all-important Completion Certificate, which you need when it comes to selling or remortgaging the house.
How to Apply for a Build Over Agreement
As well as the completed application form and payment of the appropriate fee you will need to submit some basic scale drawings of your house, extension and drainage system. Typical examples are listed below. Water suppliers may have slightly different requirements. You can normally base these on modified copies of the drawings used for planning applications
A plan showing the existing house and drainage layout, including the location of the inspection chamber(s) and the sewer with the direction of flow marked.
A plan showing your proposed extension and drainage layout, again noting the position of the sewer and inspection chambers. Where the extension covers the sewer (i.e. you're building over it) you need to show where any existing manhole is to be removed and replaced with a new chamber in the garden.
A site location plan. This is simply an outline OS type plan of the street showing the position of your plot in relation to the road and neighbouring buildings.
A cross section drawing. This is only required if you're building directly over the sewer or within 1.5m of it. This needs to clearly show the new foundations in relation to the sewer pipe and details of how you propose to bridge over the pipe (i.e. with concrete lintels).
How Long Does a Build Over Agreement Take?
Applications for BOAs are normally processed within three weeks. Once the agreement is issued you can start work immediately. Delays are normally down to applications being submitted with missing drawings or information.
How Much Does a Build Over Agreement Cost?
The application fee will typically set you back around £300 (see your local water supplier's website). The building work itself is normally fairly straightforward unless you need to divert the sewer or construct new replacement manholes. There may also be some small additional cost in producing suitable drawings for the application.
What Happens After I get a Build Over Agreement in Place?
Once you've obtained agreement from the water company, building control will make periodic site inspections as normal during construction, keeping a beady eye on the drainage provision.
Whilst on the subject of the Building Regulations, it's important to note that when making your application to building control you're not allowed to use the shortcut 'Building Notice' method if you're proposing to build over or close to a public sewer.
Design Advice for Building Over Public Sewers
Building close to or over public sewers is normally fairly straightforward on site as long as you get the design detail right. These are some of the key technical points to be aware of:
Typical clearance required between new foundations and underground waste pipes is 600mm (or sometimes closer where sewers are shallower than 1.1m). Where sewers are deeper than 2m you need to leave a clear 1m distance to the new foundations.
The extension foundations need to be deeper than the 'invert level' (the bottom depth) of the sewer pipe. If using piles only for your foundations, the 'flight augured' type are permitted (but not within 1.5 metres of the sewer).
Existing clay pipes are not normally allowed to be replaced with plastic pipes, which are not permitted on public sewers. The general rule is replace 'like for like', so clay must be replaced with clay. Except in the case of less robust materials like pitch fibre pipes, which are no longer available and perish easily.
Pipes must be bedded in pea shingle, never encapsulated in concrete, and must allow for future movement to the building.
Manholes: You're not allowed to incorporate internal manholes or inspection chambers in your extension floor due to the increased risk of internal flooding and odour issues (even with double-sealed covers). Instead they need to be completely removed with a new linked chamber constructed outside the extension, either on the line of the sewer or offset and connected by a Y junction. You also need to keep foundations at least 600mm away from chamber walls. Any new connections to public sewers need to be via inspection chambers or manholes.
Most existing pipes serving residential properties are either a nominal 100mm or 150mm in diameter (shown on old plans as 4 inch or 6 inch). It's only where pipes are more than 160mm in diameter (usually those serving commercial buildings) that there is an additional water company requirement for CCTV surveys to identify the before and after condition of the sewers.
What are the Alternatives to a Build Over Agreement?
Instead of applying for a BOA there are a couple of possible alternatives worth considering.
Modifying the extension design to avoid the sewer is one option, ensuring the new building is at least 3m away from it. This is usually the simplest and cheapest option but is only really feasible with extensions where your original design didn't reach too far into the 3m zone, so a small revision can solve the problem. But any such changes may also need to be notified to the local planning authority.
It's also possible to divert the sewer to avoid the extension. This requires professional design input and you would still need to seek prior consent from the water company. It's also likely to prove relatively expensive and potentially disruptive. Although often your contractors are permitted to carry out the work, which should help keep costs down
Chartered surveyor Ian is the author of eight popular Haynes House Manuals and is a director of Rightsurvey.co.uk (opens in new tab). He is also in the process of adding a large extension to his home.
Homebuilding & Renovating Newsletter
Get the latest news, reviews and product advice straight to your inbox.
Thank you for signing up to Homebuilding. You will receive a verification email shortly.
There was a problem. Please refresh the page and try again.