Cast your vote for the Reader's Choice Award in The Daily Telegraph Homebuilding & Renovating Awards 2023
Meet the shortlisted entries for this year's Homebuilding & Renovating Awards 2023 and cast your vote for the coveted Reader's Choice Award.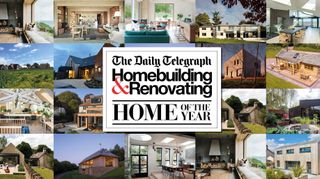 The Daily Telegraph Homebuilding & Renovating Awards has been showcasing and celebrating Britain's best homes for over 30 years.
This year we asked you to submit your exceptional projects and you didn't disappoint. We received hundreds of entries featuring houses of every size, shape and budget and we've whittled these amazing entries down to a shortlist of 17 incredible builds.
Voting for The Reader's Choice Award is now closed and the winner of each category will be announced in our January edition (on sale 7th December 2023),
Our 2023 Shortlisted Homes
Shortlisted Entry 1: Derwent Valley Villa
Image 1 of 3
Taking its inspiration from the historic 18th-century red-brick cotton mills that still abound in the surrounding Derwent Valley area, this family home harnesses an architecture that is bold and purposeful. "The house is a masterclass of restraint and rigour, both externally and internally — the detailing is exquisite, it shows just what can be delivered with a highly experienced architect," says judge Darren Bray of Studio B.A.D. "It's a modest piece of architecture, as it sits in the street scene very quietly, almost not announcing its presence to its neighbours and that's always the mark of a successful piece of architecture." Meanwhile the interior is a treasure trove of playful surprises, including a semi-secret stairwell that leads up to a gallery overlooking a stunning double-height space, which is topped with a circular sundial rooflight that projects the passage of the day onto whitewashed timber walls.
Shortlisted Entry 2: Blackwood
Image 1 of 3
Don't be fooled by the deceptively simple shape of Duncan and Anaya Bush's self-build – not only is it a masterclass in house design, it masks a whole host of technologies that makes this one of the most eco-friendly homes you're likely to come across. "The minimalist monochrome interior of this clever suburban build belies the amount of thought and effort which has clearly gone into creating a thoroughly Healthy Home with, amazingly, no heating," says judge Sian Astley. "There are lots of take-away tips for keen self-builders, as well as a super-stylish envelope, which I found very attractive." The couple took a hands-on approach at every stage – from originating the idea of creating a series of cubes to project managing the build, as well as taking an active part in the planting and landscaping – all of which took place in the midst of the pandemic.
Shortlisted Entry 3: Sort Trae
Image 1 of 3
Summed up by its architects as a 'unique and modern Passivhaus set into a steep and sloping site', this self-build in the countryside of Thurgoland in Barnsley lives up to the hype. After developing the design and taking the project through to planning stage, the owner called in HEM Architects to develop the design and support her through the construction of a high-performance, contemporary home. Its visual highlights include a handcrafted sandstone spine that forms the centrepiece of the house, providing a textured contrast with the sleek, smooth interior. Protected from the elements by its high-performance building envelope, the house – along with an accompanying weaving studio – has been built into the hillside to limit its impact on neighbouring views, yet its two-storey glazed façade offers impressive valley views. All of which proves that mid-century aesthetic and ultra-high performance can comfortably live side by side.
Shortlisted Entry 4: New Park Road
Image 1 of 3
This Modernist EnerPHit home has breathed new life into a dated 1960s building, seamlessly blending its original aesthetic with sustainable design and technologies. Facing extensive repair needs, including air leaks and dampness, RDA Architects chose transformation over demolition. The layout was modernised to enhance circulation, segregate private and public spaces, and integrate them with the garden. Elsewhere, meticulous attention was paid to recreate bespoke joinery.
The completed home is a triumph in sustainability, meeting Passivhaus standards and aligning with the RIBA 2030 Climate challenge. What's more, it operates as a living lab, continually monitored to optimise performance and provide insights to the design community. Impressively, it consumes 88% less energy than an average UK home, thanks to a 7.8 kW PV panel system covering 77% of energy needs.
Judge Darren Bray hails it as "A model for adapting and retrofitting 20th-century homes, underscoring the importance of thermal efficiency upgrades". He applauds the attention to detail and highlights its role in climate change mitigation and low-carbon targets in the UK.
Shortlisted Entry 5: Creek Cabin
Image 1 of 3
This extraordinary cabin-like home nestled in the Suffolk Broads RAMSAR-designated wetland is an homage to nature. At its heart, Creek Cabin represents an environmentally conscious approach to architecture, with a primary goal of designing and building a sustainable family home that prioritises thermal comfort. The project – spearheaded by MAP Architecture alongside Jon Broome Architects – involved replacing the existing dwelling with a 3,088 sqft innovative structure, navigating the challenges of flood-resilient construction and stringent planning regulations in a sensitive location. Innovative green features include a 'floating' green roof, a pneumatic lift, and off-grid energy systems. The project adheres to Passivhaus standards with exceptional insulation, triple-glazed windows, and impressive airtightness. On-site PVs, a biomass boiler, and locally sourced wood chips also help ensure that this beautiful home is self-sufficient.
Shortlisted Entry 6: Zion's Hill
Image 1 of 3
Situated in a picturesque Cotswolds village near Woodstock, Zion's Hill has undergone a remarkable transformation in the capable hands of Adrian James Architects. The existing structure – a blend of two 18th-century stone cottages and a 1950s extension – was outdated and disjointed. But rather than demolish it, the architect opted for a radical retrofit, respecting the home's historical value while bringing it into the modern era. The result is a design which sets up conversation rather than confrontation between the old and the new. And the new is now as much in tune with the natural setting and natural order as the old. Where once the stone was gathered from the field to create the walls of the shelter, the stone is now quarried and honed by machine, but the house uses technology to ensure a smaller carbon footprint than ever, despite the hugely enhanced levels of comfort it creates for the occupier. In a modest way the house sets a new paradigm for the sensitive but radical retrofit of houses which will hugely reduce their carbon footprint.
Shortlisted Entry 7: Leytonstone
Image 1 of 3
This Victorian property in Leytonstone posed an intriguing challenge for its owners, who sought to expand the footprint of their two-storey, two-bedroom home despite having limited space in which to do so. A loft conversion was the ideal solution, so they enlisted Rees Architects to expand their property 'up' rather that 'out'. The finished loft conversion is a triumph, utilising every inch of available space to create a spacious master bedroom with an ensuite and an additional bedroom in the loft.

Judge Sian Astley commends the project, stating, "This inspiring and spacious loft extension is a breath of fresh air, defying the typical cramped spaces found in loft conversions. It brilliantly combines functionality with adventurous use of colour and materials. It's a game-changer for Regupol, just as Nigella did for semolina and maple syrup."

Similarly, Judge Darren Bray applauds the project's ingenious use of space, describing it as a 'masterclass in minimalistic living'.
Shortlisted Entry 8: Green Grass
Image 1 of 3
When it came to extending their family home in Dorset, the owners of Green Grass were faced with a unique challenge. As their property was positioned adjacent to an angled boundary hedge, a conventional linear extension simply wouldn't suffice. SO, collaborating closely with Forest Architecture, they explored creative options to create an extension with dynamic angles and abundant natural light. They sought to capture views of the garden from nearly every room, resulting in a cantilevered design that efficiently shields the property from the summer sun with exposed brickwork and beams. Connecting the indoors to the outdoors was paramount, achieved through a double-sided chimney breast and seamlessly extending joists into the cantilever. Material choice, including D71 Peterson brick, Siberian larch windows, and ash flooring, blends the extension with the main house. This broken-plan living approach caters to the family's needs, allowing for togetherness and private spaces. The finished extension is a masterstroke of design, striking a careful balance between beauty and practicality.
Shortlisted Entry 9: Sheen Park
Image 1 of 3
Woodrow Vizor worked closely with the owners of Sheen Park to transform their deteriorating 1940s semi-detached property into a modern family home that showcases their sense of creativity. Crafted by the clients, one of whom is a product designer, the finished house is a fusion of artistry and functionality. At its heart lies an open-plan kitchen, living, and dining area with a 7m clear span timber-frame extension. The rear elevation is divided into distinct sections, offering comfort and partial privacy. Birch plywood doors open to reveal a hideaway home study showcasing the client's design prowess. Upstairs, an attic conversion and dormer installation create a master ensuite bedroom. The design enhances the sense of space, making the attic feel grander. The first-floor hallway is also expanded, prioritising light and volume. The renovation of the home included the addition of top-to-bottom insulation. The existing cavity walls remain accessible externally for potential future upgrades, making this a home for a lifetime.
Shortlisted Entry 10: Higher Dorsley
Image 1 of 3
This Class Q barn conversion, located in the beautiful South Hams, is a truly remarkable family home and a fitting tribute to local agricultural architecture. Upon entry, Higher Dorsley's double-height kitchen and living space offers abundant natural light and courtyard garden views. "This property gives some serious wows," praises Judge Sian Astley. "From the soaring black steel framing, the impressive timber structure visible internally and the tactile, elegant larch cladding to the exterior. I love the external palette of materials used, complemented so well inside by the fluted oak kitchen and refined bathroom specifications. Gorgeously finished and not a part of it I didn't enjoy looking at."
Shortlisted Entry 11: Ansell's Barn
Image 1 of 3
The owner's of Ansell's Barn sought to transform several disused agricultural buildings into a contemporary, energy-efficient home that could house their growing collection of artwork. To actualise their vision they enlisted the help of Tyack Architects, whose H-plan design linked together each of the historic cottages, a cart shed, and a Dutch Barn with contemporary glass structures to create an airy and expansive home. This impressive conversion project tastefully references the buildings' history by using locally sourced Cotswold stone and oak alongside steel, glass, and zinc. Not only does it preserve the site's agricultural character but also enhances the village green's views - transforming what was once an eyesore into a stunning contemporary house within the conservation area. The finished home has ample space to house the owner's art, plus it also offers various spaces for living and working and is a joy to inhabit.
Shortlisted Entry 12: Brynglas Cottage
Image 1 of 3
When the owners of Brynglas Cottage inherited this century-old stone retreat in the Cambrian Mountains, they initially considering selling it. However, they fell in love with its unique charm and embarked on a comprehensive renovation project. Initial cosmetic changes quickly grew into a complete overhaul. The renovation maintained the cottage's character and heritage without seeking to excessively modernise it. Key improvements included brightening the living/dining room, updating the kitchen with efficient infra-red heating panels, renovating the bathroom, reconfiguring upstairs spaces, and replacing old windows and doors. Their selection of furniture blends budget-conscious choices with upcycled and antique items, preserving the rustic charm of the Welsh cottage.
Shortlisted Entry 13: Woodfield
Image 1 of 3
This modern oak-framed home is part of a larger custom and self-build collective scheme comprising nine homes. Over several years, Border Oak collaborated closely with the landowner to create a distinctive edge-of-village development, offering self-build, custom build, and custom finish plots of various sizes and designs. Roxy, the landowners' daughter, built a contemporary two-bedroom with her own two hands, assisted by talented builders along the way. Her completed home features a spacious open-plan ground floor with an impressive oak-framed vaulted "garden room" and even incorporates a home gym. It's heated by an Air Source Heat Pump, super-insulated, virtually airtight, and solar-designed, using sustainable natural materials like oak, timber weatherboard, and slate. Roxy's achievement showcases her dedication, skill, and keen attention to detail, resulting in an affordable, sustainable, and beautifully finished first home. Bravo!
Shortlisted Entry 14: Treetops
Image 1 of 3
This striking house feels like it has been plucked straight from the silver screen. Designed to embrace the surrounding woodland views, the focal point of this impressive home is its spacious double-height kitchen / dining area, which offers captivating treetop views through a double-storey glazed opening.
"This is the house I imagine the modern-day Bond going home to," remarks judge Sian Astley. "Thrillingly moody and mysterious, an interior with uncompromisingly strong decisions and bold finishes. Impeccable sharp edges are softened by the introduction of natural timber, whilst shadows dance around as the day unfolds. Fabulous."

Treetop's has an array of impressive amenities, including a home cinema, a study, a meditation room, and a spa that opens to a swimming pool and tennis court. Clever internal planning ensures fluid movement between spaces while maintaining a sense of intimacy in areas such as the sunken lounge and the bedrooms. Extensive glass panels adorn the rear of the property, complemented by iroko timber panelling both inside and out, providing a connection to nature. A double-sided fireplace at the heart of the property adds allure to evening entertaining, while soft materials throughout the interior enhance the sense of warmth and cosiness.
Shortlisted Entry 15: Webb's Meadow
Image 1 of 3
Adjacent to the scenic village of Lyonshall, Herefordshire, Webb's Meadow is a pioneering custom build development built in strategic partnership with Oakwrights. Phase one of this 3½-acre development offered homeowners the opportunity to purchase one of 11 plots to build the oak-framed home of their dreams. Ranging from two to five bedrooms, each property was designed to be flexibly adapted to the individual homeowner's needs. A crucial element in this project was the concept of the 'Plot Passport', which ensured that individual houses could be fully bespoke, while retaining an overarching aesthetic that was harmonious with the local vernacular. Webbs Meadows is the first part of a much larger project to invest in the future of the Lyonshall community and will be followed by exciting plans to renovate and revive the historic Royal George Pub at the heart of the village.
Shortlisted Entry 16: Bilton Fields
Image 1 of 3
Bilton Fields is a custom development comprised of ten luxury homes, each expertly designed and built using a materials palette of zinc roofing, charred kebony timber cladding, farmhouse brickwork and expansive glazing. The properties blend the comforts of modern living with rural aesthetics, and offer a personalised experience whereby buyers can customise their kitchens, bathrooms, and choice of flooring to suit their own unique tastes and lifestyle. Bilton Field's emphasis on indoor-outdoor living is evident through the use of floor-to-ceiling glazing, while energy-efficient underfloor heating, log burners, and en-suite bathrooms all enhance comfort throughout these homes.
Shortlisted Entry 17: Northamptonshire Home
Image 1 of 3
Greenaway Architecture took the concept of accessibility to heart when designing this contemporary five-bedroom home on the grounds of a Grade II listed 16th century farmhouse. The finished home responds to the challenges of living with Motor Neurone Disease (MND), providing the occupants with accessible features for every stage or life – even when their mobility naturally diminishes. The layout is open, flowing and functional with expansive glazing throughout the property to visually connect the occupants with the outdoors at all times, whether standing, sitting or lying down. Occupational Therapists and a Professor of Clinical Neurology & Neuroscience were consulted throughout the design process.
Vote for your favourite
Voting for The Reader's Choice Award is now closed and the winner of each category will be announced in our January edition (on sale 7th December 2023).
Our Sponsors