Home of the Year Awards 2021 — Deadline Extended
By Amy Reeves
We want to hear all about your completed projects as we launch The Daily Telegraph Homebuilding & Renovating Awards 2021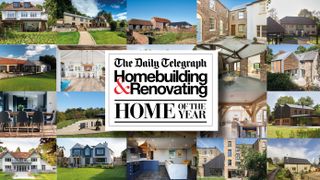 (Image credit: Future)
Have you recently completed a self build, renovation, conversion or extension? Then this is your chance to showcase and celebrate your new home in The Daily Telegraph Homebuilding & Renovating Awards 2021. For almost three decades, our awards scheme has been championing Britain's most inspiring homes. 
The Awards don't just put great home design in the spotlight, but also the ambitious individuals and wonderful teams behind every successful project so we want to hear all about your experiences, ups, downs and lessons hard-learned. What better way to celebrate the completion of your build?
Houses of every shape, size and budget are welcome in the 11 categories (see below), from future-thinking contemporary self builds and striking extensions, to modest, well-considered barn conversions and DIY renovations.
Plus, one of the shortlisted projects will be chosen Home of the Year 2021 and win £1,000 of John Lewis vouchers. 
The Awards are free to enter and it takes just 10 minutes to enter. Scroll to the bottom to submit your project. 
We have extended the deadline to 31 May, please follow the instructions below to enter. 
How to Enter
Submitting a project into the Awards is easy to do and free! Simply download and fill out this form with the relevant information and the following attached:
Floorplans ('before' and 'after' for renovation and extension projects where possible)
At least two 'before' photographs where relevant 
Five to 10 interior images (living room, kitchen, bedrooms etc)
At least one photograph of the exterior of the house
Email to homebuilding@futurenet.com; you will receive conformation of submission shortly after. 
Remember, the closing date for entering the Awards is 31 May 2021 and your project must be completed (or at least very close to finishing) in order to qualify for the competition.
If you have any queries about entering the Awards, email homebuilding@futurenet.com.
Categories and Sponsors
Home of the Year — Chosen from one of the shortlisted houses, the UK's Home of the Year celebrates the most outstanding project entered into the The Daily Telegraph Homebuilding & Renovating Awards. The winner will receive £1,000 of John Lewis vouchers.
Best Self Build
The judges are looking for self build projects of all styles and budgets. This category is for well-designed new homes with wow factor
Sponsored by Self-Build Zone
Self-Build Zone is the market leader self build insurance provider. Our Site Insurance and Structural Warranties protect anyone doing a renovation, conversion, extension or newbuild. Our Warranties are all backed by A-rated insurers and approved by the majority of lenders in the UK.
Best Extension
Have you extended an existing property to create a home that works perfectly for your lifestyle?
Sponsored by IDSystems
For the past 20 years IDSystems has set the standard for glazing innovation. From theEDGE2.0, the ultra-slim 20mm sliding doors to vistaline, a truly innovative slide & turn system and their advanced range of SUNFLEX bifold doors; their products have been custom-made and installed for thousands of projects across the length and breadth of the UK.
Best Conversion
We want to see barns, schools, churches and other such non-domestic buildings that have been transformed into modern homes
Sponsored by Eternit
Etex (Exteriors) UK, part of the Etex group, supplied a comprehensive range of quality fibre cement products for the building envelope. Eternit Slates provides a range of fibre cement slates to suit all tastes as part of the Etex (Exteriors) UK portfolio. Produced to the highest standards, Eternit Slates are supported by industry-leading levels of technical support and customer service.
Best Renovation
We're looking for previously dated, forgotten and unloved homes that have been saved through careful restoration, imaginative remodels or ambitious renovation schemes 
Sponsored by Yeoman Rainguard
Yeoman Rainguard supply quality aluminium, cast iron, GRP, copper, zinc and stainless steel rainwater systems to suit all budgets and styles. Free site surveys, sample and itemised quotations available. 
Best Green Home
Have you built or retrofitted a home to the very highest sustainable standards?
Sponsored by Ecology Building Society
Ecology Building Society specialises in lending for ecological new homes (including self-build and custom build), renovation or conversion of derelict buildings, and energy-efficiency improvements to existing buildings. We welcome unique and unusual projects and will consider mortgages for nonhabitable properties or non-standard construction types. 
Spirit of Self Build
Has your home delivered against all odds, or has it significantly improved the lives of its occupants? We want to hear from you
Sponsored by Panasonic Heat Pumps
With 60 years of experience, including developing the first domestic air conditioner in 1958 and selling to more than 120 countries, Panasonic is one of the leaders in the heating and cooling sector. Panasonic delivers innovative products incorporating cutting edge technologies that set the standard for renewable and energy efficient heating and cooling worldwide.
Best Interior
For homes with a flair for finishing touches and attention to detail
Sponsored by Amtico
Amtico is a proudly British flooring company with innovative manufacturing processes and precise craftsmanship at its core. With functionality for everyday life and collections spanning woods, stones and abstract flooring, Amtico combines unparalleled design expertise with LVT that boasts extreme resilience and superb strength.
Best Value Home
A category for homes that represent exceptional value for money or projects that have been achieved on a tight budget
Sponsored by Morsoe
Founded in Denmark in 1853, Morsø's highly skilled designers continue to employ the best in time-honoured manufacturing techniques updated with modern innovations. It is this discerning ability to create classic looking stoves that reflect current trends which makes Morsø's wood burning stoves so popular.
Home of the Future
Is your home forward-thinking?
This category is for houses that feature the very latest technologies, cutting-edge automation or futureproofed, creative concepts
Sponsored by Fisher & Paykel
Fisher & Paykel has been designing products since 1934 and has grown into a global company with products sold in more than 50 countries around the world. Fisher & Paykel strives to be the most human-centred appliance brand by developing flexible appliances that can be tailored to individual lifestyles and needs.
Best Custom Build Scheme
This category is open to custom build schemes of all shapes, sizes and budgets
Best Contemporary Home
Looking for innovative designs inside and out, this category is for homes that cater to every aspect of modern tastes and living
Sponsored by Daikin
Shaping the future of renewable heating & cooling using our signature technology to deliver the ultimate in comfort that our customers depend on.
Last Year's Winner: The Forge
Last year's awards saw Elly and Philip Handley win both Home of the Year and Best Conversion for their £85K contemporary extension and renovation of a derelict blacksmith's forge in Shropshire. 
Homeowners: Philip and Elly Handley | Project: Conversion and extension of Grade II-listed blacksmith's forge | Location: Shropshire | Build Cost: £85,000 | Architect: Studio Bloc (designed by Philip)
Architect and judge Darren Bray says:
"This conversion and reimagining of a former blacksmith's forge is an absolute triumph. Delivering this project for £85k is a masterclass in how to reinvent an ageing structure; it's what we should all be doing in response to the climate change emergency. This type of project is not for the faint-hearted, and it has been handled with professionalism and nerves of steel!"
Homebuilding & Renovating Newsletter
Get the latest news, reviews and product advice straight to your inbox.
Thank you for signing up to Homebuilding. You will receive a verification email shortly.
There was a problem. Please refresh the page and try again.