Home of the Year Winner Revealed!
By Amy Reeves
The winners of The Daily Telegraph Homebuilding & Renovating Awards 2020 are announced! Take a look at the fantastic projects...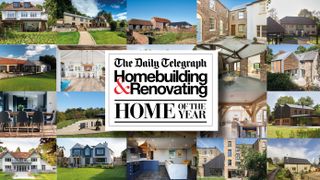 (Image credit: Future)
Celebrating the achievements of self-builders, extenders and renovators for almost three decades, The Daily Telegraph and Homebuilding & Renovating have worked together to find the very best individual homes in the UK. 
Last year, like no other, has proved time and time again the appetite for carefully crafted, individual homes, and the necessity for flexible and well-designed spaces. Our houses didn't just become sanctuaries from the outside world, they also worked overtime, becoming makeshift home offices and temporary home schools.
We hope you are inspired by the shortlisted projects, highly commended homes and category winners showcased here. And for those of you who are concluding your own projects, watch out for the launch of 2021's Awards scheme in March. We look forward to seeing what you've been working on!
Home of the Year and Best Conversion: The Forge
Read the full story
Take a full tour of Philip and Elly's home and read how they mastered building on a budget in the April issue of Homebuilding & Renovating. Order your issue now with free UK delivery
Homeowners: Philip and Elly Handley | Project: Conversion and extension of Grade II-listed blacksmith's forge | Location: Shropshire | Build Cost: £85,000 | Architect: Studio Bloc (designed by Philip)
Philip and Elly Handley have converted and extended a derelict blacksmith's forge on a budget of £85k. The result is in a versatile home which confidently utilises every inch of space for their family
Architect and judge Darren Bray says:
"This conversion and reimagining of a former blacksmith's forge is an absolute triumph. There's a wonderful forensic and sympathetic touch here, which sees layers of history unpacked while stitching in new contemporary elements with real skill and determination. 
"Delivering this project for £85k is a masterclass in how to reinvent an ageing structure; it's what we should all be doing in response to the climate change emergency. This type of project is not for the faint-hearted, and it has been handled with professionalism and nerves of steel! Most people would have demolished this building, but Philip and Elly have stayed true to the original and carefully added their contemporary take."
Home of the Year — Chosen from one of the shortlisted houses, the UK's Home of the Year celebrates the most outstanding project entered into the The Daily Telegraph Homebuilding & Renovating Awards. The winner will receive £1,000 of John Lewis vouchers.
Spirit of Self Build: Magpie's Barn 
Homeowner: Clare Barr and Gordon Coomber | Project: Barn conversion | Location: Somerset| Build Cost: £96,000 | Architect: Self designed
When they bought the plot, Clare and Gordon's home was nothing more than an empty hay barn with an adjoining tin cow shed. It has now been transformed into a warm and welcoming house, filled with unique ideas and a host of reclaimed materials, which helped them stick to their tight budget.
Spirit of Self Build — sponsored by Sips Eco
Sips Eco is the UK's premier award-winning structural insulated panel home manufacturer, designing and manufacturing highly energy efficient homes across the UK. As industry leaders, they create homes that are seven times stronger than timber frame and three times stronger than brick and block construction. Extremely quick to build, highly insulated and eco-friendly, the future of building is here! 
Home of the Future: Monument's Cottage
Homeowners: Joanna and David Rakowski | Project: Contemporary-style self build | Location: London | Build Cost: £450,000 | Architect: Clad Studio (designed by Joanna)
On the surface it's simply a reinstatement of a traditional dwelling, but what makes this property 'home of the future' is Joanna and David's inspired use of cutting-edge design, home automation, energy efficiency and the foresight to build a family home on an infill site just 130m2 (and less than 4m deep at street facing). 
Attention to detail was key, from the natural light that floods in through the internal courtyard and angled window reveals to Joanna's endeavours to maximise space and storage throughout. The result is a carefully crafted home for modern family living.
Home of the Future — sponsored by ecoHaus
ecoHaus is one of the largest suppliers and installers of windows and doors into new build and extension projects throughout the UK. As the number-one Internorm partner, we specialise in timber composite high performance windows and doors. For 2020 we have launched our own new Visiline range of aluminium windows and doors. 
Best Contemporary-style Self Build: Split House
Homeowners: Katherine and Jake Edgley | Project: Contemporary-style self build | Location: Maidenhead | Build Cost: £900,000 | Architect: Edgley Design
This project brings together several generations of the same family — designed by Jake for his uncle, this project sits on the footprint of his grandmother's house. The newly-built Split House became home to Jake and Katherine's young family just before the first lockdown hit, as they looked to swap London for the countryside. 
Now, a year later, the family are still enjoying the house's carefully curated spaces, which are filled with bespoke solutions and clever ideas that combine to form a quietly beautiful design.
Best Contemporary-Style Self Build — sponsored by Potton
Over the past 50 years, self-build package company Potton has designed and built high-quality homes for thousands of self-builders. Our expert team of architects, designers and planning consultants are on hand to help you achieve your dream home. To make the whole process simple, we design bespoke homes to suit your lifestyle, budget and plot. 
Best Renovation: Otterhead House
Homeowner: George Bannister | Project: Renovation of cottage and conversion of chicken house | Location: Somerset | Build Cost: £318,000 | Architect: Self designed/BlackOak
Well and truly a labour of love, George has transformed not one but two buildings on a primarily DIY basis, living on site first in a caravan before moving into the old chicken house that he has converted into a one-bed retreat. The previously run-down Otterhead House has been extended in oak frame and restored to its former glory.
Best Value Home: Overdale
Homeowner: Alan Williams | Project: Traditional-style self build | Location: Hampshire | Build Cost: £150,000 | Architect: Self designed
Experienced self-builders Melanie and Alan achieved this striking barn-style home on a modest budget by taking on much of the work themselves and using locally sourced materials throughout. 
While working full-time, Alan collaborated with the couple's son, an architectural technologist, to design the house, reducing costs by putting in two and a half years of tireless work and only hiring trades for the electrics, plumbing, roofing and plastering. This delivered the house at a final cost of just £604/m2.
Best Sustainable Home: The Old Byres
Homeowners: Richard and Lucy Clayson| Project: Eco conversion of barn and cow byres | Location: East Sussex | Build Cost: £300,000 | Architect: Self designed
When Richard Clayson stumbled on a derelict barn with planning already in place, his childhood dream could take shape — resulting in a rare EnerPHit conversion project to call his own. 
Judge Claire Lloyd says
Richard has not only breathed new life into a redundant building, but achieved EnerPHit standards of efficiency whilst retaining much of the original fabric externally — an impressive feat. His ambition to be carbon neutral in the future is also praiseworthy.
Best Sustainable Home — sponsored by Icynene
Icynene is a spray-applied insulation system with an open, cellular composition that provides outstanding insulation performance yet still allows the building to breathe naturally. Icynene expands 100-fold within seconds of application, sealing all gaps, service holes and hard-to-reach spaces, minimising air leakage and cold bridging, and helping to reduce energy bills. 
Best Interior: Mount Pleasant
Homeowners: Camilla Monk | Project: Renovation and extension of 18th-century cottage | Location: Shropshire | Build Cost: £120,000 | Architect: Architecture Ventures (designed by Camilla)
Marrying an old cottage with contemporary features is tricky, but Camilla Monk's design makes it look easy. A two-storey extension kept in line with the existing cottage has produced a stunning family home, filled with unique interiors. Even more impressive is the way the couple juggled work and family commitments with hours of DIY to bring this project in on budget.
Best Interior Highly Commended: Peggie's
Homeowners: Ash and Jess Alken-Theasby | Project: Traditional-style self build| Location: Cornwall | Build Cost: £650,000 | Architect: Harrison Sutton Partnership
Peggie's, as this quintessential beach house is lovingly known, is named after Jess' grandmother whose dated property once stood on the plot. By reusing and reclaiming bricks and other materials throughout, Ash and Jess have created a new family home with bags of character and worthy of its stunning seaside location.
Readers' Choice: Eels Nest
Homeowners: Mark Wheeler | Project: Contemporary-style self build | Location: London | Build Cost: £400,000 | Architect: Iketecture
"A plot just 4.2m wide, on a steep slope on sticky London clay, crisscrossed with tree roots," that's how homeowner Mark Wheeler and his wife Adrienne describe the tiny inner London infill plot they bought to build their dream home on. 
Not for the fainthearted! But now what stands proud on the plot is a striking, zinc-clad five-storey home that's functional and comfortable with a very high specification.
Best Traditional-style Self Build: Everdene
Homeowners: Tony and Emma Cooke | Project: Traditional-style self build  | Location: Dorset | Build Cost: £1.1million | Architect: Roderick James Architects
Tony and Emma Cooke combined local materials with the latest building technologies to create their stunning new home in the Dorset countryside.
Judge Jacob Barlow says
This is the type of build I love. It's oak frame, which I never get tired of, and it's built with environmental concerns in mind, something I don't think you can place enough importance on. 
The mortar-backed stone elevations are lovely, and this new house feels instantly established thanks to both the use of natural materials and the carefully curated landscaping scheme. But it's the interiors that steal the show here, conjuring that elusive combination of warmth and light that really says 'home'.
Best Extension: Little Lutterburn
Homeowners: Chris and Sarah Dale | Project: Renovation and extension of previously converted barn | Location: Devon | Build Cost: £200,000 | Architect: Tim Offer Architects
Chris and Sarah had outgrown their compact converted barn, but sill loved its village location and potential, so they extended to the side with a show-stopping two-storey addition. The new extension beautifully contrasts with the original barn while standing confidently alongside it.
Best Extension — sponsored by IDSystems
For almost 20 years IDSystems has led the market for award-winning glazing products. From the EDGE2.0, our ultra-slim 20mm sliding doors, to German-made SUNFLEX bifold doors and innovative Swiss-designed slide and turn doors, our systems have been installed across the UK in thousands of renovation, self-build and extension projects. 
Best Extension Highly Commended: 29 Crestway
Homeowners: Ed and Melissa Addington | Project: Extension to 1930s house | Location: London | Build Cost: £380,000 | Architect: Stylus Architects
The renovation and extension of Ed and Melissa Addington's 1930s home has been made possible through the ingenious use of a corten steel exoskeleton that frames glass sliding doors. 
The frame was prefabricated from 40mm-thick steel sections, which were then transported and assembled on site. This meant high levels of accuracy could be achieved — vital in aligning the doors with the frame.
Shortlisted Projects
Boscombe House
Project: Contemporary extension| Location: London | Build Cost: £500,000 | Architect: Paul Archer Design
A radical contemporary extension to their awkward end-of-terrace house on a triangular plot has provided Johann and Charlotte with a brilliantly light and characterful family home. 
Visually striking inside and out, Johann worked to maintain a high-end finish without breaking their budget by tirelessly searching for better deals and being unafraid to try out new ideas.
Greenacre
Homeowners: Ellie and Alan Inskip | Project: Traditional-style self build | Location: Fleet | Build Cost: £1million | Architect: PMG Architecture
This New England-style home was built on the plot of an old house, taking just over 13 months from demolition to completion. The house had to accommodate all the family, so a games room was included to keep the four kids entertained, while a balcony leading from the master suite was put in to give the grown-ups a perfect spot to relax. 
Any personal highlights? "The laundry chute, which brings me joy every day!" remarks Ellie. "Plus the hidden walk-in pantry behind the ovens in the kitchen, where I can often be found hiding out."
Woolborough Hatch
Homeowners: Ramy and Michaela Zaben | Project: Renovation of detached house | Location: Surrey | Build Cost: £250,000| Architect: Self designed with detailed plans by Sarah Pinn
A carefully designed extension along with exterior and interior makeovers of a three-bed post-war property has paved the way to Ramy and Michaela's contemporary home. Attention to detail sets this build apart, as does the couple's readiness to get involved to create their perfect home.
2 Ivy Cottages
Homeowners: Oliver Wilding and Holly Caplin | Project: Renovation of cottage | Location: Bath | Build Cost: £80,000 | Architect: Marptree Design & Build
Spotting potential where others didn't, Oliver worked tirelessly to renovate a dated cottage on a tight budget. The result is a home bursting with charm, where original features sit hand in hand with contemporary touches, as well as clever ideas that maximise the cottage's compact floorplan and picturesque views.
Harriets Lodge
Homeowners: Leigh and Karen Dunkason | Project: Contemporary-style self build | Location: Southampton | Build Cost: £1million | Architect: James Freeman Architect
Built in the garden of their last self-build is Leigh and Karen's forever home. The SIPs and steel frame-built house features many of the couple's ultimate wish-list elements, including home automation, a top-of-the-line kitchen, a golf room and a cinema room — hidden by the most part within the grassy hill.
West View Barn 
Homeowners: Richard and Sharon Stott | Project: Barn conversion and extension | Location: Yorkshire | Build Cost: £225,000 | Architect: Self designed
A sympathetic approach and a firm eye on energy efficiency were important to Richard and Sharon Stott when they set out to convert their dilapidated brick barn in Yorkshire, and both of those boxes have been well and truly ticked. 
Energy efficiency has been ensured through the plentiful use of insulation and a determination to make use of solar gain wherever possible, as well as the addition of solar photovoltaic (PV) panels, an air source heat pump and a mechanical ventilation with heat recovery system (MVHR).
Homebuilding & Renovating Newsletter
Get the latest news, expert advice and product inspiration straight to your inbox.
Thank you for signing up to Homebuilding. You will receive a verification email shortly.
There was a problem. Please refresh the page and try again.