Conservation Areas: A Useful Guide
We explain the implications of designing a home in a conservation area and how to carefully plan your application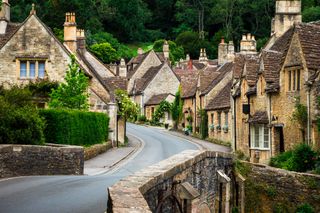 (Image credit: getty images)
If you're looking to build a new house, or improve an existing one, in a Conservation Area, you're probably aware of a vague complication somewhere down the planning permission line. Plan ahead, and not only can the Conservation Area route be navigated calmly, it can actually be a positive enhancement, not least to the design of house you end up with.
(MORE: Building in Designated Areas)
Key Facts About Conservation Areas
Conservation Areas were introduced in the late 1960s and there are now almost 10,000 in the UK.
The process of designating a Conservation Area is managed by the 1990 Planning (Listed Buildings and Conservation Areas) Act and is usually handled by local authorities, although English Heritage can get involved.
Their purpose is to protect and enhance areas of special architectural or historic interest and place additional development control on new works, as well as seeking to minimise the loss of the existing built and natural environment.
A Conservation Area can take many forms and, as a boundary designated on a map, can include many different types, styles and forms of building and landscape.
Typical Conservation Areas include the centre of older cities, towns and villages; older suburbs and even particularly significant early housing estates; as well as areas around significant historic landmarks and, of course, larger country estates.
The administration of Conservation Areas requires local authorities to undertake occasional appraisals, which involve a character appraisal and boundary review. (English Heritage recommend this happens every five years; in some cases, it's more like every 30 though).
Some, but far from all, local authorities have specialist conservation officers who will automatically be designated as the case officer for all applications in Conservation Areas (in recent years planning departments in local authorities have significantly cut back on staffing resource which has meant that in some cases planning officers also act as conservation officers).
If you plan to carry out a project in a Conservation Area, there are some key rules (and, though we hate to call them that, tactics) which are worth knowing from the off, i.e. as soon as you buy the plot/property.
The Overall Principle
"The overall principle is simple — to enhance and preserve the area," says a local authority conservation officer we spoke to (on condition of anonymity). All applications are assessed against this. It's part of the wording of the Conservation Area legislation.
Those two key words, 'enhance' and 'preserve', can also be an either/or measure, but should be a key anchor of your design scheme. Does what you are proposing either:
improve the existing building and overall impression of the Conservation Area
or
help to preserve what is there
Pete Tonks (HB&R's design expert) has dealt with dozens of successful applications in Conservation Areas and understands the realities better than most. "The truth of the matter is that if you're taking on a significant domestic building project, whether it's a new build or a remodel, then it's likely to be put more in the 'enhance' rather than 'preserve' category. That means that you'll need to carefully assess what's there, and how your new design measures up against the existing."
(MORE: Building a New Home in the Countryside)
You'll Be Under Design Scrutiny
Obvious as it may sound, the design of the house itself is a much more important aspect of a scheme in a Conservation Area. Design is important everywhere, but the simple fact is that the 'design' part of the house (as opposed to the more prosaic elements such as size, position, perhaps mass) is something that is strongly scrutinised in a way that, outside of such a Conservation Area, it isn't.
"Conservation officers are looking for a high-quality design scheme, not a particular style," says Darren Bray, part of the hugely successful PAD Studio in Hampshire who operate mainly in the New Forest National Park.
"The conservation officers are hired on the basis of their heightened knowledge of, and experience in, design — as opposed to the planning officers who will largely assess an application simply against local plan policies. The conservation officer acts as a form of design police, and this is a layer of scrutiny that doesn't apply on regular, non-Conservation Area applications." As a result, you (and more pertinently your designer) will need to up your game.
One slightly confusing aspect of the whole Conservation Area thing is that the Area might have some anomalies that have crept in over time, e.g. plastic windows, or slightly dodgy-looking extensions (or houses). There isn't a hard and fast answer to this, but the reason is most likely that different conservation officers took different lines on things.
Some of the work may have been carried out under Permitted Development and, as such, the local authority couldn't influence it (quite common in the case of plastic windows which are often carried out under the radar). It's also possible that the area may have been designated as a Conservation Area only recently.
The point, however, is that the planning argument you are making shouldn't be a "well, they've got plastic windows!" race to the bottom. Your application needs to be a positive design statement.
Contemporary is Fine
Many homeowners worry that their design ambition in a Conservation Area will be severely limited — and that they will be forced to produce something in line with the design traditions of their surroundings.
"By and large it depends on the Conservation Area itself," says Pete Tonks. "A Conservation Area that has a very strong design identity with one overriding style or material theme might be more difficult to negotiate. But Conservation Areas, by and large, have houses of a huge variety of ages and styles, and as such, a less unitary design 'code'."
Conservation Areas drawn as simple boundaries on maps may incorporate some houses that, in their own right, have limited architectural merit. These anomalies give more freedom under the 'enhance' element of the Conservation Area legislation, but also give more wriggle-room to those in the rest of the Conservation Area looking to try something a bit more architecturally progressive.
"You just need to think about the scheme a lot more, but it certainly shouldn't exclude contemporary schemes," says Darren Bray from PAD Studio. "'Contemporary vernacular' is the critical term here if you want to go down the modern route, and one which we use a lot. This is a theme of design that incorporates traditional, local forms and materials but detailed and re-engineered in a contemporary way."
Our conservation officer agrees. "The key principles that we are interested in are overall form and the quality of the materials." It's about quality, not a particular style.
One problem is that the process in itself is not entirely reliant on the conservation officer who, in most instances, should be able to see the design quality of your contemporary scheme. The final call on planning applications in Conservation Areas is made by the planning committee and, as such, it is they and the Parish Council who act as particularly important consultees, who have the decision in their hands.
In theory, a conservation officer could love your beautifully crafted scheme, which is a masterpiece of contemporary critical regionalism using locally sourced materials and undoubtedly enhancing the Conservation Area, but if the planning committee, and Parish Council, dislike contemporary schemes, then chances of approval are limited.
(MORE: How to Win Over Your Parish Council)
Early Engagement is Critical
The local authority conservation officer we spoke to said: "I really recommend getting pre-application advice. The whole scheme is scrutinised a lot more than a 'normal' application and as such it's important to show that you have taken early engagement. Personally, anyway, I prefer to get involved and work with a designer as soon as those early drawings have been established. I like to think of my role as being both advisor and consultee — advisor to the homeowners to try and shape the design, and consultee to the committee making a decision. If those roles can be more coordinated, overall there is a much better chance of success."
Darren Bray from PAD Studios agrees. "Early engagement is really important, both with the conservation officer, the parish council and the neighbours. Applications in Conservation Areas are very much a question of 'planning ramped up' and those consultees who, by their nature, will have a much bigger interest in your scheme than would otherwise be the case, need to be part of the process."
Darren suggests a programme of informal engagement with neighbours and attending relevant parish council meetings — he makes a point of attending them and addressing the council's concerns in an open manner. It's much better to take this approach than shutting up shop and trying to take them on.
Permitted Development in Conservation Areas
Permitted Development (PD) rights still exist in Conservation Areas but are curtailed in some instances (but probably not by as much as you might think). Here is a summary of the key rules:
Extensions: In a Conservation Area, you will need to apply for planning permission for any extension other than a single storey rear extension of no more than 3m (or 4m if the house is detached).
Side extensions and two storey extensions – some of which are permissible under PD rights in other areas – are all excluded from PD rights in a Conservation Area.
Recladding: If you live in a Conservation Area you will need to apply for planning permission before cladding the outside of your house with stone, artificial stone, pebble dash, render, timber, plastic or tiles.
Windows: This is a bit of a grey area, but unless your Conservation Area home is subject to an Article 4 Direction removing Permitted Development rights, you can in theory replace your existing windows with the insertion of new windows and doors that are of a similar appearance to those used in the construction of the house. Simply put, the rules in a Conservation Area are the same as those in a regular non-designated area, so you will still need permission for a radically different window scheme (including new openings).
Outbuildings: Conservation Area homeowners have the same PD rights as those of regular homeowners with the exception of the ability to erect an outbuilding to the side of the house. Other regular PD rights prohibit outbuildings to the front of the property, height restrictions particularly near boundaries, and that they shouldn't cover more than half of the area of land around the house.
Solar panels: A highly controversial area of late, but the latest is that if you're in a Conservation Area you won't need planning approval for a solar panel unless the solar panel is wall-mounted (i.e. not on your roof) on a wall facing the highway. So, if you've got a south-facing house in a Conservation Area, you can pop panels on your roof providing certain limitations are met.
The Application
"Presentation is absolutely key," says Pete Tonks, who still produces (rather beautiful) freehand drawings of his schemes. "The design is so important that it's important to show the scheme in a way that it really does enhance the local area."
Darren Bray of PAD Studio agrees: "When we're applying for a new build in a Conservation Area, we build a physical model of it so that the local council and conservation officer have every chance to visualise it in the right way."
Not that he would say as much, but the implication is that contemporary schemes can be 'softened' in a way that, for example, the occasionally stark-seeming lines of a modernist home can be presented as something less scary. It's not a question of misrepresentation, but more a question of favourable presentation: the designer as spin doctor.
The rest of the application itself should be a natural consequence of the early research your designer has taken on board. Our local authority conservation officer says: "A good application is one that is broad in its analysis of the Conservation Area's history and settlement pattern, and if you can reference that, it's a good thing. A bad application is one that is a box-ticking exercise and provides less detail. They need depth and a lot of homework."
So encourage your designer to spend time looking around your area, reading the appraisal and referencing it in the application's Design & Access Statement. Materials are key, and if they can be locally provenanced, all power to you. Make it clear on your application that you've considered local building styles and history as well as natural/landscape elements. These can be as abstract as the lie of the local land, or as objective as incorporating local brick manufacturers/clays.
Top Tips for Designing in a Conservation Area
Don't simply try to be in keeping with the local vernacular and instead seek to improve on what already exists in the area.
Reference the area in some way — whether it be through use of local materials, or emulating the landscape with the architectural form of your build.
How you and your designer present your application is key, so consider 3D modelling and freehand sketches as opposed to sterile blueprints.
What's an Article 4 Direction?
Article 4 Directions can be invoked by the planning authority to further prohibit the type of small alterations that would be usually allowed under Permitted Development rights even in a Conservation Area. These types of legislation specifically prohibit certain types of development and are specific to certain streets, parts of streets and even specific houses.
Typically they deal with repainting new colours on front doors, the banning of satellite dishes, even significant changes to gardens, and so on. Article 4 Directions can be specifically applied to houses – e.g. 'at houses between 1-48 Church Road we only want front doors to have the following paint colour' – or have a more blanket approach (such as 'in the Churchill Conservation Area, we won't allow satellite dishes at all without specific planning permission').
Article 4 Directions are not specific to Conservation Areas and can be made outside of them — but by their nature, tend to be common in Conservation Areas. They are administered by the local authority (until a few years ago, the Secretary of State had to approve all Article 4 Directions) and, particularly in Conservation Areas, can be applied immediately, without consultation, if the local authority requires it.
If you want to make a change to your house that is prohibited by an Article 4, you will have to apply for planning approval. You can appeal against a decision, but you cannot appeal against an Article 4 Direction being applied to your house.
FAQs
How do I know if my property is in a Conservation Area?
In most cases, the fact that a property is in a Conservation Area will not be picked up by one of the basic searches during the conveyancing process. There is no national database of Conservation Areas — you will need to check with your local authority who maintains the list.
In some cases, local authority planning departments publish interactive maps on their websites which allow you to search for all planning legislation relevant to your property. Some allow you to perform a postcode search. Others are less sophisticated and publish basic information on their websites, in which case you'll need to put in a call to the planning department itself.
Can I carry out demolition?
Avoiding unwarranted demolition is the number-one priority for Conservation Area administrators. You will need planning permission in order to demolish a building in a Conservation Area unless:
the building is less than 115m³, measured externally (so most detached garages and other outbuildings are OK);
it's a gate, wall or fence less than 1m high abutting a highway or 2m high elsewhere;
it is a building built since 1914 and used for agriculture or forestry.
What constitutes demolition?
The boundary between alteration and demolition has been decided by the courts in a case known as 'Shimizu', which defined demolition as the removal of the whole building, not just part of it. Also, the removal of the building except the key frontage would amount to demolition. Again, worth checking with your local authority before you, or a contractor, gets the wrecking ball out.
In most practical cases, you would want to apply for demolition as part of a wider planning consent, e.g. knocking down part or all of a house to rebuild it.
Can I carry out changes to trees?
The usual rules governing work on trees subject to a tree preservation order (TPO) apply, but there is an additional layer. If you're living in a Conservation Area you will need to notify your local planning department if you intend to carry out work (e.g. lopping, trimming or cutting back) to any tree that has a trunk diameter of more than 75mm when measured at 1.5m above ground level. (Best to keep hold of a few photographs to provide evidence that the tree is thinner than this if you feel you want to press ahead.)
You'll need to do this six weeks before you intend to carry out the work in order to give the planning authority chance to slap a TPO on it. The form you need is called 'Application for tree works: works to trees subject to a tree preservation order (TPO) and/or notification of proposed works to trees in a conservation area'.
Continue reading this article
One-off payment: £4.99 for six months full access to The Planning Hub
The Planning Hub offers in-depth guides to planning permission in England, brought to you by Homebuilding's planning experts
Instant access to planning permission information, vital to the success of your project

Independant advice from leading Homebuilding & Renovating planning experts

Discover what you need to know to get your plans approved with minimum hassle

Get to grips with complex planning rules with our easy-to-read guidance
Continue reading this article
One-off payment: £4.99 for six months full access to The Planning Hub