14 Small House Extension Ideas: Great Ways to Make a Big Impact
By Amy Reeves
Build a little but add a lot; these small house extension ideas are a fantastic way to get inspired for what is possible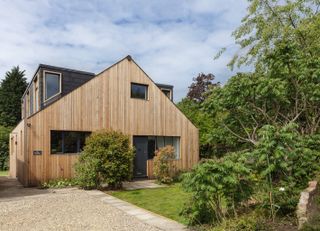 (Image credit: Simon Maxwell)
The best small house extension ideas don't just add new space, they transform existing rooms and layouts. 
Savvy designs for porches, side-return additions and rear extensions can all outsource undue stress put on awkward floorplans while reimagining existing spaces, such as lofts and garages, can add value to any size of home. 
(MORE: Beginner's guide to building an extension) 
1. Let a Small House Extension Enhance Existing Spaces
The downfall of many larger extensions is that the shiny new space because the central hub for all goings-on in the house, leaving other areas underused and neglected. 
This creative micro-extension (just 7m2)  achieved everything a bigger extension would – a modern open-plan living, kitchen and dining space with views out to the garden– but without the cost of major structural works. 
The money was smartly reallocated by MW Architects for bespoke joinery and high quality, frameless glazing which creates transformative throughviews throughout the ground floor, not just in the new space. 
(MORE: Get a tailored quote for your extension)
2. A Basement Might be the Solution to a Small House Extension
Turning your eye downwards to create new space can be a great idea where plot size is limited or where a loft conversion or rear extension is not possible due to height and size restrictions. 
This rather clever scheme by design practice Paper House Project excavated the ground around an uninhabitable cellar to create a new kitchen. The stepped courtyard and expanded lightwell brings light in, while a small porch extension replaced a dated lean-to. 
3. Add a Small Lean-to Side Return Extension
Building into the slender strip of space alongside terraced or semi-detached houses is tricky to get right but can make a massive improvement. 
While only taking up a small amount of usually wasted space to the rear, a side return extension offers potential to reorganise warren-like layouts. 
A key consideration to make is natural light. This small extension by Archer and Braun Architects utilises a fixed picture window, a large rooflight and contrasting pivot door to connect the kitchen to the outdoors. 
4. Look to the Front for Small Extension Ideas for Semi-detached Houses
This previously converted garage was largely demolished to make way for a new space designed by Shomera Architecture. The extension added around 8m2 to the front of the house, with a newly constructed bay window and zinc roof that ties into the existing house. 
To achieve a similar look, be sure to consider thermal efficiency standards for garage conversions and, if you want to build over a garage, check to make sure the foundations are suitable to carry extra load. 
5. Give the Exterior a Make-over When Adding a Small House Extension
While respecting the original materials of this terrace house, The Gentleman Architect designed a small side-return extension and dormer loft conversion which truly makes an impact. 
The Corten cladding to both additions elevates the existing house and makes the house feel as one. Large format sliding doors further help to modernise the previously dated property. 
6. Consider a Small Garden Room Extension 
Whether the purpose is as a new sitting room or home office, creating a garden room or outbuilding is without a doubt a great, and sometimes cost-effective, way to increase space. 
While similar projects as this gorgeous addition by Vale Garden Houses start at £35,000, alternatives can start at £10k — more than a shade cheaper than paying to demolish and rebuild walls!
7. Increase Space with a Small Link House Extension
When renovating this cottage, the homeowners chose to simultaneously convert the  derelict granary barn which sat adjacent. By linking with a small glazed extension, their design married old and new effortlessly. 
8. Replace Solid Roofing with Glass to Make Small Spaces Feel Bigger
By pairing flat rooflights with clerestory windows, what could have been a dark and pokey transition from some space to the next feels light and spacious in this semi-detached extension. 
(MORE: Window Styles)
9. Add a Porch for a Charming Small House Extension
Porches are an incredibly practical way to extend a home, without the cost or labour associated with bigger projects. Adding a small addition like this can often be completed under Permitted Development (within limitations) but can add some handy square footage to the floorplan and improves kerb appeal.
This gable end porch by Anglian Home Improvements creates the perfect spot not just to rummage around for keys, but also to house pesky boots and coats. 
10. Think About the Costs of a Small House Extension
Eager to add space but also keep to their budget, the owners of this terrace chose to retain their kitchen's position and add a small dining area adjacent.
Internal windows and existing door frames were also updated so their costs for demolishing the existing structure were reduced.
Also, by opting for a smaller extension, the garden remains a decent size while pergola make great use of the courtyard area. 
11. Going up with a Small Roof Terrace Extension
For city-dwellers tired of having postage stamp sized gardens – or worse, no outdoor area at all – a roof terrace extension could be just the ticket.  
12. Build a Living Room Extension
Create a separate sanctuary space with a new extension, like this addition to a medieval cottage. 
Acting as a cosy retreat from the main house, the new room has been sensitively incorporated into the original build with timber cladding. 
13. Creating a Porch with a Difference
This glass box extension was designed as a twist on a conventional porch. Built on a brick platform to create a view of the garden, the structural glass box costs £16,000 from Cantifix.
14. Extending into the Loft 
Going up, rather than out, can be a cost-effective way to adding space, but not all loft spaces are suitable and require a dormer or mansard extension to add some needed head height. 
This unassuming bungalow was transformed into a four-bed family home by Sketch Architects. 
Get a Tailored Quote for Your Extension
Homebuilding.co.uk partners with the UK's best extension specialists to match your requirements with their services. Simply answer a few questions on what you need from your extension and we'll put you in touch with a suitable partner.
How It Works
1. Enter your details below. Tell us a bit about your project and what you are looking for, and leave some contact details.
2. We search our database. We'll match your requirements with the products and services that our partners offer.
3. Partners will contact you. Don't worry about being bombarded - only the suppliers that match your requirements will contact you.
Editorial Assistant Amy began working for Homebuilding & Renovating in 2018. She has an interest in sustainable building methods and modern rustic interior design. She is on the lookout for a potential step onto the property ladder in the form of a budget renovation project, but for now settles on filling her Pinterest board with ideas for the future.
Homebuilding & Renovating Newsletter
Get the latest news, reviews and product advice straight to your inbox.
Thank you for signing up to Homebuilding. You will receive a verification email shortly.
There was a problem. Please refresh the page and try again.