21 small house extension ideas that will make a big impact
Build a little but add a lot; these small house extension ideas are a fantastic way to get inspired and to find out how much can be added by going out a little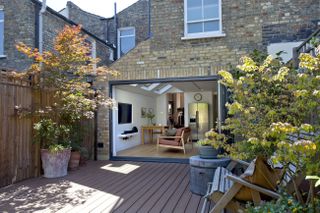 (Image credit: Fraser Marr)
The best small house extension ideas don't just add new space, they can transform existing rooms and layouts too if a holistic approach is taken.
Savvy yet small house extension designs for porches, side-return additions and rear extensions can all lighten undue stress put on awkward floorplans. While reimagining existing spaces, such as lofts and garages, with a small extension can add space and value to any size of home.
Find out the possibilities for adding a little to make a mighty impact and how to assess your home for the most transformative mini addition.
How to unlock potential with small house extension ideas
"You can do some really meaningful prep work before you meet with your designer," advises architect Camilla Monk, founder of Architecture: Ventures.
"First build a comprehensive list of issues/difficulties that your home presents as it is; this is the backbone of the brief. Maybe there's nowhere to store coats, you need another bedroom for guests, there is always a queue for the bathroom... This will guide the decisions that will lead to the type of extension you need and the solution to these issues.
"Relatively small additions in floor area can have a big impact on your home, especially when that extra space is well considered and perfectly positioned in relation to the existing floor space."
1. Work out what will work best for your home with a small extension
If you're only looking to add a little when building an extension, try not to get carried away by looking at sprawling, bank-breaking images for inspiration. When building an extension to a house, especially one you have inhabited for some time, it can be tempting to want to make huge changes.
However, often small, strategic extensions can unlock the property's potential more effectively (and for a smaller extension cost). Narrowing down where you would like to add a small bit of extra space can make initial searches into designs, styles and ideas far more productive.
This typical terrace house in London was carefully extended to the side in order to create picture windows for a greater connection to the long garden.
2. Introduce natural light with a small extension
Although many homeowners think they need more space in their floorplan, they actually need more light, better storage and a good sense of flow.
Unpicking lifestyle habits is a good place to start when seeing how each of these can be improved. Make notes on when you spend time in each rooms, how much time you spend in there and the pathways you use to move through the house.
Resolving some congestion issues around these areas will inform how to go about a small extension and where the best use of your time is.
In this classic terrace home, a tiny side extension by Bradley Van Der Straeten Architects – just 8m2 – with plenty of windows for natural light has reorganised the layout and how the homeowners interact with the spaces. Built-in joinery provides for their previous storage problems while the narrow hallway at the front of the house has a clear, straight through-line to the open-plan kitchen diner.
3. Think outside the box with a small extension
While the phrase 'go big or go home' doesn't quite work in this context, a great idea for small extensions is to give them a strong identifying feature. This could be through an interesting cladding type, a striking interior material or an unusual architectural form/shape.
Utilising the 12m2 footprint of an extension poorly-insulated extension Can Architects created a creative and imaginative glass extension to connect the house to the garden.
Off-the-shelf I beams were used to create the external steel frame and to open out glass extension to the garden. A secret chamfered pocket door also slides neatly away behind the brick wall.
4. Combine a small extension with a layout reconfiguration
One thing to remember with all layouts is that any room can be use for any purpose. Obviously, where kitchens and bathrooms are concerned this can affect price and ease of access to plumbing and services, but on the whole, bedrooms can become living rooms, wardrobes can become en suites or utilities and so on.
Really analysing what you need from your home and how the house extension ideas can best serve this will help you pull together a brief for your architect.
This terrace has had a long, narrow single storey extension added into the side return, creating a warm kitchen diner at the rear that is well connected the to newly reconfigured rooms at the front. The design was by Amos Goldreich Architecture.
Building into the slender strip of space alongside terraced or semi-detached houses can be tricky to get right but can make a massive improvement.
While only taking up a small amount of usually wasted space to the rear, side return extensions like this one offer potential to reorganise warren-like layouts.
5. Introduce character with a small extension
Give your small extension purpose and functionality — you don't want to spend all of that money and time in making something which just blends in with the rest of the house.
This small extension (just 12.5m) by FAB Architects extended the kitchen and living spaces to create a broken-plan dining space overlooking the garden. A characterful porthole encourages natural light to infiltrate the deeper floorplan.
A small garden office was also built to outsource homeworking, alleviating strain put on the terrace home. It matches the extension in design and size, down to the porthole to a through view is created between the live and work spaces.
6. Look to the front for a small storage extension
While we tend to think automatically of side or rear extension ideas, extending to the front can provide opportunities for a new porch, storage space or home office.
These types of extension can often be the most underrated as while they don't offer a flashy new kitchen, they can utterly transform how the house provides for its inhabitants.
When extending this semi-detached house, a small sympathetic lean-to side addition was added, creating much-needed extra room for storage, a new cloakroom and utility which seamlessly alleviated other high-traffic and cluttered areas.
7. Use a small extension for a new social space
Consider opening up alongside a small extension to create a larger, more sociable kitchen. Kitchens don't need to be big to be functional or stylish, but giving yourself enough space to incorporate a breakfast bar island, or a clear view to a seating area, will reduce time being stuck cooking while the fun is going on elsewhere.
In love with their Victorian terrace but desperate for a change from the dark, dingy and cold kitchen it came with, the homeowners delicately added a small kitchen extension to provide the extra space they were looking for.
Rooflights and a stylish kitchen have created a new heart of the home and thanks to the homeowner's DIY efforts, the whole project came in at £45,000.
8. Add something special to a small extension
Make your small extension feel special by getting creative with run of the mill elements (such as a fireplace or ceiling height), or by investing in a feature that will frame a view, like a door or window.
Inspired by a curved brick wall in the garden that was used to store bikes, The D-Haus Company knocked through and extended into the small garden space, adding a bright and innovative kitchen space.
Enlarging the back door opening to make way for a striking pivot door and installing a large skylight above the dining table has further transformed the space.
9. Open a small addition up to the garden
To make a small extension feel bigger, focus on how you can extend living spaces to the outside. Wide opening bifold or sliding patio doors are ideal for this, or even just a strategically placed picture window you can see while cooking or cleaning.
Rethinking the layout of the original kitchen of this terrace has created a more useful kitchen/living area without needing to sacrifice garden space.
During the building works, the homeowner carefully planned a new garden design and landscaped the outdoor space himself so when the large bifolding doors are stacked back they open onto a tranquil Japanese-inspired space that provides further living opportunities.
10. Keep an eye on budget
Keeping an eye on finances during any sized extension is the key to a successful project, especially with materials prices rises of recent years inflating expenses at every turn.
Small extensions still require professionals for the structural engineering advice, and ideally the build process — although some tasks can be undertaken on a DIY basis to keep costs down.
11. Upgrade all internal spaces for a transformative small house extension
The downfall of many larger extensions is that the shiny new space becomes the central hub for all goings-on in the house, leaving other areas underused and neglected.
This creative micro-extension (just 7m2) achieved everything a bigger extension would – a modern open-plan living, kitchen and dining space with views out to the garden – but without the cost of major structural works.
The money was smartly reallocated by MW Architects for bespoke joinery and high-quality, frameless glazing which creates transformative throughviews throughout the ground floor, not just in the new space.
12. Look down for a compact conversion
Turning your eye downwards to create new space can be a great idea where plot size is limited or where a loft conversion or rear extension is not possible due to height and size restrictions.
This rather clever scheme by design practice Paper House Project excavated the ground around an uninhabitable cellar to create a new kitchen. The stepped courtyard and expanded lightwell brings light in, while a small porch extension replaced a dated lean-to.
13. Contrast a small extension for maximum impact
While under permitted development any extension must fit in with the existing style of the house, it can often be worth applying for full planning permission to experiment and contrast the original house using different cladding types.
Use the tones and materials of the house and surrounding areas to inspire a new look — as the new spaces are so small a pop of something new can be a welcome change.
This small extension by Archer and Braun Architects utilises a fixed picture window, a large rooflight and contrasting pivot door to connect the kitchen to the outdoors. However, it is the black engineered brick which makes this side return extension idea really special.
14. Extend into a garage to improve kerb appeal
This previously converted garage was largely demolished to make way for a new space designed by Shomera Architecture. The extension added around 8m2 to the front of the house, with a newly constructed bay window and zinc roof that ties into the existing house.
To achieve a similar look, be sure to consider thermal efficiency standards for garage conversions and, if you want to build over a garage, check to make sure the foundations are suitable to carry extra load.
15. Introduce luxurious materials to a small extension
Adding pops of interest where a more luxurious or interesting material can work really well with small extensions. As the surface area will be lower the investment might not break the bank, unlike a larger space.
While respecting the original materials of this terrace house, The Gentleman Architect designed a small side extension and dormer loft conversion which truly makes an impact.
The Corten cladding to both additions elevates the existing house and makes the house feel as one. Large-format sliding doors further help to modernise the previously dated property.
16. Look to the garden for an extension of space
Whether the purpose is as a new sitting room or home office, creating a garden room or outbuilding is without a doubt a great, and sometimes cost-effective, way to increase space.
While similar projects to this gorgeous addition by Vale Garden Houses start at £35,000, alternatives can start at £10k — more than a shade cheaper than paying to demolish and rebuild walls!
17. Join up outbuildings with a small link extension
Sometimes a small extension can link to redundant outbuildings to really maximise the space already existing. If you have a detached garage nearby or a structure that was once used as an outhouse (think Victorian terraces and listed buildings), converting and joining these with the original house will give you more bang for your buck.
When renovating this cottage, the homeowners chose to simultaneously convert the derelict granary barn which sat adjacent. By linking with a small glazed extension, their design married old and new effortlessly.
18. Improve first impressions with a porch extension
Porch extensions are an incredibly practical way to transform a home, without the cost or labour associated with bigger projects. Adding a small addition like this can often be completed under permitted development (within limitations) but can add some handy square footage to the floorplan and improve kerb appeal.
This gable end porch by Anglian Home Improvements creates the perfect spot not just to rummage around for keys, but also to house pesky boots and coats.
19. Manage costs during a small house extension project
Eager to add space but also keep to their budget, the owners of this terrace chose to retain their kitchen's position and add a small dining area adjacent.
Internal windows and existing door frames were also updated so their costs for demolishing the existing structure were reduced.
Also, by opting for a smaller extension, the garden remains a decent size while pergola make great use of the courtyard area.
20. Convert a loft with a dormer or mansard extension
For city-dwellers tired of having postage stamp sized gardens – or worse, no outdoor area at all – a roof extension could be just the ticket.
Loft extensions can provide new bedrooms, bathrooms and home offices, while making the most of the original footprint.
This terrace flat underwent a mansard loft conversion and extension to create a new master suite and an impressive roof terrace garden.
21. Create a cosy retreat with an oak frame extension
Create a separate sanctuary space with a new oak frame extension, like this addition to a medieval cottage. A change in building material will encourage a beautiful contrast that ensures the small extension has a personality of its own.
Acting as a cosy retreat from the main house, this new room has been sensitively incorporated into the original build with timber cladding.
Get the Homebuilding & Renovating Newsletter
Bring your dream home to life with expert advice, how-to guides and design inspiration, direct to your inbox.
Assistant Editor Amy began working for Homebuilding & Renovating in 2018. She has an interest in sustainable building methods and always has her eye on the latest design ideas. Amy has interviewed countless self builders, renovators and extenders about their experiences for Homebuilding & Renovating magazine. She is currently renovating a mid-century home, together with her partner, on a DIY basis, and has recently fitted her own kitchen.