What is a Project Manager?
By Bob Branscombe published
Bob Branscombe, a professional project manager, explains what it is he actually does… and why a professional PM might be the most important person on your project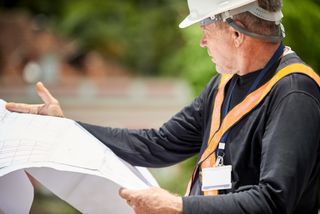 (Image credit: getty images)
A project manager is a role widely understood in most industries — and construction is no different: it is the person who oversees and coordinates everyone else.
They are not necessarily the most technically gifted, or the best designer or builder, but the good ones are able to recognise that their role is to coordinate and manage the best people to carry out the project and keep full focus on the external factors which often get forgotten.
What Does a Project Manager Do?
A professional project manager (PM) may well have an additional role in the project, such as being the architect or quantity surveyor, for example, but this does not take away from the skills that they will bring once they put their PM hat on, and these include:
Managing the day-to-day running of the building site
Bring design and technical expertise to the project
Managing the health and safety of the site
Handling the contracts for all involved
Manage trades and contractors
Assist with legislative compliance
Provide you with access to a network of contacts
Bring experience to the project
Manage materials and plant
Provide a sounding board
Ensure compliance with the project specs
How to Hire a Project Manager
Finding a good project manager is akin to finding gold, but worth the hunt — look at a variety of sources relating to each individual and then hone in on the one you prefer.
Start with a trade association/professional body to establish the high level credentials. The Association of Project Managers and RICS are both accredited bodies for professional project managers, and their websites are excellent places to start
Look at their credentials and experience, and make sure you meet with them — these days we tend to exist online, and forget that face to face is the best way to establish trust and confidence. Ask about their previous schemes, engage with them and look to build that trust
Personal recommendation is always a good source of course, but remember that every self build scheme is different, and the myriad of circumstances that affect projects and the people involved vary widely — don't just go on someone else's opinion only, use your own instinct, eyes and thinking
How Much Does a Project Manager Cost?
The fees payable are generally estimated in the first place by a percentage proportion of the estimated cost of the project — this gives the PM an idea of the fee level they are quoting you.
Prior to appointment however, make sure you convert this estimate into a fixed lump-sum agreement for the services, otherwise you are at the mercy of rising construction costs and variations which will compound in the fees you are paying!
It is naïve to say that they will save you money. What I would suggest however, is that a good PM will cover their fees in avoiding mistakes and issues that would otherwise occur. The corollary of this adds value, and as such the smooth running and successful outcome of the project more than offsets the potential risks and costs which the PM is there to avoid.
Bob is one of the UK's leading Chartered Surveyors and with over 30-years' experience in both self build and construction. A career spent with several main contractors and major surveying consultancies has helped reinforce his approach that cost-estimating and control are a fundamental tenet of self-building.
Homebuilding & Renovating Newsletter
Get the latest news, reviews and product advice straight to your inbox.
Thank you for signing up to Homebuilding. You will receive a verification email shortly.
There was a problem. Please refresh the page and try again.