SAP Calculations: What Are They and Why Do You Need Them?
By Tim Pullen published
SAP calculations are a critical part of your new build (and some extensions) meeting Building Regs. But what exactly are they?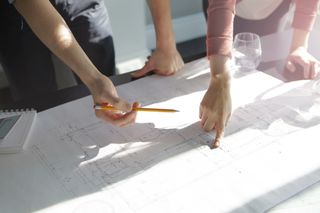 (Image credit: getty images)
SAP calculations are, in essence, an important measure of a home's energy efficiency, and used to inform a number of initiatives, including Building Regulations, Stamp Duty exemption for zero carbon homes and Energy Performance Certificates, to name but a few.
SAP calculations were first introduced in 1992, before being included in Part L of Building Regulations back in 1994 — This means that a lot of developers, architects and builders are familiar with them.
Yet, for a first time self builder (or if your extension or conversion requires them), SAP calculations are yet another new area that present a challenge to your project.
SAP calculations aren't going anywhere soon though. The government has recently published a document setting out how SAP (and Reduced Data SAP in the case of EPCs) will be changed to move us towards zero carbon homes.
Bearing in mind that slightly over 20% of all CO2 emissions in the UK are from housing, according to the Department for Business, Energy and Industrial Strategy, and the reluctance with which big builders have taken on the issue, tightening the regulations can only be seen as a good thing.
Get to know more about SAP calculations and what they mean for your self build, extension or conversion with this guide.
What are SAP Calculations?
SAP calculations, otherwise known as Standard Assessment Procedure, are a means of establishing the energy and CO2 performance of a dwelling against a set of standard criteria, and thereby if the dwelling complies with Part L in England and Wales, Section 6 in Scotland and Part F1 in Northern Ireland of the various Building Regulations.
(MORE: Need a SAP calculation? Find a expert assessor near you)
When Do I Need SAP Calculations?
SAP calculations necessary for all new build projects and for extensions and conversions that fall within the scope of the Building Regulations.
Do I Need SAP Calculations for an Extension?
Not necessarily. When building an extension, Building Regulations dictate that no more than 25% of the new floor area should be glazed areas, as glazing is less thermally efficient and therefore loses more heat. However, there are many modern glass box extensions, for example, which defy this rule. If you want to create an extension with more than the 25% restriction set out by Building Regulations, you'll be required to undertake a SAP calculation.
Under Part L1B of Building Regulations, there is a more flexible approach to SAP calculations for extensions, which looks at comparing a notional version of the extension capped at 25% glazing and to the exact specification of Building Regs with how the extension will actually be built. If, by means of over-specifying other elements of the extension, it can be proved that the extension will produce no higher CO2 levels than the notional, Building Regs spec extension, then it may be certified by Building Control.
What Do SAP Calculations Measure?
Across the England, Wales, Scotland and Ireland, the process is largely the same in that the SAP calculation determines the Dwelling Emission Rate (DER) — the CO2 emissions likely to be produced by the building, as designed — and Dwelling Fabric Energy Efficiency (DFEE) — which determines the amount of energy needed to maintain a comfortable internal temperature — for the property in question.
It then compares these against the standards, the Target Emission Rate (TER) and Target Fabric Energy Efficiency (TFEE) and, perhaps unsurprisingly, the DER and DFEE need to be lower than the TER and TFEE to gain a PASS.
In Scotland and Wales only the DER is calculated and compared to TER, although the regulations in this area are far stricter.
How is a SAP Calculation Undertaken?
The information required by the SAP assessor is very detailed and, at the design stage, will include:
A full set of construction drawings, including a site plan
A full specification of the project including details of the construction method
Details of the type and thickness of the insulation to be used
The target airtightness
Details of windows and doors to be installed including proposed U-values and any glass coatings
Details of the heating system and hot water storage
Percentage and type of low energy lighting
Details of the ventilation system
Details of any renewable energy systems to be installed
A SAP assessment in fact needs to be done twice; first at the design stage, to highlight any potential issues and to ensure the design and specification are Building Regulations compliant, which is necessary to enable building work to start.
The assessment is carried out a second time at completion of the project, called the As Built Report. This report takes into account any details that were not available at the design stage, e.g. specifics like the actual model of the boiler or heat pump installed and the actual airtightness achieved. It also deals with any changes to the original specification and how the dwelling was actually built, as signed-off by the Building Control Officer.
It should be noted that both of these need to achieve a PASS.
How Can I Improve my SAP Calculation?
At the design stage changes are fairly easy and the SAP assessor is likely to suggest means and methods of achieving compliance.
At the As Built stage it is a different story. Remedial action necessary to achieve compliance is likely to be difficult, expensive and disruptive. It happens, generally, as a result of poor workmanship or more usually where the client or owner changes their mind about some detail of the specification and no one checked if it was OK.
There can also be issues in extension and conversion projects, which can be more 'seat-of-the-pants' than a new build.
What is the Difference Between a SAP Calculation and an EPC Rating?
The SAP assessment is used to calculate an Energy Performance Certificate (EPC) and, like the EPC, is a means of controlling and enforcing the ongoing reduction in both energy consumption in and CO2 emissions from housing.
(MORE: What is an EPC?)
How Much Do SAP Calculations Cost?
SAP calculations are relatively inexpensive, with costs ranging from around £100-£150 for a large detached house, extension or conversion.
Tim is an expert in sustainable building methods and energy efficiency in residential homes.
Homebuilding & Renovating Newsletter
Get the latest news, reviews and product advice straight to your inbox.
Thank you for signing up to Homebuilding. You will receive a verification email shortly.
There was a problem. Please refresh the page and try again.