Permitted Development: A Guide to Building Without Planning Consent
Permitted Development rights grant homeowners the option to extend without full planning permission. Find out if your project falls into this category with our comprehensive guide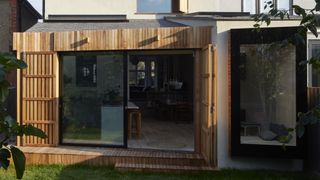 (Image credit: Edmund Sumner)
Permitted Development (PD) grants homeowners the right to renovate or extend without having to apply for full planning permission, which can cut a lot of red tape out of the home improvement process. 
There are, of course, caveats which carry restrictions and criteria that must be met for a project to qualify for Permitted Development, so it pays to know what they are and how PD could work for your project. 
Our guide to PD will help you navigate and establish if your project is eligible.
What is Permitted Development?
What Does Permitted Development Mean?
Planning Reforms
The Government's planning reforms propose relaxations to PD rights so it's worth keeping an eye on developments.
Permitted Development (PD) grants rights to enable homeowners to undertake certain types of work without the need to apply for planning permission. It means it's quite possible that building works like the addition of an extension or outbuilding, for example, might fall under the terms of Permitted Development.  
This implied consent of Permitted Development is granted in the form of General Development Planning Orders (GDPOs) which apply separately to England, Wales, Scotland and Northern Ireland.
Is There a Limit to Permitted Development Rights?
All Permitted Development requirements apply to the dwelling as it was originally built, or as it stood on 1st July 1948 and as such, there is a limit to how many changes you can make to your home under PD. Unfortunately, the slate is not wiped clean when you buy a home — any space added by past owners since 1948 counts towards your Permitted Development allocation.  
Do All Extensions Fall Under Permitted Development?
No. The size of the proposed extension and its location, as well as the type of windows you plan on including, will all play a part in whether it's permissible under PD. Larger extensions are likely to require planning permission. 
Our guide to building an extension explains the rules in more detail.
However, understanding PD rights can be really helpful if you make a planning application for something that is just a little larger than PD allows. This is because the council is duty-bound to compare what you want with what you can do anyway. 
If PD would allow you a certain size of extension and what you want to build is a few meters higher or longer, remember that the council can only actually assess the impact of those additional elements. The fall back is your PD, and they cannot prevent that, so it's only the additional amount that they can legitimately object to. 
What Restrictions are There with Permitted Development Rights? 
Join The Planning Hub
The Planning Hub is a new online resource that will help you understand how to get to grips with complex planning rules. Join today for access to easy-to-read guides which will provide you with key information to help you navigate the planning system.
PD Rights do not apply to flats or maisonettes due to the impact that any alterations could have on neighbouring properties.
If your house is located in a Designated Area, such as a National Park, Area of Outstanding Natural Beauty or Conservation Area then your Permitted Development rights may be restricted or removed under what is known as an Article 4 direction. This is where rights have been removed in the interest of maintaining the character of the local area. This could also be the case if your property is listed.
Alternatively, if you're planning to self build a replacement dwelling and your proposed new home is bigger than the existing house on site, then your Permitted Development rights are likely to be restricted or even removed on condition of granting planning permission. 
For more details on the rules see the Planning Portal.
Should I Check my Project Falls Under Permitted Development Rights with My Local Authority?
Yes. Do double check with your local authority or get confirmation from a qualified surveyor that your proposed works are classed as Permitted Development before you begin. 
If your project falls outside the scope of permitted development, you will need to apply for planning permission. 
Prior Notification
What is Prior Notification and How Does it Form Part of Permitted Development? 
Prior notification is a form of Permitted Development whereby the local planning authority must be notified of the details prior to development taking place. 
Although prior notification is a form of PD, the process is a lot more involved.
Under a prior notification application, the LPA often has the opportunity to determine:
whether they consider the proposal to constitute conversion as opposed to rebuilding
whether the materials used are appropriate
whether the proposal would be broadly in line with the objectives of the National Planning Policy Framework
and whether there might be other associated impacts such as contamination, noise, flooding etc. 
However, these rules do allow for a number of projects to be completed without planning permission.
Prior notification can also be used to change the use of non-residential buildings to residential purposes. It can be used to change buildings from one commercial use to another, too.
For a larger extension, a prior notification application costs £96. Visit the Planning Portal for more information on fees.
Lawful Development Certificates
What is a Lawful Development Certificate And Do I Need One? 
Important Note
A Lawful Development Certificate is not a planning permission.
The tricky bit about Permitted Development is being 100% certain you've interpreted the rules correctly. The way to be certain is to apply for what's called a Lawful Development Certificate. 
You provide full details of what you intend to do, explaining how it complies with Permitted Development and submit this application to the council. It's not a planning application, it's a determination by them that what you want to do complies with the PD regulations. It takes about the same length of time as a planning application, but it's not discretionary based on planning officers' opinions or neighbour objections; it's a legal determination that you're doing something in accordance with the rules. It's a good way of being certain and when it comes to selling your house you can prove that it was all legal.
The cost of an LDC for proposed use or development is half the normal planning fee.
Categories of PD Rights
How Big Can an Extension be Under Permitted Development Rights?
Householder PD rights fall into different categories depending on the work being planned. These are:
Class A – Extensions (enlargement, improvement or alteration) 
This allows a householder to build a single-storey side extension up to half the width of the existing dwelling; a single-storey rear extension up to 4m in length for a detached dwelling and 3m long for a semi or a terrace house; and, in certain circumstances, 3m two-storey rear extensions.
The changes that took effect on 30 May 2019 now make permanent the decision that larger single-storey rear extensions of up to 8m (6m for semi or terrace) are permissible under Class A — but do require prior notification (see 'Lawful Development Certificates are key').
Class B – Additions to the roof 
This allows for rear dormers and hip-to-gable extensions as long as the additional volume created does not exceed 50m3 (40m3 for semis and terraced homes).
This allows for an outbuilding to be erected within a residential curtilage as long as it is sited behind the principal (often the front) elevation, does not cover more than 50% of the curtilage and is not more than 3m in height (4m for a dual-pitched roof; 2.5m where within 2m of a boundary).
There are also specific regulations relating to Hard Surfaces (Class F), Chimneys & Flues (Class G) and Microwave antennas (Class H).
What You Can and Can't Do Under Permitted Development
What Projects Fall Under Permitted Development?
The scope of your Permitted Development rights are varied and cover both internal and external works, but there are strict design criteria that need to be adhered to. If your project falls outside of the set criteria, then it is likely you will need to submit a planning application.
Some home improvements that you can make under Permitted Development include:
Building a porch 
Internal alterations 
Convert and occupy the loft space 
Installing microgeneration equipment such as solar panels (apart from wind turbines) 
Installing satellite dishes and erecting antenna 
Adding rooflights or dormer windows 
Extending at the back of your home 
(MORE: 23 Things You Can Do Without Planning Permission) 
What Projects Aren't Covered by Permitted Development?
Mansard Loft Conversion
Adding a box-like mansard extension to your loft will more often than not exceed the size restrictions allowed under PD rights for loft conversions and would therefore need consent from the local authority.
If you plan on building a new house or creating a new dwelling by subdividing another property, for example, it is likely you will not be covered by your Permitted Development rights and you will need to make a planning application. 
Similarly if you want to make changes to a listed building or property in a designated area, then it is probable that permitted development rights will be restricted. Always check with your local planning authority before starting to work.
FAQs
Do I Still Need Building Regulations Approval for Work Classed as Permitted Development? 
Yes. Building Regulations relate to the building work itself and not the permission to carry out the work, so your work must still comply with the stipulations of the Regs. It's worth noting that if you need to submit a building notice or full plans application to your local authority building control, fees will also apply. 
Can a Neighbour Object to Work I Carry Out Under PD? 
While a neighbour can object to any proposed changes to your home, the LPA will only be concerned with any objections that relate to material matters. To help avoid objections, keep your neighbours informed of your plans and listen to their concerns. If you can alleviate their concerns with small tweaks that don't compromise your overall design, it's well worth doing. 
If any of your proposed works involve a party wall, you may need a party wall agreement. 
What Happens if I've Built Assuming Permitted Development Rights, But Actually Should Have Sought Planning Permission? 
If, once an extension or outbuilding etc. is constructed, the LPA determines that the proposal does not comply with PD regulations then you may be faced with enforcement action, which would normally result in a request for a retrospective planning application. 
Should permission be refused there is a real likelihood that any extensions or associated works would be required to be demolished. As such, confirmation in the form of the Lawful Development Certificate is highly recommended.
Editor's Note: Homebuilding.co.uk partners with the UK's best extension specialists to match your requirements with their services. Simply answer a few questions on what you need from your extension and we'll put you in touch with a suitable partner.
Homebuilding & Renovating Newsletter
Get the latest news, reviews and product advice straight to your inbox.
Thank you for signing up to Homebuilding. You will receive a verification email shortly.
There was a problem. Please refresh the page and try again.