How to Prepare Tender Documents
By Bob Branscombe published
Comprehensive tender documents are key to achieving competitive prices for a build. But what should a tender pack contain? Bob Branscombe explains and we include a handy template tender letter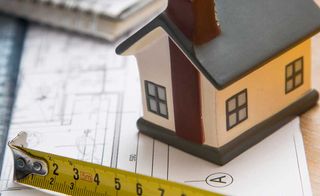 (Image credit: iStock)
The aim of going out to tender for works is to obtain a fair and competitive price from the market to achieve the project you are proposing. The problem with this is that the variables are limitless, and the basis of your enquiry is fundamentally flawed, being open to interpretation, tactics and assumptions.
The need for comprehensive, well thought-out tender documents is essential, both in terms of receiving realistic prices for your project, and in ensuring your project remains in line with the projected budget when it goes on site.
Read on to find out exactly what to include in your tender letter and how to go about the process.
What to Include
In simple terms, you need to write down what you want. This is more complex than at first glance, as you need to incorporate the various influences on a project, which may include the specification, the drawings, the performance requirements, the legislative framework and permissions (planning, Building Control, etc), timescales and method of procuring this.
To plan the project properly, the contractors will need:
A framework to cost the job
A timescale to price the work, mobilise for the work, and physically carry out the work
A copy of the legislative framework
A commercial incentive to carry out the works — contractors are in the business of making a profit, after all. Recognise this and be mindful of the attractiveness or not of your scheme
The pack will need to contain these key documents:
Building Control suitable drawings
Specification
Programme of works
Cost framework/contract sum analysis
Any site or time-specific issues (working hour restrictions, for example)
Agreed process for payment and valuation of works completed
Planning permission compliance locked into the works
Any other legislative requirements locked in to the proposed contract
Invitation letter setting out the tendering process and timeline
The point of the documentation is to avoid assumption and 'want of knowledge'. Make sure the documents are consistent with each other, too, again to avoid the opportunity for interpretation.
Your goal is to get a price that is comprehensive, realistic and comparable with the rest of the market to understand if you are getting best value. You can always tweak and alter the works before going into contract, but the tender process should be controlled and consistent across the tendering companies.
Inviting Builders to Tender
It is advisable to initially approach at least four (ideally six) informally, to brief them about your scheme and to gauge interest. You should ideally seek these six out by recommendation, personal knowledge and reputation, but it never hurts to throw an unknown 'wild card' into the mix as it may well assist in flushing out the most competitive price, as newer companies are keen to break into markets.
Having whittled the list down via conversations and gauging interest, you will probably have three to four companies who have agreed to tender. These will form your list, and will all be sent a pack of documentation.
What to Request
As well as a costed and detailed return relating to your work, there are additional supporting documents that you should request as part of the tender return from your contractors. These include:
Evidence of public and employers' insurance
Contractors' all risks insurance
Professional reference from previous clients or consultants
Details of similar previous projects
Key personnel who are likely to be involved in your scheme
Key subcontractors used
Any exclusions from the tender, ie items which are not included in the bid.
When you start the tendering process it is not unusual to have a couple of companies drop out and decline to tender. Don't be offended or take it personally. It is very common and simply a consequence of a very busy workload and the cost of tendering if the contractor decides they don't want/get a job.
Once the documents have been sent, give each contractor a follow-up call to check if they have everything they need. It's an interesting phenomenon that human contact gets results — having a person you speak to by name will ensure they are more personally committed to your project. Email is impersonal and easy to ignore or decline.
Setting a Timeframe for the Return of Tenders
Be realistic and speak to your contractors prior to sending out enquiries, find out their time concerns, and set a tender return period accordingly. Anything less than three weeks is, in my view, inviting a heavily caveated tender return that will then require four more weeks of negotiation to get right.
They need to take receipt of the documentation and appraise them before sending on to specialist subcontractors for their costings. Once these prices are back and the contractor has measured and understood all their direct works, they will collate the price.
I would caution against setting too short a timescale and remember the tendering process is affected by several factors:
Your desire for a quick response
Your programme requirements
The tendering contractors' appetite for the work
The tendering contractors' time commitments
The tenderers' supply chain
Analysing Tender Returns
When looking properly at your tender returns, it makes sense to create a spreadsheet to compare each price. You can take the contract sum analysis that your contractors will have completed, and use this as a basis for accurate comparison.
Immediately you will be able to understand exactly how different contractors have apportioned costs, see any omitted items and any areas of immediate concern. Typical things to look for include:
The overall cost of the works may be as expected, but when carrying out this analysis you notice that one contractor has a much higher cost for foundations than the others, and decorations are a lot cheaper. Why?
This can be a tactic whereby the contractor is hedging their bets against the typical problems found on site. When issues arise during the excavations, any extra costs will generally be proportional to the amounts allowed in the tender, which if artificially inflated, may bring in additional profits.
Equally, when you have had a lot of additional costs early on, you will be keen to save money, and the decorations are a simple DIY task in the main. Omitting these from your contractor to save money takes away some of their anticipated profits. Therefore, if they have deflated these costs they may well be looking to hedge against this. Call me cynical, but I have certainly seen this on many occasions.
Once scheduled out and compared, you can look at the items that may not be included. To get a full comparison between your tenderers, you will need to 'plug' those missing items back in with an allowance commensurate with the other contractors to get a comparable price.
PC (prime cost — denoting items that have yet to be finalised) and provisional sums need to be identified and considered. If the contractors have made certain items provisional, you need to check that they have allowed the same amount of money for a true comparison between them at this stage. Therefore, if necessary 'plug' the same provisional sum into all the tenders.
The aim is to get a level playing field where each bid has been understood and balanced with the others to get a true picture of the costs. At this point, you can now better appreciate the likely costs of the work, and select those contractors who you wish to engage with further —normally the lowest two.
You will then be able to 'interview' them further about their bids ­— flush out the items you think are limited, and try to get them to firm up the provisional sums by agreeing to fixed prices for these items so that you are ensuring that all the 'known unknowns' are established, interrogated and processed.
You are now ready to start…
Bob is one of the UK's leading Chartered Surveyors and with over 30-years' experience in both self build and construction. A career spent with several main contractors and major surveying consultancies has helped reinforce his approach that cost-estimating and control are a fundamental tenet of self-building.
Homebuilding & Renovating Newsletter
Get the latest news, reviews and product advice straight to your inbox.
Thank you for signing up to Homebuilding. You will receive a verification email shortly.
There was a problem. Please refresh the page and try again.