Self Build Insurance: Do You Really Need It?
Self build insurance ensures you, your contractors and your home are all protected in case the worst happens during your build. Here's what you need to know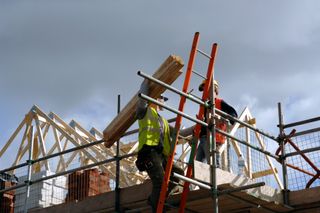 (Image credit: getty images)
You'd be surprised how many people don't have adequate self build insurance, especially given the fact that a new home is quite likely to be the single biggest investment in a self-builder's life.
To risk it without proper insurance could leave you in a desperate financial situation, especially if you consider that just one mishap could leave your project in dire circumstances.
This guide explains everything you need to know about self build insurance, from why and when you need it and what your policy should cover.
(MORE: Get a quote now to protect your self build project)
What is a Self Build Insurance Policy?
A self build insurance policy is a specialist insurance products that covers you, your builders and your building site during the construction process, as well as your new home, at whatever stage of the build it's at.
A good self build insurance policy will include, but not be limited to:
Contractors All Risk: This element of the insurance policy provides cover for general mishaps such as fire, theft, vandalism, flood and storm damage
Employers' Liability: Anybody working on your site is deemed to be an 'employee' for insurance purposes and, as such, as the main contractor you are liable for their welfare and for any injury, loss or death while they are working for you
Public Liability: Damage, injury or loss that is suffered by third parties or members of the public is covered by this section. Those who own land which they intend to eventually develop would be well-advised to have a policy limited to public liability in place. Most of the self build insurance specialists will be able to arrange this, with it converting to a full site insurance policy upon commencement of work. The public liability section of a self build site insurance policy would also cover for damage to the property or injury to persons outside the site, if directly caused by the activities of the site
Legal Expenses Insurance: Any legal expenses within the policy will normally be included by the dedicated self build insurance providers but, in other cases, can be bolted on as additional cover for action taken against the self builder by others or for the need to take action against third parties
Contract Works: This covers the potential cost of repairing or replacing any part of the build that is damaged.
Do I Really Need Self Build Insurance?
We are used to insuring our most valuable possessions these days. Yet every year lots of people build or renovate their own homes without any insurance — a project costing tens and even hundreds of thousands of pounds. For many of them, the gamble pays off — if indeed they even knew they could insure their project in the first place. But it can be an extremely false economy.
Building sites are risky places — not just for accidents but also for things like theft – and anyone taking a project like this seriously needs to account for the bad things that might happen, as well as the fantastic and exciting things that will.
Beyond an insurance policy providing peace of mind that is worth its weight in gold, lenders and especially those consistently working to help self builders, are increasingly demanding proof of the existence of a suitable policy before releasing funds.
Do All Builders Have Insurance?
There's no guarantee that your builder/main contractor will have insurance — you'd be surprised at just how many builders and tradespeople don't carry any/or adequate insurance for the work they do, especially if they work 'cash-in-hand'.
Those carrying out a project by using a builder with a single contract may feel that, as the builder has their own insurance policy, there is no need to go to the expense of a policy in their own name. They might be right, but they should check the details of the builder's policy to firstly make sure that it's current and secondly, that it is sufficient to cover for any eventuality.
Even if the builder's policy is technically sufficient, the whole business of self building is to get what you want and to be interested and involved in the process, and the chances are that at some point you will opt to buy your own materials such as kitchen units, sanitaryware or even plumbing equipment.
But if any of those items get stolen or damaged, because the builder didn't buy them and never had title to them, they will not be able to claim for them. So it really does make sense to have your own self build insurance policy.
What About if I'm Using Sub-Contractors?
If you are building using subcontractors or direct labour, then technically you are seen to be the main contractor and you are deemed to be employing all of the people working on the site. Even if the subcontractors do carry professional insurance, the chances are that if they have an accident, they will see your insurance as the best option for recompense and if you haven't got it, then you'll be in trouble.
How Much Does Self Build Insurance Cost?
Most self build insurance policies work on the basis of a single premium. For new builds this is based on the rebuilding costs on a sliding scale, and for a home of around 140m² the average cost will be between £600 and £1,200, with the variation accounted for by the proposed construction costs.
Where Can I Buy Self Build Insurance?
Do be careful about going to your usual High Street broker, as they'll probably think that you need the same sort of policy as a builder or developer — and that's not the case. There are dedicated self build insurance providers, with the premium costs being very much less than the standard prices which builders have to pay each year.
Homebuilding & Renovating has partnered with leading insurance specialist Self Build Zone to provide bespoke solutions at market-leading rates for its readers.
Get a quote now to protect your self build
What Happens to the Insurance Policy at the End of my Self Build?
When a self build insurance policy ends at the completion of the build, many providers offer the choice to turn it into a standard homeowner's insurance policy at this point. Either way, your self build insurance only covers the construction phase, so you'll need to take out a standard policy after it concludes.
It's also a good idea to take out a self build warranty when your build is complete. This could be a structural warranty of an architect's certificate that covers your home if any structural issues occur in the years following the completion of the build.
What Other Insurance do I Need for a Self Build?
Personal possessions and furniture will not be covered by a self build policy, although where a self build policy is converted to a household policy upon completion of the project, cover will then be extended in the normal way.
The prudent self builder will want to ensure that in the event of their death, or incapacity, the project can be finished. They will, therefore, arrange additional life and/or injury cover for themselves and/or their beneficiaries.
Get the Homebuilding & Renovating Newsletter
Bring your dream home to life with expert advice, how-to guides and design inspiration, direct to your inbox.
David is one of the UK's leading self build and plotfinding experts, and a serial self builder who has been building homes for 50 years. The author of Building Your Own Home, David spent decades as a speaker and expert at self build exhibitions such as the Homebuilding & Renovating Show. He has recently finished his fourteenth self build project.