What is The Cost of a Two Storey Extension?
By Natasha Brinsmead published
Our quick and easy guide to the cost of a two storey extension is designed to help you budget more effectively when adding extra space to your home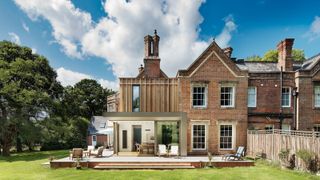 (Image credit: Martin Gardner)
If you have questions about the cost of a two storey extension, we're here to help. One of the most important elements of building an extension is effective budgeting as this will ensure the project runs smoothly and is delivered on time.
Although the costs of a single storey extension and that of a double storey extension don't vary too hugely, there are differences that it is worth bearing in mind.
Two storey extensions tend to require careful design planning in order to work well with an existing house and are also much more likely than single storey extensions to require planning permission. They will also require you to reconfigure your first floor layout in many cases, all of which can add to costs. However, they tend to be more cost-effective per m2 as compared to single storey extensions.
Here, we take a look at the cost of a two storey extension and explain how these costs might compared to those associated with other types of extensions.
What Factors Affect the Cost of a Two Storey Extension?
Although it is possible to give a rough figure for what double storey extensions are likely to cost, there are obviously a few variables that will affect the price you are quoted. These include:
The size of your extension
How complex the design is
The quality you are aiming for
How much of a hands-on role you are prepared to take on
Who you get to design your extension
The amount and type of glazing you specify
What the new extension is for — bedroom, bathroom, kitchen etc.
Where in the country you are building
How Much Does a Two Storey Extension Cost in 2022?
So, just how much does an extension cost these days? Up until recently, two storey extension costs used to be around £1,320 to £1,620/m² for a basic quality build, rising to from £1,860 and £2,100/m² for a very high quality finish.
However, price increases in pretty much every area of the building industry of late have changed things somewhat.
"Over the last year we have seen typical two storey extension costs rise from £1,750/m2 to £2,000/m2 and well over, depending on design," says Tim Phillips. "This has left some clients rethinking their projects with a 15% rise to soak-up
"People could consider project managing their extension themselves to find cost savings or even having a 'shell and core' build so they can complete items themselves if they have the necessary DIY skills or are happy to employ individual trades," continues Tim.
"Both procurement methods will certainly reduce the build cost and hopefully get their extension back on track."
Does a Two Storey Extension Cost More Than a Single Storey Extension?
You may be surprised to learn that double storey extensions actually don't cost much more than single storey extensions per m2.
The reason for this is that some of the most expensive elements of the build – the roof and the foundations – will still be required for both and will cost roughly the same regardless of whether you are building one or two storeys.
"One of the major cost elements to consider in a single or two storey extension is the groundworks, however there is no real difference in structural design, so investigating any savings would reveal them to be extremely minimal," explains Freelance Senior Quantity Surveyor Tim Phillips (timphillips1@hotmail.co.uk).
The only extra costs involved in building a two storey extension, as opposed to a single storey one, are the walls and new floor joists.
For this reason, many people see two storey extensions as a more cost-effective way of adding extra space to their homes.
Are There Any Hidden Costs of Two Storey Extensions?
Before setting a final budget for your extension, be aware that there are some costs that are often missed off quotes or financial plans.
These include:
Design fees
Structural engineer's fees
Surveys
Planning permission applications
Building Regulations applications
Party Wall Agreement, where required
A Lawful Development Certificate, if needed
Fitting out — kitchens and bathrooms, for instance
Final decoration
Insurance
Natasha is Homebuilding & Renovating's Associate Editor and has been a member of the team for over two decades. An experienced journalist and renovation expert, she has written for a number of homes titles. She has renovated a terrace and is at the end of the DIY renovation and extension of her Edwardian cottage. She is now looking for her next project.
Homebuilding & Renovating Newsletter
Get the latest news, reviews and product advice straight to your inbox.
Thank you for signing up to Homebuilding. You will receive a verification email shortly.
There was a problem. Please refresh the page and try again.