How to Choose a Floor Structure
By Ian Rock published
The methods used to construct new floors have come on in leaps and bounds in the last decade. Here, we explain the options for ground and first floor structures for new homes and extensions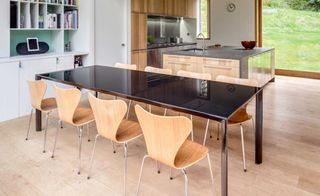 (Image credit: Simon Maxwell)
At the dawn of the new millennium, many new homes were still being built to a formula little changed since the Victorian era, with solid concrete slabs downstairs and boarded 8x2inch timber joists 'up top'. But both types suffered from significant drawbacks.
Timber floors were constrained by stunted spans and prone to developing draughty gaps and annoying squeaks; their intolerance to damp also rendered them vulnerable to attack from fungal decay and beetles. Concrete slabs fared little better, with a tendency to sink and crack over time, and a propensity to conduct cold into the home.
Fortunately, in the intervening years, technology has leapt ahead, transforming the options available to domestic buildings. Over the forthcoming pages we explore the options available for both ground and first floors.
Beam and block floors are the most popular solution when building a ground floor on self build sites. Concrete slabs are a good alternative for small extensions (where beam and block floors are uneconomic)
Beam and block systems which utilise insulated blocks can provide an even quicker installation
Solutions for first floors include traditional softwood joists, timber I-joists or open metal web joists; the latter options are more expensive but provide considerable benefits. Unlike softwood joists, timber I-joists do not warp over time, providing a 'quiet floor', while open metal web joists can provide an easy means of installing services
Beam and Block Ground Floors — The Most Popular Option
Suspended concrete flooring systems were originally developed as a means of overcoming ground problems such as unstable sloping sites, where it made sense to bridge deep gaps rather than fill them. Today, nearly all new houses employ beam and block construction for their ground floors. Although the cost of materials is relatively high, ground preparation is minimal and a beam and block floor is quick to install, with significant savings in labour.
Standard concrete beams typically span up to 6m, although some can extend as much as 8m without support from expensive subfloor walls. Specialist suppliers can custom design beams if supplied with a set of approved drawings, or they can be ordered via builders' merchants.
The pre-cast reinforced concrete beams are laid in rows in a similar fashion to traditional timber joists, with their ends resting on the inner leaf of the main walls over the damp-proof course (DPC).
Their inverted T profile is designed to accommodate standard 100mm deep concrete blocks (which are typically 440mm wide), making infilling between the rows remarkably quick and inexpensive.
Standard beams are 150mm deep, although for longer spans deeper 225mm sizes are available.
For greater strength the rows can be laid closer together with the blocks instead laid sideways. The floor surface is then stabilised by grouting with a weak sand/cement mix brushed into the joints.
It's essential that the void under the floor (which should be at least 150mm deep) is vented via airbricks in the lower walls to protect the building from any build up of noxious gases such as radon or methane. (On this note, you may be required to install a radon barrier and sump too by Building Control.) The void can also provide a handy place to run service pipes.
One slightly odd quirk with these floors is their slight upward camber (more than 10mm over a 4m span). This isn't a problem with a conventional screed finish, but with dry floors (such as 'floating' insulated chipboard panels) a self-levelling compound may first need to be applied.
The main drawback with beam and block floors is that they are uneconomic below about 50m2 — so they are not a solution for small extensions. It's also important to note that the heavy weight of longer span beams requires use of a small crane to lift them into place. Therefore, they are best suited to larger projects such as new builds.
On the positive side, unlike timber floors, suspended concrete doesn't shrink, creak or bounce. This makes the system well-suited for upper floors which need to be exceptionally strong.
Best for:
Larger projects such as new builds
Upper and ground floors where a greater degree of strength is required
It's essential that suspended concrete floors are properly insulated from blasts of cold air blowing through the subfloor void underneath your feet. The Building Regulations' 'backstop' target U value for ground floors is 0.25W/m2K, which should be easily achievable with 75mm or 100mm-thick rigid insulation boards laid over the surface.
Polyurethane (PUR) is a more effective insulator than expanded polystyrene (EPS), meaning a thinner board can be laid to achieve the same results. The insulation can then be covered with a conventional wet sand/cement screed of approximately 65mm thick, or with a dry floating chipboard deck. Alternatively, a highly insulated composite 'floating floor' finish can be applied using special panels made from insulant material bonded to a base of either plywood or chipboard laid over a polythene vapour barrier.
However, the most efficient solution combines two layers in one — minimising the depth of the floor by making use of the wasted space in the void below. Rather than adding an extra layer of insulation above standard blockwork, the insulation is incorporated into the structure. Systems such as Jetfloor, Litecast XT and TETRiS use special insulated polystyrene infill panels between and beneath the floor beams, helping to eliminate cold bridging.
Hollow Core Ground Floors — An Even Quicker Solution
The quickest way to construct an entire floor is by craning in enormous ready-made hollow core concrete flooring planks. These feature a hollowed-out interior to reduce their weight.
Inevitably the price you pay for super-swift buildability is the relatively high upfront cost, but the system also offers potential savings in terms of flexibility in the location of internal walls, which can be built on top without the need for additional support. Hollow core decks are used mainly for upper floors in flats, but are ideal for cantilevered balconies, although cold bridging can be a potential design issue.
Quick installation
Places where flexibility is needed for the placement of internal walls on top
Concrete Ground Floors — A Good Option for Extensions
Ground floors built of solid concrete remain popular with small builders and can often be an economic solution for home extensions. Although this method is very labour intensive, the cost of materials is relatively low, hence the appeal for DIYers with access to free labour.
But there's a risk with solid slabs. Whereas foundations are normally dug down at least a metre to anchor the building into solid ground, floor slabs sit on the cleared oversite, less than half a metre deep. So this isn't ideal on soils prone to seasonal movement, like shrinkable clay with trees in the vicinity.
Slabs rely on careful ground preparation and a well-compacted hardcore base. Unfortunately, this often gets skimped on site with the result that slabs can start to sink years later, leaving a cracked, hollow surface. So, as a precaution, the concrete can be strengthened by incorporating sheets of steel mesh, similar to raft foundations designed to span across patches of weak ground.
It's also important that hardcore is specified as 'clean' — old demolition rubble containing lumps of plaster and wood can hold moisture or start to rot. Worse still, chemical reactions in poor-quality hardcore can cause solid floors to expand, bulge and crack. However, despite such risks, when laid correctly this method can be a cost-effective solution.
Extensions
Stable ground
DIY builds
Budget builds
Installing a Concrete Slab
Solid concrete floors are typically built in six layers (plus two more if you include underfloor heating and the floor coverings). The key stages are:
The oversite area is stripped of vegetation and topsoil. Then a base of clean hardcore at least 100mm thick is laid. The ideal material for this purpose is a loose granular sub-base such as MOT Type 1, which can be delivered to site. Being largely self-compacting, this only requires a quick going over with a hired wacker plate before levelling with a layer of sand blinding.
To prevent any dampness percolating through, a 1,200 gauge plastic sheet damp-proof membrane (DPM) is placed over the sand blinding, or alternatively laid higher up on top of the concrete slab. Either way, the edges must be joined up with the DPC (damp-proof course) in the walls. It's common for flooring-grade rigid insulation boards (e.g. PUR) to be placed on top of the DPM at this stage, in thicknesses ranging from 50mm to 100mm.
The DPM must be lapped up around the edges of the slab and screed to protect against cold bridging and also around incoming water pipes and soil stacks, etc. Alternatively, the insulation can later be placed on top of the concrete slab prior to screeding.
The slab is normally at least 100mm thick, cast from ready-mixed concrete (a relatively strong mix). The fresh concrete needs to be 'tamped' as it's poured to remove air bubbles and excess water. Depending on ground conditions, the slab may need strengthening with steel mesh or special fabric reinforcement.
It takes two or three days for concrete to cure and in cold weather it needs to be protected with suitable sacking or old carpet. In hot weather, concrete can also be vulnerable to drying out and cracking, requiring a periodic light sprinkling of water. Concrete should not be poured when temperatures are below about 5°C.
Instead of finishing the slab with a conventional screed, it's perfectly feasible to level the surface of the slab with a power floater, which results in a hard-wearing floor finish. Insulation will need to be added below the slab in this instance.
Floor Structure Options for First Floors
Timber floors may largely be a thing of the past downstairs but they still enjoy a virtual monopoly upstairs. Kiln-dried softwood joists typically span up to about 4.5m between structural walls or steel beams. Joist ends must be supported from galvanised steel joist hangers rather than simply being embedded within the walls.
Softwood joists are available in standard sizes such as 38x225mm and their spacing determined by published span tables, usually at 400mm, 450mm or 600mm centres. To support partition walls and accommodate openings for staircases, for instance, the rule of thumb is for joists to be 'doubled up', although building control will want to see the structural engineer's calculations to confirm adequacy.
To prevent joists deflecting and wobbling about, bracing in the form of herringbone strutting needs to be inserted between the joists, usually comprising purpose-made steel X struts and wooden noggin offcuts. Steel straps also help prevent movement by tying floors to the main walls. The enduring popularity of timber floors is probably down to the fact that they're a relatively inexpensive option as well as being straightforward to build and easy to adapt on site.
Traditional pine boards cost about twice the price of chipboard (which must be of a moisture-resistant type), but are hard to beat for natural appeal. Timber is also the most sustainable option but has a tendency to suffer from shrinkage resulting in floors becoming squeaky over time, and is always potentially vulnerable to subsequent weakening from careless notching and drilling for pipe and cable runs.
Timber I-Joists — Creating a Quiet Floor
Today the upper floors in most new homes are built using factory-made timber I-joists (also known as I-beams). These are basically timber RSJs (rolled steel joists) with an I-shaped cross-section comprising top and bottom flanges made of softwood or LVT (laminated veneer timber) bonded to a tall vertical web of OSB (oriented strand board), or a similar engineered board. Their main appeal is that, being strong and lightweight, they can span 6m or more, without support from internal walls or beams.
While they cost roughly twice as much as standard softwood joists, they be installed in half the time. Their superior rigidity and strength-to-weight ratio makes for easier handling, and they typically feature pre-formed knock-out panels designed for pipes and cables to be threaded through. They can be cut to length and the webs can be drilled, but the top and bottom flanges must not be cut. To provide lateral support, 'blocking panels' made from strips of engineered wood or spare I-joist offcuts are wedged between the joist ends.
There's another reason why I-joists have captured the hearts of developers, self builders and renovators alike — unlike standard softwood joists, I-joists aren't prone to shrinking and warping, making them perfect for 'quiet floors'. It's even claimed that some products do not require sound insulation when installed at 400mm centres or closer.
Speed of installation
Quiet floors as they aren't prone to shrinking or warping which causes squeaking
Spanning 6m or more without support from internal walls or beams
I-joists: A Good Alternative to Softwood Joists
Timber I-joists are a popular alternative to softwood joists due to their stability (they're not prone to warping, so provide a 'quiet floor') and ability to span greater widths. The webs can be drilled to accommodate services, but can also be specified with pre-formed knock-out holes for this purpose
Open Metal Web Joists — Good for Running Services
Engineered joists with a wavy metal web centre are another recently adopted flooring solution, with a plethora of different brand names such as Ecojoists, Posi-Joists, easi-joists (Fforest Timber Engineering's easi-joists are shown above) and SpaceJoists. Typically costing about 10 per cent more than timber I-joists, they are extremely strong, capable of achieving unrestricted spans of up to 7.5m, and light enough to easily carry up a ladder with one hand!
Like I-joists, they have a top and bottom flange (chord), but are held together by a galvanised steel framework. They come in a range of depths, from 195mm to 304mm, and can be hung from the top or the bottom chord. The installation time is claimed to be around half that for the traditional softwood variety, plus there's no need for bracing, which helps to reduce labour costs. Like I-joists they have the benefit of not being prone to shrinkage-related problems.
Because the whole system is open, they can accommodate bulky service runs such as mechanical ventilation ducting and full bore 100mm waste pipes, although where different lengths run alongside each other you need to check the webs all line up. The main drawback – apart from the cost – is that they need to be custom made to suit the dimensions of your build and can't be cut on site to fit, although some suppliers incorporate adjustable ends for minor trimming.
Easy handling so they require no additional plant hire
Accommodating services and cabling
Covering spans of up to 7.5m
Soundproofing First Floors
Thermal insulation is only necessary in rare cases where upstairs rooms happen to be located above cold spaces like garages or passageways. But Part E of the Building Regulations does require floors to be insulated for sound. The simplest method to deaden impact sound (e.g. noise from people walking upstairs) is by laying thick carpets and underlay. The spaces between the joists can also be packed with sound-absorbing mineral wool (up to 80 per cent depth).
Alternatively, special acoustic flooring, such as pre-insulated chipboard panels, can be used to build a sound-deadening floating floor. Other methods include fixing 'resilient bars' to the undersides of joists prior to plasterboarding; British Gypsum's Gypframe RB1 Resilient Bars is one such product.
Where resistance to the passage of sound is a particular design factor, suspended concrete flooring is normally the best solution. There are systems such as the beam and pot system from Litecast that can achieve exceptionally high performance with specially formulated 'robust tray tiles' between the concrete beams. Whatever your choice of flooring, it's obviously best to avoid cutting holes in ceilings for recessed lighting; a better idea is to construct a false suspended ceiling underneath to run ducting and lighting.
Other Things to Consider When Choosing a Floor Structure
Of the common go-to options (concrete, beam and block and suspended timber), concrete is the cheapest, and beam and block the most expensive. Basic suspended timber is affordable, but I-joists and open metal web joists are more commonly chosen for their versatility which comes at an added cost.
Average costs (including insulation and labour):
Suspended timber = £58/m²
Concrete = £56/m²
Block and beam = £81/m²
Most self builders now fit underfloor heating into their homes. Just how well this works depends, to a great extent, on the floor construction. Concrete floors are 'high mass' and will act like a giant storage heater, staying warm for many hours without any heat source.
In contrast, a timber-based floor is relatively 'low mass': underfloor heating in a timber floor therefore tends to heat up (and cool down) fairly rapidly, more like a conventional radiator system. So, to benefit from the slow, passive heating of concrete floors, you have to actually be in occupation, preferably 24/7; if you are there for just a few hours a day, you'd be better to opt for a quick-response heating system.
Consider how you plan to run cables and pipes through your floor void. With a precast floor, you have little option but to hang a suspended ceiling below the floor. Timber joists can be drilled out or chipped away (with caution) but it is not straightforward. Step forward the timber I-joist and its cousin, the posi-joist. They are more expensive than traditional timber joists, but they are much faster to fix and, critically, they are far easier to run services through.
The decision of what floor you will build needs to be made early on in the design process. This is because there is one crucial part of the design – the finished floor levels – that has to be resolved as early as possible, because so many other factors are derived from it, i.e, the staircases are set by it; so too the room height and the door thresholds.
It is now a requirement of the Building Regulations to insulate ground floors. The standard method is to lay sheets of polystyrene or similar above the ground floor and then lay a screed or a timber floor over. But some systems incorporate insulation within the floor itself, such as Tarmac (opens in new tab)'s Heatsave Plus.
Chartered surveyor Ian is the author of eight popular Haynes House Manuals and is a director of Rightsurvey.co.uk (opens in new tab). He is also in the process of adding a large extension to his home.
Homebuilding & Renovating Newsletter
Get the latest news, reviews and product advice straight to your inbox.
Thank you for signing up to Homebuilding. You will receive a verification email shortly.
There was a problem. Please refresh the page and try again.