Side Return Extensions: Planning, Costs and Design Tips from an Expert
By Hugh Metcalf published
Learn more about side return extensions with our comprehensive guide. Plus architect Charlie Luxton offers his top design tips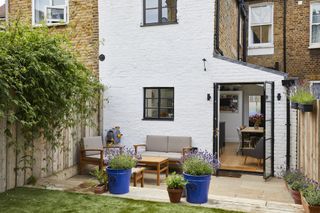 (Image credit: Resi / HPH London)
Side return extensions are one of the most common residential build projects, and for good reason. They offer a great way to increase the footprint of terraced houses and semi-detached homes, without stealing valuable, usable garden space away.
However, when dealing with narrow side returns (and with that, restricted access), the design of a side return extension has to be carefully considered.
This guide to side return extensions covers everything from planning permission, cost and other regulations you should know to expert design advice for making sure your side return extension works to its full potential.
What is a Side Return Extension?
A side return extension infills the small alley that's commonly found in between terraced and semi-detached properties. A side return is often dark and underused, and while the floor area an extension adds may potentially only be small, it's likely to transform the proportions of the attached room — usually a kitchen.
(MORE: Renovating a Terraced House)
It's a popular extension choice for home improvers as there are plenty of benefits that come with the addition, and if you get the design right, your new space will be bigger, brighter and more versatile.
How Much Does a Side Return Extension Cost?
Extension cost calculator
For an accurate estimate of how much your side return extension project will cost, use Homebuilding & Renovating's Extension Cost Calculator.
The cost of a side return extension will vary across the country, how it's managed, the soil, drainage and foundations and the level of finish you specify. On average, we suggest a relatively forward single storey extension in a side return will cost from £1,350-£1,750/m².
Resi (opens in new tab) suggests that on average a side return extension will cost between £52,000-£98,000 in London, with a more conservative £43,000-£80,000 outside of the capital, both excluding VAT at 20%.
(MORE: How Much Does an Extension Cost?)
This also doesn't include key fit out items, including structural glazing or kitchens and bathrooms, the latter of which will incur additional costs for moving services.
Do You Need Planning Permission for a Side Return Extension?
Not necessarily. Side return extensions may be completed under Permitted Development (PD), if it meets certain requirements. Under PD rights, you can now extend up to 6 metres from the rear of a terraced or semi-detached house when giving prior notification. In this instance, this is measured from the 'main body' of the house at the back of the side return, rather than the outrigger extension to the house. This should be enough for a side return extension to a standard Victorian home, for example, however it may not cover all instances of side return extensions.
The overall height of the extension should be no more than 4m to be eligible for a PD build, and the extension can be no more than half the width of the existing house.
If your side return extension is within 2m of the boundary with your neighbour, there are some other requirements you'll need to meet to qualify for Permitted Development. In this instance, the eaves of the extension should not exceed 3m. You will also require a Party Wall Agreement.
Beyond these limitations, you'll have to make a full application for planning permission for a side return extension.
Will I Need a Party Wall Agreement for a Side Return Extension?
A Party Wall Agreement is required when any building or structural work affects an adjoining property, including when extensions are built right up to or on a garden boundary wall or work is carried out on an existing party wall.
When building a side return extension that requires a Party Wall Agreement, you should contact your neighbours at least two months in advance, though in some cases a month's notice should be enough.
(MORE: Party Wall Act)
Is a Side Return Extension Worth it?
Will a side return extension add value? Certainly, but the return on investment may not be huge. According to Build4Less, a small single storey extension will add approximately 12% to the value of a property, but with high costs attached, this may just be enough to break even.
(MORE: How to Add Value to Your Home)
However, if you're planning to stay in your home and make more room for your family, a side return extension is an effective way of adding space. A side return extension will allow for you to add in roof glazing which brings natural light into a space, transforming a small, dark room into a light bright area, as well as adding the width required to create an open plan kitchen.
One thing to consider is a side return extension will remove a window from the rear of your property, so you may need to mitigate this with overhead glazing to prevent the rear reception room in the main house becoming too dark.
As an alternative, you could incorporate a small internal courtyard into your space, helping to bring the outside in and create a light well for the property's rear room.
Design Advice for Side Return Extensions
Architect Charlie Luxton breaks down the essential design considerations when planning a side return extension.
Should a Side Return Extension Match the Existing House?
Complementary or contrasting? Both work well and while there are no hard and fast rules, the best approach is to think about the kind of new space you want from your extension.
If you are trying to radically alter your interior space, knocking down internal walls and making big openings for inside/outside living, then clearly this is very different from the existing space in an old terrace. If you are doing this then I think you should contrast the design, expressing a new stage in the building's life.
If however you are proposing smaller patio doors and maintaining (but subtly altering) the existing layout, then a more sympathetic 'in keeping' design can work.
(MORE: Matching Materials for an Extension)
How to Bring Light into A Side Return Extension
Introducing light into the whole house — not just to the new extension but to the hallway and the heart of the floorplan — is a key element of a successful side return extension. Being creative with light deeper in the building is critical to this too, as this project below goes to show.
Doing away with the separate kitchen by infilling the narrow strip of the garden adjacent to the house and squaring off the floorplan to create a larger kitchen dining room makes a lot of sense.
It is often the only possible way of extending the house, but in doing so you can create new space at the expense of daylight penetrating the middle of the house. A large part of the genius of the terraced house design is that the only area that doesn't usually get good daylight is the stairs.
Putting on a side return extension can plunge one of the main rooms into darkness, making it far less usable — you will need to be creative with rooflights, ceiling levels and artificial light to keep the quality of space.
One option is to embrace the dark and create an intimate internal room for the evenings that is the Yin to the bright kitchen diner's Yang, or an alternative is to move toilets and utilities — rooms that do not need so much natural light — to the centre of the house.
Consider Ceiling Heights in a Side Return Extension
A side return extension nearly always requires walls to be knocked down and there is always a temptation to take the easy route when doing this and simply put a steel beam under the joists of the existing floor above to support the rest of the building.
This structure is then boxed in to create what the trade calls a 'downstand' — learn the name and learn to avoid it at all costs. This is because even though the wall has gone, the residual downstand has a big impact on creating the feeling of a new large single room. It divides the room, stops space flowing and makes the ceiling feel low and heavy.
If you have very high ceilings you can design your way around a downstand. But for nearly all situations, go to the extra expense of pushing the new structure into the depth of the floor above and losing it. If you have to cut back on the cost of the kitchen and fit out, do so, as this can be easily improved at a later date — fiddling with the structure can't.
To increase the sense of space in your new side return extension, try and create taller and/or vaulted ceiling heights in the new area that contrast with the old. This will draw the eye upwards and make even a small increase in space feel much larger.
Creating extra volume and height in the new space is a clever way of making it feel more dramatic. It's only really practical in single storey extensions, but a 3m ceiling height can make a big difference
Removing the external wall usually involves adding in a steel beam to support the wall and floor above. Where possible, try and avoid a downstand as it can separate out the space and affect ceiling heights. The example above integrates the new space more effectively, with a bolder design.
Think About Moving Plumbing When Adding a Side Return Extension
Often the rear courtyard of the terrace has, over the years of retrofit and upgrading, become something of a spaghetti junction of services and plumbing. There are often manholes, waste downpipes, rainwater downpipes, etc.
(MORE: Rainwater Harvesting)
One of the first jobs in designing your scheme is to get a handle on how you are going to adapt the plumbing to allow for your new extension to shine. The alternative is boxed-in downpipes squeezing already narrow spaces, big ugly removable manhole covers smack bang in the middle of a new floor, and ugly waste pipes snaking around the roof of your pride and joy — I have seen it all.
Hugh is Digital Editor of homebuilding.co.uk and has worked on a range of home, design and property magazines, including Grand Designs, Essential Kitchens, Bathrooms, Bedrooms and Good Homes. Hugh has developed a passion for modern architecture and green homes, and moonlights as an interior designer, having designed and managed projects ranging from single rooms to whole house renovations and large extensions. He's currently renovating a Victorian terrace in Essex, DIYing as much of the work as possible. His current project is a kitchen renovation which involves knocking through walls and landscaping a courtyard garden.
Homebuilding & Renovating Newsletter
Get the latest news, reviews and product advice straight to your inbox.
Thank you for signing up to Homebuilding. You will receive a verification email shortly.
There was a problem. Please refresh the page and try again.