Building Regulations Part L: Your Ultimate Guide to the New Changes
Changes to Building Regulations Part L take effect from 15 June - here's how they could impact self builders and extenders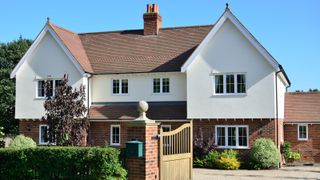 (Image credit: Getty Images)
Building Regulations Part L covers the conservation of fuel and power in the building of new homes in England, and establishes how energy-efficient new and existing homes should be.
From 15 June 2022 an important update to the Building Regulations will take place which includes an uplift to Part L. All new homes must produce 31% less carbon emissions than what is currently acceptable in the present Part L regulations.
The changes could affect anyone undertaking a home improvement project, extension, renovation or self build, so here's what you need to know about Part L, the new regulations, and how the changes will apply to your project.
What is Building Regulations Part L?
Part L is split into several documents which cover different areas:
Approved Document Part L1A: Covers the requirements for new homes to be energy efficient, and individuals responsible for building work must ensure that the homes complies with the requirements provided within this document
Approved Document Part L1B: Covers the requirements for renovations and extensions to existing homes to be energy efficient. It recognises that it is not always possible to meet new build standards, but the regulations state that if a thermal element (roof, wall or floor) is being replaced or renovated then it must be done to Part L1A standard.
Meanwhile, Approved Document L2A covers the required energy standards during construction of new commercial buildings, and Approved Document L2B covers existing buildings other than dwellings.
What Are The New Regulations?
In December 2021 the government announced that from June 2022 several new Building Regulations would affect those self building, renovating a house, adding an extension or taking on home improvements. These are the key changes to Part L:
New homes
What is a SAP Test?
New dwellings have to have a Standard Assessment Procedure (SAP) test (the government's chosen assessment method for measuring energy efficiency in homes) which looks at the overall energy efficiency (once at design stage and once as-built).
Essentially it's a pass/fail to allow Building Control to see if your specification will meet Part L, with a score out of 100.
New homes will now be assessed under a new Standard Assessment Procedure (SAP) calculation called SAP10. Formerly calculated using SAP 2012, SAP10 is an update on this methodology, setting greater insulation requirements and a new target primary energy rate, expressed as kWhPE/(m² per year).
Self builders will be encouraged to meet 'notional' dwelling targets for energy efficiency. These are measured in U-values (the amount of energy that is lost through any material): if you can meet the reference targets for elements and systems including party walls, floors, doors and roofs then your home will result in a pass with building control.
However, a maximum U-values target is also included to allow for design flexibility. Your home can perform better or worse than the reference values, so long as the Target Emission Rate (TER) is reached. The full U-value targets can be found here.
Another new requirement is for self builders to conduct an on-site audit to confirm that the design details in your plans have been constructed, and photographs must be taken as evidence.
Moreover, due to concerns over thermal bridging causing heat loss and condensation, the new regulations advise that "opportunities should be considered to use products that help to reduce thermal bridges".
Dr Sarah Price, Technical Director at QODA Consulting, says of these new recommendations: "The U-values are not going to have a big impact, but they do help a little towards reducing demand in new buildings. The photographic evidence has the potential to have a big impact on the actual performance of buildings – assuming it is checked by someone."
The uplift will also encourage the installation of air source heat pumps and ground source heat pumps.
Existing homes
If you're looking to introduce new or replacement thermal elements to your home, such as new windows and doors, then minimum new fabric efficiency standards will now apply.
The government has introduced a 'full fabric specification' for setting the level of the Fabric Energy Efficiency Standard (FEES). This means a tightening of U-values.
U-values need to be improved in walls and replacement thermal elements from 0.28W/m2K to 0.18W/m2K, and the minimum values for doors, windows and roof windows has improved from 1.6 to 1.4. The U-value for doors has gone from 1.8 to 1.4, while fire doors can meet the U-value of 1.8 in line with previous standards.
Extensions will also be required to have no more than 25% floor area as glazing (windows, roof windows, rooflights), alternatively homeowners must be able to demonstrate compliance with an area-weighted U-value calculation or via SAP - which can offer more freedom of design.
Improvements are also required in lighting efficiency but perhaps the biggest challenge is the new low flow temperatures for heating systems. The maximum flow temperatures in a central heating system is now 55°C where it was previously over 75°C.
This lower flow temperature will all but eliminate any burn risk on the hot surfaces but will require radiators to have around a 30% larger surface area which will add cost and potentially take up more wall area. However, lower flow temperatures will make it much easier to later retrofit homes with air source heat pumps and ground source heat pumps.
When do the New Regulations Begin?
VISIT THE HOMEBUILDING & RENOVATING SHOW
Need more advice or inspiration for your project? Get two free tickets to the Homebuilding & Renovating Show
Approved Documents L (volumes 1 and 2) come into effect on 15 June 2022, however a grace period will take effect until 2023 for buildings that are currently still in the planning process.
This means that if you have applied for a building notice or initial notice before 15 June 2022, your project will still be considered under the previous regulations, provided building work begins before 15 June 2023.
If you gained Building Regulations approval under the old regulations, you must begin work on the unit by 15 June 2023 or the new regulations will apply.
How Significant are the New Regulations?
It would be unfair to say that planned changes ignore the fabric of the building as there are indeed some improvements.
The new rules require a 30% reduction in carbon when compared to 2013 Part L standards, which may seem quite high, but they are rather insignificant when compared with the 75–80% reduction in carbon which will be required by the Future Homes Standard.
Mark Siddall, principal architect and director of research at the Lovely Engineered Architectural Practice (LEAP), says: "I think the updates could go a lot further. We should be aspiring towards better performing buildings, and the Building Regs are tailored towards the lowest common denominator. There could be more ambitious fabric standards and overall performance, which would cut people's bills, improve their comfort and also reduce carbon emissions."
Dr Price adds: "Now we're beginning to insulate buildings properly, we've done the easy bit and we're down to the finer detail, including thermal bridging, airtightness and ventilation. These three remaining components of heat loss are not improving in current Building Regulations, which is very disappointing and a lot of the industry wrote to this effect when the changes to Part L came out. The changes do not go far enough and don't recognise the need to build affordable, healthy homes."
Ultimately, though, better insulation will improve the energy efficiency of a home which in turn will lead to reduced energy use and therefore lower energy bills. This change must therefore be seen as a positive thing.
How to Meet Part L1A of the Building Regs for New Builds
The planned carbon reductions can mainly be achieved through the implementation of renewable technologies such as solar PV panels and heat pumps.
But the Future Homes Standard will require a significant emphasis on improvement to the fabric of the building, and it is this standard that really focuses on the fabric of the building rather than simply offsetting waste with clean energy. The real target is to use less, a lot less.
Follow these step-by-step guidelines for meeting Part L1A of the Building Regs for new builds:
Choose a local Energy Performance Certificate (EPC) assessor (find one here)
Provide your assessor with architectural drawings and specification in full detail
Include Approved Construction Details (ACDs) as part of the design, if you can. These are large-scale section details of elements like window openings and eaves details. They aim to ensure airtightness and reduce cold bridging from key parts of the structure and help towards achieving compliance
An SAP assessor will input the plans and information and complete the design calculation before work starts
The designer agrees SAP input or reviews it after advice if the design does not pass. Once the design has been amended and meets requirement L1A, the design assessment and SAP calculations are submitted to building control before work starts on site
Construction begins; any changes from specification should be notified to the SAP assessor during the build to ensure it still remains compliant
Near completion, an air pressure test is carried out and as-built confirmations are provided to the SAP assessor, including declarations of the ACDs used during the build
Assessor produces the as-built SAP calculations and lodges an EPC against the new home's postal address
As-built SAP calculations and EPC are submitted to the building control body.
SAP Calculations: Where to Start?
For new builds, SAP calculations are made at the design stage to arrive at a Predicted Energy Assessment (PEA). This provides a rating of energy performance based on the design of the house and shows the building inspector that the home will meet the requirements under Building Regulations Part L.
When the build is nearing completion, an airtightness testing will be undertaken in order to establish the 'as-built' airtightness (or air leakage rate). While airtightness technically isn't being improved as a singular measure under the new regulations, better airtightness is a way of achieving a better SAP score.
Finally, the SAP assessor will create an EPC, which is required for homes when built, sold or let. Authorised SAP assessors are needed to produce these calculations and ultimately your completed home's EPC.
As such, you will need to find a consultant - these are referred to as 'on build' SAP assessors. You can search for a registered assessor or check the credentials of one on the EPC Register. (The procedure and licensing of these assessors is different to that of the assessors who process SAP calculations for existing buildings).
The calculation process has to take place early in the design stage so that the design is specified correctly for the thermal insulation levels, as well as heating and hot water products.
Testing for Air Leakage
The air leakage rate can only be speculated at the early stages. Nevertheless, an assumed value has to be entered at the design stage. Part L1A of the Building Regulations set minimum requirements for testing at a back-stop value of 10m3/hr/m2 but often the rate needed to hit the TER is much lower.
Typically, design figures of between 4 and 6m3/hr/m2 are used. These can easily be achieved with some attention to detail during the build. Either way, when the building works are complete, the real air leakage rate will be discovered by on-site testing. Most high-performance builds such as Passivhaus homes regularly achieve much lower than 1m3/hr/m2.
All new dwellings need to be tested on completion, with two exceptions:
If the same builder has produced an identical construction in the last 12 months and successfully passed an airtightness test
Where a high default value of 15m3/hr/m2 has been used in the SAP calculation. If you want to avoid the worry of site testing, you can choose to enter a rate of 15 for the air leakage rate. It's the equivalent of leaving a large window open during the test and it exempts you from testing at all. In this case, you will be heavily compensating for it with super-thick insulation and other measures.
Ideally the airtightness test (carried out and certified by licensed testers) should be undertaken when the building is as close to completion as possible. As a minimum, the building envelope needs to be completed but does not need to be decorated or carpeted.
Vents are sealed or taped over to help identify areas of air (and therefore heat) leakage where gaps and holes have not been sealed correctly.
With the real air leakage rate known and a certificate issued, the figure can be entered into the as-built SAP calculations. These figures are then run again to produce evidence of compliance and the final EPC.
If the house fails its SAP due to air leakage, the test engineers may use coloured smoke and positive air pressure to reveal where the gaps are. If it fails due to a change of design during the build – perhaps a boiler was changed for a less efficient one or the glazing areas were increased, for example – the remediation may be harder to achieve. It may result in the need for some solar-power installation or heat recovery ventilation.
Armed with heat recovery to steal back the heat from stale air before it's exhausted out, these heat recovery ventilation systems can be essential in achieving compliance.
Get the Homebuilding & Renovating Newsletter
Bring your dream home to life with expert advice, how-to guides and design inspiration, direct to your inbox.
Paul is a Chartered Building Engineer and has been a building control officer since 1984. He has written eight books on home improvements and building homes, including the Complete Handbook of Home Extensions and Creating an Eco-Friendly Home & Workplace. He provides his insight and knowledge on Building Regulations with Homebuilding & Renovating.