Extension or Conservatory: What's Right for Your Home?
By Natasha Brinsmead published
If you're torn between an extension or conservatory as a way of adding extra living space to your home we're here to help with the pros and cons of both options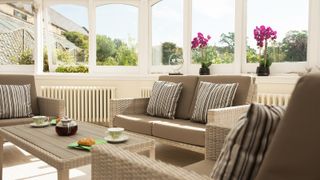 (Image credit: Bridgman)
Choosing between an extension or conservatory is likely to be a key decision if you're looking to add more space to the ground floor of your home. This is particularly the case if you're hoping to create a better connection between your home and garden in the process.
Both have their pros and cons and both are a great way to increase the floor area of a house. However, which one will best fulfil your needs will depend on several factors, including what you plan on using the new additional space for, your budget (building an extension will likely cost more), the style of your house and how much extra space you are aiming for.
Here, we delve into how an extension or conservatory could transform your home and help you decide which route will most suit your needs.
Should I Choose a Conservatory or Extension?
Before you start to look at the advantages and disadvantages of each method of adding to your living space, you should ask yourself the following questions:
What will the space be used for?
Where will the new space be built?
What is your budget?
How much disruption are you willing to live with?
What timescales are you working to?
What Will The Space be Used For?
First things first: you need to sit down and plan exactly you want from the new space. It might be that as soon as you begin your list, it becomes clear that one option will be better than the other — for example, if you want a new bedroom in your extension, a fully-glazed conservatory will be impractical.
Likewise, kitchen conservatories need careful planning if they are to work well — they can be beautiful additions but large expanses of glazed walls can make storage tricky.
What is The Difference Between a Conservatory and an Extension?
Although both conservatories and extensions are structures that add extra space to a property, there are some key differences which may make one more suitable than the other, depending on what you, as the homeowner, are hoping to achieve.
It isn't always easy to see the difference — after all, a conservatory is, essentially, a form of extension in that it adds extra space to a property. However, conservatories do tend to have two defining features: glass walls (usually supported on dwarf walls); and a glazed (or sometimes polycarbonate) roof.
Conservatories are often bought from specialists, as opposed to being designed by an architect or house designer. They tend to be selected from a range of designs and are frequently factory built. Providing a conservatory is under 30m², it won't need Building Regulations approval either and planning permission is often not required.
Of course house extensions can also feature walls of glass and glazed ceilings, but they tend to be built with greater structural integrity and feature solid, insulated walls and roofs.
A house extension is most commonly designed to be part of the existing house, with no barrier, as opposed to a conservatory which is often seen as an add-on for a specific purpose, such as sun lounge or play room.
Conservatories and Building Regulations
Unlike extensions, in many cases conservatories will be exempt from the Building Regulations. In most cases, building regs won't apply providing:
The new structure is built at ground level and is no more than 30m²
The conservatory has a heating system that is separate from that in the house, with independent controls
High quality external walls, doors or windows separate it from the main house
All glazing and any fixed electrical installations comply with the relevant Building Regulations requirements
It is also worth noting that should you choose a solid roof conservatory, Building Regulations may apply — check with your local authority.
Conservatory Pros and Cons vs Extensions
Conservatories have many advantages over extensions, including:
They often won't require planning permission, given that they are unlikely to exceed the dimensions deemed acceptable under Permitted Development rights
They won't usually require Building Regulations approval (see above)
They will not disrupt the rest of your home while being erected
They can be constructed in around two to three weeks
They are generally cheaper than extensions
They offer great views of the garden
You will often be given a fixed price — so no nasty surprises
There are some truly amazing conservatory interior ideas out there, but it pays to be aware that there are also some cons to having a conservatory as opposed to an extension, including:
They can be prone to temperature fluctuations — too hot in summer, too cold in winter
Won't always be suitable in gardens that are overlooked
Don't add as much value as an extension
They tend not to offer so much design potential as an extension, so may not suit all styles of house
Not suitable for certain uses, such as an extra bedroom or bathroom
Can be time-consuming to keep glass roof and walls looking clean all the time
Pros and Cons of Building an Extension vs a Conservatory
Although it is a little hard to cover all the pros and cons of extensions, given the range of styles, sizes and types, there are a few benefits and disadvantages that it is worth bearing in mind when making the decision between an extension or conservatory.
Some of the advantages of building an extension include:
Size is only limited by budget and, possibly, planning restrictions
May still fall under Permitted Development and don't planning permission
Can be two storey — and pretty much any shape or form you wish
Can be constructed and clad in a number of ways to suit your existing property
They're robust and will likely last longer than a conservatory
Will add value to your home
Can be constructed to remain at a comfortable temperature all year around, with plenty of insulation
Will allow you to remodel your existing layout
Can be added to the front, side or rear of your home (providing the planners allow)
When it comes to the reasons not to build an extension, consider the following points:
They tend to cost more than conservatories (although they usually result in a greater uplift in value)
Will be more disruptive to your existing living arrangements
They may require planning permission
Building Regulations approval will be required
They take longer to construct than conservatories
Costs can easily spiral in some cases
Extension or Conservatory: How Much do they Cost?
One of the main questions you will probably be asking when choosing between an extension or conservatory is how much does an extension cost?
Although the cost of an extension will vary wildly depending on its size, location and specification, as well as what you plan on using it for, we can offer you a general idea. In addition, if you plan on replacing a conservatory with an extension, there will be some extra cost considerations.
However, as a guide, average extension projects cost approximately £1,500-£2,500/m² of internal space added. So a 20m2 extension could cost around £40,000.
As with extensions, conservatory costs will depend on several factors, with size and material usually having the biggest impact on price. Simple uPVC lean-to conservatories will cost considerably less than premium timber designs.
The average cost of a conservatory is estimated to be between £13,000 - £20,000. However, you could be looking at as little as £6,000 for a simple uPVC lean-to style design and upwards of £40,000 for top quality and timber versions.
You will also need to factor in skip hire, having the new opening from the house made and finished, new doors and labour.
Natasha is Homebuilding & Renovating's Associate Editor and has been a member of the team for over two decades. An experienced journalist and renovation expert, she has written for a number of homes titles. She has renovated a terrace and is at the end of the DIY renovation and extension of her Edwardian cottage. She is now looking for her next project.
Homebuilding & Renovating Newsletter
Get the latest news, reviews and product advice straight to your inbox.
Thank you for signing up to Homebuilding. You will receive a verification email shortly.
There was a problem. Please refresh the page and try again.