Single Storey Extensions: Cost, Design and Planning Advice
A single storey extension is a simple way to add valuable extra space, but careful planning, designing and budgeting are essential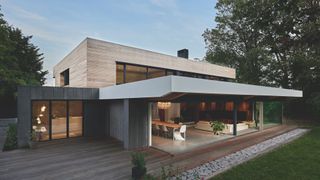 (Image credit: Jonathan Gooch)
A single storey extension is a popular home improvement, and it's not hard to see why. It can not only create valuable extra space that, combined with an internal remodel, can drastically improve the layout of your home and the flow of natural light, but it can also (in many cases) be undertaken within the parameters of Permitted Development.
Building an extension is also a cost-effective alternative to moving house.
Here we explain the rules and regulations you'll need to be aware of, offer top tips on nailing the design of your single-storey extension ideas, and answering the all-important question of how much it's going to cost.
How Much Does it Cost to Build a Single Storey Extension?
"The cost of a single storey extension will vary depending on where you are in the UK, the complexity of the build and the standard of build quality you are aiming for," advises Deputy Editor of Homebuilding & Renovating, Michelle Guy.
If you're asking 'how much does an extension cost?' try creaking it down into separate build cost and interior fit out elements to get an accurate estimate.
Build costs for a single storey extension can be broken down as follows:
If you're looking to build an extension on a budget, you can achieve a single storey extension for around £1,500 to £1,900/m² for basic quality (a 4m x 5m extension would work out at around £30,000)
For good quality, expect to pay between £1,900 to £2,200/m² (or £38,000 for a 4m x 5m addition)
For a high spec extension, you'll pay between £2,200 to £2,400/m² (or upwards of £44,000 for an extension of 4m x 5m)
These figures might also be driven higher by labour and material shortages. If you're looking for ways to reduce the cost of your extension, consider taking on work DIY.
Before you begin planning your single storey extension's design, you need to set your budget and ensure you can afford what you're planning. On top of the build cost, you'll also need to factor in the following:
Architects' fees: These work out at around 3-7% of the construction cost, with planning drawings around £2,700, and construction drawings at a similar rate
Structural engineer: If roof joists and foundations need to be specified, you'll need a structural engineer. This would cost in the region of £500 to £1,000
Survey: Between £500 and £1,500 if a survey of the existing house is required
Project manager: Factor in a fee of 3-7% of the build cost for project management (you can also agree a daily or hourly rate). If you are looking to keep costs down, you could always manage your own project
VAT: This is at a rate of 20% of the labour, materials and services
Planning fees: For a residential single storey extension in England, the cost of an application is £206. If you need a certificate of lawful development, you'll pay £103; and it costs £34 per request for discharging planning conditions
Building control charges: These will vary according to your extension's size; plan for between £200 (for an extension of 10m²) to £900 (for 80 to 100m²)
A party wall agreement: This typically costs from £700 to £1,000 per neighbour.
Additional fees: These can include a tree report (£250 upwards); a flood risk assessment within flood zones (£250 upwards); an ecology report, possibly required by your local authority (from £400); an archaeological report if your home is in an area of archaeological interest (possibly several thousand pounds); a historic building report, likely if your home is listed
Interior fit-out costs: See below
Cost to Fit Out a Single Storey Extension
The costs involved in fitting out a single storey extension very much depends on the room type you're adding — a kitchen will be more expensive to equip than a home office, for example — but expect to pay:
A single storey extension is cheaper to build than a two storey extension because it needs less substantial foundations and steelworks, but building a double-storey extension is the most budget-effective way to gain the most space in one project.
If now is not the time, but you might want to add a second storey in the future, now's the time to up the spec of the extension to allow for this in future.
Do I Need Planning Permission for a Single Storey Extension?
You will need planning permission for your single storey extension if it:
covers more than half the area of land surrounding your home
extends towards a road
increases the overall height of the building
extends more than 6m from the rear of an attached house
extends more than 8m from the rear of a detached house
is taller than 4m
is more than half the width of your house
uses different materials to those of the original house
includes a balcony or raised veranda
A good local architect or builder will be familiar with these limitations, but it's always worth double-checking yourself to avoid making a planning application more than once.
Always check with your local authority, especially if you live in a Conservation Area. Be mindful too that local authorities can also use Article 4 Directions to remove PD rights.
How Big can a Single Storey Extension be Without Planning?
Join the Planning Hub
The Planning Hub is a new online resource that will help you understand how to get to grips with complex planning rules. Join today for access to easy-to-read guides which will provide you with key information to help you secure planning permission.
"If you build a large single-storey rear extension of up to 8m in depth (6m for semi or terrace) you can now typically do so under Permitted Development (PD) rights," advises Homebuilding & Renovating's Deputy Editor Michelle Guy.
"You'll likely need to go through the Neighbour Consultation Scheme, which is a prior approval process for large extensions. Adjoining boundary neighbours will be consulted about your planned extension. If there are no objections and your local authority deem that the project can go ahead, it's worth applying for a Lawful Development Certificate, which confirms the work undertaken is lawful."
Planning constraints, such as how much your house has already been extended, will also limit your extension's size, but bear in mind that the larger the extension, the more cost-effective.
That said, an extension that dramatically reduces the size of the garden can have a negative impact on the desirability of your home to future buyers, so consider if small house extension ideas could resolve issues with the layout instead of a big addition.
Building Regs for a Single Storey Extension
An extension of any kind must comply with building regulations. You will need to submit a Full Plans application for the work to your local authority's building control department.
Each authority has its own table of charges or you can use a private certified building control firm. Some contractors are building control certified, meaning they can carry out work without the need for involving the building control department.
Getting a Party Wall Agreement for a Single Storey Extension
If you have a good relationship with your neighbours – or can establish one – and talk them through your plans, you may be able to persuade them to sign a party wall agreement waiver form.
Otherwise, you will need to appoint a surveyor to arrange a party wall agreements; your neighbours are entitled to hire their own surveyor if they don't want to share yours, and this will be at your cost.
Living on Site During a Single Storey Extension
"If you're building an extension, it's usual for the new structure to be made watertight with first fix plumbing and electrics fitted before breaking through into the main house," comments Michelle Guy.
Things are likely to get messy at the point of breaking through, so it makes sense to seal off the rest of the house from construction as far as possible. Steel supports approved by building control will be put into place and joins will be made good. Of course, this type of project will generate a lot of dust and debris, so if you have young children or pets, it may be worth moving out of the house while works are carried out."
"We find that it's pretty much 50/50 in terms of people who choose to stay put while construction is going on and those who don't," says Andy Young, founder and director of Create Bespoke. "It's totally feasible to remain in the house, provided you're prepared for a certain amount of disruption, and possibly being without hot water for a period. Depending on its complexity, completing a project can take anywhere from eight to 20 weeks."
If you're wanting to move out only during the messiest period of the project, create an extension planner and schedule of works to ensure everything stays on track.
Designing a Single Storey Extension
Whether you have chosen to find an architect to work with or are working on the design of your extension yourself with an experienced builder, here's what to consider.
Although sometimes dictated by planning consent or permitted development rules, the type of extension you choose will depend on the style of house you are working with. With terrace houses, a side return extension could be all you need to transform a warren-like layout, while semi-detached houses lend themselves to wrap-around additions on their larger plots.
A common extension mistake to avoid is to forget about how the rest of the house a will sit alongside the new space. Consider carefully how to integrate new extensions with existing spaces in the initial planning stage.
Layout Ideas for a Single Storey Extension
Open-plan living is the layout of choice among self-builders and home extenders, but don't underestimate the impact of knocking down internal walls in existing areas to open them up to the new addition.
Creating a natural flow from the original house into the new extension will help make the project more successful. This may mean including house extension ideas like:
having a wider than usual doorway into the new room
hiding joists in the ceiling void to ensure a continuous ceiling level between existing and new spaces
making sure floor levels in the extension match those of the hallway it leads off from
and ensuring decorative elements, such as mouldings, door furniture and colour schemes, match those in the existing house
Also consider your needs carefully before you start. Building a kitchen extension might involve designing an open-plan kitchen diner and living space, but allowing space for a separate utility room and cloakroom, for example.
Accessibility later in life might also be a consideration while the building works are in motion; think about door widths, level thresholds and worktop heights to accommodate for the possibility of less-able living.
Adding Windows and Doors into the Design
The position, size and shape of doors and windows to capture the best of the daylight and the views of the garden can mean that even when building a budget extension, you can achieve a stunning space.
Ensure their style and framing complements your interior fittings — designing a kitchen to complement the style of your bifold or sliding doors, for example, will create an enhanced space.
Merging indoor and outdoor spaces can make both spaces feel bigger and cohesive. Think wide patio doors overlooking the garden, rooflights or lanters to bring light in from above or installing Crittall-style glazed internal doors to let natural light infiltrate deeper into the floorplan.
Think About the Exterior Design of a Single Storey Extension
Obviously, the loftier the ceiling in the new extension, the brighter and bigger the space you'll create, but consider the impact of the height of the ridge on existing first floor windows.
If a low pitch is the only option, you may have to get creative with your roof design, opting for an orangery-style roof with glazed elements that make the ceilings look higher than they would if solid. A green roof is also a great option if the master bedroom will overlook the extension.
Choosing house cladding materials to match those of the original house can make your extension look like it's always been there; however, choosing contrasting but complementary materials can work just as well, and is sometimes more acceptable to planning departments.
Get the Homebuilding & Renovating Newsletter
Bring your dream home to life with expert advice, how-to guides and design inspiration, direct to your inbox.
An experienced homes journalist and editor, Lucy has written about renovation, property and gardens since 1990, first working her way around the interiors departments of women's magazines before switching to interiors-only titles in the mid-nineties. She was Associate Editor on Ideal Home, and Launch Editor of 4Homes magazine, before moving into digital in 2007, launching Channel 4's flagship website, Channel4.com/4homes.
In 2018, she became Global Editor in Chief for sister website Realhomes.com, taking the site to a global success. She is now Global Editor in Chief of Homebuilding's sister site Homes & Gardens. She is also a serial renovator and owns rental properties.