Extension Planner: Bring Your Project in on Time and on Budget
By Natasha Brinsmead published
All extension projects are different but there tend to be common processes that need to be carried out. We show you how to plan your extension so that it runs without a hitch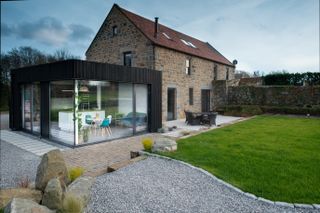 (Image credit: Jean-Christophe Godet & SOUP Architects)
When building an extension (opens in new tab), the type of works and the order they are carried out in will obviously vary from project to project, but this planner will give you a good idea of what to expect and how to ensure the project runs smoothly.
The extension schedule below has been based on a single storey kitchen extension. This should give you an idea on how long your extension will take and allow you to scale up, or down, accordingly. A two storey extension takes between three to five weeks longer than a single storey design. And, if you plan to live in the house while the work is carried out, things tend to take longer.
Calculate your extension cost with our free extension cost tool (opens in new tab)
Is your Home Properly Insured?
First things first. Did you know that your existing home insurance policy may not cover any works undertaken as part of an extension project?
To make sure your home is properly insured during substantial home improvements, you'll need a specialist policy. Homebuilding & Renovating has partnered with Self Build Zone (opens in new tab) to provide bespoke solutions (opens in new tab) at market-leading prices.
An Extension Schedule
1. Setting out, footings dug, and foundations poured
Builders will arrive on site.
If you are project managing, you may need to arrange digger hire, but your builders should do this for you.
2. Building up to damp-proof course (DPC), drains installed, DPC installed and concrete oversite/floor structure put in place
Ensure materials are ordered and delivered ready for the concrete floors to be poured, including insulation and any damp-proof membrane.
In some cases, a drain run may require that a concrete lintel will need to be inserted into the brickwork at this stage.
Sand will then be put down before the damp-proof membrane, insulation and the concrete slab is poured.
3. Building of external walls
It varies whether the brickwork or blocks are built first, but in both cases cavity wall insulation will be fitted at this point.
Wall ties are used to fix the new walls to those in the existing house.
4. Internal walls built
It's time to begin thinking about arranging delivery of items further down the line which can be on lead times of three to five weeks (e.g. windows, roof tiles).
5. Roof structure built
A carpenter will be brought in at this stage to build the roof structure. In the case of rooflights being fitted, they will also be in charge of this in most cases.
Ensure the roofers know when they are needed — you want to get watertight as soon as possible.
Check all materials are in place for the roofing, including lead.
6. Roof Coverings
Roofing membrane will be laid out over the rafters before roof battens are cut and fitted over — how they are spaced will depend on your roof covering of choice.
7. Install windows and doors
It is likely (and certainly preferable) that door linings and window frames will have been put in place while the external walls were built, so fitting windows and doors can now be carried out.
8. First fix electrics and plumbing; carpentry
Once the extension is watertight, electrics and plumbing can get underway. The two trades often have to work closely together, so ensure each knows what the other is doing to avoid delays.
9. Break through from existing house, steels put in place, joins made good
With the breaking through from the existing house, this is where things can get messy and, if you are still going to be living in the house, you should start sealing yourself off from the mess as much as possible.
10. Plastering, followed by a period of drying out
As a general rule, new plaster should be left for around a week before any decorating takes place.
Be aware that plastering is a messy old job and that your plasterer will need a clear route to a water source (preferably not your bathroom…).
11. Second fix, electrics, plumbing, flooring fitted, and kitchen units installed
You really need to ensure all these processes can work together and that each trade knows who is doing what and when, as this is a stage when delays can occur.
12. Snagging
Any leaks, problems with electrics and sticking doors and windows need to be reported to the relevant trade as soon as possible after finishing.
Natasha is Homebuilding & Renovating's Associate Editor and has been a member of the team for over two decades. An experienced journalist and renovation expert, she has written for a number of homes titles. She has renovated a terrace and is at the end of the DIY renovation and extension of her Edwardian cottage. She is now looking for her next project.
Homebuilding & Renovating Newsletter
Get the latest news, reviews and product advice straight to your inbox.
Thank you for signing up to Homebuilding. You will receive a verification email shortly.
There was a problem. Please refresh the page and try again.