Orangery Ideas: 13 Inspiring Designs and Project Tips
By Amy Reeves published
Be inspired by these brilliant orangery ideas, plus find out the essential cost and planning advice you need before adding a new garden room to your home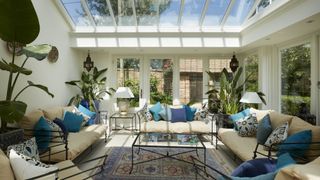 (Image credit: Westbury Garden Rooms)
Getting inspired with orangery ideas is a fantastic first step towards a sun-drenched living space that suits your home and lifestyle.
Known for their copious amounts of glazing, but improved thermal performance compared with a traditional conservatory, orangeries can be a beautiful addition to any style of home.
Our ideas below will take you through each consideration to make when planning a new orangery extension, from clever ideas for open-plan orangery kitchens, how to choose right style of window and when to spend and when to save during the interior and exterior design.
Orangery Ideas: Where to Start
Originally, orangeries were designed for growing citrus fruits in a controlled a humid environment – hence the name – but, alongside progression in glazing technologies and efficiencies, they are now used to add extra space to the floorplan of a home.
These days, orangeries sit between conservatories and sunrooms under the large umbrella of 'garden rooms'. Although similar to both, there are technical differences.
Unlike conservatories with their fully-glazed walls and roofs, orangeries tend to feature blockwork dwarf walls and corner posts with large, central rooflight framed by a solid roof. Sunroom ideas are very similar, although typically feature a completely solid roof.
1. Begin with a Good Design Brief for an Orangery
Having a brief for a supplier or designer will help accomplish exactly what you need from the space, be it a sunny kitchen extension, or a place of solitude for reading and relaxing.
The benefits of an orangery vs conservatory are in their more permanent structure, so you don't want to rush in and regret decisions later on.
Consider where you spend the most time in your existing home, or what is missing from its current layout. Also, think long and hard about the levels of disruption you're willing to put up with and for how long.
Knocking down internal and external walls for an orangery will be invasive, while positioning one adjacent to an existing door or opening will be, to a degree, simpler.
The purpose of the room will also have an impact on the orangery cost, so having a clear view from the outset will help to minimise any surprises later down the line.
2. Position an Orangery to Suit its Purpose
When planning an orangery extension, match the orientation with the intended use.
East-facing rooms will be most beautiful in the morning, so plan a breakfast nook or banquette area in this position. West-facing orangeries make perfect dining and sitting rooms – one that will capture the last of the sun's warmth and light – for later in the afternoon and early evening.
South-east and south-west facing spaces are great for maximising the sun, but be wary of overheating unless certain measures are considered (more on which below).
3. Create an Open-plan Kitchen Orangery
"Some of the recent trends for orangeries are for them to be used as a large open plan spaces to incorporate both a kitchen and dining space in one, often with the added element of a space to sit and relax after dinner," says James Upton, managing director of Westbury Garden Rooms.
Combining a kitchen and an orangery is great option if you're considering replacing a conservatory with an extension as it bring light further into the existing floorplan and provides an opportunity to revive tired interiors.
4. Include a Variety of Glazing in an Orangery
Really set your orangery apart by adding different window styles — from openable casements and fixed picture windows to bifolding doors and roof lanterns.
Choosing the right glazing will transform an orangery and make it more usable for each living space function. Plus, if you're weighing up the benefits between an orangery extension or conservatory, being able to personalise a bespoke space in this way should certainly be part of the decision-making.
Here, oak framed fixed and casement windows work together to ensure the open-plan living room and kitchen balance one another, while the large roof lantern brings natural light deeper into the floorplan.
5. Beware of Overheating in a Glazed Garden Room
For a more sustainable sunroom, consider heating and cooling it using passive techniques in the materials and design. Ventilation, solar control glazing and shading (think brise soleil or louvers) should all be seriously considered before the build begins.
For a low-maintenance and future-proofed orangery, consider installing ventilators that open automatically to let warm air rise and escape, but close when rain is detected.
This modern living room orangery includes wooden conservatory roof blinds on the roof lantern so the space doesn't get too hot in summer, and will insulate from the cold in winter.
6. Choose Versatile Flooring for an Orangery
The materials you include in your orangery shouldn't just work for your interior design, but also enhance the lifestyle you're looking to achieve in this space.
As with conservatory flooring ideas, stone, tile and polished concrete are great options as they will retain heat from the sunshine and release it as the temperature drops at night — creating a cheap and energy-efficient way of heating an orangery. Plus, using a mechanical ventilation with heat recovery system means this heat can also be distributed around the house.
A light stone floor and exposed brick walls in this orangery mean that the heat absorbed throughout the day will be utilised.
7. Add an Orangery Extension to a Bungalow
Use an orangery-inspired extension to reorientate a dark or warren-like layout of an existing home, usually seen in bungalows.
An integrated, sunny addition – be it a live/work space or to a kitchen-diner – is an opportunity to reorganise a floorplan and let natural light further into an existing property.
This stunning orangery from Westbury Garden Rooms creates a modern open-plan living area we all crave along the back of the house.
8. Light Up an Orangery for the Night
While we would all like to think that an orangery will be drenched in sun at all times of the day, that just isn't the case, especially in the changeable British summertime. Therefore, creating lighting that can adapt to the light levels of the room to maintain functionality is essential.
Plan this at the design stage with your electrician and orangery supplier — if you leave it until the first fix, some options might not be open to you without a higher cost.
For her integrated orangery, Ellie Inskip used in-house designers at Fritz Fryer to design her lighting scheme. They opted to set different 'moods', controlled by separate switches to work for different times of the day.
9. Invest in Good-quality Orangery Furniture
Despite the high levels of UV, orangeries typically aren't blessed with the cream-of-the-crop when it comes to furniture. We've all been in a sweaty orangery or conservatory at some point and been cemented to a wicker/rattan chair — probably not the look anyone is going after with a modern addition.
Steer away from garden furniture and include items that you would place in internal living areas for a more inviting space.
"Far from the tired conservatories of times gone by with rattan or garden furniture, we now find that many customers hire interior designers to dress their modern space with bespoke furniture pieces and soft furnishings to give their orangery the 'wow factor'," says Westbury Garden Rooms' James Upton.
10. Get Orangery Inspiration from Small Glass Box Extensions
While orangeries, sunrooms and conservatory ideas are different from each other in a technical sense, they do all share basic principals of being glazed extensions.
Don't limit yourself and explore the different garden rooms and inspiration might spark. The best way to garner tips on how to design a space, or ideas to apply to your own project, is to look at all kinds of glass box extension ideas.
This super-contemporary addition to a Cotswold's cottage features the glazed walls of a conservatory, the solid roof of a sunroom and an automatic roof light to function akin to an orangery roof lantern. The result is undeniably effective and have provided the young family with a gathering place that was previously missing from their home.
11. Open Out to the Garden with an Orangery
Orangeries can often function as an intermediary space between the main house the the garden, so lean into this effect for a true indoor-outdoor experience.
This could include installing patio doors, continuing the same flooring in the orangery to the patio area and introducing biophillic design ideas – such as indoor plants or internal timber cladding – into the design scheme.
12. Go Bold with an Orangery Interior Design
"We are finding that due to the durability of the paint we use, more and more customers are opting for darker coloured joinery for the external of their orangery," James Upton comments.
"Previously darker colours would have been steered away from due to the paint cracking, which is why so many orangeries are light colours such as creams and whites.
"However, with the enhancements of Teknos microporous paint as well as the stability of Accoya wood, customers can now opt for these modern dark shades, as the wood does not swell or move and the paint does not crack or warp."
13. Consider a Separate, Stand-alone Orangery
If you have the space, utilise an orangery for their original purpose – growing citrus, exotic or tropical plants – and create a unique, solitary orangery in the garden.
Not only can this be used as a more-permanent, and visually-appealing, alternative to a greenhouse, but the space could also provide various functions as well – including a new home office or an isolated living space for teenagers.
What is an Orangery?
"Orangeries are actually quite different from conservatories, which tend to feature an almost entirely glazed roof with at least 50% of the walls being glazed too," says Homebuilding & Renovating's Associate Editor Natasha Brinsmead. "They usually also feature dwarf walls.
"Orangeries, on the other hand, are far more solid in their construction and are usually built of brick, stone or sometimes hardwood, with large windows. Orangery roofs are mostly flat or mansard in their design and can either be solid, feature a roof lantern, or heavily glazed."
Orangeries first became popular in the 17th century when they were seen as status symbols, indicating wealth. As such, orangeries are still most commonly designed to sit on traditional style properties and often feature classical architectural elements, such as columns, pillars, arches and pediments.
Orangeries are also sometimes built as stand-alone structures. This kind of orangery was popular during the 1700s when they were used to over-winter citrus fruits.
How Much Does it Cost to Add an Orangery?
On average, an orangery costs around £40,000, but naturally will be dependent on size and if a kitchen or bathroom is included in the design.
"So much depends on what type of orangery you are looking for, what size, whether you require something bespoke and perhaps the biggest factor of all, what materials you want it made from," says James Upton.
The size and types of windows or roof lanterns will impact costs. uPVC is naturally going to be cheaper an aluminium or timber options, but definitely lacks charm or durability by comparison.
Do you Need Planning Permission for an Orangery?
Orangeries are generally treated by planning departments as small extensions, so the same rules in Permitted Development and planning permission will apply.
If you're adding an orangery to a detached house, the orangery can extend up to 8m to the rear or to the side by no more than half of the width of the original building without needing planning permission. (This does not apply to listed homes, those in desginated areas or homes where Permitted Development rights have been removed.)
A major drawback with orangeries and Permitted Development can be that these rules only apply to extensions built in the same or a similar material to the original house. A large part of the charm or orangeries is the timber construction and delicate detailing, so you may want to bear this is mind before making any changes.
Assistant Editor Amy began working for Homebuilding & Renovating in 2018. She has an interest in sustainable building methods and always has her eye on the latest design ideas. Amy has interviewed countless self builders, renovators and extenders about their experiences for Homebuilding & Renovating magazine. She is currently renovating a mid-century home, together with her partner, on a DIY basis, and has recently fitted her own kitchen.
Homebuilding & Renovating Newsletter
Get the latest news, reviews and product advice straight to your inbox.
Thank you for signing up to Homebuilding. You will receive a verification email shortly.
There was a problem. Please refresh the page and try again.