Party Wall Act: What Is It?
By Claire Lloyd , Ian Rock published
The Party Wall Act is crucial if you're planning work that will affect a shared wall between you and your neighbours. Here's what you need to know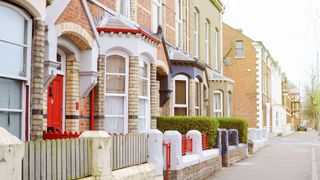 (Image credit: Getty Images)
The Party Wall Act is a must read if you are about to embark on building work in a semi-detached house, flat or terraced property.
If you live in any of these, it's likely you share a wall with a neighbouring building and will need an agreement regarding the Party Wall before you start work. And we are not just talking about big builds, it's worth checking up if you need this for loft conversions, basements and extensions.
In order to make sure your work, building and digging doesn't affect any of your neighbour's property structurally, it's within your interest to make them aware, serve them a Party Wall Agreement and make sure a surveyor is in place to oversee any possible problems or damage.
Here's everything you need to know about the Party Wall Act.
(MORE: Find a Party Wall Surveyor)
What is the Party Wall Act?
The Party Wall Act is a piece of legislation in England and Wales designed to pre-empt construction-related disagreements between neighbours with a clear legal framework for managing disputes should they arise.
The Party Wall act prevents building work by one neighbour that can undermine the structural integrity of shared walls or neighbouring properties.
It is designed to avert and resolve potential disputes with neighbours before building work is started.
What is a Party Wall?
A party wall is one that separates adjoining homes which owners on either side have a legal interest.
Strictly speaking, the owner on one side commits a trespass if they carry out works to the wall without the consent of their neighbour.
However, this is a surprisingly complex area of the law which covers more than one type of wall.
The best known example of a party wall is probably the bulwark that physically separates adjoining occupiers in terraced or semi-detached houses.
The Party Wall Act and Extensions
If you are building an extension, the part of the Act that's often most relevant is where it applies to the excavation of foundations close to neighbouring buildings or garden boundary walls.
In order to trigger this legal minefield, excavation normally needs to be within a critical distance of 3m from the adjoining property where your new trench is deeper than their existing foundations.
Because older properties tend to have relatively shallow footings in most cases it's a 'given' that the extension foundations will be considerably deeper.
Where there is any doubt, it might be worth consulting any records of foundation depths or seeking an expert opinion, for example from a building control surveyor.
Will the Party Wall Act Affect my Plans to Renovate?
If you live in a semi, terrace, flat, or your detached home is sited within close proximity to neighbouring houses, it might.
The key things to remember are which walls constitute as party walls and the type of work subject to the Act.
Walls and other built elements include:
floors and ceilings between flats
shared boundary walls, such as those between semis and terraced homes
any other walls which touch the boundary are covered
(MORE: Renovating a House)
Work Covered by the Party Wall Act
More extensive work is covered by the Party Wall Act and it's always worth checking online to see if what you plan on doing requires a Party Wall Agreement.
The main areas it includes are:
converting a loft including cutting into boundary walls to support new beams
inserting a damp-proof course
increasing the thickness
demolishing and rebuilding a party wall
extending above a storey which lies on the boundary
building a new wall for an extension, for example, up to or on the boundary
excavation work for new foundations, subject to condition. You'll need to assure your neighbour of the safeguards in place to protect their foundations
Areas not included:
fitting shelves
replastering
wallpapering
electrical rewiring
If you plan to undertake any work covered by the Act, you'll also have to give 'Notice' of the commencement of work to your neighbour.
The Party Wall Act and Foundations
Most extensions, basements and self builds require foundations to be dug and this is a big area for the Party Wall Act.
No neighbouring property want's to risk their own foundations for yours!
You must give Notice under the Party Wall Act if you're excavating for new foundations deeper than the foundations of your neighbours' home.
This means within three metres of the boundary, or within six metres if a 45° will be formed between the bottom of your new foundations and those belonging to your neighbour.
Remember
If you are excavating near a neighbouring building then you need to give at least one month's notice
What is a Party Wall Act 'Notice'?
The Party Wall Act Notice is what you 'serve' on your neighbours informing them of the planned work.
The precise forms you need to issue will depend on the type of work you want to carry out. You can download appropriate Party Wall Notice forms online.
A sample letter is included within The Party Wall Act booklet (download or order your copy at communities.gov.uk).
Once complete, present this, together with a copy of the Act and explanatory booklet, to your neighbour two months before starting.
The Final Stages
Your neighbour will have 14 days to provide written approval or rejection. Let them know a template is available for both options in the explanatory booklet.
You don't need planning permission for your plans to serve notice.
Chartered surveyor Ian is the author of eight popular Haynes House Manuals and is a director of Rightsurvey.co.uk. He is also in the process of adding a large extension to his home.
Homebuilding & Renovating Newsletter
Get the latest news, reviews and product advice straight to your inbox.
Thank you for signing up to Homebuilding. You will receive a verification email shortly.
There was a problem. Please refresh the page and try again.