What is an Interior Designer?
By Natasha Brinsmead published
What is an interior designer? It is a question often asked by when embarking on a new home interior project. We explain all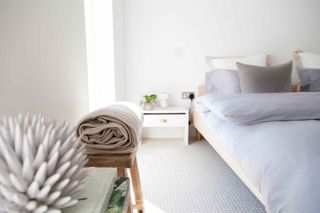 (Image credit: North Sands Developments)
If you are about to upgrade your interior scheme or have taken on a new home in need of some cosmetic attention, you may well be asking 'what is an interior designer?'
It is a question often asked by those unsure of their own design skills or struggling to know how to translate their ideas into reality. While some people view an interior designer as an unnecessary additional cost when budgeting for their new interior scheme, it is important to realise just how much value a design professional could add to you home.
In this article, we explain the role of an interior design, what they could add to your scheme, the various routes and options available, what an interior designer costs and ask the professionals themselves just why anyone should use an interior designer.
What Does an Interior Designer Do?
Many people wrongly assume all an interior designer does is provide a finishing flourish here and there and talk you into painting your walls a colour you later regret (remember Changing Rooms?). Wrong! A good interior designer will listen to your hopes and needs and not only ensure the space looks good, but also that it works well.
Interior designers work with their clients to design their interiors to match their requirements in a way that suits their budget. In addition, they can also provide the following services, depending on the level of service you select:
Provide a selection of layout plans
Give detailed specifications
Come up with a schedule of works
Recommend and source products
Devise positioning plans for heating sources and electrical outlets
Advise on and specify flooring
Become a point of contact for contractors and decorators
Take on the kitchen design
Work alongside your architect
The services offered by an interior designer vary and you can usually choose the level of involvement you wish them to have. At the most basic level, they can provide a 'design only' service, ranging from a simple design based on your brief up to a more detailed design package that can be used to get accurate quotes from contractors and show to your builder. If you are after more than this, a 'design, supply and install' service might be more suitable, where your interior designer works on the project for its duration, even acting as project manager.
If you plan on using an interior designer, it is vital that you inform the other members of your team so that everyone knows who is doing what and when.
Benefits of Hiring an Interior Designer
"Defining your own sense of style can often be overwhelming and confusing," say Jenna Choate and Mariana Ugarte of London-based design studio Interior Fox. "One of the many benefits of working with an interior designer is the help they give you to find your own design identity. A trained designer will work with you to pinpoint your style and curate a scheme that reflects your personality and lifestyle."
The other benefits of using an interior designer include the fact that they can often find the best prices on products and can sometimes pass on trade discounts. In addition, they often have great connections meaning they can recommend decorators, electricians and so on.
A great interior designer can work with you on moodboards and help you understand how to turn your ideas into a workable scheme, explain how colours, textures and accessories work together and suggest how to make the best use of the space you have available.
Much like an architect, an interior designer should have good technical skills and will be able to provide detailed plans of your space, helping you to choose the right furniture for the dimensions of your rooms, taking into account ceiling heights and architectural nuances.
They can also advise on lighting, both artificial and natural sources.
How Much Does an Interior Designer Cost?
Although 'how much does an interior designer cost?' is a reasonable question, it is difficult to give an exact figure for how much an interior designer will charge for a particular project. However, most of them will base their fee on what you have told them your budget is, and tailor their services accordingly.
Some experts suggest that you should set your budget at around 10% of your expected overall project cost — so, for example, for a project that will cost £5,000, a fee of £500 would be reasonable.
According to Design For Me, a service that matches homeowners with designers, at the lowest end of the price scale (around £100-£500), you could get a consultation, a furniture placement plan, a moodboard and a shopping list of purchases (which you would need to make yourself). Consultations may well be carried out remotely and documents might be digital for you to print off.
At the other end of the scale, for a fee upwards of £2,000 Design For Me suggests that you can expect a design, supply and installation service that also includes elements of project management, purchasing of goods on your behalf, 3D images and a smooth-running schedule.
Bear in mind that, although hiring an interior designer means paying out money you'd save if you took on the task yourself, many people find that this outlay is offset by the benefits a designer offers, such as product discounts only they are able to get, or a more favourable property valuation when the project is complete.
"It's a misconception that interior designers are only for those with huge budgets and large properties," say Jenna Choate and Mariana Ugarte. "In actual fact, working with a designer can save you a great deal of time and money. It will save you from costly mistakes and provide you with a scheme that will add an instant wow factor.
"Setting out a budget from the get-go will allow you to stay within the confines of what you're willing to spend. Having the insight and know-how of a designer and the trade discounts available to them are just some ways of maximising your budget."
What is a Moodboard?
Moodboards take lots of different forms. Some people choose to use a website that allows you to build up a virtual 'board' of all the things you like, from items of furniture to colours. Other people prefer a board they can physically hold, attaching swatches, photos and colour cards and moving them around until they feel happy with the overall look.
"A moodboard is an important starting point in any interior design project," says Juliette Thomas, of Juliettes Interiors, who also runs an online interior design school. "We all start out with many ideas about what we would like, but a moodboard will help bring all these ideas together so you can start to narrow down your choices and see how they work together.
"It's worth noting that creating a moodboard is not a five minute exercise. For it to be truly useful, you will need to spend some time beforehand collecting samples and ideas. Moodboards are really helpful for keeping you on track with colours and textures, as well as deciding on the finishing touches that will bring the room together."
"Many people make the mistake of buying things in a hurry without thinking about how they will all work together," add Jenna Choate and Mariana Ugarte. "A way to discover your design direction is by creating a Pinterest board and pinning everything you love. Soon enough you will start to see a pattern and be able to hone in your style, whether that is more Scandi chic or traditional eclectic."
Natasha is Homebuilding & Renovating's Associate Editor and has been a member of the team for over two decades. An experienced journalist and renovation expert, she has written for a number of homes titles. She has renovated a terrace and is at the end of the DIY renovation and extension of her Edwardian cottage. She is now looking for her next project.
Homebuilding & Renovating Newsletter
Get the latest news, reviews and product advice straight to your inbox.
Thank you for signing up to Homebuilding. You will receive a verification email shortly.
There was a problem. Please refresh the page and try again.