Find a Builder: How to Find the Right Trades for Your Build
How do you find a builder with the right experience and skills, and that you can trust? Here's our top advice to use on your search for a build team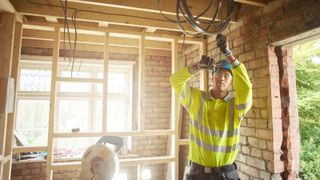 (Image credit: getty images)
In reality, your quest to find a builder isn't going to be the easiest part of your build. In fact, with a trades shortage resulting in a 20-year-high in demand for building work, finding the right team to take on your build is trickier now than it has ever been.
Yet, the importance of getting the right builder on board can't be overlooked. Not only will it result in the best quality build, but having a good relationship with your builder will ensure you get exactly what you want, while potentially saving you time and money along the way.
But where do you find a builder like that? Our 13 step guide will help you not only find the right builder for you, but root out the cowboy builders along the way that could turn your dream of a self build or extension into a living nightmare.
(MORE: Find a builder in your area)
1. Find a Builder Working Locally
Finding a builder locally can have huge benefits when it comes to your build. Time on site, their knowledge of local planning permission, builders' merchants and other local trades are all invaluable nuggets of knowledge that you'll welcome on site.
There's no harm in taking a walk around where you live or going on a little drive locally to spot any works going on in your area. It'll give you an idea of the builders who are active close by, plus if you see a builder's board, it's a sign that at the very least this is a builder proud of their job and looking for more
You don't necessarily have to like the style of work they are currently carrying out – after all, many people opt for ordinary extensions and new homes – but a builder can only produce what's on the plans in front of them.
2. Get Recommendations From Other Tradespeople
If you've used an electrician before or a local plumber and liked their work, why not contact them and ask if they know of any good builders they'd recommend.
Most tradesmen get used to seeing the same familiar names around the sites they are working on and often have preferences for who they like to work with — and who they see as a good source of work.
If you can engage with one of them, you can open up a whole network of local, reliable names.
3. Ask Friends to Recommend a Builder
Word of mouth is a cliché, but asking friends and family if they'd recommend anyone is always a good place to start.
A lot of trades rely on word of mouth and if you can find a builder through someone you trust and whose work you can go and visit, then you can make a decision about whether they'll do a good job.
4. Always Talk to Previous Customers
Once you've found a builder you like, don't be afraid to ask them for a list of previous customers; they should be happy to provide details if they're confident they've done a successful job. This will give you an ideal opportunity to really find out what they're like and see examples of their work first-hand.
Meeting previous customers is a great way of finding out not just about the quality of a builder's work but also other things that are important.
5. Find a Builder Online
Top Tip
Bear in mind that while these sites provide a source of builders' names who are more likely to be reliable, in no way should it be seen to replace the usual checks that should always be carried out.
A good place to starting looking online to find a builder is on sites like the Federation of Master Builders.
They have a search tool where you can find specific trades in your area and look at their references. All FMB members are vetted and independently inspected, and are checked to ensure that they have the correct insurances in place.
Checkatrade and the Guild of Master Craftsmen are also good places to find a builder local to where you live. They offer stringent checks, which should give you more reassurance.
If you've found a few contacts, take a look at their website to find out what work they cover and to see if you can look at examples of their previous work.
6. Find a Builder Through Your Architect
Many local architects and designers will have experience of dozens of projects similar to yours, in your area. Depending on the extent of your arrangement with your designer, they may be able to help you find a good builder.
Even if your designer is offering no more than a fixed price design service, they remain one of your few early contacts who will have experience of the local building scene and are still worth tapping up for a few names.
You cannot benefit from zero rating for VAT on a new build, or most of the VAT concessions on renovation work if the builder you hire is not VAT registered.
7. Ask the Building Inspectors
Local authority building inspectors are a much under-utilised resource for helping local people taking on building projects.
Although some inspectors are unwilling to do anything off the record, the majority now are progressive enough to help out self builders and renovators looking for builders by giving hints, nods and winks as to local builders they have known well for many years.
Understand that these aren't recommendations as much as informal guidance and no building inspector would ever guarantee a trouble-free project.
8. Beware of 'Too Good to Be True' Quotes
A high price is not necessarily a sign of quality in a building firm but, more than that, it is important to resist the obvious temptations of a low price. If one building contractor comes back to your tender documents with a quote for your work which is significantly lower than the other tender prices, you need to be suspicious.
It may just be that the other builders' quotes are excessively high and the one firm is simply good value.
But, more than likely the one firm is putting in a speculative bid to try and get the work — and aims to make more profit on the project by, for instance, cutting corners or introducing a range of extra charges as work progresses.
This can lead to disputes further down the line — when it is much more difficult to do anything about it.
Either that or, as they begin to find the work hopelessly unprofitable and end up making a loss on it, they simply pack up and walk off to more lucrative pastures.
9. Assess a Builder's Suitability Before you Commit
Once you have a list of recommended builders, it is time to look at exactly what they offer. There are a few questions you should be asking.
Firstly, where are they based, and what jobs do they already have on the go? Whether a trade is local and what they're already committed to will tell you a lot about whether it's realistic for them to deliver what they promise.
Another good indication that someone is worth hiring is time served — look for experienced workers where possible.
Lastly, find out whether your prospective team is employed directly or self-employed subbies. Neither of these situations is particularly preferable, per se, but knowing will give you a clearer idea of what you're paying for.
Equally important are matters of qualification and paperwork.
What to remember:
Are you hiring someone who will be able to sign off on gas and electrics?
Have they got the right insurance and warranties in place?
If they're a member of a trade organisation, what does that actually mean? Does it commit them to a higher standard of work, or have they simply paid for the right to display a fancy logo on their van?
10. Evaluate your Builder's Estimate
Familiarise yourself with how to work through your estimate as this will play a large part in your decision making.
You need to ask the following questions in relation to each:
How detailed is it?
Is it broken down?
Is there a split between materials and labour?
Is client relationship management (CRM) included? This is the job of keeping everyone in the loop — most importantly you!
Is a Health & Safety report included in the price?
Does it cover everything you have asked for?
Has waste been properly accounted for? Are skips and muck-away lorries included?
Are there any elements which stand out to you?
Is it clear whether VAT is included?
Is there a project management fee included, or will you be running the job for yourself?
How many site meetings are planned to keep everything communicated and up to date?
Has allowance been made for building inspectors' fees?
If the estimate is for next year, have year-on-year price increases been taken into account, especially when it comes to materials?
It's worth familiarising yourself with how to pay a builder at this point too, to ensure that you meet the builder's expectations and have the cash flow to keep the project moving.
11. Get a Current Reference
Another good way to size up potential builders is to speak to people who are having work done by them while they're not there. This will let you ask off the record what they are like to have in the house:
Are they polite?
Tidy?
Punctual?
What's their communication like?
The answers to these questions are nearly as important as the quality of their finished work.
12. Find a Builder Who Can Project Manage
Project management comes with a lot of responsibilities and takes up a lot of time, but it is one way to get the best from your builder. These responsibilities vary depending on the job, but broadly include the following:
Making sure the necessary trades are on the job at the correct time
Liaising with trades to make sure all the materials they need arrive on time
Attending regular meetings with the client to keep them updated
Arranging impromptu meetings to allow the client to make important decisions that arise as the build progresses
Arranging and running meetings with building inspectors
Keeping on top of any extra works, including organising trades, sourcing materials and keeping the client in the loop
Liaising with the architect and structural engineer on any amendments to their work that become necessary, and organising these works moving forward.
If a job is run well, it will generally run on time and on budget and be relatively stress-free.
After considering all this, you might find that your head is spinning. In the end though, there is something to be said for your gut feeling.
It's impossible to weigh every single little thing up, so if you have a good feeling about one particular builder or contractor, and the price is right, then go with it.
13. Get a Contract in Place
A contract that details the extent of the work to be carried out in return for the agreed price – in addition to recording any extras as yet unagreed – is a useful point of reference in the event of any dispute.
It will protect you in the event of anything going wrong, and documents everything to provide both parties with peace of mind. JCT offers the most popular jargon-free contracts.
Get the Homebuilding & Renovating Newsletter
Bring your dream home to life with expert advice, how-to guides and design inspiration, direct to your inbox.
Andy Stevens is a multiple award-winning builder who manages Surrey-based building company Eclipse Property Solutions; he specialises in new builds, extensions and loft conversions.
While he is still on the tools, he is also widely involved in the construction industry. He presents a show on Fix Radio and hosts his own building podcast Build:It, as well as being a speaker at the Homebuilding & Renovating Shows.
Andy has sat on the Board of the Federation of Master Builders (London region) and was previously Vice President. He also works with construction charities and is an advocate for mental health in the industry.