10 Top Kitchen Diner Ideas
By Claire Lloyd published
From lighting to connecting to the garden, read our clever kitchen diner design tips for getting the most from this key space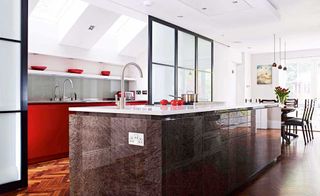 (Image credit: Holloways of Ludlow)
When it comes to kitchen diner ideas, there really is something for everybody. Whether you are planning on creating the ultimate social hub in your home, or want to really ramp up the wow-factor of your kitchen design then make sure you consider these ideas before you start.
1. Give Thought to Size and Layout
One of the benefits of building a new house, or extending and/or remodelling an existing home, is that you have more flexibility to decide on the size and shape of your kitchen diner. Ideas include:
Large square or rectangular rooms work best when carefully zoned.
An L-shape arrangement is another option (and may be readily achieved by extending to the rear and knocking through to an existing reception room). This layout allows a degree of separation between the kitchen and dining space, and often means you're not in sight of kitchen mess when sitting at the table.
2. Your Lighting Scheme Plays an Important Role
As multi-functional rooms, kitchen diners are arguably one of the most complex spaces to light in the house. A well-designed lighting scheme features layers of light:
ambient (general) lighting
task lighting (i.e. under-cabinet lighting, introduced to facilitate activities such as food prep)
accent lighting used to highlight features (used within glazed kitchen units, for instance)
Think too about the other activities which may take place in this room. For example, while pendant lights look stunning above a dining table or island, if this spot doubles as a place for the kids' to write their homework, you may want to consider an additional source of light.
3. Plan For Extraction Early On
Lingering cooking smells are a common problem in open plan kitchen, dining and living spaces. Giving extraction some thought at the design stage can help mitigate this issue. Ideas include:
Specifying a ducted hood – which removes air to the exterior, rather than a recirculating hood, which instead uses filters to purify the air before expelling it back into the room – is a good idea
Opt for a model with an intensive power setting, designed to eliminate odours quickly
The cooker hood should be adequately sized for the space, too. Cooker hoods need to be at least the width of the hob. (For an induction hob, you'll need a hood which is wider than the hob in order to catch vapours which dissipate outwards)
"Ducting and correct installation is also crucial as inefficient ducting is the number-one cause of poor performance, including noise," state the experts at Miele GB. "For efficient extraction, the ducting should be as short and straight with as few bends as possible, with smooth walled ducting"
4. Introducing Natural Light is Vital
Given this room is likely to be the most-used space in the house, maximising potential for introducing natural light is a very good idea. 'Daylighting' will inevitably reduce reliance on artificial lighting too.
Windows and glazed doors (French, sliding or bifold) aside, one challenge in rooms of this size is introducing light deep into the floorplan. Try one of these practical and beautiful solutions:
a bank of rooflights
a large roof lantern above the kitchen or dining table
Material choice can also have an impact. Gloss kitchen units in light colours or neutrals can help bounce light around the space; while light flooring, such as limestone, travertine or pale wood can be beneficial, too.
5. Get in the Zone
Successful open plan spaces are not only cohesive, but are zoned, with different areas of activity defined. There are many ways of zoning a kitchen diner:
Using a kitchen island or breakfast bar is not only a cost effective way to visually divide the space, but adds surface area and storage.
Use different circuits to 'shut down' the kitchen when dining, or utilise dimmable lighting to create different moods.
A particularly impressive means of creating zones is through creating various levels. One classic example is placing the kitchen beneath a standard ceiling (say, 2.4m high), with the dining space beneath a vaulted ceiling or double-height space.
6. Give Thought to Flooring
Check out our latest subscription offer
Flooring can require some considerable thought in kitchen, dining and living areas. You have two key choices:
Use the same floor running throughout, creating a sense of cohesion across the entire room
Using a hard-wearing, low-maintenance floor in the kitchen, like slate, and something softer underfoot in the other areas, such as wood or carpet
If you want the same flooring throughout then stone flooring such as slate or limestone is a practical choice. Luxury vinyl tile (in a stone or wood effect) is another solution which is a little softer underfoot.
A variety of floor finishes can work well in zoning different areas in an open plan space, but the juncture where the two floors meet can be a challenge; transition strips often look ill-placed and clumsy. Solutions include:
introducing a partial wall divide
a variation in floor height
7. Conceal Kitchen Clutter
Sitting down for an evening meal or settling on the sofa with dirty plates and pans on view is not a recipe for relaxation. It can be a particular problem when entertaining in an open plan space, too.
One solution for larger properties is the introduction of an adjacent food prep room
Another clever solution, without having to introduce a dedicated room, is designing in sliding partition doors which can be closed when guests arrive
Space-spacing ways of hiding clutter include introducing a raised worktop or breakfast bar
Again, setting the kitchen at a different height to the dining space is another idea
8. Connect Your Kitchen Diner with the Garden
Positioning a kitchen diner at the rear of the house is a good way to make the most of the garden views and opportunities for alfresco dining. To make the garden more accessible from this principal living space, try:
Adding an opening. While French doors suit period homes, sliding and bifold doors have become a staple of the modern home
Incorporating a well-placed outdoor eating area — preferably on a level threshold and readily accessed from the kitchen
9. Consistency of Design is Key
Using a similar palette of materials and/or a unified colour scheme across an open plan space is particularly effective in creating a cohesive interior.
Many bespoke kitchen companies will create cabinetry for the dining space which matches units
Picking up accent colours used within the kitchen in the dining space will help tie these spaces together
Symmetry and repetition of shape help too — for example, introducing a dining table of similar proportions to the kitchen island
10. Address Noise
While noise-generating appliances such as washing machines and tumble dryers can be tucked away in a utility, there are some essential pieces required in an open plan kitchen diner.
The cooker hood, for example, needs to be both powerful enough to quickly eliminate odours, but also ideally quiet. (Correct ducting and installation are key here). The dishwasher can be another significant source of noise, sloshing away just as you sit down to diner.
Invest in appliances which promise a low decibel (dB) rating. The Servis dishwasher, works at just 39dB, which is quieter than a fridge humming; while Bosch offer models with Silence Program and SuperSilence programmes — the quietest work at 38dB
Look out products which come with Quiet Mark approval
But appliances aren't the only source of noise within a kitchen diner. Our penchant for open plan spaces often goes hand in hand with our desire for hard flooring, lots of glazing and other such hard surfaces — all dreadful for acoustics. If noise is a potential concern:
Introduce soft furnishing (rugs, curtains, soft wall panelling, etc)
Acoustic plasterboard, such as Gyproc SoundBloc, can also aid in reducing airborne sound transmission
Claire is Editor of Homebuilding & Renovating and has been a member of the team for over 13 years. An experienced homes journalist, her work has also appeared in Real Homes and Period Living magazines. She has a particular interest in green homes, and interior design is also a passion; she has undertaken qualifications in this area. Claire has recently finished her renovation project — and is now onto the next.
Homebuilding & Renovating Newsletter
Get the latest news, reviews and product advice straight to your inbox.
Thank you for signing up to Homebuilding. You will receive a verification email shortly.
There was a problem. Please refresh the page and try again.