Small Ensuite Ideas to Make the Most of Any Compact Bathroom
By Amy Reeves
Maximise the potential of your space with these small ensuite ideas — from storage, layouts and ingenious designs to get you inspired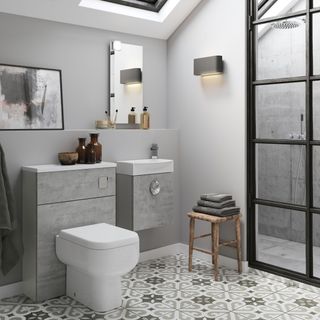 (Image credit: Mereway Kitchens & Bathrooms)
Utilising innovative small ensuite ideas can transform a cramped, awkward space into a relaxing bathroom design. 
Tricky to get right, ensuites offer spot of luxury away from the shared spaces of the rest of the house, but spatially-challenged rooms require an extra bit of forethought to ensure they users don't feel hemmed-in. 
Be sure to note down the measurements of your space, including any awkward angles or boxing in, when looking at small en suite ideas. With this starting point you can plot out how design ideas, various space-saving products and different layouts will fit, while still functioning in harmony with your lifestyle. 
Scroll down to discover excellent tricks of the trade, compact storage and ingenious solutions for small ensuites to get your design off the ground. 
Design a Relaxing Space that Suits your Style
First-things first, when designing a small en suite always remember that it will be your space to unwind after a long day and perk up in the morning. Away from the hustle and bustle of the family bathroom, this is a chance to really express your style — be that in a statement tile, luxurious freestanding sink or if you've got space a relaxing bath. 
Starting with this 'hero' piece should make subsequent decisions easier, dictating colour matches, furniture choices or layout options from the off. 
Decide on a Layout to Make the Most of Great Small Ensuite Ideas
The shape of the room and plumbing points will be essential in deciding the layout of a small en suite and using these aspects to your advantage will make all the difference. 
Narrow ensuites, like the one pictured above, work best with all sanitarywear positioned against the same wall in a galley style, while square shaped small bathrooms could offer the chance to build-in storage or section off a space for a shower enclosure. 
Opt for Space-saving Storage and Sanitarywear to Maximise Space 
Small ensuites are not a new thing so the market is brimming with compact loos, sinks and storage. Be sure to measure your room before purchasing any sanitarywear to ensure a good fit. 
(MORE: Bathroom Storage Ideas)
Make Some Room in Very Small Ensuites
While ensuites always need to be practical, the nature of extremely small spaces might mean some elements might have to be sacrificed to ensure there's room to actually use it. 
Shower rooms without a bath are most common for small ensuites, but if your home has multiple bathrooms elsewhere, perhaps consider if you will utilise the space better without a loo. A good design doesn't have to include everything for it to work for your lifestyle and small space. 
Create the Illusion of More Space
Freestanding santiarywear is a great option for those who don't want to feel too cramped. Allowing the entire floorspace to remain visible is a great trick for a spacious appearance while delicate shelving units can display soaps and plants. 
Turn a Small Ensuite into a Wetroom
When looking at small ensuite ideas, you'll notice many designs are divided with a simple shower screen either with a shower tray or a tiles wetroom floor. This is because traditional shower enclosures take up a lot of room and make the room quite visually busy and awkward, making a wetroom a natural choice.  
The homeowners of this small wetroom also opted to outsource a bath from their ensuite into the bedroom for a hotel-inspired spa-like finish (see below). 
Look at Innovative Ideas for a Small Ensuites with a Bath
Ensuites normally don't have room for a bath, much less small ones, but there are some great new designs that are made specifically to fit into a compact space, such as Albion Bath Company's deep Tubby Torre bath shown here. 
Choose Built-in to Maximise Storage when Looking at Small Ensuite Ideas
Built-in units can cleverly hide away essential-but-bulky bits and bobs seamlessly while carving out alcoves for showers enclosures, toilets and sinks. 
Make a Feature of a Small Space
Modern bathrooms are all about a sense of sanctuary and luxury, so consider turning simple fixtures into features, such as installing interesting storage solutions, impactful towel rails or light fittings, as in this bathroom renovation.
Embrace a Cosy Atmosphere with a Dark Colour in a Small Ensuite
While we tend to think of small bathrooms needing white tiles and walls to create the illusion of being bright and open, sometimes the opposite can be more effective. 
As we have seen in recent years in snugs and bedrooms, painting a small room a deep, bold colour can give the impression of elegance and sophistication — perfect for a spot of peace and quiet while having a bath! 
Homebuilding & Renovating Newsletter
Get the latest news, reviews and product advice straight to your inbox.
Thank you for signing up to Homebuilding. You will receive a verification email shortly.
There was a problem. Please refresh the page and try again.