Self Build & Renovation Insurance
If you are self building, renovating or extending, don't ignore the need for specialist insurance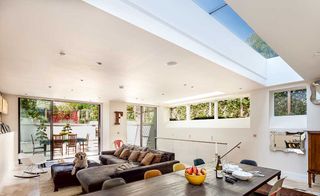 (Image credit: Jeremy Phillips)
Building or renovating your own home is the single biggest investment in your life. To enter a project without sufficient insurance is madness – but many people do, and often unwittingly – did you know, for instance, that your existing policy may not cover any works undertaken as part of a renovation or extension project?
This risks your entire investment and leaves homeowners in desperate situations. To help homebuilders and renovators find it easier to secure peace of mind, Homebuilding & Renovating has partnered with leading insurance specialist Self Build Zone to provide bespoke solutions at market-leading rates for its readers.
How Much Does it Cost?
Prices will vary, but expect to pay between 0.5 and 1 per cent of the overall build cost. A self build policy doesn't cover personal possessions, but can be converted to a household policy upon project completion.
The Products
Homebuilding & Renovating Contractor & Tradesman Insurance provided by Self Build Zone
Period Living Specialist Home Insurance provided by Sennocke
Self Build Policies
Self build projects carry a very particular set of risks. Make sure you are properly insured for the duration of your project.
Get a quote now to protect your self build
Renovation and Extension Policies
If you are extending or renovating your home, you might not know that your standard policy is not sufficient. Get peace of mind for your project with specialist cover.
Get a quote now to protect your extension or renovation
Contractor & Trademan Insurance or Period Living Specialist Home Insurance
To find out more, call Self Build Zone on 0345 230 9872 or for Period Living Specialist Home Insurance, call Sennocke on 0345 230 1515
Homebuilding & Renovating Newsletter
Get the latest news, expert advice and product inspiration straight to your inbox.
Thank you for signing up to Homebuilding. You will receive a verification email shortly.
There was a problem. Please refresh the page and try again.