Get Specialist Insurance for Your Self Build, Renovation or Extension Project
Standard home insurance policies are often insufficient for those self building or renovating a house. But worry not, as specialist products are available to give you peace of mind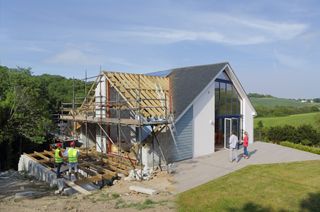 (Image credit: getty images)
Building your own home or taking on a renovation project is an exciting yet expensive time, in many cases, it'll be the single biggest financial investment of your life.
It is therefore startling that many people take on such projects without adequate insurance in place, risking the entire investment and potentially landing them in desperate situations.
Did you know?
Your existing home insurance policy may not cover any works undertaken as part of a renovation or extension project.
To help homebuilders and renovators secure peace of mind, Homebuilding & Renovating has partnered with leading insurance specialist Self Build Zone to provide bespoke insurance solutions at market-leading rates for its readers.
How Much Does Specialist Insurance Cost?
Prices will vary, but expect to pay between 0.5 and 1% of the overall build cost. A self build policy doesn't cover personal possessions, but can be converted to a household policy upon project completion.
The Products
Homebuilding & Renovating Contractor & Tradesman Insurance provided by Self Build Zone
Period Living Specialist Home Insurance provided by Sennocke
Self Build Policies
Self build projects carry a very particular set of risks. Make sure you are properly insured for the duration of your project.
Get a quote now to protect your self build
Renovation and Extension Policies
If you are extending or renovating your home, you might not know that your standard policy is not sufficient. Get peace of mind for your project with specialist cover.
Get a quote now to protect your extension or renovation
Contractor & Trademan Insurance or Period Living Specialist Home Insurance
To find out more, call Self Build Zone on 0345 230 9872 or for Period Living Specialist Home Insurance, call Sennocke on 0345 230 1515
Get the Homebuilding & Renovating Newsletter
Bring your dream home to life with expert advice, how-to guides and design inspiration, direct to your inbox.
Sarah is a journalist, editor and the former Web Editor of homebuilding.co.uk. She began her career more than a decade ago, working on the editorial team of Public Sector Building magazine, before joining the wider Homebuilding & Renovating team as Social Media Editor in 2012. Since purchasing her first house in 2015, Sarah has been adding to the ever-increasing list of home improvements she needs to make; including extending over the garage, resurfacing the driveway, replacing existing flooring and revamping the kitchen. Fortunately, her time with Homebuilding means she is not short on design inspiration or top tips to tackle or project manage these tasks herself.