How to Build a Stud Wall
By Natasha Brinsmead published
Building a stud wall can be a bit fiddly — but, with our guide, should be a job you do not have to rely on the professionals for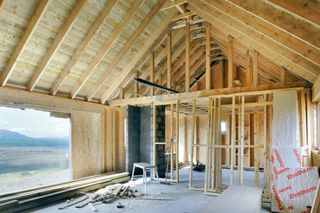 (Image credit: Nigel Rigden)
In most homes built these days, the majority of the first floor internal walls are made up of studwork – a timber frame – with plasterboard screwed over the top. Not only is it a quick way of putting up a wall, but it's also useful in that pipes and wires can easily be run within the hollow part of the wall. Stud walls are also useful when dividing up large spaces in existing homes or when fitting wall-hung sanitaryware and the like.
If you were to hire a carpenter to undertake this job for you, you could expect to pay around £15/m², but this is a task which can be carried out on a DIY basis, too.
Once you have all your measurements in place and your tools assembled (see list right), the first piece of wood to be fitted is the floor plate, which you should check is completely straight and cut to length before it is secured to the floors using either a nailgun or screws with rawl plugs. Make sure you avoid any pipework or wires and try to fix the floor plate at 900mm intervals.
With the floor plate fixed, measure and cut the piece of timber for the ceiling (the latter is known as the head plate). You may need another pair of hands to hold it still while you check it is straight and screw it into place. If you're able to see the timber trusses above, it will be easy to know where to screw, but if you are screwing into a plastered ceiling it will be necessary to lift a floorboard or two to locate the ceiling joists — or make a trip up into the loft in the case of first floor walls. Wall studs should then be fixed to the walls the studwork is coming off, between the floor and head plates.
Next, measure for the intermediate studs; adding 2mm to this measurement will ensure a good tight fit. Fix the intermediate studs at 400mm centres if you plan on using 9.5mm plasterboard, or at 600mm centres if you are using 12.5mm plasterboard.
Then come the noggins, which act to strengthen the structure and stop any wobbles. If you place them so that sheets of plasterboard can be screwed to them where the sheets join, you will be adding reinforcement to the plasterboard too.
If any wiring or pipework needs to be run within the wall (usually through holes in either the intermediate studs or the noggins), do it now before the plasterboard goes on. It is also better to fix the ceiling plasterboard before turning your attention to the walls.
Now the plasterboard (which you should have already cut to fit) can be fixed in place (horizontally if possible). Fix it in place at 150mm centres. Once one side of the studwork has been boarded, you can fit sound insulation (see below) before attaching the other side of plasterboard.
Finally, use scrim tape over the joins, before either applying a joining compound or skim coat.
Works List
Tools
Saw
Hammer
Nailgun (if using)
Spirit level
Pencil
Workbench
Square
Large-bladed filler knife
A helper!
Materials
Plasterboard
Appropriate studwork timber (dependent on the size of wall)
100mm oval nails, or screws
Jointing tape
Sharp knife
Joining compound
Stud Walls and Sound
Stud walls lack the soundproofing qualities of a solid wall. Building Regulations insist on an element of sound resistance of a minimum 40 decibels between walls, so you will need to add acoustic insulation to the walls during the construction.
Using a mineral wool or acoustic foam inside the studwork should do the job.
Alternatively, you could fix two layers of plasterboard to each side of the studwork, but this will take longer.
Another option is to buy an acoustically engineered board, such as British Gypsum's SoundBloc or Knauf's Silentboard.
Natasha is Homebuilding & Renovating's Associate Editor and has been a member of the team for over two decades. An experienced journalist and renovation expert, she has written for a number of homes titles. She has renovated a terrace and is at the end of the DIY renovation and extension of her Edwardian cottage. She is now looking for her next project.
Homebuilding & Renovating Newsletter
Get the latest news, reviews and product advice straight to your inbox.
Thank you for signing up to Homebuilding. You will receive a verification email shortly.
There was a problem. Please refresh the page and try again.