Building an Extension: How to Build Your Dream Space
Building an extension can be exciting and daunting in equal measure. Our guide will walk you through all you need to know before starting your extension journey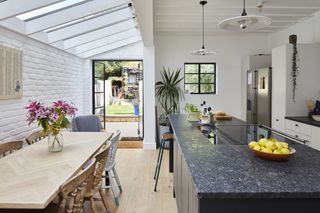 (Image credit: Resi / HPH London)
Building an extension is all about creating the space you crave but it will mean digging deep emotionally and financially, so you'll want to plan, design and build to budget and within a timescale.
So how can you make the process of building an extension as plain sailing as possible? 
Our beginner's guide is here to help. We will walk you through how much building an extension might cost, who you'll need on your team to help you, what areas you can take on yourself, what you can build without planning permission, and more.
So whether you're taking on a rear, glazed or two-storey extension read our beginner's guide for all the advice you need.
(MORE: Need a quote for your extension?)
How Much Does Building an Extension Cost?
How much an extension costs to build will depend on many factors. Price hikes on materials and labour are pushing prices up across the UK, but other factors more specific to your build such as size, shape and how much glazing you'll include will all impact costs.
If you're carrying out a fairly standard single storey extension project, managed on your behalf by a builder, you should be looking to allow £1,800-£2,300/m2 for the finished scheme, with a two storey extension costing slightly less (on account of more cheaper space) at around £1,500-£2,000.
In certain parts of the South and high value areas of the UK – affected by labour shortages – this you could easily be paying £3,000/m2, particularly on smaller schemes. That makes an 8x4m kitchen extension a £50-£70,000 project; a two storey extension on the same footprint around £100,000. But, these figures are there to be broken depending on the chosen specification and the build route. 
[MORE: How Much Does an Extension Cost?]
Editor's Note: Homebuilding.co.uk partners with the UK's best extension specialists to match your requirements with their services. Simply answer a few questions on what you need from your extension and we'll put you in touch with a suitable partner.
Who Will Project Manage the Extension Build?
There are different routes to go down when it comes to who manages the build. You can manage the build and take on subcontractors, or take on a project manager to sort it for you. 
If you're a competent DIYer then you could take on a lot of the extension build yourself. Alternatively, you can use a design and build company who will manage the build project for you but if you've used an architect or designed the extension yourself then you'll need to find a main contractor to manage the project. 
Sites like Checkatrade.com are a good place to start your search. But, word of mouth is often a great way to find someone locally — speak to friends and family and ask them for recommendations.
[MORE: Finding a good builder]
Which build route you choose will impact costs. Typical build costs based on routes are likely to be:
DIY: £300-£700/m2
Self-managed: £600-£1,400/m2
Main contractor: £1,000-£1,700/m2 
Design and build: £1,200-£2,000/m2 
Can I Build an Extension Cheaply?
One way to keep costs down is choosing a more budget-friendly construction system option like blockwork rather than SIPs, for example. Concrete blockwork is readily available and most builders know how to work with the material, too. 
And keeping the design and shape of your extension build simple - either square or rectangular shaped with a flat roof - will be less complicated than angled designs with more complicated roof structures and lots of glass. 
And if you fancy a spot of DIY then there are tasks you can take on to help the budget, too. Plastering the internal walls, laying flooring and tiles are all jobs that can be done on a DIY basis. See 'Can I Build an Extension Myself?' below.
[MORE: Extensions for every budget]
Can I Build an Extension Myself?
Building an extension you really want and keeping costs within budget means it's often worth considering doing some of the work yourself. As chartered surveyor Ian Rock says, "Anyone with an aptitude for construction may relish the prospect of learning new skills, taking genuine pride in their achievements. But as a general rule it's best to leave anything seriously time-critical to the professionals, along with all the heavy duty structural work. If your extension needs to be completed sooner rather than later it makes sense to stick to tackling jobs near the end of the project, such as landscaping." 
The type of work you choose to undertake when building an extension will depend on how happy and handy you are with the tools. Pick parts of the build to work on where there's less risk of causing delays. 
Here are some DIY jobs that are most suited to DIY input…
Internal joinery 
Timber stud partition walls are typically non-structural and should be a realistic project for the average DIYer to get to grips with. However, there's usually time pressure to get them built so the electricians can start running first fix cabling. Installing door liners in the interior walls can also be worth doing, although these normally need to be in place before plasterboarding and plastering. Cutting and fixing skirting boards and architraves is reasonably straightforward, and can be left until the later stages, along with hanging interior doors and boxing in pipework. 
Flooring
The most widely undertaken DIY flooring project is laying floor coverings such as tiles, vinyl planks, or thin strips of interlocking laminate or engineered timber. However, installing structural timber flooring to the joists upstairs, such as traditional softwood floorboards or chipboard panels, should also be a feasible DIY project. To provide a temporary work platform for the builders, large sheets of oriented strand board (OSB) or plywood can be put in place to use as a deck.This allows you to postpone fitting the floor towards the end of the project, relieving time pressure and reducing the risk of pristine new floors getting damaged by building work or splashed with plaster. When it comes to the construction of ground floors however, these are not generally DIY-friendly because the insulation and screeding work tends to be very time-critical and needs to be coordinated with other trades. 
Decoration
Good quality decoration is key to achieving a professional finish, often ingeniously compensating for the less- than-perfect surfaces other trades leave in their wake. Nonetheless, deploying paintbrushes and rollers with a basic degree of competency is well within most people's abilities.Taking on the role of the decorator is also appealing from a DIY perspective because it isn't usually too time critical, coming towards the tail end of the project. 
Tiling
Wall and floor tiling are popular DIY projects that require dexterity combined with a logical mindset. Using good quality cutting tools is key to a successful outcome (specialist machines can be hired). It also greatly helps if you work to a clear plan and allow yourself plenty of time. As with all finishing trades you are to some extent at the mercy of those who have gone before; tiling onto perfectly true and level surfaces makes the job considerably easier! 
What Modern Materials Can I use to Build an Extension?
There are a handful of modern methods that self builders have been using that could well be adopted by extenders to potentially make the job of building an extension that bit quicker and easier.
Beam & block floor
Also known as 'suspended concrete', this floor has the advantage of being much less prone to structural problems caused by ground movement. Beam & block floors are more suited to large extensions where the existing house has a suspended timber floor that needs continuity of ventilation. 
Liquid Screed
Liquid screeds are much quicker to install by a specialist than conventional sand and cement screeds, but aren't cost-effective for a small extension. If you're adding UFH, then liquid screeds pair well. 
I-joists
The cross-section gives them their name, but also means they can carry far heavier loads than a conventional timber joist of equivalent weight. 
Monocouche render
Monocouche render can be sprayed or pumped onto exterior walls, which reduces the need for scaffolding and site costs. It's low maintenance, durable and available in a variety of earthy colours. 
Prefabricated Roof trusses
Where extensions need to marry with existing roofs and walls, the need for customisation favours the traditional 'cut timber' route (cutting timber to size on site). However, if you're building a large rectangular extension then prefabricated roof trusses (manufactured off site) can offer labour-saving advantages on site.
Will Building an Extension Add Value?
It's all about balance. If you're likely to sell on eventually then you don't want to price yourself out of not recouping any of the money you spend on building an extension. 
Building  a small extension while adding value in terms of space it'll create might not be that cost effective in how much it'll add to the value of your house if you come to sell it. 
Adding a larger extension should increase the end value of your home but it'll cost more to build so be mindful not to spend more than you'll make back on it. Plus, there's generally a ceiling price that you'll want to keep within so make sure the numbers add up. 
Talking to local estate agents can help paint a picture of the local market and what extended homes similar to your own are selling for.
What Size Extension can I Build Without Planning Permission?
Join The Planning Hub
The Planning Hub is a new online resource that will help you understand how to get to grips with complex planning rules. Join today for access to easy-to-read guides which will provide you with key information to help you navigate the planning system.
You might find that you'll be able to build an extension under Permitted Development (PD), which means you won't have to go down the formal planning route. 
Do bear in mind that if your house is in a Conservation Area or a National Park, the amount of work under Permitted Development is usually reduced.
Under PD rights certain works can be carried out providing you meet certain criteria, such as:
You can extend a detached property by 8m to the rear if it's a single-storey extension (6m for a semi or terraced house), or by 3m if it's double
A single-storey extension can't be higher than 4m on the ridge and the eaves, and ridge heights of any extension can't be higher than the existing property
Two-storey extensions must not be closer than 7m to the rear boundary
Side extensions can only be single storey with a maximum height of 4m and a width no more than half of the original building
Any new extension must be built in the same or similar material to the existing dwelling
Extensions must not go forward of the building line of the original dwelling
In designated areas (such as areas of outstanding natural beauty, conservation areas, etc), side extensions require planning permission and all rear extensions must be single storey
An extension must not result in more than half the garden being covered
(MORE: 23 things you can do without needing planning permission)
From 31st August 2020, the rules changed so that two-storey extensions on detached, semi-detached and terraced houses will be fast-tracked as long as they get prior approval. This means the local authority have to be notified of the details before the project starts and it's a much more involved process with the Local Authority. 
There are some restrictions an extension has to adhere to:
Once works have been completed, the building must not be more than 18m high (excluding plants)
The floor-to-ceiling height of any additional storey must not be more than 3m in height or higher than the floor-to-ceiling height of any of the existing storeys
The overall height of the extension, including the roof, must not be more than 7m high.
If you're planning on building a large extension then it will, more than likely, need planning permission and you will need to submit an application. 
It's wise to engage with your local authority early on and research local planning policies to know what's likely to get approved before you submit an application.
You can submit an application via the Planning Portal. An application in England for an extension currently costs £206.
Do I Need a Lawful Development Certificate?
Even if your extension project can be done under PD rights, it's worth applying for a Lawful Development Certificate (LDC) from your local authority to confirm that the work was lawful and met PD requirements and didn't need planning permission. This is well worth doing if you plan to move, too. 
It costs £103, half the normal planning fee.
How Close to a Boundary Wall Can I Build an Extension?
If building your extension involves digging or building foundations within 3m of the boundary, party wall or party wall structure, or digging foundations within 6m of a boundary, the work will require you to comply with the Party Wall Act.
Does the Party Wall Act Apply When Building an Extension?
Good to know
You don't need to have planning approval to serve a Party Wall notice. They are separate. 
There are instances when the Party Wall Act applies to building an extension. Chartered surveyor, Ian Rock explains: 
"For aspiring extension builders the part of the Act that's often most relevant is where it applies to the excavation of foundations close to neighbouring buildings or garden boundary walls. In order to trigger this legal minefield, excavation normally needs to be within a critical distance of three metres from the adjoining property where your new trench is deeper than their existing foundations. Because older properties tend to have relatively shallow footings in most cases it's a 'given' that the new ones supporting the extension will be considerably deeper. 
"Where there is any doubt, it might be worth consulting any records of foundation depths or seeking an expert opinion, for example from a Building Control surveyor (since the neighbours may not relish the prospect of trial holes being dug next to their home to confirm actual foundation depths). Be warned, however, that in some cases excavating within six metres of an adjoining property can also be covered by the Act. But this only applies where the new foundations are so deep that drawing an imaginary line downwards at a 45° angle from the bottom of the next door's foundations would hit them, for example on a steeply sloping site or where you're incorporating a basement. 
"There are two other situations where the Party Wall Act often applies. It's not unusual for new extensions to be designed to maximise floor area by building right up to, or 'astride' the garden boundary between two properties. The second situation would be in cases where you physically cut or alter a party wall, such as where you want to build onto your neighbour's existing wall so it becomes your new extension's party wall. Happily, minor works like fixing screws or plastering onto party walls are not significant enough to be covered by the Act, but resting a new beam within the wall, as you might for a loft conversion, definitely would be."
What to Consider Before Drawing up Plans
There are some important aspects to consider before you get to the stage of getting your plans drawn like:
soil conditions on the site
services
surrounding trees
any history of flooding
Importantly, notify your insurer of the work. Some may not provide cover during the works, but others offer dedicated extension insurance products.
Should I Employ an Architect when Building an Extension?
Useful Contacts
Most of these bodies require full members to have relevant academic and technical qualifications. Whichever designer you choose, ensure that they carry sufficient professional indemnity insurance.
You've got an idea in mind but now you need someone to turn that sketchy line drawing into a plan. 
You can opt for a build and design company, or you can work with an architect or architectural technologist. If you're competent with CAD then you can draw up plans yourself, although more complicated designs will benefit from a more expert eye due to the complexities. 
Bear in mind, if you've designed the extension yourself you may need the aid of a designer or draftsperson to draw up your plans to submit them for planning approval (if required) and a structural engineer to produce drawings and calculations for Building Regs' purposes. These will also form part of the tender documents when hiring builders.
(MORE: 20 House Extension Design Ideas)
To choose the right person, it's always worth asking around among friends and family. And choose someone who's worked on similar projects before and understands what you're trying to achieve with the budget you have. 
Do I Need to Comply with Building Regulations When Building an Extension?
Whether you require planning consent or not, you will need to make sure you comply with Building Regulations. To meet the Regs, you can either submit a Full Plan Submission or a Building Notice.
Full Plan Submission: send plans to your local authority building control or approved inspector prior to the build for approval. The building inspector visits your site at different stages and inspects the work as it progresses
Building Notice: a statement which lets the local authority know that you will be complying with the regulations in building your extension and gives the building control department 48-hours notice of your intention to start the work. Building inspectors will inspect the work at various stages and will advise you of any problems
A Building Notice is the riskier of the two as you may only find out you have a compliance issue once building work has started, which then needs to be paid to be put right.
All alterations to listed buildings, including internal ones, require consent and it is a criminal offence to alter a listed building without it.
With a listed building the planners will always regard the existing property as more important than what you are proposing to add to it. Any extension will therefore have to respect the flavour, appearance and historic material used in the construction of the original house.
Getting a warranty for your extension is advisable as it will cover you for things such as structural defects or faulty workmanship. Should the worst happen, the builders who did the work will need to return to put right what has gone wrong.
Can I Build an Extension Over a Garage?
Trial Holes are Essential
"If you're building over an existing structure building control will normally want a couple of trial holes excavated to expose the existing foundations." Ian Rock, chartered surveyor
The vast majority of modern garage walls are built from slender single skin brick or blockwork (115mm thick) buttressed internally with brick columns (piers) every couple of metres. This doesn't necessarily mean the walls can't provide the required support of a proposed new floor above, but a structural engineer will need to produce design calculations to prove it. 
If you're planning to convert the existing ground floor space for living accommodation the walls will need upgrading to new build thermal efficiency standards to prevent excessive heat loss.
Problems are more likely to arise with older garages where building over is rarely a practical proposition because of their very limited load-bearing capacity. Demolition is the only realistic option.
Check Your Heating and Electrics Before Building an Extension
Before you start work you should reassess your heating requirements and check if your existing system is large enough to cope with the extra rooms you intend adding. If your boiler does not have the capacity it might be more economic to add a second system rather than replacing the boiler.
You may well pay less in the long term by opting for a separate electrical system rather than having to fork out a large lump sum for a new boiler. Many people opt for electric underfloor heating or electric radiators.
If you are adding a kitchen to your house you are likely to have to add a circuit that goes directly from the distribution board. For any other work, unless it is very extensive, it is usually possible to extend the existing ring circuit.
Ring circuits are restricted to 100m² but any number of sockets can be provided on this system.
An extension will give you the opportunity to add to your existing power points. Many people in this position take the opportunity to replace single socket outlets with double ones and install outside lighting.
How to Finance an Extension Project
There are several options when it comes to borrowing money to finance your extension.
In an ideal world, we would all finance our projects using our savings, but if you need to borrow the money, your best options are:
Credit card: If you need to borrow thousands rather than tens of thousands for your work, an interest-free credit card is a good choice. Shop around — the best deals offer up to 27 months of zero-rated spending
Loan: Personal loans of up to around £25,000 are suited to smaller projects. The loan may be enough to cover the building work and if you are fitting kitchens or bathrooms in your extension you can often buy these on finance from larger stores. Just keep an eye on repayments as they can quickly add up when you borrow from several sources
Remortgage or secured loan: If you are borrowing more than £25,000 you may need to remortgage or take our a secured loan against your home. Many building societies offer a Home Improvement Loan of up to £200,000.
Your builder will generally stage payments for each phase of the project. Try not to make any payments upfront.
If it is necessary to purchase an expensive item perhaps a bathroom suite some months in advance of its installation, you should make sure it is in your name and not that of the builder, just in case they should go out of business.
Your designer will charge fees according to the work involved, so an accurate quotation of the fee would be a very useful thing to have before you give the go-ahead for plans to be prepared.
It is wise to check what any quote includes and who will pay any local authority application fees. Also, ask if any provision has been made should structural calculations be required.
VAT is zero-rated on new build in domestic properties including self builds, but this does not include extensions.
If you are renovating or extending a property that you can prove has been empty for 2 years or more, it will be treated as a conversion and therefore be charged at the reduced rate of 5%. The VAT concessions are only available via a VAT-registered contractor.
[MORE: Extensions for every budget]
Homebuilding & Renovating Newsletter
Get the latest news, reviews and product advice straight to your inbox.
Thank you for signing up to Homebuilding. You will receive a verification email shortly.
There was a problem. Please refresh the page and try again.