Building an Extension: A Beginner's Guide
From budget to build this comprehensive guide to building an extension details all you need to know before starting your project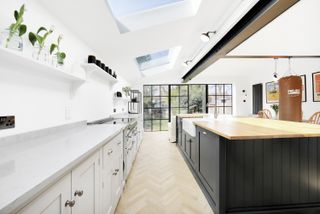 (Image credit: Roof Maker)
Building an extension involves lots of planning and prep even before a single brick is laid! 
So to make sure you know what to consider, from your budget right through to the build, we've put together this handy beginner's guide that covers everything you need to know before you start. 
(MORE: Need a quote for your extension?)
How Much Will Building an Extension Cost?
Depending where you are in the UK, for a straightforward extension you should allow around £1,000–£2,000/m2. But, the cost of your extension will all come down to a number of factors, including size, specification and location.
Building a single-storey extension will cost the following per/m2:
Basic quality: £1,000 to £1,680
Good quality: £1,680 to £1,920
Excellent quality: £1,920 to £2,160
Building a two-storey extension will not cost much more per square metre because, aside from the extra interior fixtures and finishes, you are only adding walls and floor joists — a roof and foundations are required whether your extension is single or two storey.
Use our free extension cost calculator to accurately estimate how much your project will cost.
Editor's Note: Homebuilding.co.uk partners with the UK's best extension specialists to match your requirements with their services. Simply answer a few questions on what you need from your extension and we'll put you in touch with a suitable partner.
What's the Cheapest Way to Build an Extension?
Firstly, you'll want to keep the design and shape of your extension pretty simple so a single-storey square or rectangular shaped addition with a flat roof will be less complicated than angled designs with more complicated roof structures. 
When it comes to choosing the building materials to use to build an extension then a concrete sub floor and concrete blockwork to construct the walls will be a more budget friendly option than say oak frame or timber frame for example. 
Concrete blockwork is readily available and most builders know how to work with the material, too. 
"There are three main types of concrete blockwork known as 'dense', 'lightweight' and 'aerated'," explains chartered surveyor Ian Rock. "Costs range from as little as £10/m2 for cheap dense blocks to around £30/m2 for high performance aircrew blocks."
And if you're a confident DIYer then there are some jobs you can do to help keep costs down, too. Plasterboarding the internal walls, laying flooring and tiles are all jobs that can be done on a DIY basis. 
Does Building an Extension Add Value?
It's all about balance. Adding a small extension while adding value in terms of space it'll create might not be that cost effective in how much it'll add to the value of your house if you come to sell it. 
Adding a larger extension should increase the end value of your home but it'll cost more to build so be mindful not to spend more than you'll make back on it. Plus, there's generally a ceiling price that you'll want to keep within so make sure the numbers add up. 
Talking to local estate agents can help paint a picture of the local market and what extended homes similar to your own are selling for.
What's the Biggest an Extension can be Without Planning Permission?
In many cases you will be able to build an extension under Permitted Development (PD). These rights allow certain works to be carried out to your home providing you meet the criteria.
Under PD, the following rules apply:
You can extend a detached property by 8m to the rear if it's a single-storey extension (6m for a semi or terraced house), or by 3m if it's double
A single-storey extension can't be higher than 4m on the ridge and the eaves, and ridge heights of any extension can't be higher than the existing property
Two-storey extensions must not be closer than 7m to the rear boundary
Side extensions can only be single storey with a maximum height of 4m and a width no more than half of the original building
Any new extension must be built in the same or similar material to the existing dwelling
Extensions must not go forward of the building line of the original dwelling
In designated areas (such as areas of outstanding natural beauty, conservation areas, etc), side extensions require planning permission and all rear extensions must be single storey
An extension must not result in more than half the garden being covered
You should bear in mind that if your house is in a Conservation Area or a National Park, the amount of work under Permitted Development is usually reduced.
(MORE: 20 home improvements you can make without needing planning permission)
From 31st August, two-storey extensions on detached, semi-detached and terraced houses will be fast-tracked as long as they get prior approval. This means the local authority have to be notified of the details before the project starts and it's a much more involved process with the LA. 
There are some restrictions to adhere to:
Once works have been completed, the building must not be more than 18m high (excluding plants)
The floor-to-ceiling height of any additional storey must not be more than 3m in height or higher than the floor-to-ceiling height of any of the existing storeys
The overall height of the extension, including the roof, must not be more than 7m high.
If you're planning a significant extension you'll likely need planning permission and will need to submit an application. Engaging with your local authority early on and researching local planning policies to know what's likely to get approved is a good idea.
You can either apply for consent via the Planning Portal or through your local authority. An application in England for an extension currently costs £206.
What is a Lawful Development Certificate and Do I Need One?
Even without the need for planning permission, it's worth applying for a Lawful Development Certificate (LDC) from your local authority to confirm that the work was lawful and met PD requirements and didn't need planning permission. It costs £103, half the normal planning fee.
How Close to a Boundary Wall Can I Build an Extension?
If building your extension involves digging or building foundations within 3m of the boundary, party wall or party wall structure, or digging foundations within 6m of a boundary, the work will require you to comply with the Party Wall Act.
What Should I Consider Before Building an Extension?
Useful Contacts
Most of these bodies require full members to have relevant academic and technical qualifications. Whichever designer you choose, ensure that they carry sufficient professional indemnity insurance.
The Design
One of the first things you'll need to think about is who is going to design your new extension. You can choose to design it yourself, opt for a build and design company, or you can work with an architect or architectural technologist.
(MORE: 20 Extension Design Ideas)
Choosing the right person to draw up your plans is as important as choosing the right builder, and the prospect can be just as daunting.
The key is to do your research, look at previous work and ideally speak to past clients, and choose someone who most closely aligns with your design aspirations, and who you feel you can work with best.
Bear in mind, if you've designed the extension yourself you may need the aid of a designer or draftsperson to draw up your plans to submit them for planning approval (if required) and a structural engineer to produce drawings and calculations for Building Regs' purposes. These will also form part of the tender documents when hiring builders.
Site Access
How easy will it be for deliveries to be made to your home when building an extension? You'll need to factor in how trucks and lorries will reach the property and unload large items and materials. You'll also need to determine where trades will park and store their tools.
The Services
Don't forget to give your current services a health check. Don't assume that your electrics, heating and plumbing will be able to cope with lighting and heating extra space. For example, while replacing the boiler is an option, you could also look at alternatives such as underfloor heating.
Other important aspects to consider before you get to the stage of getting your plans drawn are matters like:
soil conditions on the site
services
surrounding trees
any history of flooding
rights of way.
Importantly, notify your insurer of the work. Some may not provide cover during the works, but others offer dedicated extension insurance products.
Subscribe to Homebuilding & Renovating magazine
Building Regulations for Building an Extension
Whether you require planning consent or not, you will need to make sure you comply with Building Regulations. To meet the Regs, you can either submit a Full Plan Submission or a Building Notice.
Full Plan Submission: send plans to your local authority building control or approved inspector prior to the build for approval. The building inspector visits your site at different stages and inspects the work as it progresses
Building Notice: a statement which lets the local authority know that you will be complying with the regulations in building your extension and gives the building control department 48-hours notice of your intention to start the work. Building inspectors will inspect the work at various stages and will advise you of any problems
A Building Notice is the riskier of the two as you may only find out you have a compliance issue once building work has started, which then needs to be paid to be put right.
All alterations to listed buildings, including internal ones, require consent and it is a criminal offence to alter a listed building without it.
With a listed building the planners will always regard the existing property as more important than what you are proposing to add to it. Any extension will therefore have to respect the flavour, appearance and historic material used in the construction of the original house.
Getting a warranty for your extension is advisable as it will cover you for things such as structural defects or faulty workmanship. Should the worst happen, the builders who did the work will need to return to put right what has gone wrong.
Building an Extension – Planning the Work
You can use a design and build company who will manage the build project for you but if you've used an architect or designed the extension yourself then you'll need to find a main contractor to manage the project.
Alternatively, you could manage the build and hire subcontractors, or take on a project manager to sort it for you.
Sites like Checkatrade.com are a good place to start your search. But, word of mouth is often a great way to find someone locally — speak to friends and family and ask them for recommendations.
(MORE: Choosing a Build Route)
If there is one thing that is more difficult than finding the right builder, it is getting on with him throughout the project. 
Obviously a good recommendation helps, but it is wise to talk to previous clients of the builder. You should also ensure that they have contractors all risks insurance.
If the builder has sufficient information there is no reason why they should not be able to give you a fixed price detailed quotation. Day work rates can be a recipe for disaster for all sorts of reasons. Try to avoid them except for extras requested at your behest although sometimes it is impossible to do so.
If VAT is to be added to the price given, make sure any quotation has a VAT registration number on it and a VAT receipt is provided when payment is to be made. It has been known for some less reputable operators to use the VAT system as a means of adding more onto the bill which they then keep for themselves.
It is enormously helpful if you manage to find a small group of tradesmen, all of whom have several trades under their wing. This can be crucial in keeping continuity. Time wasted can prove very expensive for a variety of reasons: e.g. scaffold and plant hire, additional labour and rent.
You should also remember that anyone hiring his/her own labour effectively becomes the builder. There is no contract with a main contractor and the buck stops with you. If you take on this role, you will have to manage:
trades
materials
services
keeping the site tidy
relevant site insurances and public liability insurance.
Try to keep the mess to a minimum. You can do this by:
Using masses of protective plastic sheeting wherever appropriate
Sealing off the rooms being worked on.
Provide welfare facilities (rest area, toilet and access to a kettle) for your builders.
Decide from the outset whether you'll be able to cope with the disruption.
A large extension project with remodelling work planned might be less stressful if you move out, but for others, you may be able to seal yourself off from the dust and the work, and find it cheaper to stay put.
Always factor the cost of accommodation into your extension budget.
Building an Extension Over a Garage
The vast majority of modern garage walls are built from slender single skin brick or blockwork (115mm thick) buttressed internally with brick columns (piers) every couple of metres. This doesn't necessarily mean the walls can't provide the required support of a proposed new floor above, but a structural engineer will need to produce design calculations to prove it. 
If you're planning to convert the existing ground floor space for living accommodation the walls will need upgrading to new build thermal efficiency standards to prevent excessive heat loss.
Problems are more likely to arise with older garages where building over is rarely a practical proposition because of their very limited load-bearing capacity. Demolition is the only realistic option.
Adding Heating and Electrics When Building an Extension
Before you start work you should reassess your heating requirements and check if your existing system is large enough to cope with the extra rooms you intend adding. If your boiler does not have the capacity it might be more economic to add a second system rather than replacing the boiler.
You may well pay less in the long term by opting for a separate electrical system rather than having to fork out a large lump sum for a new boiler. Many people opt for electric underfloor heating or electric radiators.
If you are adding a kitchen to your house you are likely to have to add a circuit that goes directly from the distribution board. For any other work, unless it is very extensive, it is usually possible to extend the existing ring circuit.
Ring circuits are restricted to 100m² but any number of sockets can be provided on this system.
An extension will give you the opportunity to add to your existing power points. Many people in this position take the opportunity to replace single socket outlets with double ones and install outside lighting.
How to Pay for Your Extension
There are several options when it comes to borrowing money to finance your extension.
In an ideal world, we would all finance our projects using our savings, but if you need to borrow the money, your best options are:
Credit card: If you need to borrow thousands rather than tens of thousands for your work, an interest-free credit card is a good choice. Shop around — the best deals offer up to 27 months of zero-rated spending
Loan: Personal loans of up to around £25,000 are suited to smaller projects. The loan may be enough to cover the building work and if you are fitting kitchens or bathrooms in your extension you can often buy these on finance from larger stores. Just keep an eye on repayments as they can quickly add up when you borrow from several sources
Remortgage or secured loan: If you are borrowing more than £25,000 you may need to remortgage or take our a secured loan against your home. Many building societies offer a Home Improvement Loan of up to £200,000.
Your builder will generally stage payments for each phase of the project. Try not to make any payments upfront.
If it is necessary to purchase an expensive item perhaps a bathroom suite some months in advance of its installation, you should make sure it is in your name and not that of the builder, just in case they should go out of business.
Your designer will charge fees according to the work involved, so an accurate quotation of the fee would be a very useful thing to have before you give the go-ahead for plans to be prepared.
It is wise to check what any quote includes and who will pay any local authority application fees. Also, ask if any provision has been made should structural calculations be required.
VAT is zero-rated on new build in domestic properties including self builds, but this does not include extensions.
If you are renovating or extending a property that you can prove has been empty for 2 years or more, it will be treated as a conversion and therefore be charged at the reduced rate of 5%. The VAT concessions are only available via a VAT-registered contractor.
Homebuilding & Renovating Newsletter
Get the latest news, expert advice and product inspiration straight to your inbox.
Thank you for signing up to Homebuilding. You will receive a verification email shortly.
There was a problem. Please refresh the page and try again.