House Extensions: 25 Questions you Need to ask About Your Build
House extensions are the best way to add extra space to your property. Get your build right by answering these questions before you begin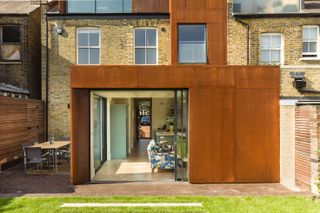 (Image credit: Simon Maxwell)
House extensions come in all shapes and sizes, but when it comes to building an extension, the expense and disruption it involves means it's important to get it right and make the space work hard for you.
JOIN THE PLANNING HUB
The Planning Hub is a new online resource that will help you understand how to get to grips with complex planning rules. Join today for access to easy-to-read guides which will provide you with key information to help you secure planning permission.
If you've never undergone the process of building a house extension before, it can be hard to know what to expect, but keeping the channels of communication open with your architect, builder or whoever's involved in the design and build process is crucial.
With that in mind, we've outlined 25 essential questions you should ask to ensure that you're getting the most from your space, it meets Building reg and planning requirements and that you don't find yourself with problems along the line that halt the build process. Getting these answers early on will save you from a major headache later!
1. How Much Value Will my House Extension add?
For house extensions to make economic sense, you need to make sure the value added is greater than the cost of the project. It can be difficult to assess, but finding similar local properties and seeing how much they've sold for can be a useful guide.
Be aware of the ceiling value in your area, and be prepared to adjust your plans if necessary.
2. What Building Regulations Apply to House Extensions?
Even if your house extension can be built under Permitted Development rights, work must get Building Regulations approval.
The Building Regulations set out minimum requirements for:
structural integrity
fire safety
energy efficiency
damp proofing
ventilation
and other key aspects that ensure a building is safe.
Most repair work is excluded from Building Regulations, with the exceptions of replacement windows, under­­pinning and rewiring. However, apart from certain new buildings such as sheds, outbuildings and some conser­vatories, all new building work, including altera­tions, must comply with the Regulations.
Typical examples of work needing approval:
House extensions
Internal structural alterations, such as knocking down an internal wall that is loadbearing
Installation of baths, showers, WCs which involve new drainage or waste plumbing
Installation of new heating appliances
New chimneys or flues
Altered openings for new windows
3. How Big Should I Build my House Extension?
Top Tip: Matching materials
If you are aiming to match your house extension to the existing property then you need to source matching materials (which is sometimes easier said than done). One mismatch can stand out like a sore thumb.
Often extenders get preoccupied with only thinking of the project in terms of square metres, not in terms of what that size is adding to the house. Bigger is not always better when it comes to house extensions, and there are often ways of creating the feeling of more space, without adding a large extension.
This is often achieved through clever design, not only of the new space, but also what is already there.
4. Who is the Right Designer for my House Extension?
When it comes to the design of your extensions, there are a number of options you can choose from.
These include:
specialist designers
package build companies' in-house design teams
Ask for recommendations from friends, family and neighbours, but also look online for practices that have designed projects similar to what you are hoping to build.
5. How Thermally Efficient are my House Extension Plans?
By taking a fabric first approach to your new house extension, you may be able to far outstrip the U values and airtightness levels specified by the Building Regulations.
However, appending a thermally-efficient extension to a poorly insulated home will not make it cheaper to run overnight and you should look to improve the efficiency of the main house while the builders are on site.
6. What do I Need to Know About the Party Wall Act?
Your neighbours cannot stop you from build­ing up to, or even on, the boundary between your properties, even if it requires access onto their land (providing you have planning permission to do so, and there are no restrictive covenants).
The Party Wall Act allows you to carry out work on, or up to, your neighbours' land and buildings, formalising the arrangements while also protecting everyone's interests. This is not a matter covered by planning or building control.
If your house extension involves digging or building foundations within 3m of the boundary, party wall or party wall structure, or digging foundations within 6m of a boundary, the work will require you to comply with the Party Wall Act. In these cases you may need a surveyor to act on your behalf. The act does not apply in Scotland.
7. Is my House Extension on or Near a Sewer?
If your house extension will be built over or in the area of a sewer, you will need to contact your water board before work begins. "The location of sewers needs to be carefully considered," Jonathan Durndell of Milton Keynes Architectural explains. "If a shared sewer (one which serves more than one property) is within 3m of your extension, then a Build Over Agreement with your local water authority is likely to be required."
These can be tricky – and costly – especially if a new manhole is needed, or an existing one needs to be moved.
8. Are the Foundations Strong Enough to Extend Over the Existing House?
While it may seem appealing to extend above a single-storey extension or garage, these structures may not be able to support the load.
There are options where the old structure isn't up to scratch: underpin existing shallow foundations; strengthen or bypass the existing with a steel frame bedded in new concrete pad footings; or demolish and rebuild. The latter is often the most cost-effective option.
9. Do I need to Plan in Services for my House Extension?
If you are extending your kitchen, you need to confirm the position of your units, cooker and white goods before work begins so that electrics, ventilation and plumbing can be planned in.
The same will apply if you're building a two-storey extension and are including a new bathroom or en suite in the design.
10. Can my Boiler Cope with a House Extension?
Adding house extensions will add demand to current hot water and heating systems, which may not be able to cope.
It's advised that you work out what the new extension will need to be heated effectively, and factor in your boiler output, the size of the radiators, hot water cylinder size and the reheat time.
11. Should I Live on Site During the Extension?
It is possible to live on site throughout a house extension, but aside from all the dust and mess, you may end up slowing down progress as the builders attempt to work around your life.
If you're not prepared to live with the disruption, then you should definitely consider looking for temporary accommodation (short-term rental, hotel or staying with family or friends).
12. How Will Access Restrictions Affect my Build?
If you live in a terraced home with restricted access, that may affect the options you have for your house extension design. For example, you may not be able to use certain construction methods, or you may need to make arrangements with your neighbours to temporarily remove fence panels or use their land for short-term storage.
13. How Does my Extension Relate to the Existing House?
How well the additional space sits alongside the original property will undoubtedly affect the success of the project. While there are no hard and fast rules, you will need to make a decision on whether you want your new house extension to complement the main house or contrast with it.
14. Could Building Off-Site Save me Time and Money?
Off-site construction systems, including cross laminated timber (CLT), oak frame, structural insulated panels (SIPs) and timber frame, often work well on house extension projects. As the name suggests, the majority of work happens in a factory off-site, and components are then delivered to site ready for erection.
15. Should I Project Manage my own House Extension?
"I would always maintain that the best person to oversee an extension that you are proposing to utilise and enjoy is yourself," says project manager Bob Branscombe. "No one knows the space or the building better than you, and nobody has a greater level of interest in getting it right."
Project managing any building project requires high levels of patience, organisation, problem-solving and decision-making skills. If you don't feel confident dealing with the problems associated with a build site or have the time available, a professional PM, main contractor or package company is a must.
16. Will I Need to pay the Community Infrastructure Levy?
Before embarking on house extensions you should establish if you will be liable to pay the Community Infrastructure Levy (CIL). Some councils operate this scheme, and it's applicable to extensions over 100m² in gross internal area (even if they are built under Permitted Development).
However, a self builder's relief can apply, as Jonathan Durndell of Milton Keynes Architectural, explains: "To benefit from the self builder's relief the applicant does not have to physically construct the extension themselves but they must intend to live at the property as their main residence for a minimum of three years from completion.
"It is advisable to check with your local council to establish if any CIL charges are applicable and the route to apply and claim relief before you start construction."
17. Do I Need Site Insurance for an Extension?
When carrying out a house extension you need to have site insurance with an A-rated insurer to cover the existing structure and the new works until you complete the project.
Even if your builder has insurance, it is important to check their documents as the majority have liability cover which will require you to prove fault in the event of a claim, which can mean a lengthy legal battles. This may also not cover any natural events claims, such as fire, flood and storm damage.
If you are vacating the property during the build, you will require site insurance or unoccupied buildings insurance which will usually be a minimum six month policy. Always contact your existing insurance provider to notify them of works before you start.
18. Are the Planning Rules Different in my Area?
Permitted Development rights are restricted in Conservation Areas. Each local authority has its own policy for areas like this, but generally the basis of the policy is to prevent the loss of character of the area. So, if you're thinking about a house extension, always contact your local conservation officer first.
19. How Will my Extension Design Affect my Home's Privacy?
If your house is exposed to passersby or to neighbours, you'll need to consider your glazing choice.
One solution would be to consider your boundary treatments, which may need to be adapted to ensure privacy is maintained, while integral screens in your glazing provide privacy without spoiling your view.
20. Can I Remove Trees for my House Extension?
Some trees are protected by Tree Preservation Orders (TPOs). Even if house extensions don't require planning permission you cannot alter or even prune a tree that has a TPO on it without planning permission.
All trees within a Conservation Area are protected by legislation and effectively have a TPO on them providing they have a trunk of diameter greater than 75mm. Altering a tree that is protected by a TPO is a criminal offence and can result in substantial fines so take care if you are extending your home near to a protected tree.
21. How Much Should I Save for a Contingency Budget?
A healthy contingency to cover any unexpected costs — the start of work on an extension project can uncover problems with the existing house that need addressing, for instance.
We recommend a contingency of somewhere between 10-20%.
22. Can I Claim VAT Relief on a House Extension?
Most house extensions will be subject to VAT on labour and materials at the standard rate of 20%, especially if you use a contractor to undertake the work. If you use local trade­smen who are not VAT registered you can save the 20% VAT on their labour, but you will still have to pay VAT on materials at the standard rate.
Some extension projects are eligible for VAT relief, such as work to listed buildings (zero rated), the conversion of an existing dwelling that changes the number of units (reduced rate of 5%) and work to a building that has been unoccupied for at least two years (reduced rate of 5%).
To benefit from reclaiming VAT if you are extending a listed building or renovating an unoccupied home, you must use a VAT-registered builder — you cannot reclaim the VAT yourself.
23. Do I Need to Notify Building Control of my House Extension?
Before any works begin, you will need to submit either a building notice or a full plans application to building control. A building notice will allow work to begin quickly, but you will lack the protection that building control has signed off on the design and you are liable to correct any work that fails to meet Building Regs' standards upon inspection.
24. Is my new Glazing Going to Cause Glare or Overheating?
Though bringing more light into a home is often a desired outcome of an extension project, unmanaged light ingress can create problems such as overheating associated with solar gain.
Designers should be aware of this when designing glazing features into an extension and mitigate for the solar gain to avoid the situation where, like poorly designed conservatories, the extra space is usable for only a small part of the year. Screen fabrics can also be used to reduce glare and diffuse light.
25. How Much Glazing can I add to my House Extension?
"Part L of the Building Regulations limits the total area of glazed elements in an extension to a maximum of 25% of the extension's floor area," says Jason Orme, experienced extender and H&R's Editorial Director.
"Particularly on small extensions, this poses a problem. A small kitchen extension, perhaps adding 20m² of space, could easily have its allowance taken up by a set of bifolds – 4m(W) x 1.8m(H) = 7.2m² or 36% of the floor area – and will therefore be rejected by building control.
"There are several ways around this. First of all, you need to deduct the total area of the windows and doors that are being lost as part of the extension from your additional total. If that doesn't get you below 25%, then you'll need to show that the new glazed extension can meet the energy performance standards achieved by a non-glazed extension in other ways.
"If that still fails, then you'll need to commission a SAP assessment to show that the CO2 emission rate from your glazed extension would be no greater than the emission from a fully compliant extension of the same size."
Use our Extension Cost Calculator to get an idea of your costs.
Get the Homebuilding & Renovating Newsletter
Bring your dream home to life with expert advice, how-to guides and design inspiration, direct to your inbox.
Michael is Homebuilding & Renovating's Director of Content, Vice Chair of the self build industry body, the National Custom and Self Build Association (NaCSBA), presenter of multiple property TV shows and author of Renovating for Profit (Ebury). He also runs an architectural and interior design practice, offering design and project management services. He is one of the country's leading property experts and has undertaken over 30 building projects including two self-builds and the renovation of a Grade-II listed farmhouse.
Michael has presented over 150 property shows for BBC, ITV1, Channel 5, UK TV Style, and Discovery RealTime, including I Own Britain's Best Home; Don't Move Improve; Trading Up; Good Bid, Good Buy; Build, Buy or Restore?; How to Build A House; and Hard Sell.
Michael is also a regular expert at the Homebuilding & Renovating Shows. He has written for leading British newspapers, including The Daily Telegraph, Sunday Times, Daily Express and The Independent and has appeared on news programmes such as BBC Breakfast.