Driveway Fence Ideas: Create Kerb Appeal Using Boundaries
By Natasha Brinsmead published
The best driveway fence ideas not only mark out your home's entrance — they should also enhance the style of your house and add to its visual appeal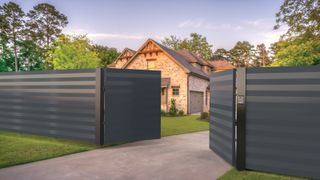 (Image credit: F H Brundle)
Driveway fence ideas play a hugely important role in heightening the kerb appeal of any style of house. As the first thing people notice when approaching your home, your driveway not only sets the tone of the property but, with the right fencing, could also add to its value.
Of course driveway fence ideas should not just be based on appearances — they also need to take into account the need for privacy. In addition, garden fence ideas can help separate the drive into different zones for various functions such as parking and bin storage — they can even be used to create a clear pathway to the front door.
Finally, our collection of driveway fence ideas includes some alternatives to traditional fencing, for those after something a little bit different.
Alternative Driveway Fence Ideas
It isn't just traditional timber fences that can be used for boundaries — there are many more solutions available and some of these may well be a better fit for your driveway ideas.
Don't forget to consider metal fences as well as stone and brick walls, along with hedging too. Very often these can be used to pick up on or complement the materials used elsewhere in your house.
1. Separate Your Driveway From Your Front Garden with Fencing
Most people need to park their cars somewhere within their front garden but this is not always great news for kerb appeal.
When it comes to front garden ideas where possible keep car parking away from front windows so that you don't find yourself looking out at vehicles rather than a view. The right fences can be used to create a designated parking area away from the front of the house.
Here, pretty white metal fences keep the garages away from the front garden and pair beautifully with the stone walling elsewhere.
2. Vary The Height of Your Fencing
You won't always need the same height fencing or the same fence types all the way around your driveway — sometimes varying the height of your boundaries works far better.
Take a look at where you need more privacy between you and your neighbours and use higher fences in these spots. Where you have views you want to take advantage of or want to avoid blocking light from getting into the interiors of your home, opt for lower fences.
Here, a taller panel fence has been used to separate the house from the adjacent property, while a daintier post and rail fence has been used directly in front of the glazed gable — both atop a rendered dwarf wall that deals with the sloping nature of the plot.
3. Match Your Fencing With The House Style
Wondering how to create kerb appeal? One surefire way is to choose your driveway fence to tie in with the style of your house.
Highly contemporary façades will suit a very different fence type to traditional-style homes — this wooden post and rail fence suits the new oak frame self build it surrounds perfectly, picking up on the timber elements of the house.
4. Form Your Driveway Boundary With Retaining Walls
Sometimes, the nature of a plot will render fencing unnecessary and a different approach will be required. Retaining walls are great for sloping sites but can also be used as a feature to create height and visual interest.
If you are after retaining wall ideas for your driveway, take a look at this example. The simple white render finish of the wall that forms the driveway draws the eye to the contemporary design of the house and doesn't fight for attention with the timber fence and stone walls used elsewhere.
5. Combine Timber Cladding With Weathered Fencing
If you are looking for fence ideas to complement a New England style house you should be thinking of weathered finishes that conjure up thoughts of oceanside properties.
Rather than matching your fence materials to the cladding used on your house, look for ideas that contrast slightly to avoid the whole thing looking too uniform or stark. Here, the white painted timber cladding of the house has been offset with a more rustic timber used for the driveway fence.
6. Consider Low Brick Walls Over Driveway Fencing
It is important to consider height when it comes to your driveway fences — very high boundaries will not always work.
In this case, why not consider a low wall instead as a driveway design idea? This makes a great alternative if you want to look out from your front windows at an unobstructed view. A brick wall can also work better than timber or metal fencing for some styles of front garden.
Here, the wall used to define the driveway matches the materials used for the house and garage — all while tying in perfectly with the neat, straight lines of the front garden.
7. Combine Rustic Stone With Elegant Metal Fences
Metal fencing looks beautiful when combined with stone walls and stone cladding. Although all styles of metal fences can work well, opting for more elegant, visually lightweight designs can really enhance the reassuringly chunky nature of natural stone.
8. Fix Post And Rail Fencing to Define Long Driveways
If you have a large space or a long driveway to deal with, a simple post and rail fence can very often be the best option. Large expanses of solid fencing can appear a little overbearing, while the open nature of this style of boundary is less visually intrusive — plus it is perfect for paring with rural properties.
9. Finish Driveway Fencing with Grand Brick Piers
Both metal driveway fences and those made from timber can be finished off wonderfully with brick piers. They form a very impressive entrance and really make a statement.
Here, the black metal fences sweep away from the brick gate piers which have been topped with cast stone balls and bases from Haddonstone.
10. Soften a Contemporary Look With Hedges
In order to avoid a contemporary home from looking too austere, consider using lush hedging rather than fences.
Here, the pale stone cladding, white render and impressive oversized front door, from Urban Front, are all enhanced with the addition of hedging used both around the driveway as well as on the first floor balconies.
11. Choose Simple Slatted Fences For Contemporary Appeal
If you want to ensure that your driveway fencing blends seamlessly in with the contemporary design of your house, choose a simple, unfussy design.
The best types of contemporary fencing include single and double slatted designs, along with Venetian and some styles of composite fencing. Avoid more classic fencing such as featheredge and picket fences which tend to be better suited to traditional-style properties.
12. Opt For Metal With Agricultural Conversions
Great care needs to be taken to remain true to the agricultural roots of certain types of home, such as barn conversions. Not only should the original features be dealt with sympathetically (something usually insisted on by planners anyway) but the treatment of the landscaping should also be considered with the nature of the property in mind too.
Metal fences really work well when surrounding barn conversions. Here, they follow the sweeping driveway to this new build home, designed to look like a barn conversion, particularly beautifully.
13. Swap Fences For Stone Walling For a Cohesive Look
Natural stone walling can make a great driveway fence alternative and is particularly well suited to rural, stone clad homes.
Here, a converted and extended stone building is perfectly matched to the traditional stone wall that now helps define the driveway and really ensures the new section of timber cladding stands out as feature.
Natasha is Homebuilding & Renovating's Associate Editor and has been a member of the team for over two decades. An experienced journalist and renovation expert, she has written for a number of homes titles. She has renovated a terrace and is at the end of the DIY renovation and extension of her Edwardian cottage. She is now looking for her next project.
Homebuilding & Renovating Newsletter
Get the latest news, reviews and product advice straight to your inbox.
Thank you for signing up to Homebuilding. You will receive a verification email shortly.
There was a problem. Please refresh the page and try again.