Best Video Doorbells: 5 Brilliant Buys to Enhance Your Home's Security
Choose the best video doorbell for your home with this handy buying guide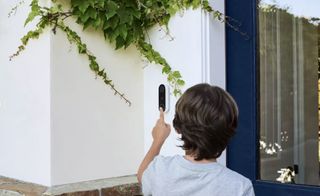 (Image credit: Argos)
The best video doorbells will do far more than simply show you who is at the door. Most top of the line models are packed with smart features such as two-way communication and facial recognition, and whether you're a tech expert or a beginner, you'll be able to find a smart doorbell that is perfect for you.
As well as being really convenient, video doorbells also help to heighten your home's security. Notifications to your smart phone will not only alert you when someone approaches your front door, but will also allow you to see who it is. Using the two-way communication feature means you can talk to whomever is at your door, even if you aren't at home (being able to speak to the postman means you'll never miss a parcel again!)
Video doorbells are great way to dip your toes into smart home tech - these are the best video doorbells available.
Which is the Best Video Doorbell?
1. Nest Hello
Simply the best video doorbell around
Video resolution: 1600 x 1200p | Wired: Yes | Connects with: Alexa, Google Assistant | Field of view: 160 degrees | Size: 4.6 x 1.7 x 1 inch
Great video quality
Facial recognition
Motion and sound detection
Some features require subscription
Requires wired connection
The Nest Hello is the best video doorbell because of its sharp video quality and the clarity of sound from its microphone and speaker.
The camera on the Nest Hello lets you see people from head to toe, and its wide scope lens even lets you see if packages have been left on the ground. Its microphone also reduces ambient noise which provides crystal clear sound quality.
Better still, the Nest Hello can even recognise individual faces and announce them via Google Assistant or Alexa. It also has 24/7 live streaming, HDR imaging, and a spotlight that will illuminate whenever someone approaches the door, triggering a notification to your phone, displaying the visitor's face (even if they don't ring the bell).
However to ensure you benefit from its features you'll need to subscribe to the Nest Aware service (which begins at around £4.50 per month). Once you've subscribed, you can access 24/7 continuous recording, Familiar Face alerts, the ability to create clips and time-lapses, and access your video history.
2. Ring Video Doorbell 3 Plus
The best video doorbell for versatility, offering both wired and wireless installation
Video resolution: 1080p | Wired/battery: Both | Field of view: 160 degrees | Connects with: Google Home, IFTTT, Alexa | Size: 5.1 x 2.4 x 1.1 inches
Pre-Roll feature
Can be wired or battery-powered
Near Motion Zone feature
Some features require subscription
The 1080p resolution of the Ring Video Doorbell 3 Plus means video quality is guaranteed, and its Pre-Roll feature adds up to four seconds of video before a motion event occurs, so you can see people as they approach your door.
The Advanced Motion Detection and a Near Motion Zone features allow you to specify your motion detection area, which can prevent unnecessary notifications (if there is a public pathway relatively near to your front door, for example), and also conserve the battery (if you opt for wireless connection).
These features are all available out of the box, but to record and download video you'll need to subscribe to the Ring Protect Service.
The Ring Video Doorbell 3 Plus supports Wi-Fi, Alexa and IFTTT, but not Apple HomeKit or Google Assistant.
Buy the Ring Video Doorbell 3 Plus
3. Ring Video Doorbell Pro
Costs a little more, but you get value for money
Video resolution: 1080p | Wired: Yes | Field of view: 160 degrees | Connects with: Alexa, Google Home, IFTTT | Size: 4.5 x 2 x 1 inches
Custom motion alerts
Night vision
On-demand streaming
Pricier than other models on this list
Needs to be hard-wired
The first thing that stands out about the Ring Video Doorbell Pro is its slender and unobtrusive design, and this small package contains a sizeable array of features.
Once you've used Motion Settings on the Ring app to adjust your motion sensitivity and establish movement zones (which allow you to define a specific area that you want the doorbell to cover), you'll get a notification when movement is detected, or when the doorbell is pressed, and infrared night vision provides coverage while you sleep.
On-demand streaming means you can check in on the footage at any time, and two-way talk lets you see, hear and talk to visitors from your phone, tablet or computer. There's more: the Ring Pro uses pre-buffering technology to show you events prior to a motion trigger.
It comes with four interchangeable faceplates (black, bronze, nickel, and white) tso you can be sure it'll match the exterior of your home.
While this video doorbell is a little more expensive (keep an eye out for deals), the features included are worth the extra cost.
Buy the Ring Video Doorbell Pro
4. Arlo Video Doorbell
Great for detecting animals and packages
Video resolution: 1536 x 1536p | Wired: Yes | Field of view: 180 degrees (diagonal) | Connects with: Alexa, Google Assistant | Size: 5.1 x 1.8 x 1 inches
Sharp video/audio quality
Person, package, animal detection
Most features require subscription
Slightly bulky
Needs to be hardwired
Arlo's video doorbell delivers high-quality video and audio day and night, and with an 180-degree field of view (the widest on this list) you can view coverage of your doorstep with minimal fisheye distortion.
This video doorbell has a direct-to-mobile video calling feature, an Arlo exclusive, which allows for quick and easy response to the notifications. Visitors can also leave messages for you if you aren't home.
If you see someone approach and you want to deter them, this video doorbell has a built-in siren that you can trigger from your smart phone.
Once you've downloaded the Arlo app (which is necessary prior to installing the doorbell), you can connect it to Alexa and Google Assistant, although recorded video and smart notifications require a subscription.
A massive tick in the box for the Arlo doorbell is its sensitive detection software that picks up animals and packages. To avoid being spammed with updates when a cat walks past, you can restrict notifications so you're only informed when a person is at your door.
5. Ring Door View Cam
The best video doorbell for those on a budget
Video resolution: 1920 x 1080p | Battery: Yes | Field of view: 155 degrees horizontal, 90 degrees vertical | Connects with: Alexa | Size: 4.4 x 2.3 x 1.2 inches
Easy to install
Budget friendly
Motion detection
Viewing recorded video requires subscription
The wireless Ring Door View Cam, also known as the Peephole Cam, replaces the standard peephole on your front door.
Once installed, the Ring Door View Cam will detect motion using high quality video resolution, and record video too.
The unit features an 1080p camera using High Dynamic Range (HDR) technology, as well as three infrared LEDs for night vision. Using the Ring app you can also customise motion sensors, and use the microphone and speaker for two-way audio.
Installation is easy too. Simply place the doorbell on the door with the cable and tube feeding through the existing peephole, then pull the back part of the camera into place and screw on a retaining clip (provided), holding it in place.
Like the Ring Video Doorbell 3 Plus, you'll need to recharge the battery every few months depending on your usage.
How to Choose the Best Video Doorbell
Here's what you should look out for when choosing the best video doorbell for your home:
Hard-wired vs Battery
There's pros and cons to both wireless and battery-powered video doorbells.
Battery-powered video doorbells are easy to install and don't require you to mess with any wiring, but batteries can deplete quickly depending on use, and you may have to replenish them fairly regularly. However, you can maximise the battery life by adjusting the doorbell's motion sensors.
Hard-wired video doorbells are not quite as easy to install, but you don't have to worry about power running out. If you can't utilise existing doorbell wiring, you can use a plug-in transformer or hire an electrician to fit the doorbell for you.
Smart Home Interoperability
Your video doorbell can be integrated with your smart home in several ways. Models that support IFTTT (If This Then That) means you can make your devices interact with each other - turning the lights on when the doorbell rings after a certain time of day, for example.
Video Quality
The higher resolution you opt for, the sharper the image you'll receive, which will make it easier to identify people at your door. Look out for a video doorbell with 1080p quality vision (around two million pixels) for a great display.
Subscription services
While there are many great features available out of the box, it's worthwhile just checking the additional features that are available with a subscription.
Homebuilding & Renovating Newsletter
Get the latest news, expert advice and product inspiration straight to your inbox.
Thank you for signing up to Homebuilding. You will receive a verification email shortly.
There was a problem. Please refresh the page and try again.